35 Modern Home Improvements
Tired of the paint color on your walls?
Sick of your old couch and coffee table?
Looking to create a contemporary home with a Japandi, Scandinavian, or minimalist vibe?
The good news is:
No matter what you want your home to look like, there are all sorts of home improvements you can do right now that won't break the bank or take too much time.
Whether stocking up on essentials for your first apartment or decorating your new home, you don't need extensive home renovations to make it modern and chic.
Here are 35 modern home improvements you can do today to enjoy an upgraded, updated look tomorrow!
---
Living Room Home Improvements
From your furniture to your walls, here are some super easy ways to add modern style to your living space, no matter how small or large it may be.
 1. Double-Duty Furniture
Double-duty furniture, such as floating desks, storage ottomans, and futons, is great if you're trying to maximize space in a small apartment. If you're going for a clean, minimalist vibe where "less is more," they work in large rooms too.
 2. Add a Colorful Sofa
You don't have to paint the walls with a fresh coat of paint to create a new color palette in your living room. You can do so by adding a colorful sofa instead!
Green sofas, blue sofas, pink sofas … all are trending big in 2022.
 3. Use Accent Chairs
Love the look of club chairs, barrel chairs, or saucer chairs?
Placing one or two accent chairs in your living room is a simple way to add seating and style.
 4. Hang Sun-Blocking Blinds
Make your living room look more modern by swapping out traditional window treatments like curtains for cleaner, sleeker options such as sun-blocking blinds.
 5. Create a New Focal Point with a Fish Tank
One popular modern interior design trend is to bring some natural outdoor elements indoors. A cool, calming, and colorful way to do so is to top a bookcase or an accent table with a fish tank.
 6. Float Your Sofa
Rather than buying a brand new sofa, try floating the couch you have.
Floating a sofa means pulling it away from the wall, which can create a unique new space behind it. Then you can turn that unused space into a cozy reading nook, makeshift foyer, or mini home office.
 7. Hang Peelable Wallpaper
Before you run out and buy a new paint color for your living room walls, shop for peelable wallpaper.
Peelable wallpaper comes in all sorts of patterns and colors. Go big and bold with oversized florals or calm and serene with neutral colors in soft textures.
Related: How to Get Rid of (And Avoid) Wallpaper Bubbles
---
Modern Bedroom Improvements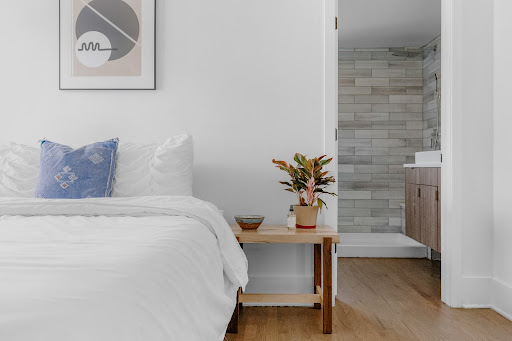 These easy tricks can turn your bedroom into a modern sanctuary built for relaxation within a matter of hours.
8. Buy a Floating Bed
Floating beds are platform beds where you can't see the feet or legs of the bed frame. The fact that they appear to float in midair makes them a perfect option for any modern or minimalist bedroom.
 9. Get a New Mattress
The primary purpose of a bedroom is to get a good night's sleep. No matter what linens you choose or what bed frame you buy, the most essential bedroom purchase is a mattress that can help you sleep better.
 10. Organize Your Closet
Most of us have more clothing, shoes, and accessories than we need.
To maintain a clean, modern home, invest in some bedroom essentials, including organizational tools such as:
Boxes
Bins
Shelves
Stylish storage containers
 11. Invest in New Bedding
You can give your bedroom an instant makeover by buying new bedding. Pick up some luxurious blankets, sheets, and pillows, and your bed will look and feel oh-so-inviting in a matter of minutes.
 12. Cool Down with the Arctic Air Ultra
Experts say the perfect temperature for sleeping is between 60 and 67 degrees Fahrenheit. If your bedroom doesn't get that cool at night, you need the Arctic Air Ultra. This portable fan is energy efficient and does triple duty as a fan, humidifier, and air purifier.
 13. Float Your Nightstands
We've mentioned floating items a few times on this list, and that's because floating a piece of furniture is one of the easiest ways to create a modern vibe. Instead of using bulky nightstands, consider mounting floating shelves to hold your bedside lamp, phone, and other nighttime must-haves.
Before you replace old furniture, see if you can work with it. Read: 5 Quick Fixes That'll Make Your Furniture Look Brand New
---
Kitchen Improvements for Your Home
Homeowners can change the look of their kitchen by installing new cabinets, creating a subway tile backsplash, or mounting new faucets and hardware.
Not a homeowner?
No worries!
There are still many ways to make an old kitchen look modern and cool for renters who don't have the option to complete a kitchen remodel.
 14. Hang an Over-the-Sink Dish Rack
Even if you have a dishwasher, you probably still have a few delicate glasses or items you wash by hand.
There's nothing modern about clutter.
Rather than crowding your counter with a traditional drying rack, keep them clear by drying your dishes in an over-the-sink dish rack.
 15. Upgrade Your Countertop Appliances
You don't have to install a new built-in dishwasher or buy a new fridge to modernize your kitchen. Cuisinart countertop appliances (e.g., blenders, pressure cookers, and food processors) are the perfect way to add function and modern style to your kitchen.
 16. Buy a Cast Iron Griddle
Looking for a new way to cook your favorite foods?
A cast iron griddle can help you take your cooking skills to a whole new level!
Cast iron griddles can handle seriously high heat, making them ideal for the home cook looking to whip up restaurant-quality meat, fish, or veggie dishes.
 17. Get a New Coffee Maker
Whether you indulge in one cup of coffee each morning or drink multiple cups throughout the day, having a coffee maker with a grinder is a modern must. The built-in grinder is crucial, as coffee always tastes better from freshly ground beans.
18. Bake Dishes or Serve Meals on Polish Stoneware
Add color and a bit of vintage-inspired style to your modern kitchen with Polish stoneware. Available in all sorts of colorful patterns, this stoneware is durable, sturdy, and super easy to clean.
Looking for help with a kitchen model? We partner with AIQOO to help you find reputable contractors in your area. Find contractors near you here.
---
Dining Room Home Upgrades
If your favorite thing to do is host brunches or dinner parties, there are lots of ways you can update your dining room for a gathering by next week.
 19. Hang a New Lighting Fixture
A new light fixture can instantly give your dining room a brand new look. If you don't want to mount a brand new fixture, consider switching out the bulbs for a different color or shape.
 20. Pick up Some Modern Dinnerware
Make any meal look better by swapping your old dinnerware set with a new one.
Mix it up with dark dishes if you currently have plain white ones. If you're dining on patterned plates, switch it up with a crisp, clean, all-white dinnerware set.
 21. Add an Area Rug
Whether you have hardwood floors or laminate flooring, an area rug under your table will add color, texture, and contrast to your dining room.
 22. Display Your Dinnerware in a Modern Hutch
Instead of hiding your dinnerware in your kitchen cabinets, put it on display in your dining room with a glass front buffet or a modern hutch.
Add some interest to your dining room table with a centerpiece! Check out:
5 Swoon-Worthy Centerpieces to Add to Your Eating Area | 5 Affordable Centerpiece Ideas to Spruce up Your Kitchen Table
---
Hope Improvements for the Bathroom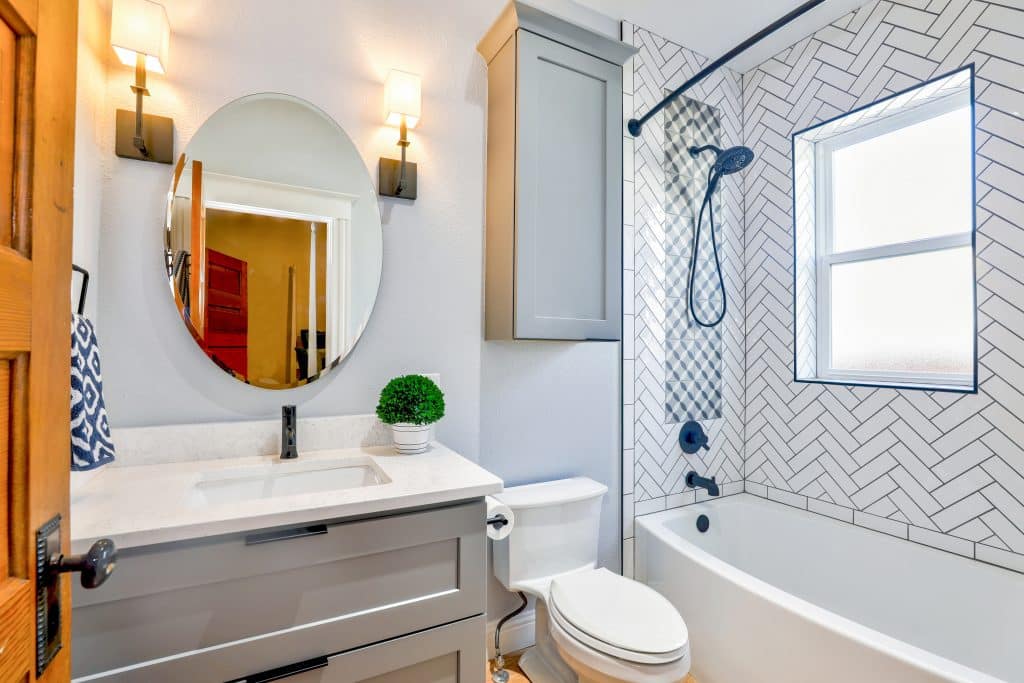 There's no need to complete a bathroom remodel to give your bath a new look and feel. From linens to cabinet knobs, here are some fun ways to give your bathroom a fresh look.
 23. Add a Touchless Soap Dispenser
Touchless soap dispensers do more than add modern style to a bathroom — they create much more sanitary conditions around your sink.
How?
Because with a touchless dispenser, there's no need for anyone to touch it with their dirty hands!
 24. Mount Floating Shelves
Organize your bathroom in a fresh, modern way by mounting floating shelves above the toilet or the door.
Display decorative items, such as candles or bathroom signs. Or add bins or baskets to create an instant storage solution for extra rolls of TP, soaps, or cleaning supplies.
 25. Hang a New Shower Curtain
Freshen up your bathroom with a colorful new shower curtain in a bold, oversized print. If it's the zen-inspired spa look you prefer, opt for a solid white cotton curtain in a soft texture.
 26. Upgrade Your Linens
Add color, pattern, and personal style to your (or the guest) bathroom with a stack of fresh towels and a new floor mat.
 27. Update Cabinetry with New Hardware
New hardware is a great way to give your bathroom a cool, modern look. Adding new cabinet knobs, towel racks, and hooks for your shower curtain is also a chance to upgrade your bath with new metallic finishes.
Discover: 5 Creative Ways to Store Linens to Keep them Fresh and Organized
---
Home Office Upgrades
If you're one of the millions working from home, it's time to do some interior design upgrades in your home office! Here's what to do to turn your home office into a functional, modern space.
 28. Get Organized
Every home office needs organization. Whether you work from home or use your office for arts and crafts, make it even more functional by adding storage boxes to hold miscellaneous items.
 29. Buy the Work from Home Essentials
It's vital that your office encourages you to be productive.
To make it an inspiring space, invest in the home office essentials. A standing desk, comfy chair, noise-canceling headphones, and a filing cabinet will all optimize efficiency!
 30. Replenish Office Supplies
New pens and notebooks are inexpensive items that can inspire you to get to work. If you use your home office to create art, fill your space with new paints, brushes, and canvases.
If you're into crafting, buy a handheld sewing machine for small projects, yards of fabric, and other art supplies that might inspire you to create!
 31. Add a Day Bed or Pull-Out Sofas
Many people use their home office as both an office and a guest room. To create a space that does double duty, invest in a pull-out sofa, futon, or daybed that functions as a couch during the day and a bed at night.
You may also like: No Paint Allowed? Here Are 9 Ways to Add Color to Your Apartment
---
Outdoor Spaces
Landscaping is only one of many ways to give your home more curb appeal. If you're looking for home improvement projects to beautify your outdoor space, there are lots to choose from!
 32. Buy New Outdoor Furniture
The smaller your home, the more critical it is to use outdoor spaces. Upgrade your patio, deck, balcony, or porch with high-quality outdoor furniture, and you'll be oh-so-happy to spend more time outside.
 33. Find Stylish Outdoor Accessories
Aside from furniture, you can add many outdoor accessories to your balcony or porch. Decorate with an outdoor area rug and add printed cushions to your patio chairs to inject some color and personal style into the space.
 34. Invest in a Grill
Buy a propane, gas, or charcoal grill, and you'll be ready to host all sorts of outdoor parties. There's nothing more fun than throwing a casual backyard barbecue on a warm spring or summer day!
 35. Add Plants and Flower Pots
No matter how many trees or shrubs surround your property, you can never go wrong by adding a few plants or flower pots to your balcony or porch.
Potted plants and fresh flowers help to create a warm, inviting atmosphere and even help lower our stress levels and make us feel more relaxed.
Conclusion
With a few small, inexpensive changes, it's easy to turn an outdated room into a stylish, modern space. Rather than going broke by undertaking major home remodeling projects, start small and work on one room at a time.
Sometimes one simple change is all it takes to make a space feel brand new!