Product Comparison of a 20 Gallon Fish Tank
Ever since you won that goldfish at the county fair when you were six, you've wanted a real fish tank, right?
Maybe not, but there's a reason you're going for the gusto and shopping for a 20-gallon tank. It's not goldfish sized, and it's not mega "turn your home into an aquarium" sized, either.
Nope, 20 gallons is just right.
How do you know which tank you should get when there are hundreds of varieties to choose from out there?
Unlike that county fair goldfish-in-a-bag fiasco, you're going into this experience as an aquarium fish owner strategically.
And we're here to help you avoid the dreaded trauma of a toilet bowl funeral for Goldie by sharing our recommendations. Here, we have a breakdown of the most popular 20-gallon tanks on the market today for freshwater and saltwater fish keeping.

---
1. Tetra Aquarium 20-Gallon Fish Tank Kit
Although its name might make you think the tank is for tetras only, the Tetra Aquarium 20-gallon is perfect for most small fish varieties.
This tank is made of scratch-resistant glass and durable enough to be mostly kid- and cat-proof — and includes the coveted "Made in the USA" label.
What You'll Get With This Tank
Delving into what comes with the tank, you'll find an LED hood. This lighting system is beneficial to the aquatic environment because it simulates daytime sunshine. Fish are less stressed when they have an ecosystem that mimics where they should be naturally, and the LED lights help create that look and feel.
Along with the lights, you get a filter that's so quiet it's called a Whisper Filter. As the water runs in and out of the system, providing a clean water flow, the sound is barely audible.
You won't have to buy any artificial plants in addition to the tank, either. With the Tetra, there are four included, just enough to give your fish hiding places and mimic the ocean environment.
All you'll have to grab on your own are the fish, food, and gravel, and you'll have a complete aquatic system. Don't forget to find a place to set the 24.2" long x 12.4" wide x 16.7" high tank before you fill it!
Disadvantages to the Tetra Aquarium
As a whole, this kit is perfect for everyone from beginners to experts and any fish from betta to danios. You might want to buy some extra filters or invest in a higher-quality version, as the filtration system included doesn't last too long.
The premium price tag of around $150 is one of the heftiest on our list, but it's worth it if you want to start an aquarium with minimal effort and upkeep.
---
2. Marina LED Aquarium Kit
If you're looking for an easy-to-install, good-quality tank and kit, the Marina LED Aquarium could be your solution.
This kit comes in multiple-sized tanks, all of which have LED lighting. The 20-gallon is just right for beginners or those who are still learning about the process of keeping an aquarium.
What You'll Get With This Fish Tank
An investment in the Marina-brand aquarium makes it simple to start your journey as a new fish owner. You'll get a standard glass aquarium, complete with a Marina Slim S20 filter that clips in place. The set comes with extra quick-change filter cartridges, too.
The LED natural daylight effect lighting sits in place in the canopy of the aquarium, so you don't have to worry about moving it around. A fishnet and aquarium care guide come with your purchase.
You'll also get a jar of Fluval Max fish food and Fluval Aqua Plus Water Conditioner to turn your tap water into healthy fish water. Fluval Cycle Biological Supplement to balance the ecosystem finishes the product list.
Disadvantages to the Marina Aquarium
At 24 inches long x. 12.5 inches wide and 16.5 inches high, it won't take up too much room on your aquarium stand. The glass isn't reinforced, though, so be cautious when you move the tank.
To keep the fish's water at the right temperature, you'll need a heater, as they don't include one. Since the kit is only $113 and heaters are around $15 on Amazon, it's still a good deal.
Need a new seat to curl up in while you watch your new fish friends? See: Comparing the 7 Best Saucer Chairs of 2023
---
3. Tetra ColorFusion Aquarium 20 Gallon Fish Tank Kit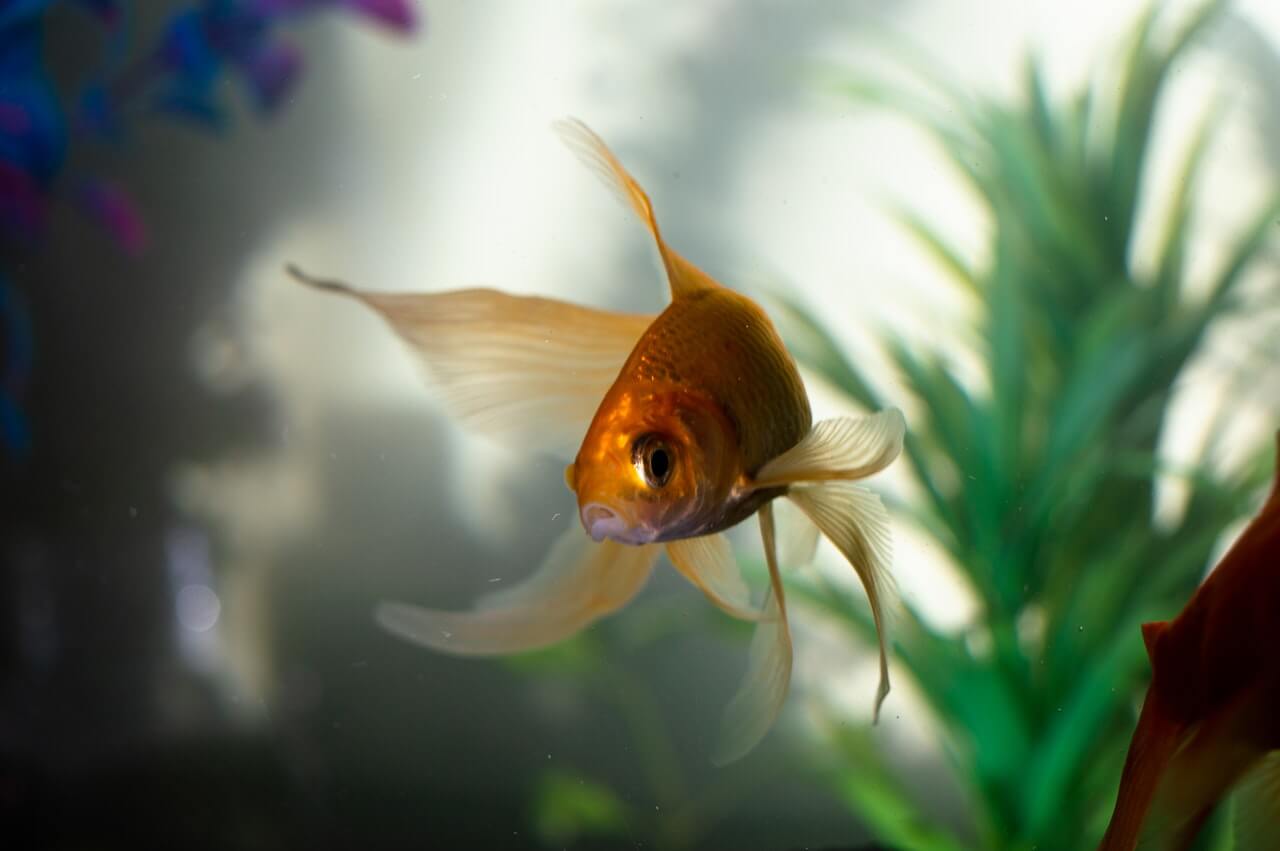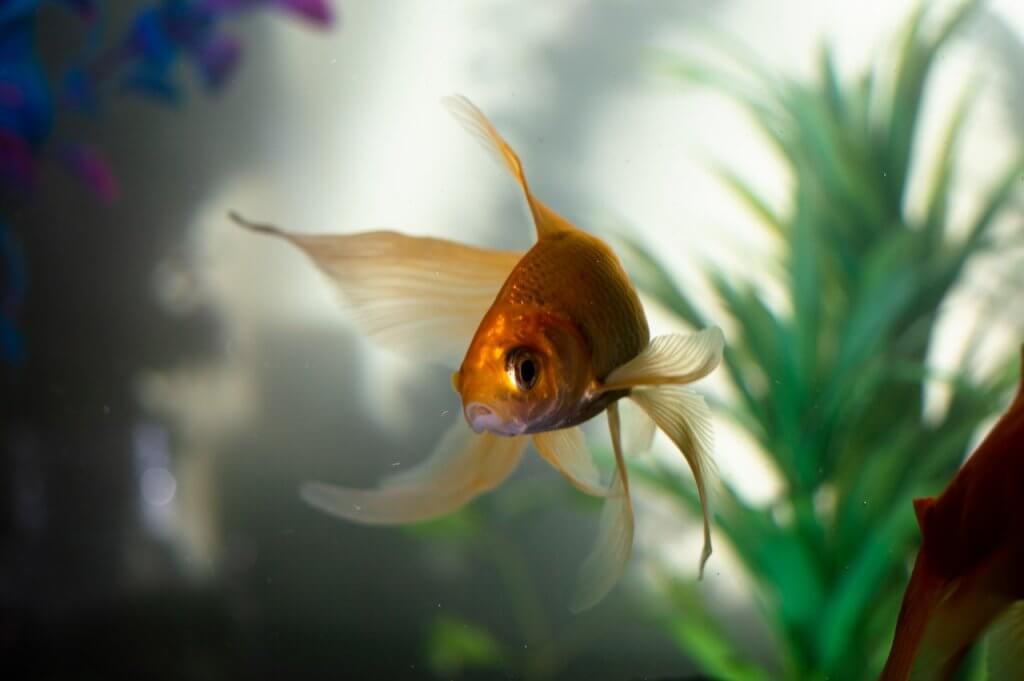 Looking to add some ambiance to your home with a new aquarium?
Look no further than the Tetra ColorFusion.
The rectangular glass design looks like a standard tank — until you turn the LED lights on. Then, watch as the lights cycle through a range of colors, transforming the habitat with each one. The water change gives your neon tetras, gouramis, and tropical fish a unique glow.
What You'll Get With This Tank
The Tetra brand always provides high-quality equipment, and the ColorFusion kit continues this pattern. It includes everything you need to get started or add to your current aquarium collection.
You'll get a UL heater, the Whisper 20 filter designed by Tetra, and a ColorFusion Universal Color Changing LED. Pause on your favorite color as it cycles between green, blue, and red.
To create the environment, the kit includes two Wonderplant multipacks and a white anemone. There should be plenty of room to add your own live plants if you prefer.
Disadvantages to the ColorFusion Aquarium
Aside from the color-changing lights, the decorations in the kit are sparse. Fish need lots of hiding spaces, so you should get some more aquarium plants and rocks.
The aquarium is 24.2″ long x 12.4″ wide x 16.7″ high. For around $130, the price is what you'd expect in a kit this size with the ColorFusion light fixture technology. However, you do need to spend a little extra on chemical substrate and decor to get started.
There's no such thing as too much color in our book. Discover: The Best Pink Sofas for Your Home
---
4. SeaClear Acrylic Aquarium Combo Set
The SeaClear Acrylic aquarium is ideal for anyone who wants a bare-bones tank made out of something sturdier than glass.
Acrylic is a lesser-known but more solid material used in fish tanks. It's actually clearer than regular glass and up to 17 times stronger!
You'd think that would make the acrylic tank too heavy and bulky, but, on the contrary, it weighs half of what a traditional glass tank does. The acrylic tank is a good choice for homes with children and pets.
What You'll Get With This Tank
If you already have the gravel and equipment but need something to put it in, get a SeaClear 20-gallon. It comes with the hood and light fixture, as well as an acrylic backsplash in your choice of clear, black, or blue.
The 24 long x 13 wide x 16 high design fits on any standard aquarium tank.
Disadvantages of the SeaClear
Anyone just starting out will need to get all the extra equipment. Right now, it's basically a fishbowl waiting for the water and fish. The light fixture doesn't come with a bulb, either.
Although it's a wise investment if you're dealing with expensive tropical fish, the SeaClear sits in the pricier range of just over $400. Because it's acrylic and made to last, consider this the tank to get if you want it to last a lifetime.
---
5. Penn-Plax AquaSphere 360 Large Bowl-Shaped Aquarium
The Penn-Plax AquaSphere 360 might take you back in time to your first goldfish bowl, but that's where the resemblance stops.
Designed for both freshwater and saltwater setups, this 24-gallon round aquaria is a conversation piece. It was the winner of the Global Pet Expo New Product Showcase in 2019, and now it can decorate your home.
What You'll Get With This Tank
Instead of glass, the round aquarium is made from scratch-resistant polycarbonate. The kit includes 13 low-voltage LED bulbs (12 blue and one white). Built-in motion sensors let you move your hands to change the settings of the lights.
The filtration system integrates with the top lid and includes a submersible water pump, protein skimmer, and two media trays.
Disadvantages of the Penn-Plax
This tank is assuredly more for an expert looking for a 20-gallon or larger tank and all the trimmings. The price of $320 is reasonable for what you get, but if you're not familiar with how to use the equipment, this may be too much aquarium right now.
The tank doesn't come with a heater, and it may not fit on a standard surface. Make sure your preferred site can hold a heavy 18-inch tall circular tank.
See also: 5 Unique Aesthetic Cores to Inspire Your Decor
---
6. Aqueon Aquarium Starter Kit with LED Lighting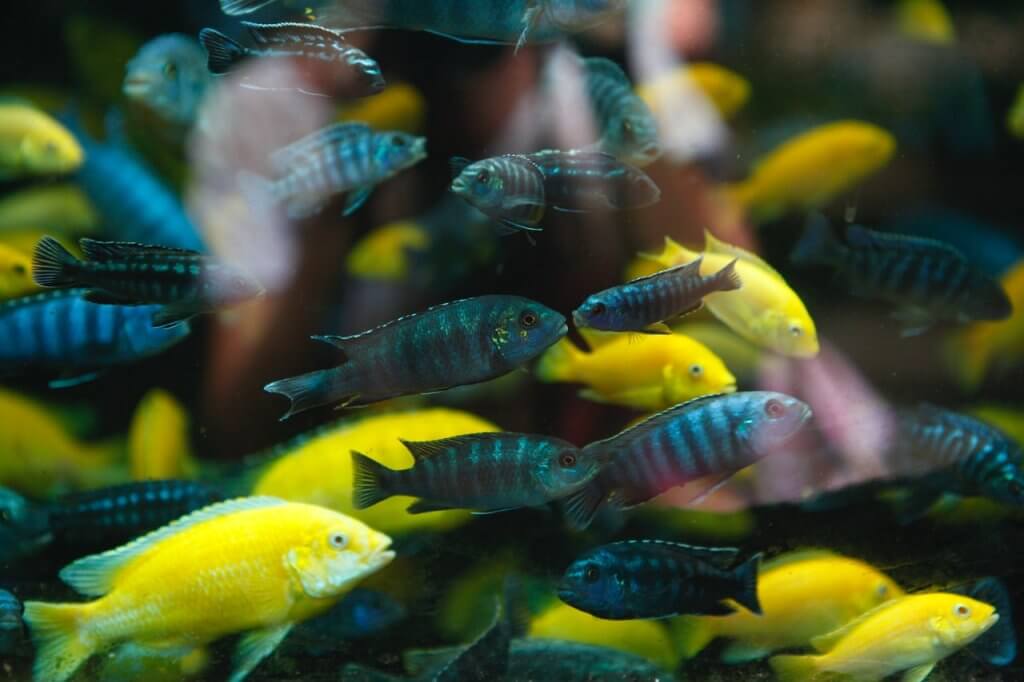 With the Aqueon Aquarium Starter Kit, everything you need to be a proud fish keeper comes in one box. It's all user-friendly, making it ideal for beginners and those with busy schedules.
Any type of fish that fits in smaller tanks will do well in the Aqueon. The tank setup is simple, and the equipment does most of the work for you.
What You'll Get With This Fish Tank
The Aqueon 20-gallon high tank is high-quality glass with an LED hood. The QuietFlow power filter hums in the background, blinking red when it's time to change the cartridge.
There's even a heater that comes preset at 78 degrees, or you can adjust it to your fish's preferred temperature.
You'll also get a sample of premium fish food and water conditioner, a fishnet, and a guide to help you get set up. The only extra things you'll need to buy are the fish and some decor.
Disadvantages of the Aqueon
The Aqueon's filter has received less than rave reviews. You can always buy a different brand if you're unhappy with the one included. You're only paying about $140 for the entire kit, which is a bargain.
One more thing to know is that the white LED lights aren't dimmable, so you'll want to keep the tank in an area where they won't bother you.
You may also like: 5 Tactics to Organize Your Living Room for a Cleaner 2023
---
Overall Thoughts
Each of the six tanks is a good investment if you're planning on fish keeping for a while. Some are better than others for specific categories.
We've narrowed down our favorites here:
Beginners
If you're new to the fish world and not confident about what to do to keep your new Goldie alive, go for the Aqueon Aquarium Starter Kit. From setup to maintenance, it walks you through everything.
Salt Water
When you're dealing with saltwater fish, you want top-of-the-line tanks. Tropical fish aren't cheap. We recommend the SeaClear Acrylic Aquarium Combo Set to ensure your investment holds up. You're going to be buying your own saltwater-friendly decor and equipment anyway, so a bare-bones tank made from the best material will work.
Budget Aquariums
Shoppers on a budget should go with the Marina LED Aquarium Kit. You don't get premium-quality equipment, but what is included gets you started with a minimal investment for the 20-gallon tank size.
The tank you choose depends on your goal as a fish keeper and the kinds of fish you'll put in it. Fish like platies do well in any clean, filtered tank, but others, especially tropicals, need a lot of attention.
Base your tank budget around the price of the fish that will be swimming in it. The pricier the fish, the more you should expect to spend on the equipment to keep them healthy.
Discover: 12 Hacks for Balcony Gardening
---
Conclusion
Fishkeeping is an enjoyable hobby for millions of people. Watching your healthy piscine swimmers interact in their environment is relaxing and satisfying.
Take the next step in your aquatic journey with any of these six tanks, and you can avoid those carnival goldfish mishaps of your youth.
Subscribe to The Home Blog's newsletter for more product reviews, interior design tips, and home organization hacks!