Floating shelves are an ingenious way to add storage without taking up floor space.
They are extremely versatile. With a little creativity, you can use them to organize and decorate your apartment in surprising ways.
Wall-mounted shelves as home decor can transform any room in your apartment and subtly represent your personal style.
Are you ready for some inspiration?
---
How to Use Floating Shelves in the Kitchen
For many people, the kitchen is the hub of activity. Food draws us together, sharing a meal and conversation while we all pitch in to clean up the aftermath.
Gourmet kitchens with tons of storage aren't a regular thing in apartments. In fact, it can be a real challenge trying to keep a smaller kitchen free of clutter.
Try these four ways to use floating shelves in your kitchen:
Display Dishes
Many kitchens lack great cabinet space. Since cabinets are expensive, most homes keep them to a bare minimum.
Adding floating shelves on the wall that connects to your cabinets can make it look like it was a part of the original design. This can be a perfect place to showcase your favorite dishes, and you can switch them up whenever you feel inclined.
Keeping your dishes within sight and easy to grab at dinnertime is also highly convenient. You can stack plates, bowls, and cups on the top while adding hooks for mugs and cooking utensils on the underside.
Build Your Own Coffee Bar
Coffee is the nectar of life for many. We just can't live without it. The coffee maker deserves a place of its own. Create one with floating shelves!
A floating wall shelf system in the kitchen can keep all the coffee equipment handy and allow easy access for pouring your perfect cup. Add heavy-duty shelves over a chalkboard wall, and you have yourself a mini cafe right at home.
You can have several floating shelves dedicated to your coffee bar.
One for cups
Another for the coffee machine
More to hold baskets for k-cup pods, creamer, gourmet coffee, etc.
Bonus – If you enjoy a nice glass of wine at the end of a long day of work, this can double as a wine bar and make it twice as nice!
Frame the Range Hood
Symmetry is always pleasing to the eye. Keep your kitchen symmetrical by framing your stove with identical ledge shelves on both sides of the range hood.
Much of the space on either side of a range hood often goes to waste. Use hanging shelves to reclaim some storage areas around the stove.
What would you put on these strategically placed shelves?
This is a handy place to store your spices and oils for quick use while cooking. You could also keep frequently-used recipe books right where they're needed.
If you want to use the space to add some style, why not keep a collection of colored glassware or copper bakeware on display?
In a Narrow Corner
We often use corners to stuff random things we rarely use. Instead of making your kitchen corners the land of forgotten items — turn it into a clever storage space.
Adding triangle-shaped shelves in the corner can be an excellent way to organize the kitchen. Use them to keep your banana hook or fruit bowl off the counter.
On your next free weekend, check out an easy and inexpensive version of these shelves by following this DIY instructables project.
Tight on space? Learn about getting a personal storage unit here!
---
How to Use Floating Shelves in the Bathroom

Often the smallest room in the house, the bathroom, can be challenging to organize.
Again, a good shelf set can save the day.
Above the Door
Using every available empty space is the superpower of floating shelves, even that small space above your bathroom door.
Adding a small shelf set over your door can allow for extra bathroom storage, such as extra bath towels.
This area can also serve as an extra visual attraction by adding some plants. Since the bathroom is such a humid environment, many plants thrive near the bath.
Which plants are the best choice?
Read this list of the best houseplants for your bathroom to find your plant match.
Next to the Mirror
Having everything displayed within reach will cut down the time it takes to get ready in the morning.
Install glass floating shelves beside the mirror to hold your toiletries and speed up your grooming regime.
Keeping things off the vanity will keep your bathroom looking neater and make your actual cleaning routine a breeze.
Over the Toilet
Forget about those flimsy behind-the-toilet storage racks. Instead, keep your bathroom streamlined by adding sleek floating shelves above your toilet.
Make sure to get the height right to keep your shelving out of the way — you don't want anyone suffering a bump on the head. The suggested height is at least two feet above the toilet tank. If you want to be able to store towels, be sure to hang them at least 15 inches apart.
Or decorate your new shelf with one of these clever bathroom signs!
Between the Toilet and the Wall
Another frequently wasted space is the small area between the toilet and the wall.
This is actually a handy place to store things. You can keep magazines, air fresheners, extra rolls of toilet paper, etc.
Related: 9 Ideas for Shower Shelves [4 Ways to DIY + 5 Product Recommendations]
---
How to Use Floating Shelves in the Living Room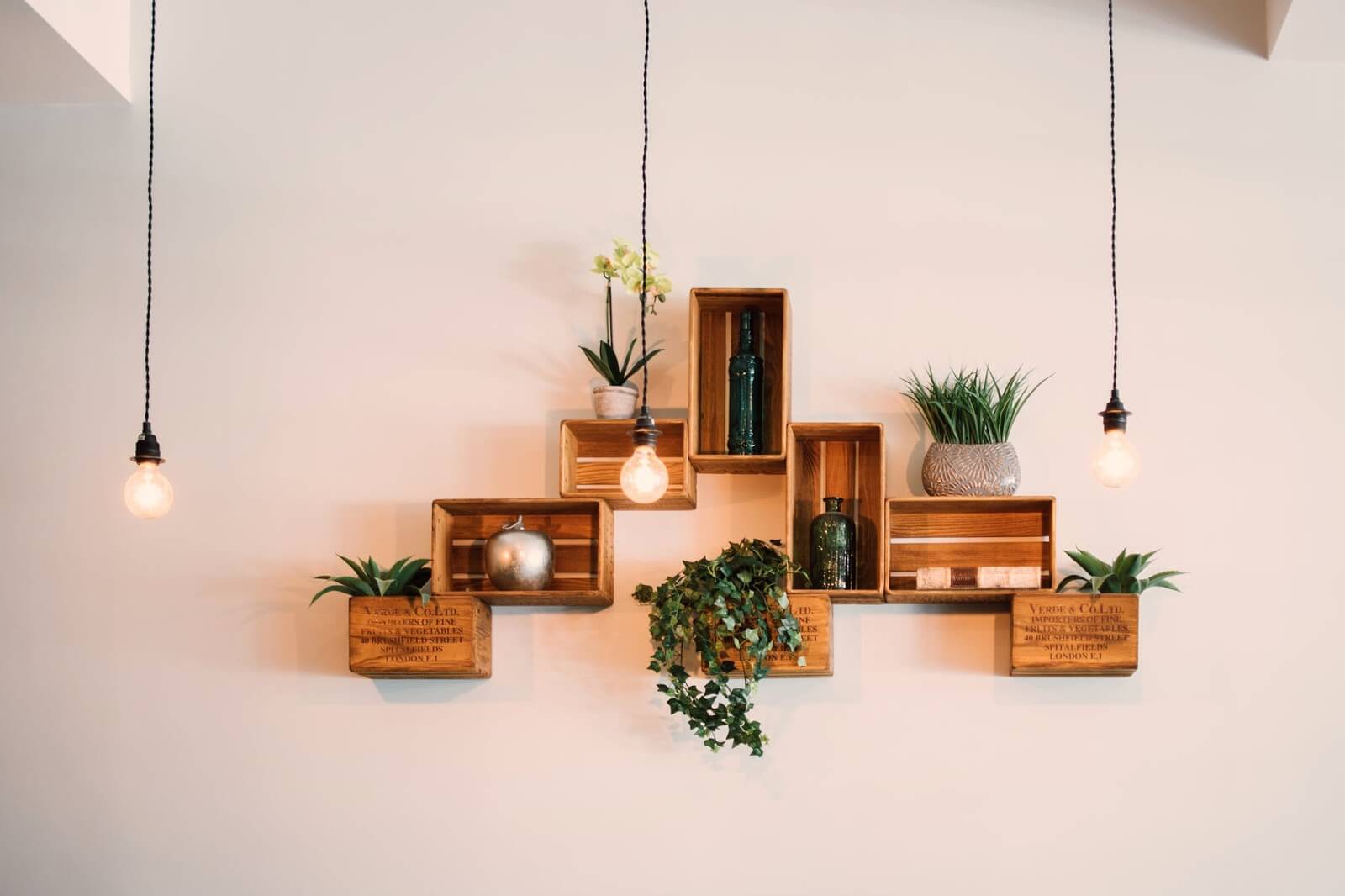 The living room is usually the largest room in the house and where most of us like to express our individual styles. This is where we come to unwind after a hard day.
Floating shelves can really make this room come alive and help declutter a living room — adding space and simplicity.
Gallery Wall
You know that empty wall space in the living room?
Consider creating a gallery wall to display a collection of art or favorite family photos.
Try adding these shelves in a geometric pattern with black and white photos for a modern twist. If that's not your style, add a pop of color and variety by having an eclectic mix of patterns and textures.
A gallery wall should be an expression of your favorites, and shelving makes the perfect canvas. Floating shelving units allow you to display different pieces without putting more holes in the wall.
Discover: 5 Unique Approaches to Get More Organized [in Under 10 Minutes]
Replace Your Entertainment Center
The days of bulky entertainment centers that collect dust and take up space are over. Floating shelves framing your TV are a streamlined substitution.
TVs have evolved into thinner, sleeker machines. It only makes sense to add a narrow wall-mounted shelf next to the TV to make it the focus of attention.
You can achieve this in various ways. Try hanging three shelves on both sides of the TV. Or put one shelf to each side, one above the TV, and one below.
Lastly, you can just have one long wood shelf under the TV, the length of the wall, acting as a drop spot for remotes and devices.
Add a Library
Is your space a little small for a full-sized bookshelf?
Investing in a couple of bookends turns any floating shelf into a beautiful library. The number of shelves needed depends solely on how deep your love of books is.
Add an interesting reading nook with a comfy chair and a side table to spend an afternoon lost in your favorite story.
Libraries also seem to have a sense of mystery. Add some magic to yours by adding a hidden compartment to your decorative shelves. This DIY video for a floating shelf will show you how.
See also: How to Create a Book Nook [9 Ideas]
Behind the Couch
Adding wall mount shelves behind the couch is a great way to make that space come alive. You can add decoration for added style or make it a more functional space by adding coasters and candles to increase the chill factor.
If you don't own a coffee table, short decorative shelves behind the couch grant some table space for every seat on the sofa.
---
How to Use a Shelf Set in the Bedroom

Our sanctuaries of sleep deserve some style as well. Make sleepy time the best time by using a wall shelf in the bedroom.
As a Night Table
Wood floating shelves make great night tables because you can select the exact size you need. Fitting a night table beside your bed can be challenging if you don't have a spacious bedroom.
You can add a thin shelf just above the bedside for a minimalist bedroom. You can jazz things up by adding a double floating shelf to make it more like an actual nightstand.
Over the Bed
Shelf brackets above the bed can be a super space saver, with or without a headboard. Placing a shelf high enough so you don't hit your head gives you a place to display some calming artwork.
If your room is too small for a nightstand, this wall decor is an excellent alternative space for a lamp and your little box of keepsakes.
In a Corner
Add some storage space and visual interest to your room by adding a wood shelf in an empty corner.
You can add triangle shelves, L-shaped corner shelves, or make a descending pyramid for a unique take on a corner shelf.
Make it a display shelf with plants, picture frames, or collectibles!
Create a Charging Station
Bedtime also means charging time for our devices.
Easily convert a floating wall shelf into a charging station by hanging it above an outlet with brackets for each of your devices. Keep your cords organized by adding notches to your shelf to clip the cables to your individual devices.
Looking to decrease clutter in the bedroom further? Specifically in your closet? Check out these 25 Closet Hacks and get organized.
Related: 5 Easy Ways to Give Your Bedroom a Chill Vibe
---
How to Use a Floating Wall Shelf in the Dining Room

Many people prefer to have traditional storage options in the dining room. This room isn't exempt from the benefits of a shelf set (or even corner shelves), especially when you have limited space.
Mini-Bar
To be the ultimate host, you need to have a mini-bar. If you don't have a designated space for this, you can always use a shelf set to double as an ultimate drink-making space.
Whip up any cocktail at a moment's notice by having your favorite liquors, a shaker, and some fancy glasses handy on your wall ledge.
Wall Art Display
Are topics of conversation challenging to find at dinnertime?
Why not provide inspiration?
One way to achieve this is through carefully chosen wall art displayed on an equally artistic wood shelf. If you've been on any trips recently, display photos or keepsakes from the experience.
Interested in a fun little DIY project?
Paint your shelf to complement your decor and top it with a display that matches the theme of your dining table accents.
Buffet
A well-designed buffet often caps a stylish dining room. The downsides are they can be expensive and take up a lot of space.
Some wood floating shelves can replace the need for a buffet. Keep all your entertaining ware and special utensils nicely displayed on deep floating shelves out of the way of seating.
Desk or Work Area
A designated area for your laptop and paperwork is nice, but it may not be feasible to put an entire desk in your dining room.
Using floating shelves for a space-saving work area makes this possible without requiring too much space.
You can even extend your desk space by adding drop-down or pull-out shelving to the existing bookcase.
---
How to Use a Wall Shelf in the Entry

Entryways are often left cluttered as people come in and out of the house in a hurry.
Keep this area more organized and clean by using a few floating shelves as a functional but pretty storage area.
You can even use storage shelves in your entryway closet since they never seem big enough.
If closet space is a problem, check out our tips on five proven ways to maximize small closet organization.
Use a Floating Shelf as a Catch-all
The first thing we do when we get home is empty our hands. With a designated area to put keys, mail, umbrellas, and wallets, you can save the kitchen counter for things that actually go there — like food!
A small but unique floating wall shelf conveniently placed in the entry can be a great drop center for these random but necessary items. When you have a home for your keys and wallet, the chances of losing them will diminish.
To Bring in Some Green
Near the door is a charming place to have a little greenhouse if your door has windows. A wall shelf with cute little houseplants will help bring the outdoors in and brighten up the home.
Some houseplants even improve the air quality so that you can breathe better, even without the fresh outdoor air.
Under a Mirror
Place a floating wall shelf under a mirror in your entryway with a few grooming supplies to help you look your best before you walk out the door.
One last check in the mirror before you leave can save you the embarrassment of having spinach in your teeth or a less-than-perfect hairdo.
With Hooks
If you do install a wall shelf near your door, hooks are a necessity. These hooks can hold keys, hats, purses, canes, and umbrellas.
If you are a sports enthusiast, use the hooks to hold your tennis racket, jump rope, or resistance bands.
Hooks — often underused — are organizational wonders.
Our Favorite Hanging Shelves For Sale Right Now
Conclusion
At first glance, you may feel the opportunity for storage in your apartment is limited. This article proves there are many smart ways to use floating shelves to decorate and organize every room in your apartment.
You can make a floating wall shelf in any size, shape, or material. They can match any style from industrial to bohemian.
Get creative and put your own personal spin on floating shelves.
The longer you have them, the more you'll find new and great ways to use them. You'll also realize that floating shelves help make your apartment feel more spacious and stylish.





(1 votes, average: 5.00 out of 5)


Loading...