The Newest Trend in Dinnerware: A Blue Rose Pottery Review
When you want the right ambiance for a special meal, the dinnerware you choose has to be perfect. You want it to be functional but still stand out as unique. As a bonus, it would be great if what you buy is sturdy enough that it could double as a family tradition!
The answer to your dilemma may have arrived on the scene in the latest dinnerware trend of Polish ceramics. Polish glassware is heat-safe, with some pieces capable of going from oven to table. This makes for high-quality and efficient baking without the need for a separate serving tray!
The origins of this newly popular global trend began in a small Polish town called Boleslawiec back in the 14th century. The pottery itself has an intriguing history that caught the attention of many collectors over the years.
Eventually, this long line of tradition shaped into today's modern, but history-laden, dinnerware.
A full review of Blue Rose Polish pottery wouldn't be complete without diving into the complex heritage it connects to. The history and skilled artisan work in every piece make this stoneware different from the other options available.

---
1. The New Pottery Trend
Although stoneware has been around for thousands of years, the trend of Polish pottery is only recently picking up speed in the USA.
The official name for this type of stoneware creation is Bolesławiec pottery. It is considered to be its own unique type of artwork and even has a Wikipedia page devoted to its history and significance.
After all this time, why are we just now really hearing about Polish ceramics?
Well, it may be because modern life is so rushed and hectic that people have begun searching earnestly for conveniences. We want our dishes to be able to handle use, not hidden away in a curio cabinet between guests.
Somewhere through the search for this solution, Polish glassware dishes popped up again. This durable dinnerware has proven its longevity — gaining it popularity in an era where fragile dishes are obsolete.
Handmade Polish pottery is very versatile, safe for use in the microwave, oven, and freezer. It's also dishwasher-safe. It's hard to break and abrasive-resistant. Even better, it's hand-crafted by artisans into beautiful artwork, like the Blue Rose design, that any owner is proud to show off.
The solution of convenient and impressive dishware for many people has become Polish ceramics.
You may also enjoy: 7 DIY Log Ideas to Create a Rustic Look in Your Apartment.
---
2. A History of Polish Pottery
Polish pottery has a long and storied history, ranging from simple times to royal use. Discoveries from the 14th century unveiled evidence of pottery from what was known as the Stroke-Ornamented Ware Culture (STK). This was a group of settlers who banded around the German/Poland area but stayed centrally in Poland in the Silesia Region.
This type of pottery was usually pear-shaped, recognized for the band that spread around the top of the pot. The strokes the artisans used to design their pots were consistently recognizable, hence the name. Because their work was so advanced, it was passed on to future generations.
Right after the STK culture came the Corded Ware group, who roamed Germany and Poland from 3200 BC to 1800 BC. Their stoneware pottery was unique from the STK designs. The creations were large and round or beaker-shaped and had dots decorating the surface.
Then stoneware kicked up a notch to the Pomerelian Face Urn Culture, about 500 BC. These were designed to represent humans, with a male face around the skinny neck area and a torso where the urn widened. This was one of the first types of earthenware to include depictions of life scenes.
Moving Into the Boleslawiec Era
Around 600 AD, Boleslawiec pottery began taking shape. Back then, the town's name was Boleslawiec. Master artisans crafted the pottery and put their own signature details on each piece.
However, the town was almost destroyed in 1492 and then rebuilt in 1511, when the first pottery guild was formed. The Thirty Year War set this progress back, nearly eliminating the whole town by 1648.
But in 1650, the craftsmen began designing pottery for royalty. Boleslawiec pottery became the pottery of choice for royals all over Europe.
The earthenware pottery that was used by royalty quickly gained a reputation beyond Europe. It became so popular that artisans struggled to keep up with demand.
For centuries, Boleslawiec pottery was made on a potter's wheel. Once reusable molds came on the scene, pottery turned into stoneware made from feldspar instead of lead. This sped up the process of creating each piece and led to what we know today as modern Polish pottery.
Related: 5 Creative Ways to Decorate a Boho Bedroom
---
3. Why Polish Stoneware is the Preferred Dinnerware
The idea of "stone" as a regular piece of tableware might sound off-putting, but earthenware is actually a very classy dish. After all, Polish stoneware has a royal history!
Part of the reason for this dish's high demand is that its smooth surface makes it easy to clean. Most food doesn't stick to it, no matter how long it sits. It wipes away easily with a little soap and water.
Pitting Stoneware Against the Competition
Stoneware has uses far beyond plates and bowls. Since the material is oven safe and non-stick, it's a popular choice as a baking dish, too.
But how does it compare to other cookware choices?
As with everything, there are pros and cons to each material you bake with.
Stainless steel is also dishwasher and oven-safe, but it does not heat evenly unless it is bonded with other materials. Stoneware gives you a consistent temperature, which is why many Italian restaurants use it to make pizza.
Copper is one of the most expensive and prized cooking utensil materials. Using this type of bakeware gives you more control over the heat and cool-down. However, it's not dishwasher safe and needs polishing to keep up its luster. Stoneware allows you to have temperature control with minimal upkeep and less expense.
Glassware and other non-stick surface materials are other suitable healthy cooking options. They don't need oils to prevent messy meals. This same surface benefit means they scratch easily and don't last long. Stoneware also provides you a non-stick advantage with the bonus of long-term durability.
You may not replace your old favorite baking dish with stoneware cookware right away. With time, though, you'll start to enjoy the ease of cooking and cleaning when you use Polish stoneware.
Want more tips incorporating vintage items into your home decor? Read our five tips here.
---
4. Blue Rose Pottery Features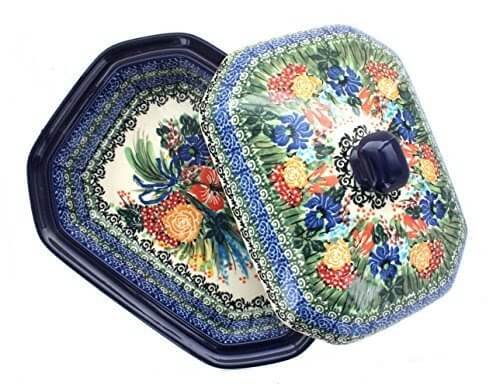 Arguably the most coveted collectible pottery design trending today is the Blue Rose style. Interestingly, only one person founded the company that initiated the collection of dishes. They considered Polish pottery fascinating and wanted to share it with the world.
Lots of contemporary patterns stem from the original Boleslawiec, Poland line of pottery. Today, customers in the United States can find Blue Rose designs in everything from wine glasses to place settings. Cereal bowls and tea sets to home decor.
If you're thinking about starting your own collection, these reviews may help you decide where to start:
Dinnerware – You can buy the four-piece place setting in many designs, like the Alyce, a swirling mix of blue, green, and white patterns. Each set consists of a dinner plate, dessert plate, soup bowl, and a coffee mug. The stoneware is handmade in Poland but durable enough to freeze or put in the oven.
Serving bowl – A three-piece set, the Daisy Surprise serving bowl collection comes with a large, medium, and small stoneware dish.

The design is perfect for any flower-lover. Large blue daisies adorn the serving pieces, accented with smaller, darker versions, and each bowl is lined with dark blue edges.
The small bowl is 9″ in diameter and 3.75″ deep. The medium dish is 11″ in diameter and 4.25″ deep, and the largest serving bowl is a hefty 13″ diameter by 5″ deep.
Bakeware sets – Bakers can choose from multiple sizes and contemporary patterns. But this high-quality Flowering Peacock set includes the large and extra-large baking pans. The large earthenware baker is the standard 12″ x 9″ x 2″ size, and the extra-large is slightly bigger at 13″ x 10.5″ x 2″.

The handmade Polish stoneware design boasts a mosaic print pattern along the flat bottom, and blue flowers accent the edges. The baker's pan's soft curve keeps the temperature spread equally throughout the food, allowing for optimal baking.
Home Decor Pieces – Every holiday can be a treat for you when you add a Blue Rose Pottery accessory to match your collection! Christmas pieces include everything from angels to tea sets on serving trays to evergreen trees in the design of your choice. But don't stop there.

A red daisy pumpkin luminary adds flair to your fall table. Candlesticks and wax warmers in your favorite Blue Rose style are excellent home decor additions all year-'round. Even Fido can enjoy your Blue Rose Polish pottery collection with their own pet food bowl!
As the trend of Blue Rose Polish pottery continues to gain traction around the world, you can expect to see even more styles and options.
Instead of browsing Amazon, Etsy, or eBay, you can also see more pieces by going directly to bluerosepottery.com.
You can even start small by picking up:
a teapot
some flower pots
a butter dish
a ladle
a single teacup or coffee mug
a pie plate
a stunning Unikat dessert plate by Ceramika Artystyczna
Or dive in with a set of collectible canisters or handmade polish pottery figurines!
Know someone who already loves collecting Blue Rose pottery?
Now you have almost endless gift ideas for them!
Related: Affordable Centerpiece Ideas to Spruce up Your Kitchen Table.
---
5. Caring for Your Blue Rose Polish Pottery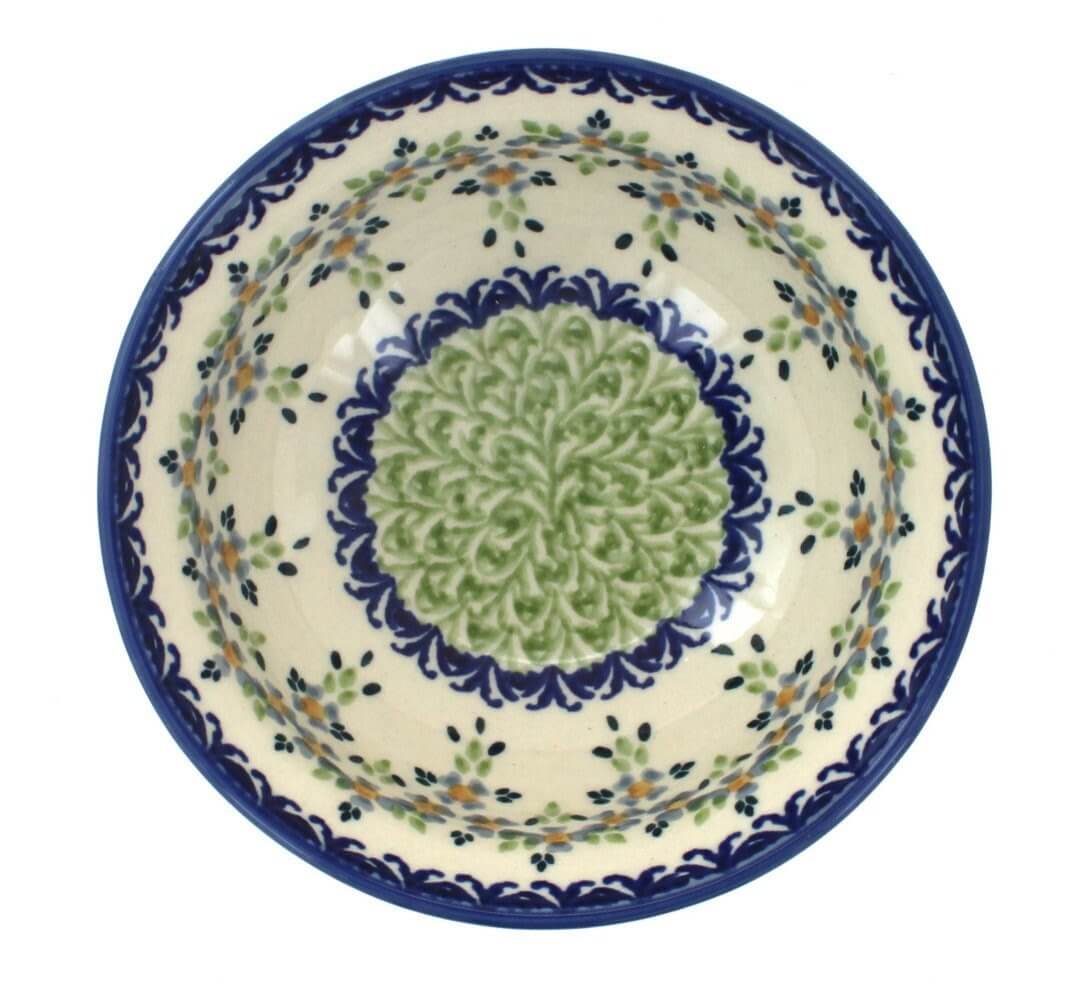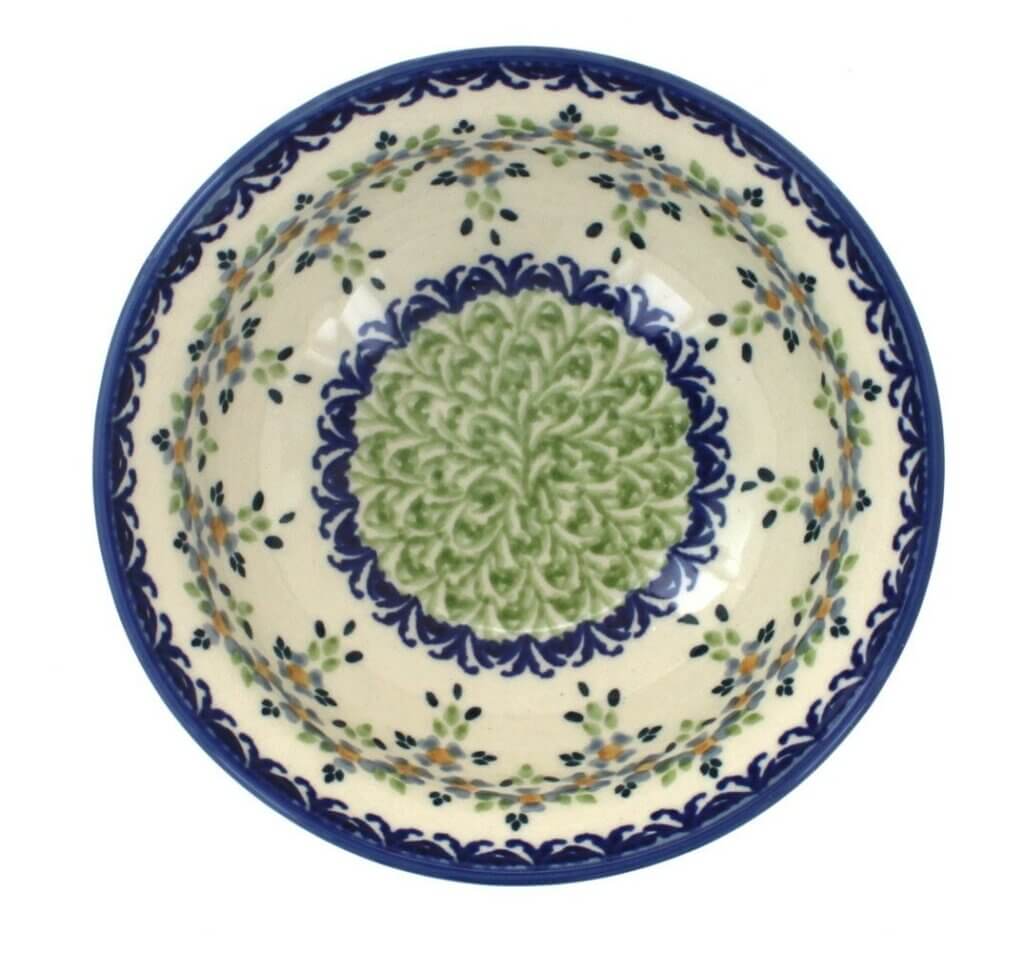 Blue Rose pottery is handmade by artisans, so although it's sturdy and durable, it does require special care. Since it's an investment you're making in a collection you love, learning how to make it last forever is essential knowledge!
Care for your Polish pottery with these direct-from-the-company tips:
Temperature control: Never go straight from the fridge to a hot source. Let the baking dish get back to room temperature before subjecting it to extreme heat or vice versa.
Moisture retention: If you're cooking fatty foods, add water to the dish.
Drying rules: Make sure to always dry your stoneware thoroughly to prevent cracks due to excess moisture.
Things to avoid: Never put your stoneware dishes on a direct heat source or in a broiler. Never place a hot dish on a wet surface or use a wet cloth to move it. This is akin to the extreme temperature change and can cause the dish to break.
For microwave care: Use the right serving bowl size for the food portion to allow for even heating. Any open surface area can create a hot-spot that cracks the dish.
In general, you're safe to use your dishes in the oven or microwave. They are dishwasher and freezer safe. All these are extreme temperatures, though, so mind the "room temperature" rule when moving your dishes around.
Because Polish stoneware is so easy to clean and durable, it's common to forget that there are some fundamental rules to follow with your dishes.
When you add Blue Rose Polish pottery to your collection, you want each piece to last a lifetime. For that to happen, you must be aware of and adhere to these small guidelines. Other than that, feel free to mix and match your designs, add new serving pieces throughout the year, and use them to serve your family daily!
---
Conclusion
If you're going to invest in dishware, you want to make sure it gets the job done and looks nice. Blue Rose Polish pottery is unique and functional, easy to clean, and impressive enough to be royal!
This collectible dinnerware trend is certain to spark many a lengthy icebreaking conversation at the table. Making it the coveted family heirloom for your descendants.
Start your own family tradition of using stoneware that has intriguing roots stemming from thousands of years ago. Handmade by skilled artisans yet durable enough to handle everyday use. It's no wonder the trend of Blue Rose Polish pottery isn't going anywhere!