The Best Floating Beds of the Year
There are so many amazing marvels of magic-like home decor on the market today, but a floating bed may take the cake.
The bed frame hides the legs, so the entire bed looks like it's visibly floating in the air. The trick isn't magic; it's because the legs are close to the frame's center.
If you're thinking about adding this furniture wonder to your home, there are many reasons to go for it.
Let's say you have a small room, for instance. A floating bed maximizes the space, allowing you to have a roomier mattress without sacrificing precious inches to the frame.
Ready to make a low-profile bed frame your next investment? Here are some of the top floating beds on the market for you to compare.

---
The Appeal of Floating Beds
What makes floating beds so great is that they're both aesthetically pleasing and practical.
A typical floating bed uses a platform design. It can be wall-mounted or standalone, but it doesn't have a box spring. Thanks to its platform design, it looks excellent and provides under-bed storage, ideal for smaller, cramped spaces.
The bed frames are often made of wood and sit a little lower than a regular bed. You can increase the height with a box spring if you'd like, but it's not necessary.
Therefore, you can save the money you'd put towards a box spring and opt for a really fancy mattress to lay atop your platform bed.
As with a typical bed, there is a flat area or slats to hold the mattress securely. The floating bed mattresses are standard, so you can get a bed that ranges from a twin to a California King.
Next, we'll share our nine favorite floating beds and what makes them stand out.
You may also like: The 11 Bedroom Essentials Every Brand New Apartment Needs
---
1. Minimalist Design: Mercury Row's Aristocles
The minimalist atmosphere is a favorite design style for people who want to stick with the basics while still looking stylish.
If your preference tends to run toward streamlined and modern, the Aristocles by Mercury's Row is for you.
The floating bed frame is made from manufactured wood and particle board, with nearly invisible center support legs.
Because you don't need a box spring, the laminated walnut finished bed takes up less space. However, the manufacturers recommend a mattress of at least 8 inches.
The platform bed frame is 61.25" wide and 81.75" long, so it doesn't take up much room. Perfect for a minimalistic area at 11.75" high and only 4 inches from the floor to the underside of the bed, it's a bed made for simplicity.
And with a price tag of around $350, it helps keep your bank account spending to a minimalist amount, too!
---
2. Modern and Elegant: Article Basi
Comprising either oak or walnut (your choice), the Article Basi platform bed is just right for every modern bedroom. Relax and fall asleep in your high-quality, comfortable king or queen floating bed.
The bed frame is sleek and contemporary to match almost every modern bedroom decor style.
Although the platform frame is slender, durability isn't a concern. The super-solid construction, complete with solid wood legs and solid plywood slats as a support system, will last you for years.
When it's fully assembled, the king-sized Basi is 12" off the floor, 79" wide, and 83" long. A 10-14" mattress is recommended.
The bed includes easy assembly instructions. For under $500, or with a payment plan of $44/month, you could be sleeping in this modern-style bed in just a few days.
---
3. Modern and Fun: Bailee Upholstered Low Profile Bed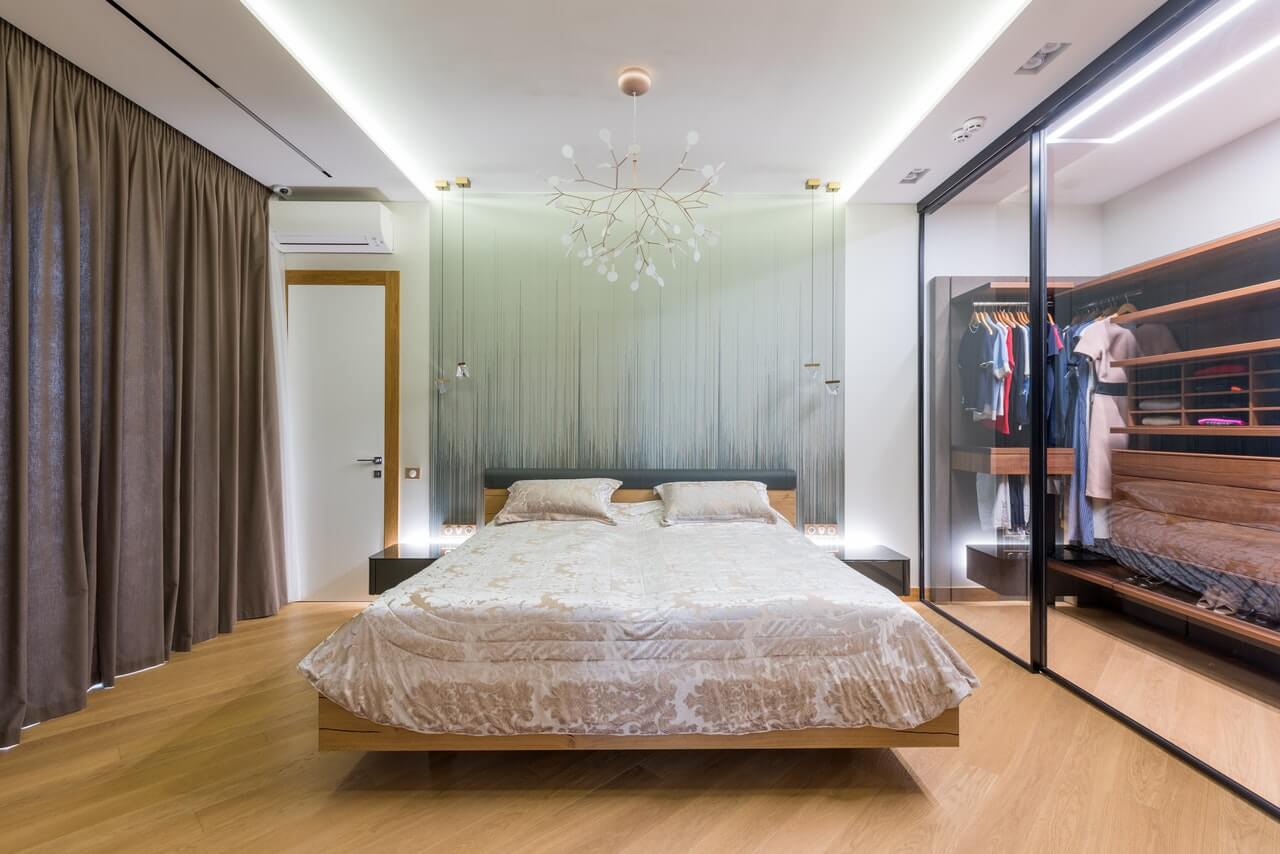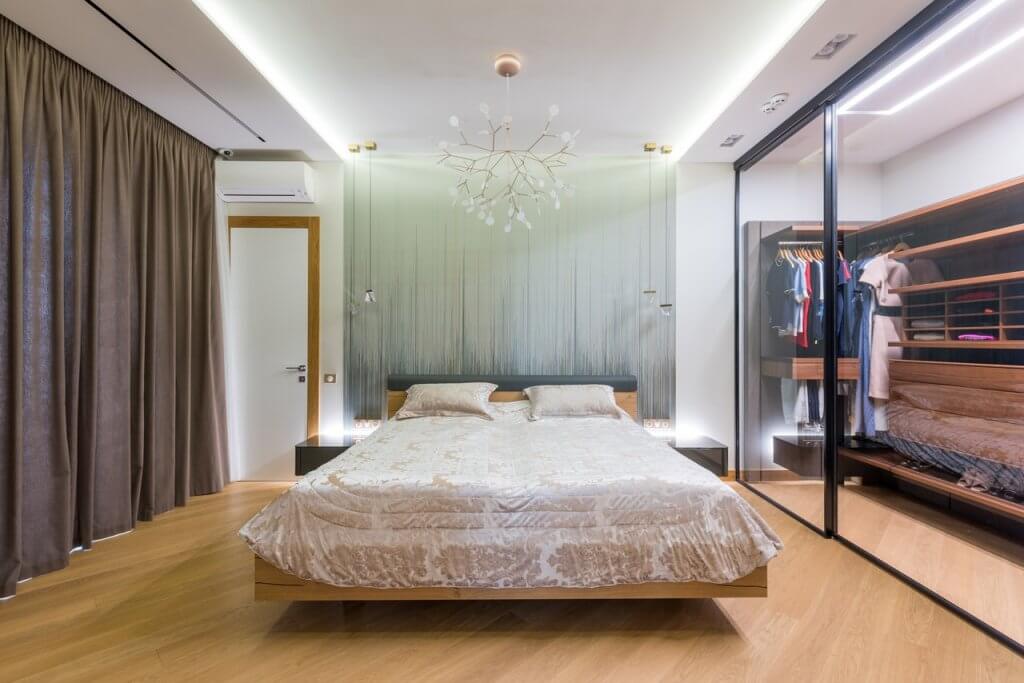 One of the best floating beds on the list, the Bailee Upholstered Low Profile Bed is fun, stylish, and completely eye-catching.
The frame's design makes it look like a wave, colored in white and black faux leather. If you want your bed to have a modern and unusual statement, the Bailee is the one for you.
This modern platform bed has curved slats, but any mattress slides right into the frame. The curvy look is part of the manufactured wood frame only. No box spring is necessary, although the manufacturer does recommend you use a mattress that's at least 14" thick.
Sturdy construction and a 93.5" wide x 100" long build keep you securely nestled in your bed. Keep in mind that it's a big bed, although it's only 4.3" off the floor.
Unlike some of the other floating beds on the list, this piece of furniture has a headboard and a footboard.
If your dream bed is one that you can style with any modern look and still have a unique finish, try the Bailee for $1380.
And if the assembly is a concern, you can have it put together by a professional for a little more upon delivery.
Discover: How to Get Replacement Parts From IKEA
---
4. Space-Saving: Worth Platform Bed
Do you consider your bed an investment in your health and overall wellness? If so, the Arata Japanese Worth Platform Bed might be the answer to your bedroom furniture goals.
Japanese culture often focuses on two themes: harmony and living a simple life. And this bed has both of these features. It's elegant and minimalistic, and it's one of the best space-saving items on our list.
You can choose from a queen, king, or California king size for around $2,000.
Your frames are available in oak, walnut, or wenge. The headboard is pearl grey, white, or an ecru fabric upholstery.
On both sides of the frame near the headboard is a nightstand-like surface. While this makes the bed a little wider than you might want, it does save you the extra expense of buying more furniture.
Plus, you can remove the shelves if you prefer.
---
5. All the Frills: Abygaël Upholstered Low Profile Sleigh Bed
Ready to pamper yourself with an all-the-frills low profile platform bed? The Abygaël is exactly what you want as your next furniture investment.
Similar to the Worth, the Abygaël has a wave-like frame. The similarity stops there, though, as the gentle curves are anything but simplistic.
The design brings rounded corners and ultra-soft upholstery to your room, creating a look that makes you want to stay in bed well past morning.
And while you're there, it'll entertain you with the integrated LED lights placed under both sideboards, giving you 16 remote control operated colors to play around with.
The upholstered bed frame is leather match, and the frame itself is a combination of solid and manufactured wood.
No box spring is necessary, but the recommended mattress thickness is 10".
Choose from black, dark gray, white and black, or black and dark red for your full, queen, or king upholstered platform bed. Starting at $865, the Abygaël is a sleigh bed you'll want to keep for years.
Related: Product Comparison of a 20 Gallon Fish Tank
---
6. Extra Storage: Mar Storage Wall Bed
Platform beds don't take up as much room as a standard bed, but most of them take away the under-bed storage options.
For those who want to maximize space and storage, the Mar Storage Wall Bed is the best of both worlds.
This floating bed has a white, high-gloss lacquer and natural walnut finish. Wood veneers integrate it with every modern interior design style. The eco-friendly upholstery on the headboard is white faux leather with wood trim.
The headboard also includes glass shelves and lights for extra storage space. Its frame lifts to offer spacious storage drawers under the mattress foundation.
The dimensions are 132" wide x 36" deep x 43" high. However, the bed is only available in king mattress sizes. Whether you opt for firm, plush, or memory foam, this frame hosts them all well.
At $3700, it's the biggest investment on our list. But the extra storage, long-term warranty, and eco-friendly materials make it worth the cost.
Related: How to Add a Chill Vibe to Your Bedroom
---
7. Best on a Budget: Allewie Modern Wave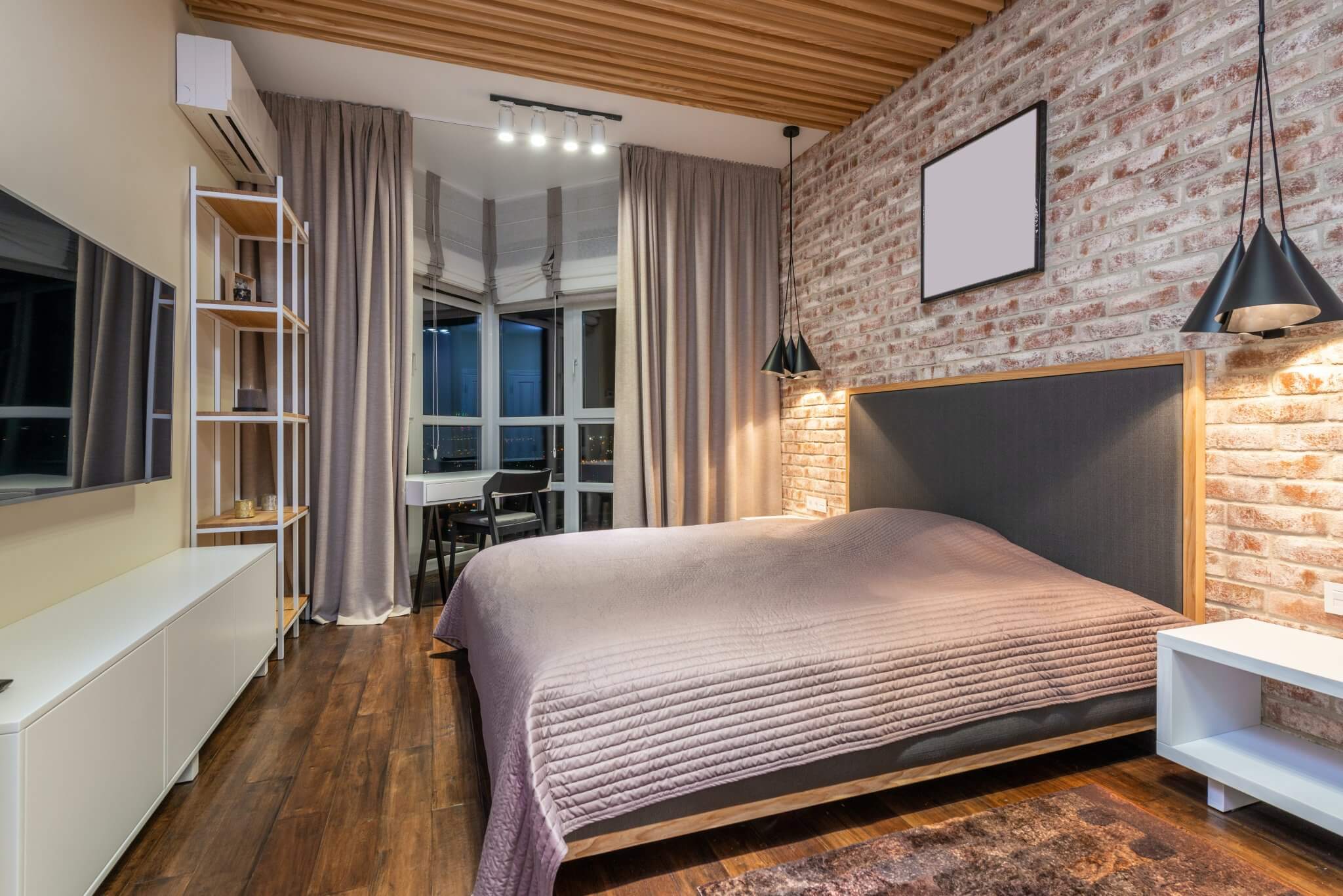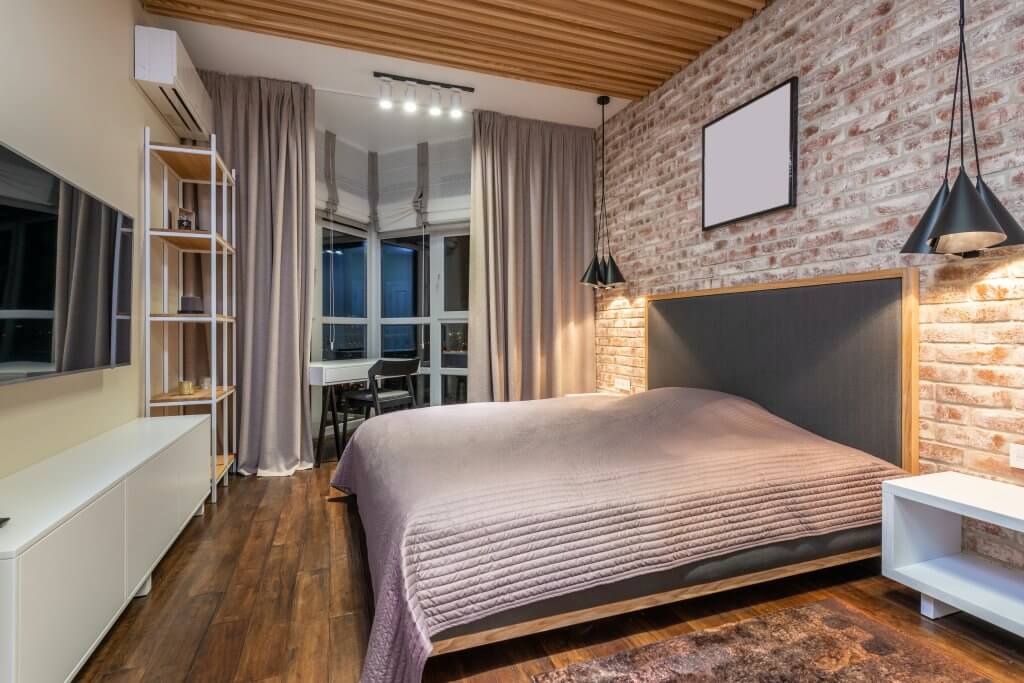 Looking for an attractive floating bed on a budget? Try the Allewie Modern Wave Low Profile bed.
The wave-like design on the full, king, or queen-sized bed frame gives any bedroom a modern look. The fully upholstered white faux leather headboard is adjustable to sit at different angles.
Its construction is durable, sleek metal, and the wooden slats hold your mattress solidly without a box spring or other board. Mattresses should be between 8 and 12 inches for the best results.
The Allewie is perfect for every budget at around $170 plus shipping on Amazon. Create space in your room with this trendy, comfortable, and affordable floating platform bed.
---
8. Best All-Around Reviews: Nexera Queen Size Platform
So you want a stylish bed that saves you space and is affordable. It's possible! You just need the Nexera Queen Size Platform Bed.
The Nexera is available with the platform only, or you can pair it with multiple matching headboards for a complete set.
The black metal frame is sturdy and durable and matches most modern decor designs.
Easy assembly turns a frame into a bed fast. The hardwood slat construction means you don't need a box spring, so you'll save precious inches.
There's a 500-pound weight capacity on this 81.75" wide x 61.25" long x 11.75" high bed. Selling for around $350, it's a budget-friendly, space-saving, comfy floating bed option.
See also: 1920's Aesthetic Decor Fundamentals
---
9. Best Name Brand: The Floyd Floating Bed
Floyd is a highly-respected brand in the furniture industry when it comes to quality manufacturers. The Floyd floating bed is the go-to for people who desire a simple, well-constructed frame that can grow with you.
This bed can turn from a queen into a king or vice versa as your needs (and space options) change.
Add under-the-bed storage, assemble the finished product without tools, and enjoy the simplicity and style without a hassle.
The basic Floyd beds start around $1145 and come with an expansion kit so you can grow or shrink your bed as needed.
Its lightweight honeycomb core makes the bed easy to move but durable enough to hold your mattress and body weight.
Configurations are customizable. You can get a full or queen, plus a headboard, or a king plus a headboard. Or, stick with the basic full, twin, queen, or king as a standalone low-profile platform bed.
You'll never need to invest in another bed frame, no matter what style you switch your decor to. The Floyd is versatile enough to match any trend or classic look, and it's the only modular bed frame that grows with you.
Plus, both the walnut and birch wood options will match most styles easily!
Quality materials, easy assembly (in under 20 minutes with two people), and a variety of storage options make the Floyd a popular platform bed. And if you love the quality of the manufacturer, you can add matching side tables, sofas, and other furniture pieces, too!
It's easy to see why furniture industry insiders recommend Floyd for anyone looking for high quality with low-stress assembly.
Keep one frame for the rest of your life when you use a Floyd that changes with your lifestyle.
---
Conclusion
Why be "normal" when you can enjoy the fun and streamlined sleekness of a platform bed?
With slats and flat areas to securely hold your mattress, you don't need the heft and bulk of a box spring.
Any one of these nine floating beds will add style to your room without taking up important space.
Turn a low-profile bed frame into your next furniture investment with one of these top floating bed options.