How to Pick Out the Perfect Area Rug
When you move into your home, you spend months tweaking each room until it's just right. Picking out the best furniture, hanging shelves, and buying decor are rites of passage for anyone moving into a new place.
But when the essentials are all taken care of, and a room still feels like it's missing something, it may be time to invest in an area rug. These small carpets can make any room a little cozier — if you choose the right one.
Just as the right small carpet can add to the room's atmosphere, the wrong one can throw it off balance. Follow these tips to learn how to pick out the perfect area rug.
---
1. Consider Your Budget
Area rugs shouldn't be cheap, but they shouldn't break your bank, either.
Instead of going with the clearance rack or a synthetic carpet that will end up falling part quickly, wait to buy until you can afford a high-quality rug. The floor isn't going anywhere while you save up your funds.
Think about how much you can reasonably afford for a good rug that isn't going to smell, fray, or quickly fade. Natural carpeting will last longer, making it a better investment over cheaply made materials.
There's a difference between a great deal and a waste of money. You may end up replacing an inexpensive carpet so often that it costs you more than a quality version would have.
See also: The 7 Best Blinds That Block the Sun
---
2. Decide the Location
Where you put the rug is as important as the choice of carpeting. You may think you want it in one place, but if you think about the actual placement, it might not work as well as you imagined.
Since you're buying the best rug you can afford, you want to make sure it is as free from damage as possible. Moisture and water are definite factors to avoid, as are things like direct sunlight and pet hair.
If the current location of your visualized rug is in front of the window or at your dog's favorite resting point, consider moving some furniture. Rearrange things until you have a better place for the carpet.
As you narrow down the flooring's permanent placement, also think about the sizing elements. An area rug should accentuate the room, not overwhelm it. Keep your rug small enough that a few inches of bare floor show on each side.
---
3. Check Out the Styles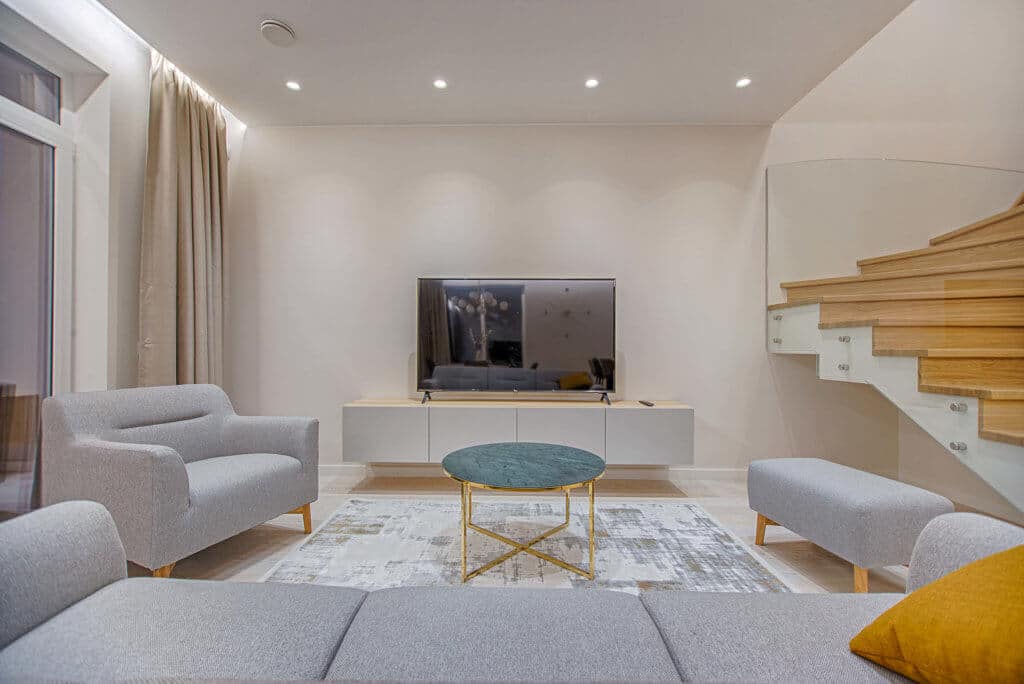 If your experience with area rugs is limited to those offered in discount department stores, you may be in for a shock when you start a more extensive search.
There are so many carpeting styles that narrowing down the one you love can be a difficult task!
Oriental carpeting and Persian rugs are two of the highest-quality offerings. Most people avoid these, though, if they have pets or kids. These carpets are sensitive to traffic, and a lot of activity can ruin them.
Some of the most popular styles for an average household include:
Traditional carpeting with multiple choices of thickness in simple patterns or solids
Modern/contemporary carpeting in abstracts, minimalistic colors and prints, and trending designs
Bold/geometric carpeting in vibrant colors and patterns draws attention away from the furnishings and to the rug itself
You can find each of these styles in flat, easy-to-vacuum layers, thick and comfy textures, or shag materials.
---
4. Learn About Complementary Matching
Once you see the options you have for styles, a particular pattern or color may call you. Hold off on adding the "perfect" rug to your cart until you make sure it will match the room you want it on display in.
It doesn't have to be exactly the same hue or pattern. Rugs are accessories, that complement what you already have rather than blend in with the theme.
Use these tips to verify the rug you want truly is perfect for the location where it's going to be:
Keep the intensity of the hues the same. For example, pearl and pastel shades need other similar colors; bolds go with bolds, neutrals with neutrals.
Consider the scale of the prints you use. If you have large geometric patterns in your furniture or on your walls, your area rug should match the scale of those designs.
Don't mix too many colors, even if they are complementary. Stick with two or three of your favorites and find a rug that enhances those color palettes.
Your style is unique to you. Too many clashing colors and patterns can overwhelm your brain, though. This is sensory overload, and you may not even know it's happening until it sneaks up on you.
Avoid the possibility of stressing your brain or your guests. Tone each room down to a few matching themes. Then choose an area rug that accessorizes the style that's already there.
You may also be interested in: How to Float a Sofa Plus Other Apartment Decor Tips
---
5. Think About the Room's Traffic
Before you decide on the rug you want, ask yourself if it is feasible with the traffic in the room. No traffic means you can choose anything from traditional to Oriental, and the average household has average traffic.
Every room has a different amount of use, too. The dining room carpet is subject to spills more than the bedroom would be, typically.
Think about how much traffic your new rug will be seeing.
What are the odds that spills will happen or someone will track mud on it? Will the pets in your home be affecting it in any way?
With that in mind, look for carpeting that can withstand your vision, either a high-pile or low-pile option:
Higher pile rugs are thicker and not made for a lot of use.
Low-pile carpeting is easy to clean up, simple to vacuum over or sweep, and suitable for trampling.
---
Conclusion
An area rug can be just the thing to cozy up an empty space in your room or bring boldness to simplicity.
When you're ready to invest in a small carpet to enhance your home, use these tips to keep it all balanced together.





(No Ratings Yet)


Loading...