The 7 Best Blinds That Block the Sun
Looking for some blinds to block the sun out of your apartment? Here's a list of our favorite sun-blocking blinds and blackout curtains!
When you have windows that let in natural light, there are lots of advantages. You don't need to use artificial lighting as much, and there are many health benefits.
But when you're trying to sleep or block out streetlights, you don't always see the pros quite as clearly!
Light control window shades may be the solution to your dilemma. They let in all the natural lighting when you want it, and wholly black it out when you don't.
Finding the right window treatments for your needs is the tricky part. Every room's light is different, and how much lighting you want in one area might not be the same as another.
Once you start searching, you'll see these blinds come in different sizes, shapes, colors, and qualities. Before you navigate into a Pinterest-worthy vortex of trying to find the best products, check out the top seven blinds that block the sun here.
---
The Best Sun-Blocking Blinds: Our Picks
Our team got together to test out some sun-blocking blinds, and here are our favorites:
GoDear Design Deluxe Adjustable Sliding Panel Track Blind
SBARTAR Cordless Cellular Shades Blackout Honeycomb Blinds
Veneta Classic Blackout Cellular Shades
Cordless Utopia Roman Shade
Cocoon by Coulisse Light Filtering Cellular Shade
Radiance Cord-Free, Roller Shade
Original Blackout Pleated Paper Shade
---
1. GoDear Design Deluxe Adjustable Sliding Panel Track Blind
The perfect blind for panel doors, the GoDear Design Deluxe Adjustable Sliding Panel, is versatile and blends well with most decor.
Not everywhere that lets in light is a window frame. Sometimes if it's full-sized doors that need covering, you may want panel track blinds over draperies. They don't fade or collect dust, and they're simple to operate.
The GoDear sliding panel is one of these marvels.
It works with:
French doors
Patio doors
Balcony doors
Closet doors
Sliding glass doors
Large picture windows
As a room divider
For large windows
The manufacturers designed the panels to reflect nature. To ensure success, they offer the GoDear in a variety of minimalistic colors.
GoDear Pros & Cons
If you're looking for a full-sized door panel, first consider the pros and cons of the GoDear.
Pros: 
The panel track is easy to install with minimum tools, without professional help. Its design allows for easy maneuverability along the slide.
You can trim it to the size you need, from 45.8 inches to 86″ wide.
Cons: 
Too much use or rugged movement can cause the screen fabric to fray. Be cautious when you open the track and use the designated handles to pull it open if you have a lot of traffic in your home.
The GoDear is easily adjustable to most room openings. If you need coverage for large or awkward-sized doors, this is a great choice.
---
2. SBARTAR Cordless Cellular Shades Blackout Honeycomb Blinds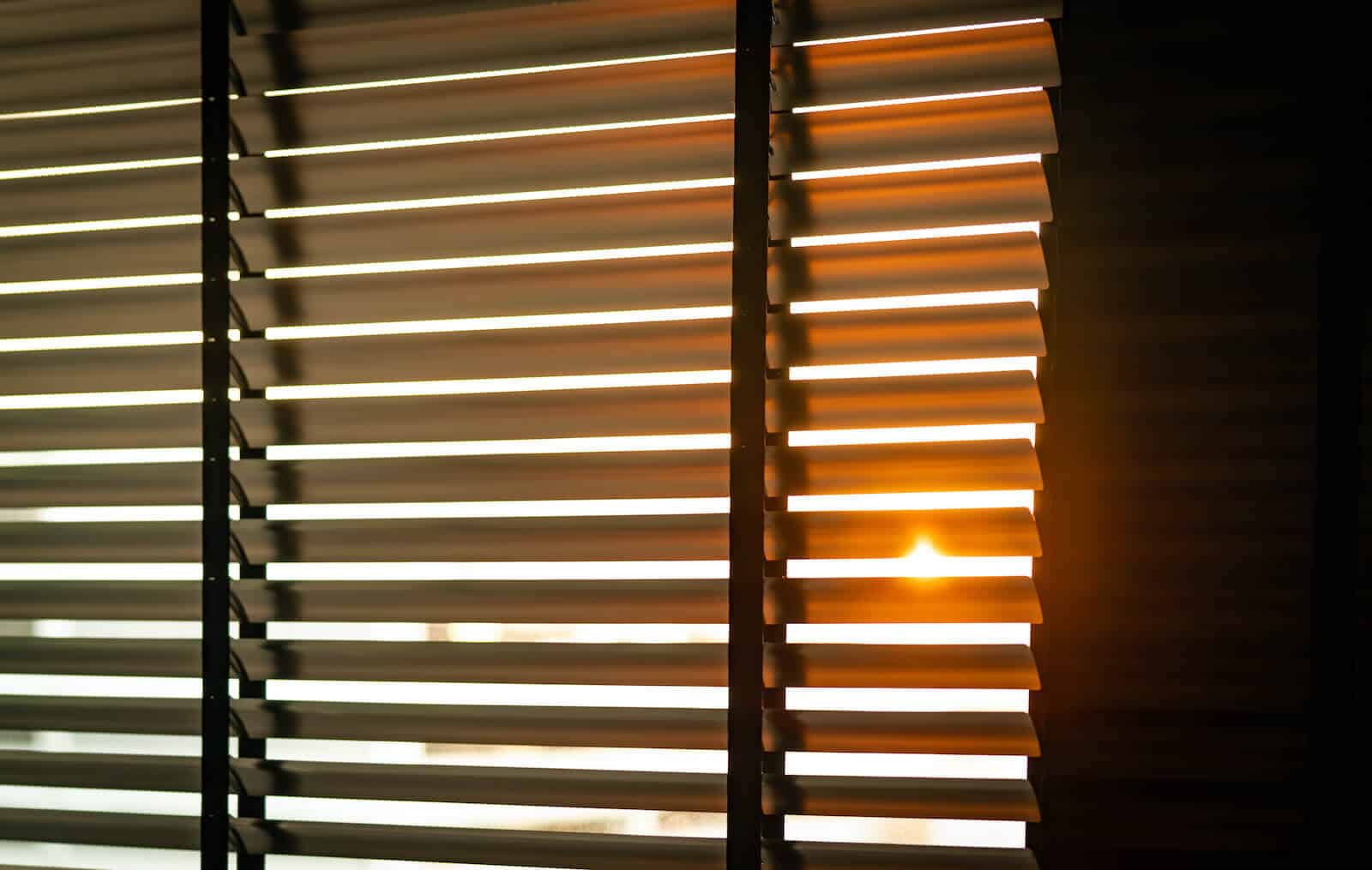 Newer technology defines the SBARTAR Cordless Shades Blackout Honeycomb Blinds. The manufacturers use the innovative honeycomb design that very few blinds come with. This setup works specifically to ensure 100% UV ray rejection and blackout capability.
The honeycomb construction design forms air chambers that improve insulation, too.  The extra touch with layers inside the vertical blinds protects your room from outside temperatures.
With the extra flow in the blinds' structure, you get a bonus of noise reduction and reduced electric bills. Room darkening blinds are good insulators in general, but the honeycomb design lets them pay for themselves!
SBARTAR Cordless Blackout Shades Pros & Cons
To make sure the SBARTAR shades are just what you are looking for, check out these pros and cons.
Pros: 
No cords are necessary to operate the blinds, making them safer if you have children or pets.
The shades are available in 12 different sizes to fit multiple standard windows.
Cons:
They only come in three light-hued colors — ocean blue, cool silver, and ivory beige. If you have a dark theme, the SBARTAR shades might not fit with your decor.
The honeycomb design makes it so you can't cut these blinds to size. But with so many options, you might find these are the perfect fit!
You may also be interested in: 5 Creative Ways to Store Keys at Your Apartment
---
3. Veneta Classic Blackout Cellular Shades
For those who want the most darkness possible, the Veneta Classic Blackout Cellular Shades are a great choice. The top-down and bottom-up options give you control of how you want to open and close your blinds.
The fabric material depends on your shade's color, but it's either spun lace or point bond. Both of these materials and the shades' cellular design give you privacy and maximum insulation.
From the outside, the white backing makes it look like a standard blind, but there are a variety of colors available to match your interior decor.
Pros & Cons of the Veneta Classic Shades
These shades come highly recommended with positive feedback from users. Know the highs and lows before buying them though.
Pros:
The Day & Night shade options mean that you can pick two different fabrics with two different shading levels. This combines your choices into one versatile purchase.
Cordless control makes them safe for children and pets.
Cons:
There are only three different shade colors: mocha, pewter, and shadow white.
If the colors match your design scheme, you can have the Veneta shades customized to fit any window!
---
4. Cordless Utopia Roman Shade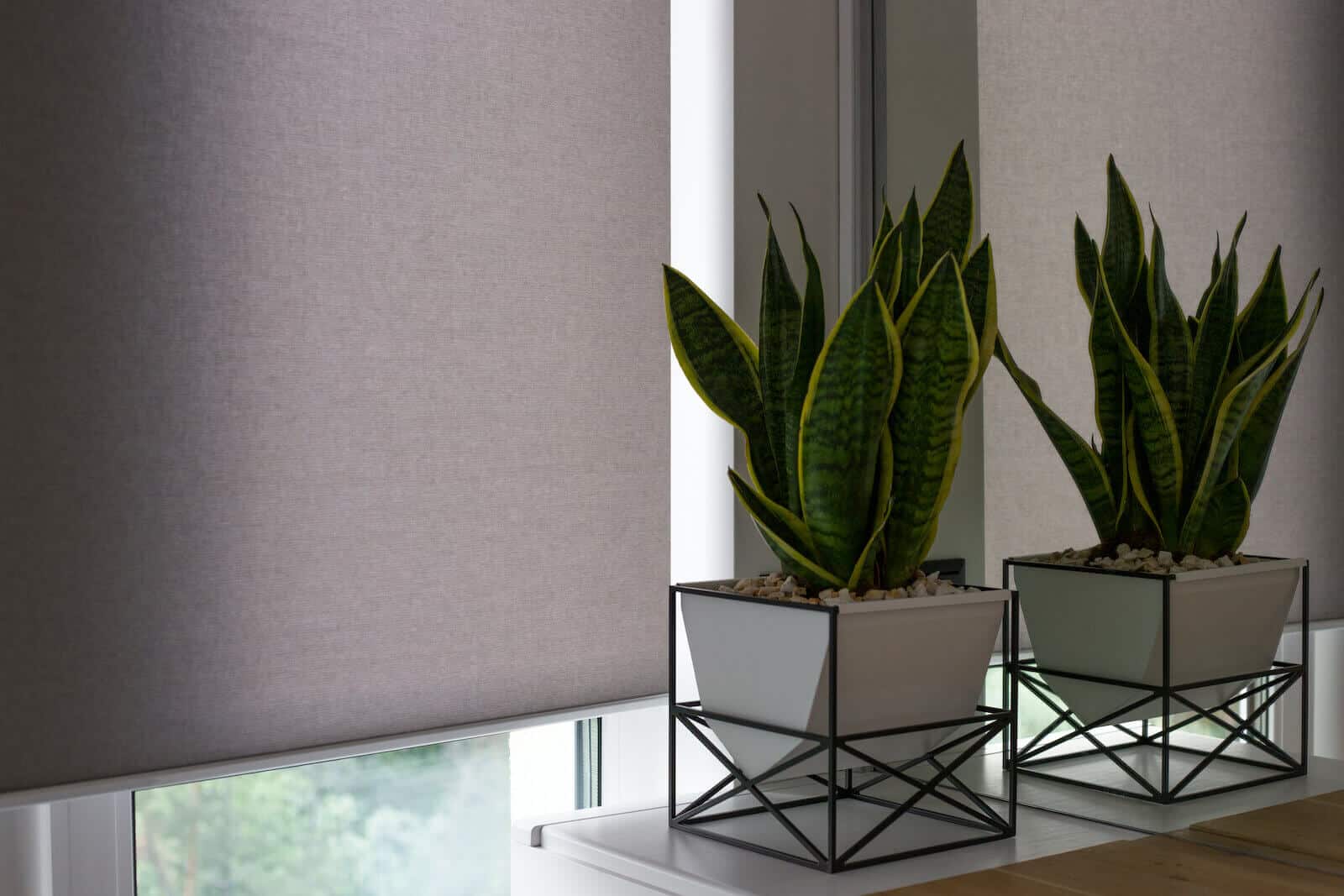 You worked hard to turn your room into just the right environment to make you happy. Adding blinds to the window shouldn't detract from that look. With the Cordless Utopia Roman Shade, it doesn't have to.
When you want a window covering that will block light and enhance your room's style — this is the answer. These high-quality shades will take the traditional "blah" blind and turn it into a classic looking piece of decor.
With pleated, patterned, and multiple color options, you get blinds that block harmful UV rays and look good at the same time.
Cordless Utopia Roman Shade Pros & Cons
They may have your perfect style, but make sure these shades have everything else you want before you buy them. These pros and cons can help you decide for sure.
Pros:
The cordless shades come with a room-darkening liner for extra privacy.
The many color options add style as they darken your room.
Cons:
These shades can't be custom-made, and only four sizes are available.
The Utopia Roman Shade is a good deal. It combines great UV protection features and energy-efficient style with affordability.
For more efficient style, check out: 5 Proven Ways to Maximize Small Closet Organization
---
5. Cocoon by Coulisse Light Filtering Cellular Shade
Blackout blinds don't have to be dark to work well. The Cocoon by Coulisse uses light filtering colors to block glare while keeping your room bright and airy at the same time.
The cellular design of the roller shade improves your insulation. This way you can keep extreme temperatures outside where they belong.
The Cocoon is available in cordless and top-down/bottom-up as customizable upgrades. But what really sets the Cocoon apart from the competition is the fact that it has motorized accessibility.
In a world where people love their digital apps, and the ease of control they afford, the motorized option of this blind is a game-changer. Users can now control the opening and closing of their shades — on-demand — from an app on their digital device.
The Cocoon by Coulisse Pros & Cons
Digital capabilities make many people run straight to the Cocoon. Yet, some pros and cons come with increased technology options!
Pros:
Ten different light-filtering colors give you many choices to select from.
The shades are customizable and easy to install.
Cons:
The motorized option is an upgrade with a limited warranty. Tech problems happen. You know yourself and your ability to troubleshoot them. If you're not comfortable with doing some on-the-spot fixing yourself, think twice before upgrading.
The Cocoon by Coulisse is an excellent selection if you're looking for blinds that block harmful UV rays. With the bonus of giving you digital control over them!
---
6. Radiance Cord-Free, Roller Shade
Are you a nature lover? Do you enjoy spending time in tropical paradises or at the beach?
Then the Radiance Cord-Free, Roll-Up Reed Shade might be precisely what you need in your home.
Most blinds are plain and unassuming, but this version adds texture and warmth to any room. The reed shade is reminiscent of a tropical island, making this particular set of blinds great for both room darkening and relaxing.
These shades are strong enough for interior and exterior use. You can use them in your patio, around your pool, or anywhere you want the feeling of nature.
Radiance Cord-Free, Roll-up Reed Shade Pros & Cons
The Radiance Reed Shades transport you into the realm of tropical destinations. Don't keep your head in the clouds, though. Get to know all the details before you choose these nature-lovers blinds.
Pros:
Each window blind is unique due to the type of texturing of the material. You can't replicate it, just like nature itself!
The blinds are simple to hang with the easy, included installation kit.
Cons:
There are only two colors, Natural and Cocoa, for you to choose from. They're both reed-designed, but Cocoa is darker than the Natural shade. The blinds also only come in three sizes.
Create a tropical ambiance for a luau, pool party, or mudroom, or sit back and relax in your living room recliner. Whatever your preference is, you can't go wrong with the Radiance Reed Shades.
Related Reading: The 7 Best Pull-Out Sofas for Your Apartment.
---
7. Original Blackout Pleated Paper Shade
The Original Blackout Pleated Paper Shade takes blinds that block the sun back to the basics. If you want a no-frills way to get the job done, these screen shades are for you.
With six in one pack, quickly cover all your windows with shades that need secure and quick installation. No tools necessary!
They come in two basic sizes, but you can trim them to meet your window's specifications yourself. If you want extra darkening to go along with blinds you already have, the Pleated Paper Shade works in tandem with them as a layer to block heat and light.
Pros & Cons of the Original Blackout Pleated Paper Shade
If you are looking for a standalone solution to block the sun from shining through your windows, look no further. The Original Blackout Pleated Paper Shade is an expensive, easy option to do exactly what you need.
Pros: 
The material is paper, but it is durable enough not to fade or crack from sun exposure.
You don't need any tools for the easy installation, and you can trim the blinds to size as you need to. Since it's a durable paper material, trimming is simple!
Cons:
They only come in one color — black. So if you want it to match your room's decor, you will need to get other blinds or blackout curtains, too.
The Original Blackout Pleated Paper Shade is a straightforward solution. Especially for those who want energy-efficient window blinds that still provide UV protection.
---
Conclusion
Natural lighting in a room is a big plus when real estate agents list the most exceptional features in a house. The illumination provided by the sun enhances a room's openness factor and limits the need for artificial lighting.
But if there is too much light for you to rest, or the lighting is fading your floors and furniture, you may need solar shades to block the sun.
Every room has different lighting needs. And, since window frames differ, it's essential that you know what blinds you want before buying them. There are many brands, varieties, and styles, and it can get overwhelming to make a decision.
Instead of spending money on window blinds that don't work for your needs — plan ahead. Use this list to get a better idea of the products available and their advantages and disadvantages.