You're starting from scratch with a move to a new home. It's the perfect time to turn your bedroom into the sanctuary you deserve.
All you have now, though, are the basics: a bed, a dresser, and your closet. It's a great start, but not quite enough to create the peaceful bedroom of your dreams.
No worries! Our guide covers all the needs, wants, and luxury items every brand new apartment owner should have in their bedroom. Check out these 11 items, arranged by category for convenience, that you need to know about.
Stick with this list, and that serene retreat from the stresses of the world will be yours in no time!

---
Bedroom Furniture Essentials
Choosing your bedroom furniture is possibly the most important decision you will make, aside from the new house itself. You're in this room for at least a quarter of the day, and each piece of furniture you pick makes a significant impact on your health and mood.
To get a good night's sleep, you need to design your room the right way.
Think about your bed, for example. An uncomfortable mattress means countless nights spent tossing and turning. If it's too small, you can't spread out and relax. If the comforter is too heavy or too light, you wake up in the middle of the night sweating or freezing.
The rest of your room affects your comfort, too. When it comes to bedroom essentials, keep these tips in mind on your furniture hunt.
1. Dresser Organizer
Yes, your clothes go in the dresser drawers. With organizers like this set from Amazon, you don't have to deal with hard-to-find items that you crammed into one place.
From your underwear and socks to your comfy T-shirts, you can tuck everything away tidily. Even better, putting your clothes away is simple because you see the open space that shows you right where each missing item belongs.
2. Blanket
Now it's time to talk bedding! Shopping for bed linens can get confusing.
These may be the questions that are rolling around in your brain right now:
Do you really need those pillow shams and a pillow cover?
Is the all-in-one sheet set really all-in-one?
And is it comfortable?
Here is an essential tip to help you narrow down the right linens for your bed. Find a comforter that you fall in love with, and work the rest of the sheets around it. In fact, the blanket you choose is possibly the most crucial item on our bedroom essentials list!
Don't worry about the color or design. You can always get a duvet cover to go over the comforter later. But nothing beats snuggling under a perfectly weighted blanket.
3. Sheets
Buying sheets is another extravagance that's well worth the investment. What material helps you fall asleep on a cozy cloud?
Some people prefer satin or silk, and bamboo sheets and pillowcases are trending.
Check the thread count and go for the luxurious line — you won't regret it!
However, if your goal is to keep the sheets on the bed, look into microfiber. The soft, fitted material stays on tight, no matter how restless your sleep is.
Don't forget to check out these 5 Easy Ways to Add a Chill Vibe to Your Bedroom!
---
Extra Furniture
Filling up your room with a few extra touches can make all the difference in the atmosphere.
4. Nightstands
Nightstands are an often-overlooked piece of bedroom furniture. Until you need it, you don't think about how vital it is. But when you reach over to put your phone down or have to get up to turn the light off, you'll wish you had one.
The trick is to find a bedside table with drawers and not much surface area along the top. Otherwise, you'll find ways to clutter it, which depletes the serenity of your room.
Keep the drawers organized and limit what you can see to the bare essentials. A table lamp, alarm clock, your phone charger, and a glass of water should be enough; everything else can go in a drawer.
5. Useful Accessories
Consider adding a corner chair or a storage ottoman for sitting and for hiding your clutter. You can also opt for a vanity or an armoire as an elegant touch. As a bonus, both pieces can serve as your clothes closet if your new home is a studio!
---
Organizing That Closet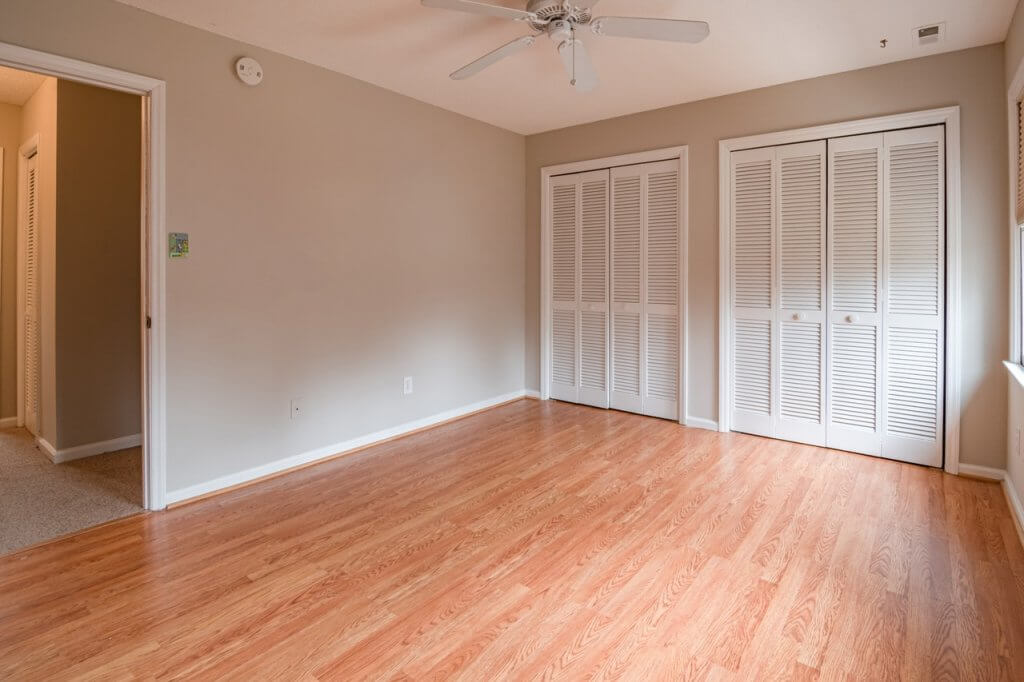 Organizing your closet might not be fun, but it's sure rewarding! A clutter-free, functional space that looks stylish, too, can streamline your day.
You don't have to stress finding your outfit or accessory, and you know where your missing hangers are when it's time to hang clean clothes.
6. Clothes Hangers for Neat Clothing
Speaking of clothes hangers, did you know there's a right and wrong way to use them? If you know the tricks, you can fit more items neatly in a tight space and avoid ruining your favorite outfits.
For instance, pants should be hung full-length, not tucked over an open hanger. If you must fold them in half, use a hanger with a thick, rounded bar along the bottom to avoid creases.
Skirts and dresses are usually delicate materials, so a soft hanger with expanders keeps the fabric from losing its shape.
Jackets and coats should be curved, as the cut of the jacket isn't straight, either. Sharp hangers can damage the figure of the coat.
Wide hangers will pull the fabric of anything out of shape, and padded or bulky hangers take up a lot of room.
7. Other Organizational Tools
With the impressive job of getting your clothes hung out of the way, you can start organizing the rest of the closet using more room essentials.
Baskets and boxes store accessories, shoes, and other items neatly. You can tuck these hard-to-organize things away in a compartment, then place them out of sight on a shelf.
You can also put a shoe or accessory organizer over the door. Hanging storage with compartments is an easy way to keep jewelry, footwear, and other items visible and easy to reach.
Finish off the look with a full-length mirror, and you have an organized, stylish closet that makes you want to keep it clean!
See also: The Best Floating Beds
---
Window and Floor Treatments
You may not have control of where your apartment's windows are or how big they are. But you can control how they make the room feel.
A room without open windows looks smaller. However, the last thing you want early in the morning is bright sunshine streaming in while you're trying to catch your last few minutes of sleep.
8. Window Treatments for Every Need
Why not design your window to give you the best of both worlds?
Install room darkening blinds that block out the sun while you're sleeping. When you're ready to face the world, pull the cord and open the shades to let the vitamin D into your bedroom.
Curtains and drapes add to the room's decor. A dark set of curtains blocks the sun, but it also makes it look like you have a small bedroom, even if you don't.
Light filtering curtains could be the answer you're looking for! They offer you privacy while still letting in daylight. They block the UV rays so that you can enjoy the natural lighting without any harmful damage to your skin.
9. Don't Forget the Floor, Too!
Almost as annoying as unwanted sunlight is a hard, cold floor under your feet first thing in the morning. Floor treatments like area rugs fix this issue fast!
Before you pick a carpet for the floor space, first decide where you want to put it.
The three usual ways are keeping the bed entirely on the rug, putting part of it on the rug, or running the rug alongside the bed. Knowing this placement helps you decide how big of an area rug you'll need.
With the size figured out, your next step is finding a carpet that shows off your personality. Typically, a large rug should be neutral, sliding in with the room's decor easily. Smaller rugs can be more fun and bold if that's your thing.
Shag, wool, bamboo, and silk area rugs are easy to find in most department stores. The goal is to nab a fabric that makes you feel warm and cozy when you step on it.
As a side note, though, to keep the rug from sliding on a hardwood or tile floor, be sure to find one that has traction or add rug grippers.
---
Bedroom Decor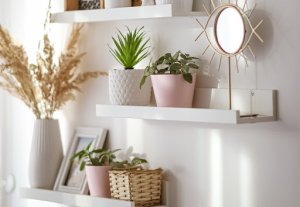 Decorating the master bedroom is the time when your personality can really shine through. Balance this with a minimalistic touch, though. Too much clutter, even if it's your favorite stuff, is stressful, not relaxing, to the brain.
A trick for making sure your room is peaceful is to invest in high-quality home decor. This way, you're not tempted to impulse buy every little knickknack that catches your eye.
How you decorate your room is a personal decision. However, a few interior design tips work for everything from the living room to your inner retreat.
10. Smart Decor to Optimize Your Bedroom Design
You might want to bring in everything you've ever collected and display it in your bedroom. If the goal is to create a place where you can relax and unwind, try to keep the clutter to a minimum.
Occasional knickknacks are fine, as long as there is space between them for the eye to rest. Otherwise, style experts suggest avoiding putting anything other than the necessities on surfaces like your nightstand or dresser.
Add a plant to the room to help improve the air around you and increase your sleep quality. And if you must keep your collection nearby, invest in a bookshelf or hanging shelves.
Put everything neatly on display, and don't forget the space between pieces for your brain to rest.
As for wall art, keep this to a minimum, as well. Instead of hanging posters of your favorite movies, stick to calm, relaxing landscapes or other peaceful images.
Similar: How to Upcycle or Reimagine a Geometric Shelf
---
Bonus Storage Items
When it comes to bedroom ideas, you can never have too much hidden storage. Luckily, it's easy to find organizers that let you maximize every square inch of space in the room.
11. Extra Storage Tips and Ideas
Here are a few straightforward ideas to maximize your storage space without cluttering your bedroom:
Increase your bookshelf space by stacking your favorite books in an alternating vertical/horizontal pattern
Install hanging shelves with an anchor on an empty wall
Get a storage bench to place at the foot of the bed and use it to hide your clutter
Use under-the-bed organizers like rolling totes
Grab some side table organizers to store your remote, glasses, and other small items
As a general rule, the saying, "There's a place for everything and everything in its place," is a good one to use as you design your bedroom. The more organized it is, the happier and calmer you are overall.
These bonus storage items take care of all the odds and ends that are still waiting to find homes.
This just in: Best Soap Dispensers for 2022
---
Conclusion
You can take the basics you have and build on them, creating the bedroom you've always wanted.
With this guide and a few quality investments, your private sanctuary will become a room you'll never want to leave!