Best Soap Dispensers for 2023
Soap dispensers are getting an overhaul for 2023.
Gone are the days of pouring straight from the bottle (germs, ick!).
Today's dispensers are simply designed, stylish, and perfect for the billions of us who are trying to avoid germs everywhere.
Your bathroom, kitchen, and utility rooms (and anywhere you use soap) are already full of bacteria. In fact, the bathroom and kitchen rank as two of the dirtiest places in the home.
Since soap's job is to get rid of the filth, why do we use dispensers that sit around and collect germs?
Well, in the past, it was because it was our only option.
But with these incredible soap dispensers available today, there's no reason to use obsolete, germ-toting products. Find the ones that work for your home, and start eliminating microorganisms — one soap dispenser at a time!

---
1. Touchless Hand Soap Dispensers
Ahh, the automatic soap dispenser. How quickly it has become something we expect to see instead of the luxury it once was.
Admit it. We've all done it.
You go into a public bathroom and wash your hands. But you've gotten so used to touchless soap dispensers that you hold your hand under the container and wait … only to realize it's not automatic.
These handy gadgets have become commonplace in today's post-COVID world. They're in bathrooms everywhere, except in your home. But you're about to change that problem!
How Touchless Dispensers Work
Initially, automatic dispensers were too expensive to fit most people's budgets. Now, the technology is affordable, so everything is going "touchless."
How do these little germ-avoiders work?
The answer is a simple form of infrared, or heat-based, technology.
Infrared sensors placed in the dispenser detect your body heat. When you put your hand within the sensor's range, the energy changes. The change triggers the soap pump to kick in, and release the predetermined amount of fluid.
With global access to infrared sensors, the generation of touchless soap dispensers was born. Now, you can have these "fancy" devices in every room of your home.
From budget-friendly to sophisticated and classy, there's an automatic dispenser for everyone. Our favorites include these three impressive motion detectors.
Rubbermaid Lumecel
For the serious germaphobe, this device is marketed as a commercial product. However, the new technology called LumeCel™ works in homes, too.
Rubbermaid's soap dispenser is:
Sustainable
Eco-friendly
Fun to use
And runs off of rechargeable energy cells and solar panels
The plastic machine relies on indoor or natural lighting for power, making it an investment you won't have to replace for years.
The only downside to the LumeCel™ that we see is that since it's for commercial use, the accompanying price tag is a bit hefty. At $78 for the battery-powered model, it's the most expensive touchless dispenser on our list.
URHOMEPRO Automatic Soap Dispenser
The URHOMEPRO's design avoids cross-contamination in the bathroom or kitchen sink.
In addition to the infrared motion detector, it also has extra sensor technology called PIR for more range. This lets the machine dispense regular or foaming soap.
No wall mounting is necessary, and the silver dispenser has a capacity of 500 mL of liquid soap.
There's a visible scale that lets you easily monitor how much soap remains, and the LCD screen gives you modes to choose how much comes out. It also keeps you updated on the life of the 4 AA batteries that run the machine.
At $30, this one is a favorite on our list for all budgets and sinks, plus it's available at a lot of shops with store pickup. However, it's not a wall-mounted dispenser, so if that was your goal, this won't do the job.
simplehuman
Made of brushed nickel, simplehuman's countertop soap dispenser will match almost any sink faucet or toothbrush holder.
It resembles the pedal-operated trash cans that many people have in their kitchen and bathroom.
The dispenser is small and lightweight, easy for kids to use, and has a clog-proof tubing soap pump. The funnel refill opening makes adding more soap a breeze.
And unlike most dispensers that have a preset amount of liquid they give, you get to decide how much soap you get with this one. If you want just a little, put your hand closer to the machine. For more soap, stay further away.
No batteries necessary. The machine runs off a rechargeable plug. In fact, one charging session can last up to three months before you need to plug the dispenser in to charge again.
The simplehuman stainless steel soap dispenser is about $63, but if you order on Amazon, you can have it with two-day delivery!
See also: 11 Stunning Kitchen Renovation Ideas to Inspire You
---
2. Touchless Kids' Soap Dispensers
Kids love the fun of using a touchless dispenser, so why not add to their enjoyment and make the machine cute?
These are our top favorites for automatic, kid-friendly soap dispensers.
Penguin
Everyone loves penguins, and this one comes in multiple colors.
It uses no batteries, so it's safe to keep around your toddlers. The rechargeable USB cord does the job; then, you can store it out of reach for months until you need it again.
Even though the design is cute, it's also sterile and environmentally friendly. You can use it alongside your bath accessories or find it in a hospital — it's that versatile.
The penguin dispenser uses a PIR sensor detector for quick and easy foam or regular soap. The head and base twist apart so you can refill the liquid when you're ready for more!
At around $26, it's an affordable foaming soap dispenser solution that will make your kids want to wash their hands.
Panda
Pandas are another kid favorite, falling not too far behind penguins. This panda soap dispenser here will also have children begging to wash their hands.
It's about the same price but works a little differently.
With infrared motion sensors and the PIR detection technology, foam dispenses in waveforms. When you add your liquid soap, it gets mixed with water at a 1:3 ratio, and the product is visible in the clear container.
It's sterile and environmentally friendly, so you'll often find the machine in restaurants and hotels, too. Use it in the kitchen, bathroom, or shower. The soap/hand lotion dispenser works for foaming soap, shampoo, bubble bath, and much more!
You may also like: 5 Creative Ways to Decorate When You're Feeling Stuck With What You Have
---
3. Stylish Dispensers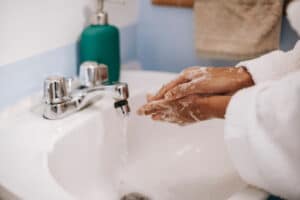 You already know you can destroy germs without the touch of a button anymore.
But were you aware you can do this in style?
Yes, these stylish dispensers boost the interior decor of any room they're in.
Our favorite best-sellers are right here:
Brayden Studio's Automatic Dispenser
This freestanding machine comes in matte black or white marble. There is a visible window at the top so you can keep an eye on how full the liquid is.
Within 5 cm, you'll be able to have your soap in less than .26 seconds. It works for dish soap and laundry detergent as well. You set the level of how much soap dispenses at one time.
Running about $75, the Brayden dispenser is designed to last. It's waterproof to prevent corrosion and heavy-duty for repetitive use.
One-Shot Foam Dispenser
The One Shot Foam Dispenser by Rubbermaid is extra handy because it works like a faucet. Smart Sensor pump technology dispenses the right amount of soap straight to your hands in the sink.
You'll get up to 2,000 washes per refill, making it an excellent choice for big households or businesses.
And if you're looking for a dispenser you don't have to worry about charging; this one gives you up to three years or 120,000 cycles before it needs a new battery.
It's easy to install, affordable at about $59, and environmentally friendly. Make it simple to wash your hands by installing the One Shot, and then you don't have to deal with adding soap or charging it again for years.
Inspire & Uplift's Natural Wood (and Other Styles)
Inspire & Uplift's Touchless Automatic Soap and Hand Sanitizer Dispenser comes in multiple styles, like:
Natural wood
Wood
Silver
Marble
Powered by four AAA batteries, the standalone machine uses automatic sensors for even 1 mL fluid dispensing. After a slight delay of two seconds, you can have another shot of soap.
The spout and base seamlessly interconnect in a solid device. When the liquid is low, a blue light indicator appears.
The cost of $45 for this high-quality, stylish machine makes it a great addition to your kitchen and bathroom accessories.
Discover: 11 Clever Bathroom Signs to Consider For Your Home (Plus 13 More We Love!)
---
4. Smart Soap Dispensers
Smart technology has made almost everything in our daily lives easier, and now that includes your hand wash tasks.
Dispensers that work with your virtual assistant are the next trend in home decor. Our favorites include these two impressive devices.
Amazon Smart Soap Dispenser
Handwashing and technology come together with Amazon's Smart Soap Dispenser. It's an automatic machine that connects to your Echo device.
With your AI assistant, you can set up cleaning routines, listen to music, or hear jokes.
The timer lights up for 20 seconds, so you know exactly how long you're supposed to be washing to meet CDC guidelines.
You can adjust the amount of soap dispensed from the nozzle by changing the placement of your hand. And one charge of the battery can last up to three months.
Hand washing can be easy and fun with Alexa for only $35!
Remote Control-Operated Stern Engineering
The smart world of touch-free dispensers got a little more intelligent with Stern's device. Remote-controlled operating and infrared sensors on this chrome-plated dispenser keep you germ-free.
It mounts directly to the sink to use alongside your faucet (which Stern can also provide). Choose the amount of soap dispensed with the remote, and even refill the tank with a click.
With remote-controlled hand cleaning, the only germs in your bathroom will be on your toilet brush.
But maybe that's next on the list to be overhauled?
Related: 5 Bathroom Design Tactics for a Cleaner Year
---
5. Hand Sanitizer Dispensers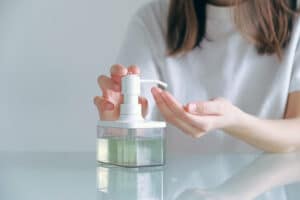 Along with touch-free soap dispensers, you've likely seen automatic hand sanitizer machines everywhere you go. These gadgets make it easy to get rid of the germs on your hands when you don't have a sink nearby.
Purell Hygiene
Purell is one of the top names in the sanitizing industry. You might even have one of their travel hand sanitizers in your purse or car.
Now, the hygiene comes to your sink with Purell's automatic wall dispenser.
A predetermined amount of sanitizer releases when the infrared sensor senses your hand. The device, made of plastic, mounts to a wall, leaving you plenty of room on your counters for your other accessories.
Keep yours anywhere you know there's a lot of germs and traffic.
At $40 for the unit, it makes up for dozens of the smaller bottles you were going to buy anyway!
NZND Budget-Friendly Smart Sensor
Looking for a machine that dispenses hand sanitizer, dishwashing soap, and more from its spout?
The NZND smart sensor is budget-friendly and versatile.
Powered by four AAA batteries, the dispenser holds 400 mL of liquid. The infrared smart sensor gives you your preset amount of soap, whether you're using it in the shower or the kitchen.
The stand has a visible display so you know when you'll need to replace your fluid. You can add any concentrated liquid to the device, and its brushed stainless steel and black design are ideal for most decor styles.
The soap/lotion dispenser combo gives you the flexibility to change how you use it as you need to.
Under $20, it's a great addition to your home if you want to be able to pick and choose what you put in your dispenser.
What's under your kitchen sink? Check out: 5 Things Nobody Should Have Under Their Kitchen Sink
---
Conclusion
You've seen the mess that liquid cleaners leave behind on your shower curtain and sink. You know the germs that pile up when you grab a bar of soap.
What's the point in using soap to get clean if you're spreading germs?
2023 fixes that problem with a focus on touch-free dispensers. Choose the one that fits your needs, and start getting rid of all those microorganisms in your home.
Subscribe to The Home Blog's newsletter for more cleaning and organization tips!