5 Creative Ways to Decorate When You're Feeling Stuck With What You Have
Are you tired of your home decor? Feel uninspired by your surroundings? Here are 5 awesomely creative ways to rejuvenate your space!
We all get in ruts at some point in our lives. It's perfectly normal! But when you're feeling stuck with your home decor, and not happy with it, it affects your mood every day.
You know that you want something different, more exciting, more you. You're just not sure how to go about it.
Whether it's because you don't have the vision yet or a lack of funds is limiting you, something keeps you stuck. With a bit of creativity, you can get out of your decorating rut.
Design a space you love to come home to by using these five imaginative and low-cost tips!
---
1. Start With a Vision of Your Style
It helps to know what you want each room to look like before you start redecorating.
What's your ultimate goal and vision? Is there a dream home you've had your eye on that you'd like to start to copy?
Unless you have a lot of interior design experience, you might not even know what you like. Luckily, you live in a time where you don't have to spend a lot of money or do a ton of research to find your preferred style.
As they say: there's an app for that!
Home design apps on your smartphone let you upload pictures or dimensions of each room in your house. From there, you get the fun of picking and choosing colors, wallpaper, furniture, and more. You can see what it would all look like without spending a dime.
If you already know your style or are playing around to find it, each app has its own way to help you decorate every room. If you like what you see, you can buy it with the touch of a button.
Even better, some apps will even connect you with an interior designer or renovator near you!
Similar: Easy and Impactful Decorating Tips
---
2. Focus on What You Can Fix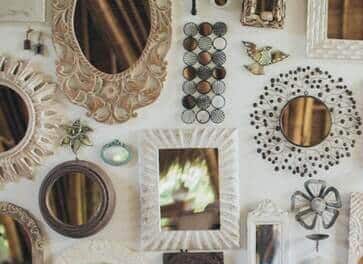 You might hate the size of a room or the small window you're stuck with. But when you focus on cosmetic changes, not structural issues, you can be more creative.
You can't do anything about the size, so you'll have to do what you can to make the best of it. One room at a time, look for the elements you don't like.
Try these little tricks to use perspective, illusion, and cover-ups to make changes:
Make a small room look bigger by hanging large mirrors or a series of smaller ones on the wall. They reflect light, but they also reflect the room, making it look larger.
Got an ugly ceiling? Use removable wallpaper to hide it. Peel and stick paper changes the entire look of a room and easily comes off when you're ready to make another change.
First, to brighten up your walls without using paint, measure your walls from top to bottom and across. Then, hit up your favorite fabric store. Pick a design or color that appeals to you for each wall. Stretch it across the flat surface like wallpaper and then secure it with small nails or strong tacks.
You're not stuck with anything you have and hate. There's a way to cover it up if you're creative!
---
3. Change the Color Scheme
One of the easiest ways to make a massive change in a room's style is to swap your color scheme. This is also an inexpensive way to break out of a rut since you can do it slowly.
Before you can start shopping, the first thing to do is decide on a color palette for each room. Pick one bold color, and then decide on the complementary shades and patterns you want to use as accents.
If you're not doing one room at a time, write down the exact colors and patterns in a small notebook. Some hues have multiple similar shades, but they don't blend the same.
Print out a sample or get swatches and tape them into the book. That way, when you are looking at potential items for each space, you remember what you want.
Slowly bring in accessories that match the colors of your new room.
You may also like: 5 Ways to Decorate a Boho Bedroom
---
4. Make a Move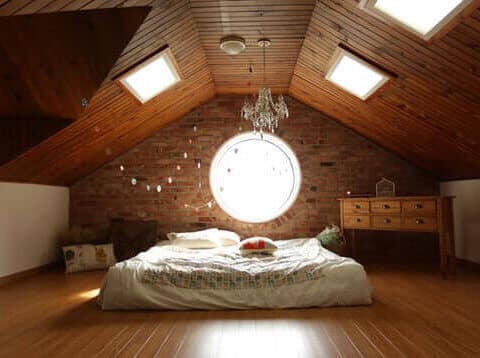 You might feel limited by how each room is set up and the furniture you have, but a little creativity can free you up for new ideas.
Most of us set our rooms up by habit. Everything is perimeter-based, pushed flush against the wall. Centered beds, and a nightstand is off to the side.
But what if it didn't have to be that way?
Stand in the doorway and look around.
How can you move your furniture in out-of-the-box ways?
Consider what you could do if you didn't line up your couch or bed with the wall but instead "floated" it in the middle of the room. Maybe you could angle your sharp-edged furniture instead of pushing it all flush against the wall.
The rules of your room are yours to decide. When you break free from traditional designs, you also get out of your decorating rut.
---
5. Bring the Outside, Inside
Plants are the newest, yet most traditional, form of interior design. Although used for millennia in homes, the benefits of them have only recently come to light.
Researchers claim that every home should have a plant in each room. The benefits of greenery are vast. Aside from occasional watering and pruning, it's easy to reap these advantages.
The field of plant science has shown that when you have at least one live shrub or flower in a home, it cuts down on pollutants. The overall air quality in the house improves.
Besides the physical benefits, plants have mood-boosting effects, too. Research-based evidence shows that indoor foliage increases the wellbeing of those around it.
If you want to make a little change to improve your overall mental health and productivity, add a plant to your favorite spaces.
They make for great decor additions and are good for your health!
See also: 5 Easy Decorating Secrets That Are Room Changers
---
Conclusion
No matter the current look of your home, you're not stuck with it. Break out of your decorating doldrums with these five creative, rut-shaking ideas!