Easy and Impactful Decorating Tips
Small changes in an apartment can make quite the difference. This is especially the case when you're trying to freshen things up.
If you're growing bored of how things currently look in your apartment — time to tap into your inner decorator side!
There are many ways to infuse flair to create unique interiors. If you're not up for a significant overhaul, here are some easy ways to include the right amount of decor.
Plus, only adding a handful of decorations won't break the bank!

---
1. Lively Window Shades
If your window shades are bland and need more personality, use stencils to trace a fun design on them!
There are all sorts of patterns you can try out, from damask to playful polka dots.
You'll need the right type of shades for this project. Vinyl roller shades will work well for stenciling on a design to create stylish shades for any room.
Today's stencils are modern and easy to use. Select a favorite pattern and paint color for your shades. After that, it's time to create some magic!
For increased privacy, choose a design that'll cover more space. Or, select a vinyl that isn't see-through, so you won't have to worry about covering it up as much.
---
2. Potted Plants
Your apartment may need some plants to bring the outside into your interiors.
What type of potted plants speaks to you?
If you're new at taking care of plants, here are a few to keep in mind:
Plants have a lot of benefits, and purifying the air is one of them. A few air-purifying plants include the Pothos and Dracaena.
Aren't those names cool?
Place some potted plants in your apartment, and your mood may improve as well. It turns out that plants can reduce stress and also enhance your productivity!
See also: The 11 Best Hutches on the Market – What Makes Them Great
---
3. Playful Vases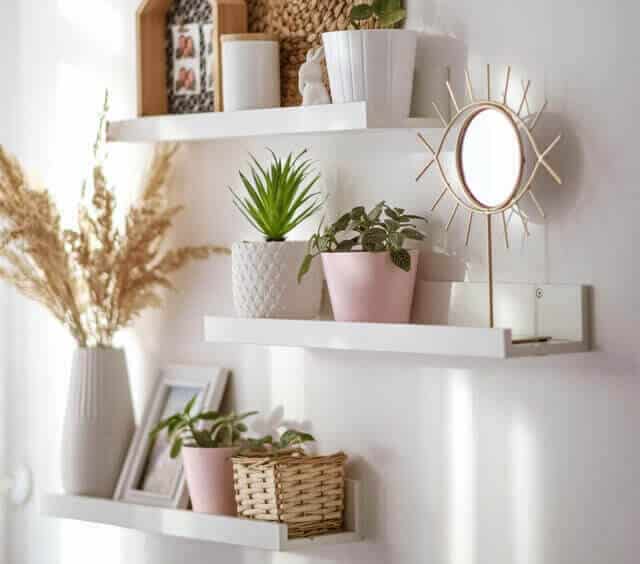 There are all sorts of playful vases out there. Put one on your kitchen countertop or entryway table. It's an ideal apartment decoration that doesn't take up a lot of space.
Here are a few different vases that might catch your eye:
Even if you don't have flowers, a colorful vase will steal the show all on its own!
Or, you can fill a larger vase with items such as:
Cereal (fun for a birthday party!)
Who knew a vase could be such a pleasant element to have in your home!
---
4. New and Improved Entryway
Does your entryway look the way you want it the moment you step inside?
If that's a no, then consider adding something trendy such as wall hooks or stylish cubbies. With cubbies or hooks, you'll have somewhere to stash your shoes and other accessories the moment you walk indoors.
Other ideas are a storage bench or cabinet. You may not have a lot of space in your apartment. If so, multi-functional furniture makes it possible to store whatever you'd like.
There's another perk to having multi-functional furniture in your entryway. No one will ever know that your jewelry is in one of the drawers! (Unless that is, you tell them it's there.)
See also: How to Use Feng Shui to Achieve Harmony in Your Home
---
5. Polished Rolling Cabinet
Are you in need of a rolling cabinet?
You're probably wondering how a rolling cabinet can deliver the right amount of personality.
If you work at home, you may want to improve the appearance of your working area.
A wooden cabinet on wheels is easy to move for cleaning and looks nice coupled with a wooden desk.
If you'd prefer a clean white look, there are also white rolling cabinets or even ones that come in a bright color! Don't be afraid to go with a bright and bold color such as turquoise or hot pink.
---
6. Show Off Collections
If you have some collections to show off, make some room for them!
Vintage books bring character to an interior and a bookshelf. Surround them with a few collector plates to further improve the look.
Do you collect records?
Then get a record album storage shelf. With a shelf made to hold records, it'll be easy to display and find the ones you want. Place a record player on top of the shelf, and every album lover will be jealous.
One more idea is to place figurines near and dear to your heart on a floating shelf. Select a unique rack, such as a wooden mountain shelf, to show off your figures with pride.
---
7. Wallpapered Switch Plates
Did you know you could add wallpaper to your switch plates?
This is an original and small project that makes any room look instantly more fashionable!
In an apartment, consider getting removable wallpaper so it'll be easier to peel off when you move out.
Removable wallpaper is also good thinking because you may get bored with the design. And if that happens, you can easily switch it out for something that'll better suit your mood.
---
Bonus: Hammock or Cave Chair
Cozying up with a good book is excellent, and it's even better when you have a comfy chair to sit on!
A hammock or cave chair are two pieces of furniture that can amp up comfort and style.
You can hang a hammock chair from your ceiling. Although, make sure securing it won't cause a lot of damage!
Incorporate a few plush pillows, and pretty soon, you'll be sleeping instead of reading! (And if you do keep falling asleep, it might be time to get a new book to sink your teeth into.)
You may also like: 7 Ways to Sprinkle Some Christmas Magic Inside Your Bedroom
---
Conclusion
There's an endless amount of decorations to choose from, so you're not alone if you're having a hard time deciding. Try writing down a list of some of your must-have decorative pieces to help you make up your mind.
Unfortunately, it'll be impossible to fit everything in your apartment. So, you'll need to weed down your list to elements you can't live without.
Decorations that make you smile and are functional are the best types to have. You'll love the outcome!