7 Ways to Sprinkle Some Christmas Magic Inside Your Bedroom
The lights … the trees … the stockings hanging above the mantel …
There's almost nothing better than that feeling of Christmas spirit that fills your home once you've decorated for the holidays!
Yet most of us only decorate our living rooms. Sure, some people add holiday towels in the bathroom and set the dining table with holiday dinnerware. But for the most part, our decorations are primarily used in our living rooms, on front doors, and outside.
Well, we think it's time that we give our bedrooms a little Christmas love!
Ready to spread that holiday cheer throughout your entire home? Here are seven ways to sprinkle some Christmas magic inside your bedroom.
---
1. Put Up Some String Lights
Nothing says "it's Christmas!" more so than lights. Whether you prefer all white lights or colorful bulbs, there are many ways to incorporate a Christmas light display into your bedroom.
You can drape a few strands of lights on the wall behind your bed. You can hang lights from the ceiling. You can create a swag of lights around your doorway.
Just do yourself a favor and leave the twinkling, flashing lights for your outdoor décor. In the bedroom — keep it simple and soothing.
A holiday light display can give your bedroom a fun Christmas look, but you don't want to make it so bright or distracting that you can't sleep at night.
Related: Use These 11 Ideas to Design the Perfect Master Bedroom
---
2. Decorate a Tiny Tree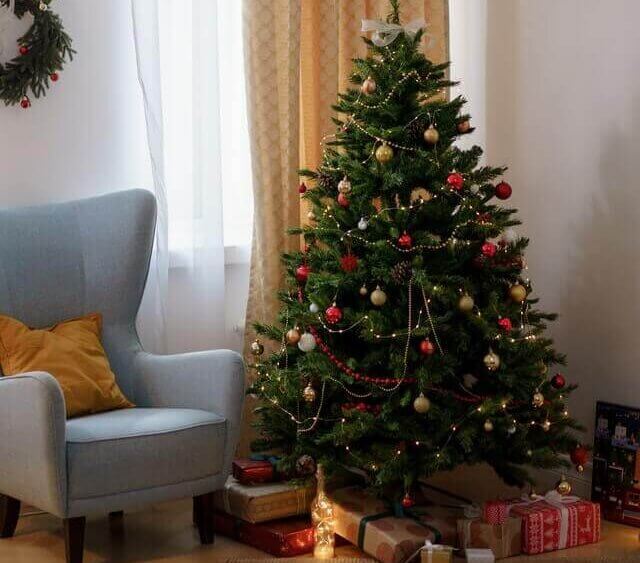 Clear out a corner, make room on your bedside table, or remove some items from your bureau. This is the year to decorate your bedroom with a small Christmas tree!
A small "forever tree" is perfect for use in a bedroom — and it won't bust your holiday budget. You can find a one-foot tall tabletop tree at Wayfair for as little as $13.99! These are perfect for placing on a dresser or a nightstand. Add a few tiny Christmas ornaments, or wrap the base with a pretty ribbon for a fun, festive look.
Limited on space? Looking for a fun way to add some Christmas glitz to your boudoir?
Place these glitter and pearl trees on your bureau or bedside table to add instant holiday cheer!
Want to make an even bigger impact with a larger tree?
Check out Amazon to find a wide variety of potted three and four-foot trees, perfect for displaying in a corner, near a window in your bedroom.
If you want to get a bit more creative, you can even add a tree on your wall by stringing lights in a triangle or a pine tree shape.
---
3. Get Some Holiday-Inspired Throw Pillows
No matter how small your bedroom may be, you can add some Christmas cheer by merely tossing a few holiday-themed throw pillows on your bed.
Go glitzy, rustic, or traditional — holiday pillows are easy to find, no matter your budget or design style.
You may also like: 7 DIY Log Ideas to Create a Rustic Look in Your Apartment
---
4. String Garland
Turn your bedroom into a rustic Christmas retreat by draping a bit of natural green garland around your doorway or your headboard.
Fresh greenery is the perfect Xmas addition to a bedroom that already has minimalist, boho, or rustic décor. You can drape it along the top of a mirror, your dresser, or border your windows.
The more, the merrier!
---
5. Hang a Wreath Over Your Bed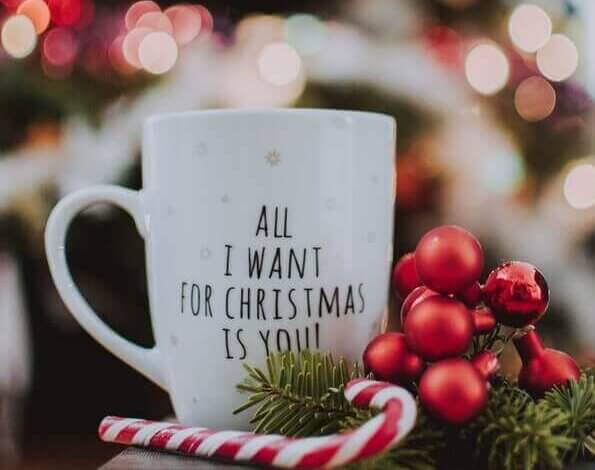 Sometimes all it takes is a pretty wreath to make a room feel Christmas-y.
This year seems like the perfect time to DIY a Christmas wreath and hang it on the wall above your bed. You can make a profound statement with a large wreath or get a bit more creative by hanging a few small wreaths in different sizes and styles.
For those of you with a casual, rustic sense of style, a fresh green wreath is all you need. If you prefer a bit more glitz and shine, decorate it with Christmas ornaments or add lights for a more festive feel.
And don't forget your bedroom windows. With a few ribbons and some command strips, you can add a mini wreath in every window. The best part is they'll be a cinch to remove when the holiday season is over.
---
6. Add Candles
Candles create ambiance, and making an ambient mood is a great way to bring some Christmas magic into your bedroom.
Stagger candles in different sizes on your bureau and nightstand. Create a display of pillar candles in an empty corner of the room. Place them around your bed, on the floor, or on shelves to create a magical, glowing environment.
Just make sure you blow all your candles out before you go to bed! If you're afraid you may fall asleep while they're still burning, do yourself a favor and buy LED candles instead of real ones. They look just as pretty, and they won't burn the house down!
If you go for real candles, consider buying some in holiday-inspired scents. Look for options such as Christmas cookies, bayberry, or cinnamon.
---
7. Play With Ornaments
Add whimsical style to your bedroom with ornaments on ribbons around your headboard or the foot of your bed.
You can also create a unique ornament display on an empty wall by stringing your favorite decor in the shape of a Christmas tree, a wreath, or an angel.
Add a holiday stocking (or two) at the foot of your bed to bring some extra Christmas joy into the room!
Similar: The Newest Trend in Dinnerware: A Blue Rose Pottery Review
---
Conclusion
There are lots of ways to bring that magical Christmas feeling into your bedroom. And the more you can spread holiday joy throughout your entire home or apartment, the more beautiful the season will be!
Add a few tabletop Christmas decorations on your nightstand. Set up a full tree covered in ornaments and lights. Hang ornaments, lights, or garland from your doorway, bed, or mirror. Adding just a hint of Christmas joy into your bedroom this year can make the holidays a whole lot brighter!