7 Mudroom Organization Tactics for a Cleaner 2023
Since the mudroom is the first point of entry, it can quickly turn into a chaotic mess of shoes, bags, and dirt. To keep this area of the home clean, you will need to use a little organization.
This is no easy feat since there is so much foot traffic. Also, the habit of walking into the home and dropping everything in your hands where you stand is so prevalent.
You've come to the right article for storage solutions. Using these seven tactics will help you to keep your mudroom space organized, and by extension, keep your whole house cleaner.
---
1. Find an Ideal Bench to Keep the Mudroom Clean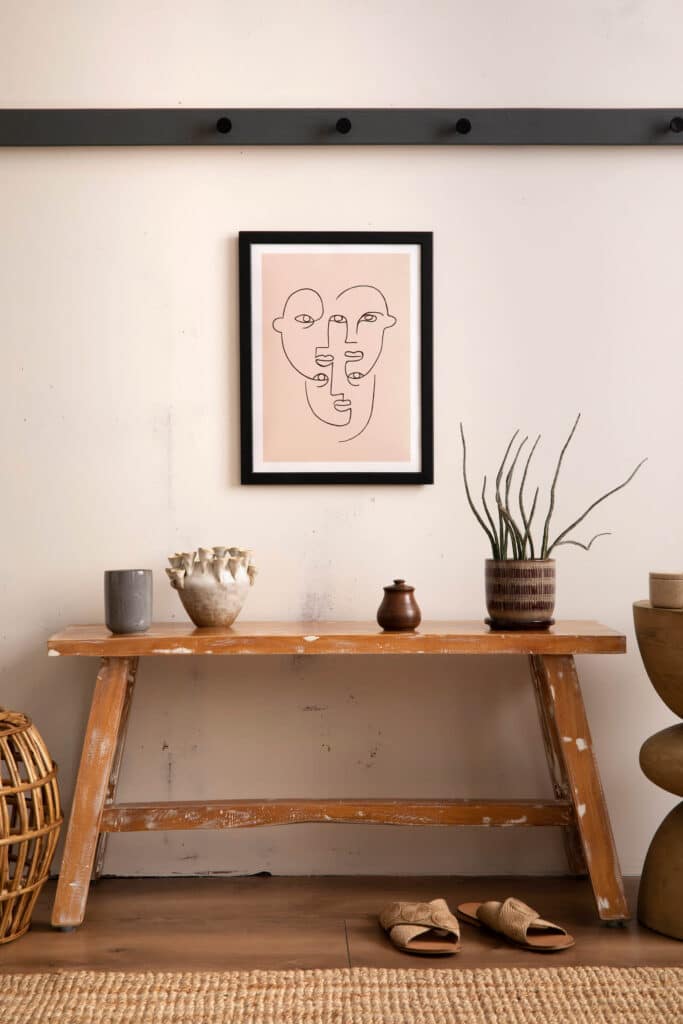 Finding the right storage bench for the job involves paying particular attention to the building materials and durability of its making. This bench needs to be able to stand up to the constant barrage of dirty soles and kicks and scrapes that comes from being in the entryway.
Another important aspect of the mudroom bench is its storage capacity. Having a seat in the mudroom is a great convenience, but it will also take up a lot of space. It should be able to counteract that by providing a good amount of storage.
Perhaps you can find one with a lift top, built-in shelves, or front cabinets. This would be an excellent place to keep out of season shoes or larger items (like outerwear) that need a place out of sight.
Are you interested in DIY projects? Watch this video to learn how to make your mudroom bench a flip top with hidden boot storage.
---
2. Create a Message Center

Even a small entryway is the best place to put a command center because it's a common area of traffic that everyone passes. This suggestion earned its spot near the top of our list of mudroom ideas.
You can add reminders for each other and little "before you go" messages. An ideal message center will have a basket to hold mail and receipts or even those papers that you don't want to forget to bring with you.
This is also the most convenient place to put your keys. Accomplish this by adding some hooks to the bottom of the message center to hang your keyrings.
You have a few choices when deciding which board is best for you. A whiteboard is easy to keep clean and can be colorful if you choose.
Chalkboards are in fashion now, though chalk and chalk paint can be messy. If you're in the mood for a fun DIY project, check out a handy tutorial here.
Another possibly-less-messy solution is to add some cork and pushpins for important messages.
Last but not least, a mirror near the door is excellent for a quick final check before you head out the door.
---
3. Lay Down a Mud Catching Rug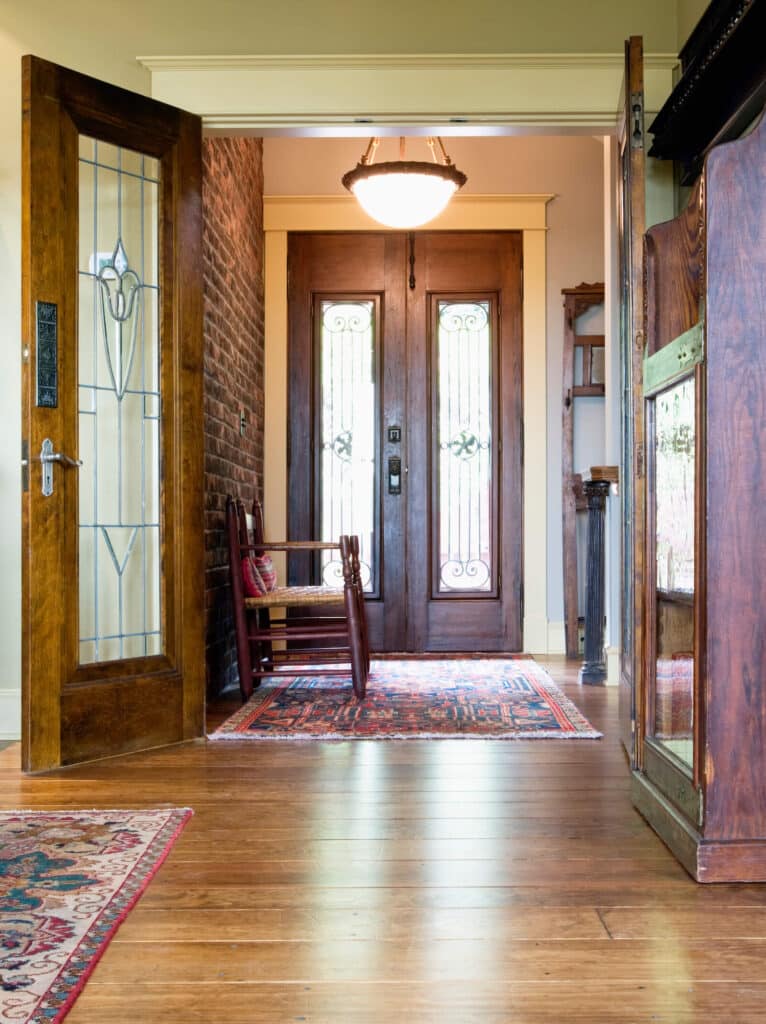 Like your bench, a mudroom rug has to be durable. This is no place for a fancy white carpet.
You'll want one made from fibrous material like a woven rustic rug. This type of mat is easy to clean and catches a lot of dirt — a sorely needed feature in the mudroom.
You also need to take into consideration the amount of space you will have between the door and the floor. Your rug needs to have a thin pile so that your entry door can freely open and close.
Another typical small space in apartment living?
Where you go to wash your rugs, of course. Read these 7 Practical Storage Solutions for Organizing Your Laundry Room to bring that space up to speed.
---
4. Reinvent Shoe Storage

Mudroom organization is always a more significant problem for big families (or shoe lovers), because of the sheer number of pairs that need sorting.
In this section, you will learn all about innovative ways to store your shoes.
Try Under the Stairs
If you have any stairs that are close to the entry, this is a handy space for shoe storage.
You can open the area up underneath and create some built-in rolling shelves. Make them wide enough to fit a pair of shoes, and then you can easily pull them out to pick which shoes to wear.
It might even be possible to hang a rod here to hold everyone's bulky coats on hangers. Or if you don't want to fuss with hangers, put up some attractive coat hooks.
Related: Your 5-Step Apartment Cleaning Checklist to Stay More Organized
Build (or Buy) Some Shelves
Don't leave your shoes to pile up on the floor. Invest in some shelving that fits your space so that you can keep your shoes off the floor.
Even if they aren't the prettiest, they will do wonders in making your mudroom look cleaner.
Use Baskets
Another good idea to keep your shoe collection under wraps is to stow them in large baskets. You can organize them according to person, weather, or style.
Baskets are an especially handy storage solution for keeping mittens from going missing.
---
5. Designate a Space for Each Member of the Family

When you give everyone a little space of their own, they can use the storage ideas and organization tactics that work for them.
Whether you use a high school approach and keep things in a locker-like style or resort to a more freeflow approach, keeping everyone's personal items together can help keep things organized.
Label Each Space
Another great mudroom idea?
To let everyone know what's what and who's is whose. Accomplish this by labeling each person's area with their name.
That way, when it's time to look for something, they can go to their area and find it easier than having to trudge through everyone's things.
Personal Cubbies
A simplified approach to this method is to assign everyone a cubby. They are responsible for cleaning and organizing their own cubbies. They'll also have a designated area to keep their shoes, backpacks, coats, umbrella, and more.
---
6. Use Every Horizontal Inch

Avoid wasting wall space. If you have a small mudroom, you can have more storage by making unused areas more useful.
Install a Floating Shelf
Floating shelves are so convenient. More people would benefit from putting shelving to good use.
A floating shelf in the mudroom can be even handier with a rod under it to hang things like umbrellas, hats, scarves, and bags.
Related: How to Use Floating Shelves to Decorate and Organize Your Apartment
Don't Forget Behind the Door 
The small space behind the door is often overlooked for all its possibilities. You can add shallow shelving, a small cabinet, or a corner shelf.
Use Hooks Galore
You can install a hook on any six-inch cube of space. Take a look around your mudroom.
How many six-inch cubes of unused space is on your walls?
The hook is a secret weapon of mudroom organization.
---
7. Don't Forget to Make Room for Your Pet!

Even if you have a small pet, they still need storage space to keep their accessories, and the mudroom is the best place in the house.
You can create an area for your pet's food in a plastic bin or wooden box and keep it under the sturdy bench or stairs.
Remember all those hooks? You can hang a leash or brush on one of these.
Just as large baskets are handy for organizing shoes, medium and small baskets can hold grooming supplies and other pet needs.
The mudroom is the first impression you make on your guests. Maintaining an organized mudroom will create a more welcoming atmosphere to your home.
Although you want your mudroom storage to be durable, it doesn't have to be ugly. Add your own style and personality for a decorated and organized mudroom that sets the tone for the whole house.
Interested in organizing another small space in your home? Check out these 5 Bathroom Design Tactics!





(No Ratings Yet)


Loading...