How to Organize and Keep Track of Odds and Ends
It's one thing to step into a room and feel proud of how clean and orderly it looks. It's another thing altogether to open a drawer and dig through a mess. Rifling through piles of junk trying to find the one thing that you shoved out of sight without organizing can be a headache.
But keeping track of little things that you "might need someday" or can't remember if they're essential or not isn't as hard as it seems.
It just takes a few smart organizational methods in each room and consistency in using them. Keep reading for five simple ways for how to organize and keep track of odds and ends.
Soon, you'll be able to locate every little item that you need — no matter how long it's been since you saw it last!
---
1. Tidy Up With Bins and Boxes
Storage containers don't have to be boring plastic totes or ugly boxes. Most department stores carry stylish bins and boxes that will go with your decor.
If you must save mementos like cards or pictures, store them in these containers. Avoid cardboard boxes; they tend to attract pests that might destroy your cherished memories. Opt for fabric boxes with lids instead. These are popular and easy to find.
Bins are great for holding office supplies or other awkwardly shaped items that don't fit well in sharply angled boxes. They also come in a variety of sizes and shapes, making them perfect for small spaces or sitting on open shelves.
Pro tip: It might seem fun to mix and match bins and boxes, but this method of storage can take up a lot of room. When space is at a premium, make sure you use containers that are the same shape so they can slide flush against each other.
Related: How Much Does a Storage Unit Cost?
---
2. Store Things in Plain Sight

A common trick in interior decorating is to hide your odds and ends in plain sight. Put them on display as purposeful decor, and you'll cover bare spaces while keeping track of your things.
For example, think about what you collect and keep on shelves around the house.
Is there anything hollow that could hold extra keys or spare batteries?
Try to use the decorations you already have out to hide your little clutter.
Kitchen utensil necessities and some collectible items often don't fit well in drawers. These are perfect empty wall coverings, though. Use hooks to fill up gaps in the kitchen with your utensils.
Look around the house for awkward bare walls and cover them up with your favorite collections.
---
3. Use Organizers in Every Drawer
The mighty rule of every home having a junk drawer is quickly becoming obsolete. Junk drawers are usually more of a headache than a help. By the time you need something, you can't find it in the pile of clutter, so you buy a new one anyway.
It's a waste of time, space, and money, and it's not necessary. With so many organizers to put in drawers, there's no need for a mess to rifle through.
No matter which room you need organizational magic in, there's a drawer helper for you:
Straighten up your sock drawer for more space and a neater bedroom.
Keep your cutlery, and kitchen odds and ends streamlined.
Divide your living room drawers into pre-arranged sections.
Use compartmental drawers in the bathroom for your cosmetics and healthcare.
By adding a drawer organizer to every room, you've got a quick and easy place to keep all your clutter on hand.
---
4. Stick to One Area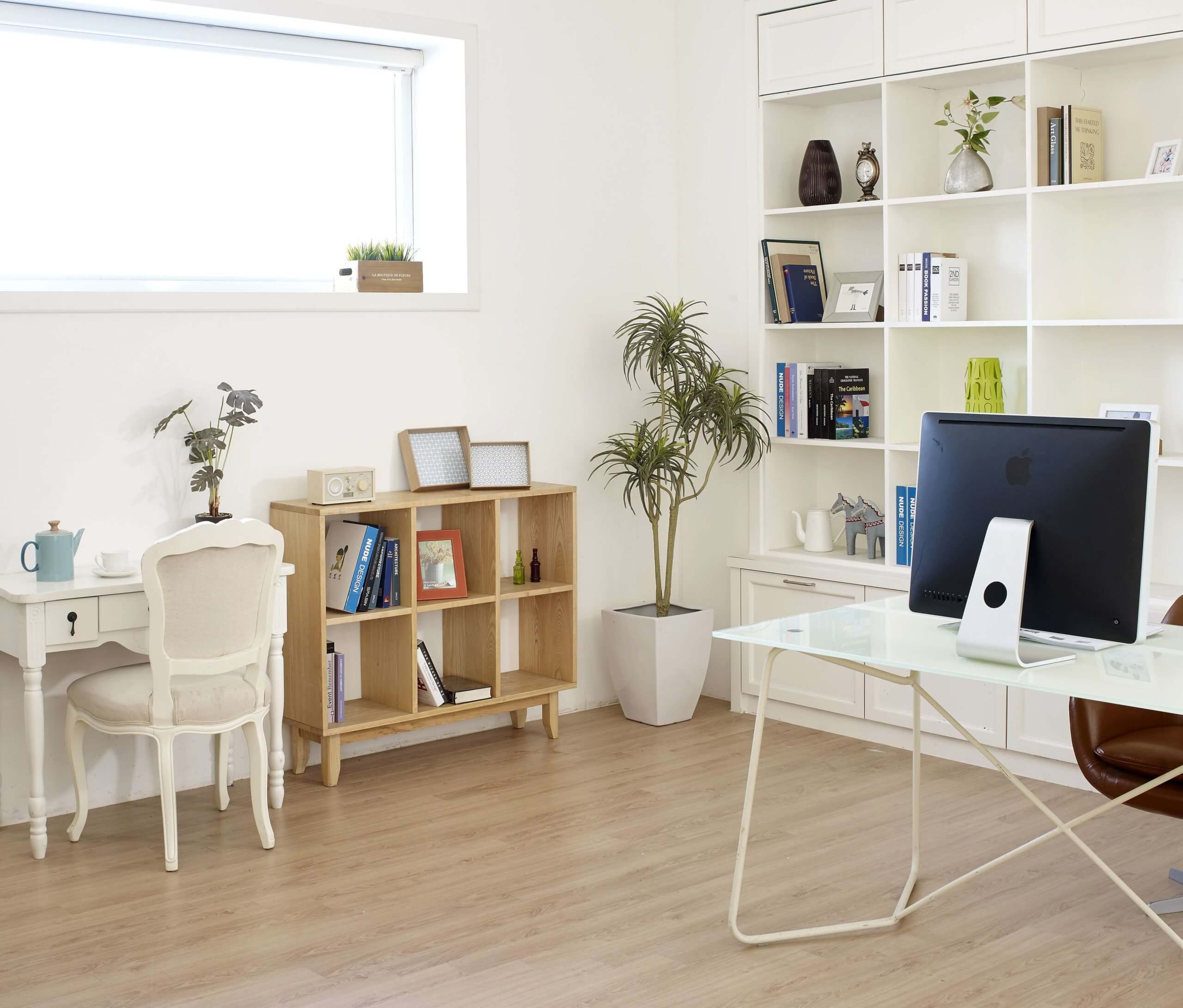 Once you have a place to keep your odds and ends, it should become your go-to when you need to find something.
The problem for many of us comes from having too many of these places. Pick one area where you'll keep your excess clutter and stick with it.
Seasonal decor, extra linens, spare lightbulbs, and other important but rarely used items pile up. Keep them in organized totes and find an area in the garage, attic, closet, or under the bed where you'll store them out of the way.
---
5. Put a Label On It
What happens when you have everything tucked away in totes and boxes, but you can't remember what's in each container?
Usually, this results in a frenzy of pulling out your neatly organized contents until you find what you're looking for. Then, everything goes back in the boxes in a chaotic mess instead of neat and orderly because you're irritated or in a hurry.
There's a simple way to prevent this madness from ensuing. As you pack and store away your things, stick a label on the box!
Labeling isn't just for the uber-organized Type A personalities. It's the final touch to organizing your little bits and pieces, and it's a good idea for anyone who wants to keep track of what they tucked away in storage.
Read more: How to Organize a Happy Home
The type of label you use is up to you. Some people find using a computerized label maker that spits out a peel-and-stick label fun (and then label everything in the house). If you're crafty, you might enjoy hand-making creative tags for your totes.
Whatever boxes, bins, and baskets, you keep your clutter in — make sure you put a label on it before you store it away.
---
Conclusion
When it comes to keeping track of your odds and ends, the key is to have a plan of action and stick to it before you put them away! Knowing where each little thing goes, and then not putting it anywhere else, helps you to stay organized.
With a few organizational systems and consistent use of them, you can have a place for everything and everything in its place!