Elements of Cottage Style + 5 Cottagecore Ideas
At The Home Blog, we're always looking for new and exciting decorating ideas to share with you. And the latest and greatest style that has caught our eye and elevated our heart rates is cottagecore.
Cottagecore, you ask?
How can a style name that is both so quaint and so fierce possibly enchant me and my modern home decor style?
Trust us, the more you know, the more it will.
Read on to learn the elements of cottage style. We'll also reveal five cottagecore ideas to transform your space into a contemporary country cottage retreat.
---
What is Cottagecore?
Cottagecore is an aesthetic and lifestyle movement borne out of the desire to feel closer to nature. It gained popularity during the COVID-19 pandemic when people spent more time indoors looking for new hobbies to master.
Cottage style emphasizes a simple, rural lifestyle and homespun activities, like baking, crafting, gardening. But, in many ways, it's also a reaction to consumerism, namely an overreliance on screen time and overworking.
Shopping for a bunch of items to decorate your home may seem antithetical to this principle. But in actuality, the items create a setting that helps you relax, rewind, and reflect.
In fact, when you use it correctly, cottage style can promote a new and relaxed atmosphere in your home. To that end, it's also a philosophy that encourages social awareness and personal wellness.
That may sound like too many principles for one simple lifestyle.
But it's really the home decor style we're after anyway!
Cottagecore promotes eco-friendly touches and cozy cottage design ideas for any budget. This is why giving your space a cottagecore makeover is perfect for the cottage lifestyle itself. You enjoy a charming DIY project that benefits yourself and the planet!
Don't miss: Ethereal Aesthetic Decor and Design
---
Cottage Style Elements
What's wonderful about cottage style decor is that you can integrate it anywhere.
It's a charming interior design style if you're a homeowner, apartment renter, van dweller, or want the cottage look in your beach house or weekend cabin.
No matter your floor plan, you can give your space a stunning English cottage-like makeover all your own. But to stay within the realm of true cottagecore, certain aspects are non-negotiable.
These are the specific elements cottage style homes all have in common:
Walls and Floors
The cottagecore look is crisp and natural, particularly when it comes to the walls and floors. You don't want to go wild with dark paint colors or shag carpeting, for example.
Instead, opt for white paint walls and wood floors in your home or apartment. They are the perfect backdrops to the cottage accessories you'll add.
You may not have much choice about what covers your walls or what your floors consist of if you're a renter. But luckily, most apartments have minimalist fixtures. So you can add your own cottage elements on top of those.
Accents
When we talk about accents, we mean the accessories you add that will really draw cottage style inspiration.
One of our favorites is beadboard.
Beadboard is a classic cottage look that is simply slim vertical paneling. Its crisp white color and clean lines speak to cottagecores' appreciation of minimalism and retro aesthetics.
You can use beadboard to decorate walls, shelving, and cabinets.
You probably can't install beadboard in your apartment. But you can likely get away with beadboard-style removable wallpaper.
Wicker baskets bursting with real or fake floral arrangements and plenty of plants, in general, are a cottagecore must-have.
Fabrics
Fabrics like curtains and tablecloths serve a purpose in our homes. But they can also add heaps of style, particularly color and texture.
Cottagecore fabrics are those with muted color palettes, like neutrals and soft pastels in pale pinks, blues, and yellows. Of course, florals (think '90s favorite Laura Ashley patterns) are a major cottage fabric staple.
Dress your sofas, windows, and tables with fabrics that have pastel colors and floral patterns to breathe life into your new cottage.
Once you get a knack for cottagecore elements, accents, and fabrics, you'll be able to decorate your home in authentic cottage style. Pick and choose which speaks to your aesthetic style, and you'll never go wrong.
You may also like: 5 Unique Aesthetic Cores to Inspire Your Decor
---
Idea #1: A Cottagecore Living Room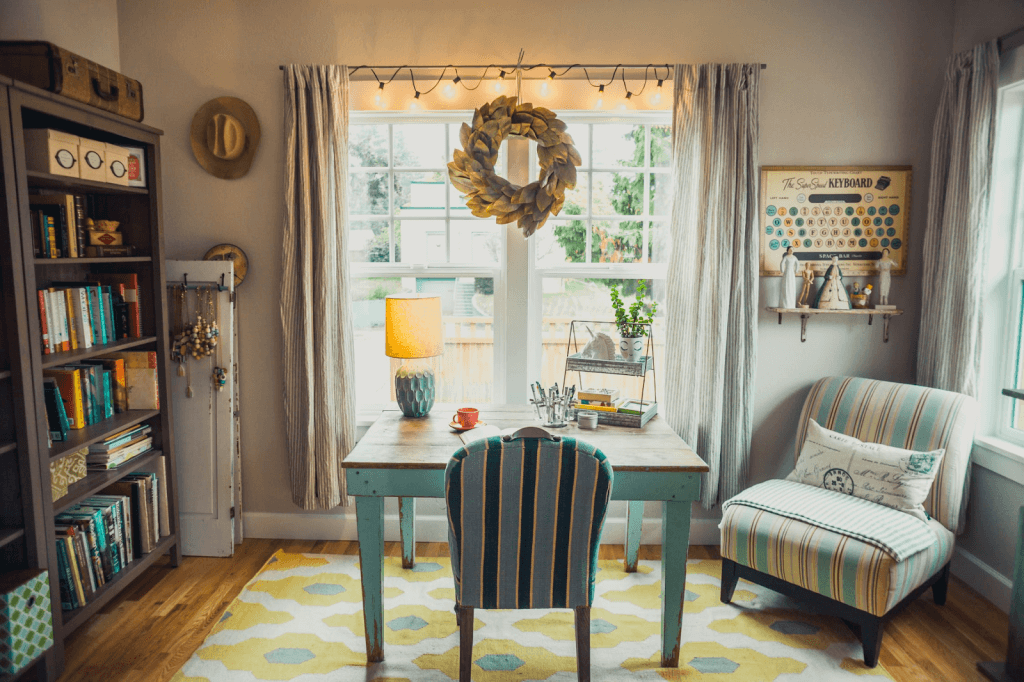 You probably spend the bulk of your free time in your home's living area. It's also the space where you welcome visitors.
So it's absolutely essential to decorate your living space with cottagecore elements to make a cottage home.
Luckily, we have a few ideas on how you can do just that.
Furniture
When it comes to cottage living room furniture, wood is the way to go.
A classic wood bookcase can store your tomes and other cherished items. Simple wood coffee and side tables are ideal, especially when you're entertaining. Wicker or rattan accent pieces are perfect cottage elements to dress up the space with a little something extra.
Remember: you don't need a bunch of things thrown together for it to be a cottage.
Plan well and be picky with what you buy. Less is always better in the cottagecore sphere, especially if you're decorating your home and not your weekend place.
(And more on that ahead.)
Fabrics and Upholstery
Neutral or soft blue sofas are perfect in the seating area.
If your sofa is less than charming right now, and you don't have the budget for a brand new one, consider a floral print slipcover. Slipcovers add a touch of vintage charm while also being gentle on the wallet, so they're ideal for the cottagecore mindset!
Soft textiles, like woven rugs and knit throw blankets, are excellent cottage living room accessories. Decorate your windows with vintage-style curtains, like sheer and lace panels.
This one's a double bonus.
It's part of the cottage style's charming decor, and it will let natural lighting illuminate your cottage living space during the day.
Related: The Best Studio Couch for Your Apartment
---
Idea #2: A Cottagecore Master Bedroom
When it comes to creating the ultimate cottage bedroom, it's about balancing style and substance. As with every other room in your cottage-to-be, you don't want to cramp your bedroom with lots of stuff.
Relaxing earth tone paints are perfect for the walls and help create a space that is chill and reflective of nature.
For the window treatments, use blackout curtains to conserve energy. Ideally, these curtains will be velvety or have a floral or damask print for a more Victorian, feminine feel.
As for the bed, an ornate wicker headboard is ideal. For your bedding, anything floral print is, of course, cottage and sweet.
If you climb into bed and feel you may be drifting off in a cozy cottage in the English countryside, your bedroom is perfectly cottagecore!
---
Idea #3: A Cottagecore Dining Area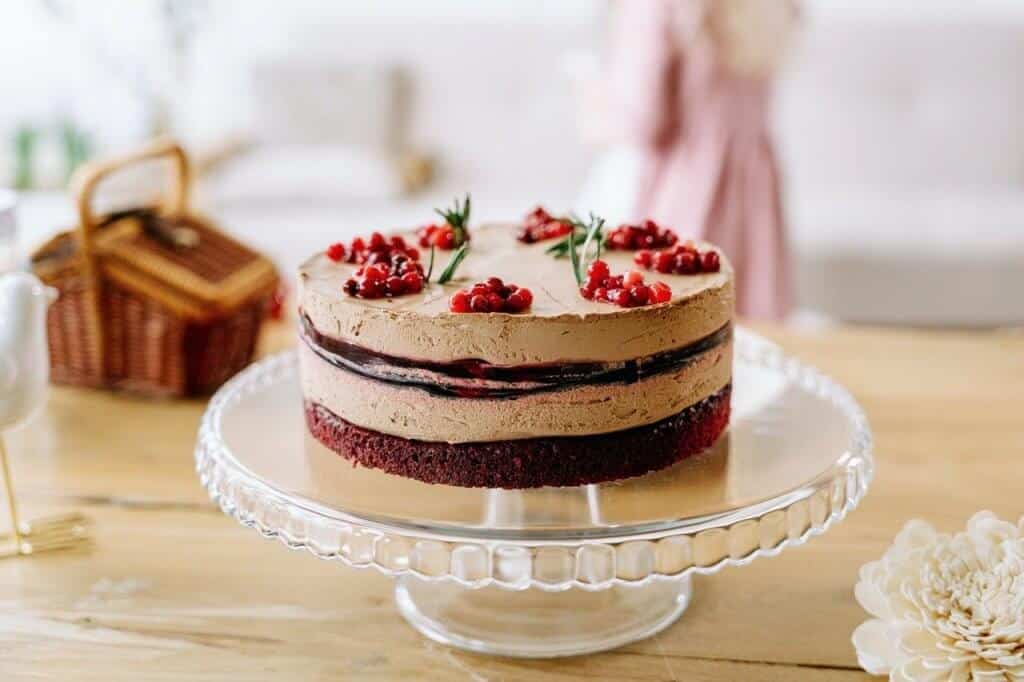 Lots of care and attention need to go into the dining area of your home to make it cottage style.
The dining room and kitchen should have wood furniture, including cabinetry, chairs, and tables. Speaking of tables and chairs, surround the wood dining table with classic dining chairs or bench seating, if space allows.
Above the table, an ornate, retro chandelier, like this Victorian-style pendant dome, will provide the perfect illumination when you're sipping tea or hosting a simple repast with friends.
Decorate the dining area with potted plants and flowers.
Family heirlooms, like your grandma's prized cookbooks, teapots, and plates, should be on full display. Having a beautiful hutch in the dining area is perfectly "cottage" and a great way to show off these treasures.
A cottage kitchen should have beadboards and soothing white-painted walls and floating shelves. Rustic touches — like hanging copper pots and baskets to hold your freshly-baked breads — are also welcome.
Don't forget the eco-conscious aspect of cottagecore!
Where possible, be sure to:
See also: 7 Table Decorations to Create the Perfect Dining Arrangement
---
Idea #4: Cottagecore in Small Spaces
Cottagecore goes hand in hand with the tiny space phenomenon. Cottage style is about creating open, airy spaces. So using cottagecore as the design scheme of your small room is utterly brilliant.
If you live in a small home, studio apartment, camper, or similar small space, you can still create a modern cottage space that is all your own. It's essential to be more thoughtful when decorating a small space cottage style, though.
Going overboard and buying every cute cottage-like item is easy to do. But you don't want tons of flea market finds or antique knick-knacks covering every space!
This will make your home look even smaller and horribly cramped. Which, again, is the opposite intent of cottagecore.
To prevent this from happening, select one cottage theme and a few cottagecore elements to match.
How, you ask?
Think about your favorite cottage aspects.
Do you prefer a more English cottage look, with delicate and feminine furnishings?
Or is the back-to-nature look more your speed, with lots of greenery, eco-friendly appliances, and sustainable items?
Once you figure out what part of the cottagecore lifestyle really speaks to you, it'll be much easier to decorate. And by decorate, we mean with a few cottage essentials that make your small space the good kind of cozy.
---
Idea #5: Cottagecore Your Weekend Retreat
You can easily use cottage decorating to kit out your weekend space, whether it's a cabin in the woods or a sunny beach cottage.
What's great about bringing cottagecore to these other spaces is the few fun tweaks you can consider. That makes it different from how you decorated your usual living space.
Where is your weekend retreat?
If it is in the country or the woods, bring those natural elements you see outdoors to the interior design.
Use lots of earth tones as the color scheme and wooden furniture as decor.
If your weekend retreat is beachside, bring the outdoors within. A sand and stone color palette is ideal, with wicker furnishings and seagrass textiles adding warmth.
---
Bonus Idea: Bring Cottage Interiors to the Front Porch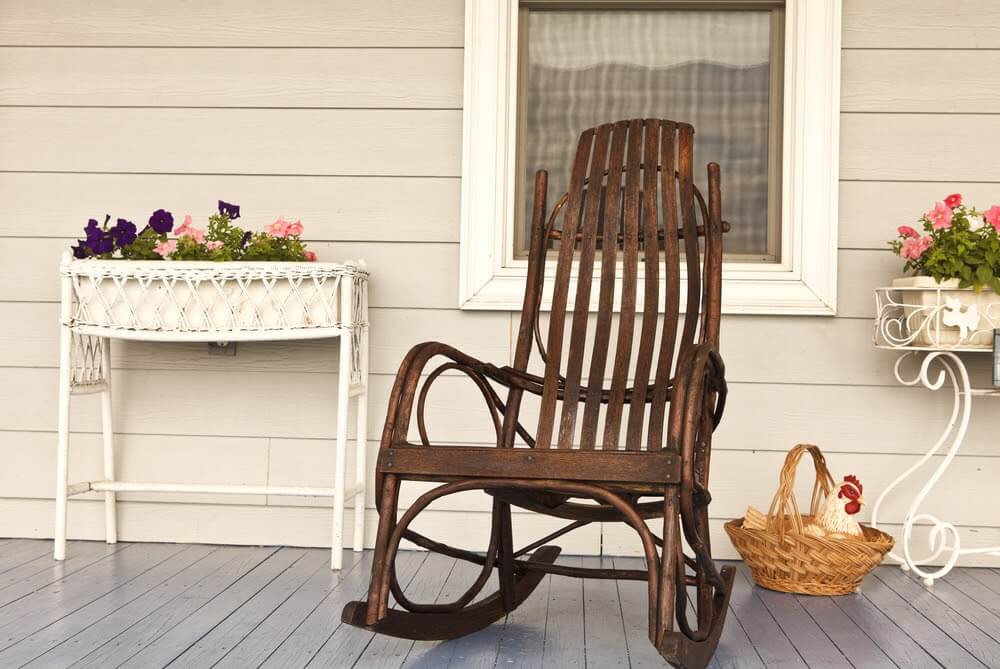 If you have a front porch, patio, or balcony, cottage it up!
One of the first things you'll notice when perusing photos of cottagecore on social media is the distinct front porch styles.
It is the first thing people will notice about your cottage, after all.
To make your exterior cottagecore, dress it up with:
These are the ultimate cottagecore porch accessories that will charm your neighbors and speak to your incredible taste.
Related: Apartment Accessories For Balcony, Patio, and Porch
---
Conclusion
If you're charmed by the cottagecore movement and want to replicate its aesthetic in your home, then go for it!
It doesn't have to be expensive or time-consuming.
The idea is to create your own cottage retreat that promotes a simpler existence. Your home will never look or feel better with the right aesthetic and the furniture and accessories to match.
And don't worry about it just being a passing fad.
Any lifestyle trend that celebrates harmony with nature and less reliance on material goods is here to stay!