Sticking to Basic Design Principles in Your Apartment
Want a harmoniously balanced home? Start with the basics. Your apartment will have a "wow" factor once you've added these 7 principles.
When you're decorating your apartment, you want to make it your own space. It's fun to show off your unique style and to ensure it really feels like yours.
There are several ways to go about this. You can go wild and decorate however you like — without a set plan in mind. Or you can follow the latest home design trends on Pinterest. But you know what? Either of those ideas will make you overwhelmed and bored in moments!
Instead, why not start by using basic design principles, and follow your heart from there? Once you have the basics down, you can put your own spin on it.
So without further ado, here's how to stick to basic design principles in your apartment.
---
1. Plan Out Each Space
If you're starting from scratch, it's key to plan out your room design before adding or changing a thing.
Take measurements of the room and keep in mind the size of the furniture you want to add to it. This will help ensure you don't add items that are too large or small.
Can't picture it in your mind's eye? No worries. Try this free room planner tool that lets you upload a picture of the space and virtually decorate it.
---
2. Visualize the Finished Room
After you take measurements and decide on the main furniture, really picture what it will look like.
This is also where the planning site listed above is helpful. Just be sure you spend time with it and make the space as accurate as possible.
Once you have each room and the furniture placed (mentally, that is!), you can move on to decorating.
Similar: The Newest Trend in Dinnerware: A Blue Rose Pottery Review
---
3. Select a Focal Point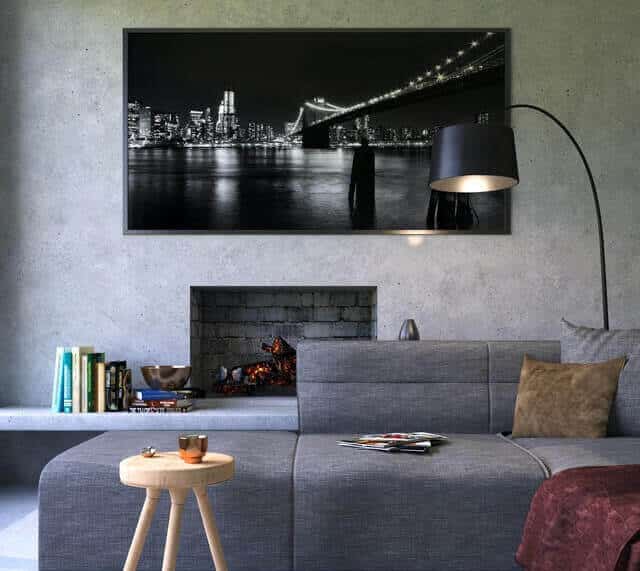 Your apartment may have a built-in focal point, such as a fireplace or bay windows.
A built-in focal point is where your eye naturally drifts to when you enter the room.
You can also create your own focal point to achieve this same effect.
By choosing a focal point in each room, you can surround it with furnishings that enhance it.
Just don't let any decor overpower the focal point, or it will confuse the eye.
---
4. Use Contrasting Elements
You can give your space depth and interest by using contrast, a key basic design principle.
In home decor, contrast means:
Using pieces with a variety of shapes to decorate.
Using contrasting colors, be it through paint and/or decor. Think classic black and white, or be bold with bright colors, like purple and yellow.
Adding contrasting textures is also important. Things like shaggy rugs, fuzzy throws, velvet pillows, smooth wood, and sleek metallics.
Selecting items with contrasting features is a brilliant basic design principle to stick to. It will bring life to your apartment while further helping you hone your individual style.
Related: No Paint Allowed? Here are 9 Ways to Add Color to Your Apartment
---
5. Respect Negative Space
We sometimes forget the negative space design principle when decorating our apartments. It doesn't sound like much fun, but in actuality, you use this basic design principle to take a pause from the more visual design elements we're using.
The negative space in your apartment is an area left uncluttered and intentionally blank. It is essential to utilize negative space since it offers a chance to breathe in a room that may otherwise be over-decorated.
How to Use Negative Space
Choose a point in every room that is free from decor, or that at least has minimal decorative pieces, like neutral-colored candles and flowers.
You can also infuse your apartment's negative space with a purpose. This can be where you relax and unwind, such as a meditation corner.
The idea is that this space provides a respite for the eye, so you're not overwhelmed. Negative space also lets the other basic design principles you use shine through more brightly.
---
6. Balance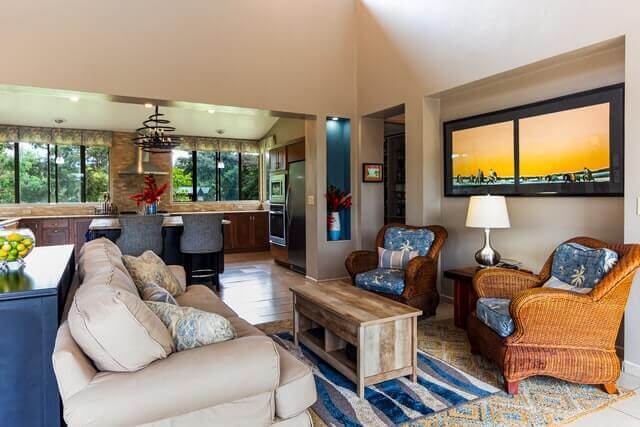 So you've planned and visualized each room in your apartment. You've chosen a focal point to space your decor around. You've decorated the rooms with contrasting elements and utilized negative space.
Now it's time to check that everything balances!
So how do you do this?
Use the scale of each room and the proportion of the items to determine if you have a balanced layout. This may sound like a formidable task, but it's really just ticking a few things off your design checklist.
Take a look around your apartment and ask yourself these questions:
Is there a good variety of contrasting colors and textures?
Do you have an equal selection of bold and neutral design elements?
Is the furniture in each room of varying heights?
Do the objects in each room seem to fit the Golden Ratio for scale?
If you've answered yes to these questions, congrats, you have a balanced apartment!
You'll know for sure you've achieved this if you feel harmonious when you're in each room. Balance is as much about emotion as it is about measurements.
---
7. Edit as Needed
It's okay to finish decorating a room and realize something's off. Interior design is considered an art form for a reason. And interior design professionals get paid well to use the basic design principles flawlessly.
If anything in your newly decorated apartment seems weird, that's okay. Feel free to play around with the elements you've added per the other basic design elements until it really feels like your space.
Take your time and enjoy yourself — this is your home, after all!
You may also enjoy: Transforming an Apartment by Incorporating Your Personal Style
---
Conclusion
Don't feel overwhelmed when it comes to designing your apartment space. The basic design principles are simple to utilize once you have them down. They will also be anything but basic when used correctly.
Just to quickly reiterate, they are:
Visualize the end product
Choose a focal point
Contrast
Negative space
Balance
Edit until it feels like home
And that's that. Now that you have the basic design principles down, it's time to get to decorating!