No Paint Allowed? Here Are 9 Ways to Add Color to Your Apartment
Most landlords have strict rules about what you can and cannot do inside your rental unit, from having pets to not smoking. But there's one rule that tends to frustrate apartment renters more so than any other:
the NO PAINT rule!
Landlords don't put this rule in place simply to torture you, but we do understand your pain. Being forced to live with white walls and beige floors can be nightmare inducing for some!
Looking for ways to give your apartment some color without painting and forfeiting your security deposit? Here are nine ways to add color to your apartment when painting is not allowed.
---
1. Hang Peelable Wallpaper
Wallpaper has gained prominence once again in recent years. It comes in just about every color, size, and pattern you can imagine, and it's easier to apply than ever before.
Gone are the days of using messy glues and pastes to apply wallpaper. Plus, you no longer have to spend an entire weekend peeling it off when you tire of it. With a quick Google search, you'll encounter an endless variety of peelable, self-adhesive wallpaper that's easy to apply and remove.
Paper an accent wall or paper an entire room — when it's time to move out, peel it off, and your landlord will never know!
---
2. Hang Adhesive Wall Decals
Don't want to paper an entire room or even an entire wall? Self-adhesive and removable wall decals are a great alternative.
Available in small sizes and large scale patterns, wall decals are a cinch to put up. They're also a breeze to remove when it's time to move out.
See also: Transforming an Apartment by Incorporating Your Personal Style
---
3. Display Colorful Wall Art
Tired of looking at those bare white or beige walls throughout your unit? In a matter of minutes, you can make those walls burst with color just by adding some wall art.
Any style, any motif, and any color works well against a blank, neutral wall. The only hard part is browsing the thousands and thousands of available art prints online.
There's one rule to keep in mind regarding wall art: the bigger, the better. A large framed print can make a significant impact, even in a small space.
Prefer to hang a variety of smaller prints instead? Mount different frames and images from floor to ceiling to create a gallery wall.
Does your no-paint-allowed landlord also have a policy against nails in the wall? If so, opt for lightweight frames and hang your art on Command strips. This is a damage-free alternative to hooks that make holes in the drywall.
---
4. Choose Colorful Furniture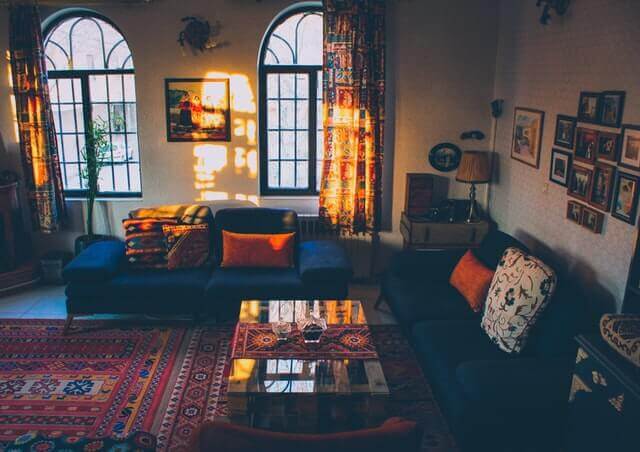 Neutral walls and neutral floors make the perfect backdrop for vibrant, colorful furniture.
That red velvet chair you love. That bright purple couch you've had your eye on for years. Those eye-catching blue end tables you keep checking out on Etsy …
A colorful piece of furniture is sure to stand out against your white walls and neutral floors.
Already have a living room full of neutral furniture? Add some pops of color with throw blankets and throw pillows instead. You can even do some weekend DIY and paint or stain your favorite table or bookshelf in a bold, vibrant hue.
---
5. Decorate With Fresh Flowers and Plants
Add lots of interest to your apartment by merely decorating with colorful flowers or fresh green plants.
Put a fresh vase of roses in your bedroom. Display a collection of green succulents on your kitchen windowsill. Hang potted plants in the corner of your living room. There are endless ways to decorate with plants and flowers. And they can fit into any room design.
Flowers and plants alone are a great way to add color. But planting them in colorful pots can have an even more significant impact.
You may also like: Why You Should Try Apartment Gardening
---
6. Decorate Your Bathroom With Lots of Color
Do you have a shower curtain hanging in your bathroom? If so, make it a colorful one!
Add matching towels and coordinating curtains. Utilize more pops of color with bath mats, storage containers, and decorative accents.
---
7. Hang a Colorful Tapestry
Add a touch of global attitude or boho-chic style by hanging a large, multicolor tapestry on a wall. A lightweight tapestry requires nothing more than a few push pins or small tacks to hang.
Tapestries can work in any room. But they look exceptionally stylish hanging on a large wall behind your bed or couch.
Do you have a hallway that needs a bit of color? Tapestries are great for hanging in hallways, especially narrow ones. After all, you don't want to reduce the space by hanging 3D frames or shelves.
---
8. Add a Colorful Rug
An easy way to brighten an apartment is to invest in a colorful area rug. From solid rugs to patterned designs, the simple addition of a rug does more than add color.
It also offers added comfort underfoot!
---
9. Hang Colorful Curtains
You may enjoy the look of breezy white curtains blowing in the wind. But colorful curtains or printed drapes are an easy way to give your wall some color without paint.
While most people buy curtains to fit their windows, there is another trick you can do to get more color on the walls. Buy curtains that reach the floor or hang your curtain rod above your window frame, so your windows appear longer.
This is a technique that interior designers love to use as it makes a small space appear bigger.
Related: How to Create a Book Nook [9 Ideas]
---
Conclusion
Furniture, wallpaper, rugs, and textiles. There are myriad ways to add color to your apartment without having to paint the walls.
If your lease says not to paint, don't. There are many other ways to inject color into your space. And when it comes time to move out, you can take all of that color with you!
So you may disagree with the landlord and their rules, but stick to them. That way, you can get your security deposit back and put that money down on a deposit for your new place. A new place that, hopefully, you can paint!