How to Create a Book Nook [9 Ideas]
There's nothing better than getting lost in a good book.
Unless, of course, you get distracted by noise or you're so uncomfortable that you toss and turn more than you turn pages.
The best way to ensure your story doesn't get disrupted is by creating a cozy book nook, perfectly made to read in for hours.
If you are a book nerd and you feel like you deserve a space dedicated to your passion, this article will give you plenty of inspiring ideas you can use to create your very own book nook.
---
1. A Magical Makeover
All you really need to create a book nook is an unused sitting area. Get yourself a big, poofy chair for comfort because once you start a good book, you'll be sitting there for a while.
Next, add some atmosphere with the twinkling of string lights strung around your reading area. This will draw your eye when you enter the room and remind you that it's time to finish that chapter and figure out how the plot twists!
You can make this area even more magical by placing it under the stairs or covering it with a makeshift tent. 
This can give you a hiding spot to lose yourself in your chosen storybook. You might even feel like you are part of a story yourself by reading in such a magical spot!
---
2. Transform a Window
There's a certain feeling you get when you gaze out a window. 
Even though it may look like you are gazing out into the distance, most of us spend time reflecting on what is happening inside our minds and barely see outside.
When we are able to slow down and empty our minds of the hustle and bustle of everyday life, it's the perfect time to read. Our minds are calmer and able to fully digest the information on the page.
Of course, nobody wants to just stand by a window and read. So to make this spot ideal, you need to install a window bench. You can either follow a tutorial like this one or just buy a bench that fits neatly by your window.
The great thing about a window is that it has a bookshelf already built in. You can place the books you want to read on the windowsill and voila — you have a perfect reading nook with lots of natural light.
See also: No Paint Allowed? Here are 9 Ways to Add Color to Your Apartment
---
3. Adopt a Corner
If you have an unused corner in your house, a few tweaks can turn it into your reading spot. You should add privacy with either a canopy or divider around a sitting area. 
The type of chair you use is up to you, but a big armchair would fit perfectly into a corner. 
It would be best not to pick a dark corner, but if you have no choice, make sure you find a nice lamp and a side table for your books and coffee or tea. 
---
4. The Lounger
Loungers look so sophisticated, do they not? It can make you want to drape yourself on the lounger and have someone fan you while another feeds you grapes.
But more realistically, a lounger makes a great place for reading (and for the occasional nap.) Add a comfy blanket and a side table to make the best reading spot in the house.
You don't want to have to get up out of your comfortable repose to grab a drink, so make sure to have your warm mug with your beverage of choice set on your table before you start reading.
---
5. Take Over a Closet
Some closets are just meant to be turned into an unexpected getaway. If you have a big closet in your home that's being used to its full potential, you have an opportunity for an ideal reading nook.
First, empty the closet of its contents, then fill it with all the reading necessities. You'll need a place to sit that fits in the closet. A small chair will work, and you can add pillows to make it more comfortable.
You can install more lighting overhead, and maybe install a bookshelf on the wall.
Now you have a choice to make:
Do you want closed doors for privacy or a doorless room for more space?
Shut the door or remove it from the hinges — it's up to you!
Related: 5 Closet Organization Ideas to Steal From Celebrities
---
6. The Repurposed Book Bench
If you have a bench, you can create a place to read without much effort. Add a cushion on top of the bench and put books in the cubbies below.
Place your new bench in a well-lit area and you're ready to zip through a few chapters.
---
7. The Portable Book Nook
Sometimes you can't find a suitable place in your home to make a permanent book nook, but you can have something better:
You can create a portable book nook to take with you wherever you go!
All you need is a foldable chair and a pillow with a pocket to hold your book. You can even make your own.
Take it outside, to the beach, or anywhere!
---
8. Divide and Conquer
If you don't have a corner in your home but you have a section of a wall, you can use a room divider to create a designated reading area that is somewhat separate from the rest of the house.
This room divider can be put on double duty by serving as a bookshelf, too. Check out these bookcase room dividers to see your choices.
---
9. A Pile of Pillows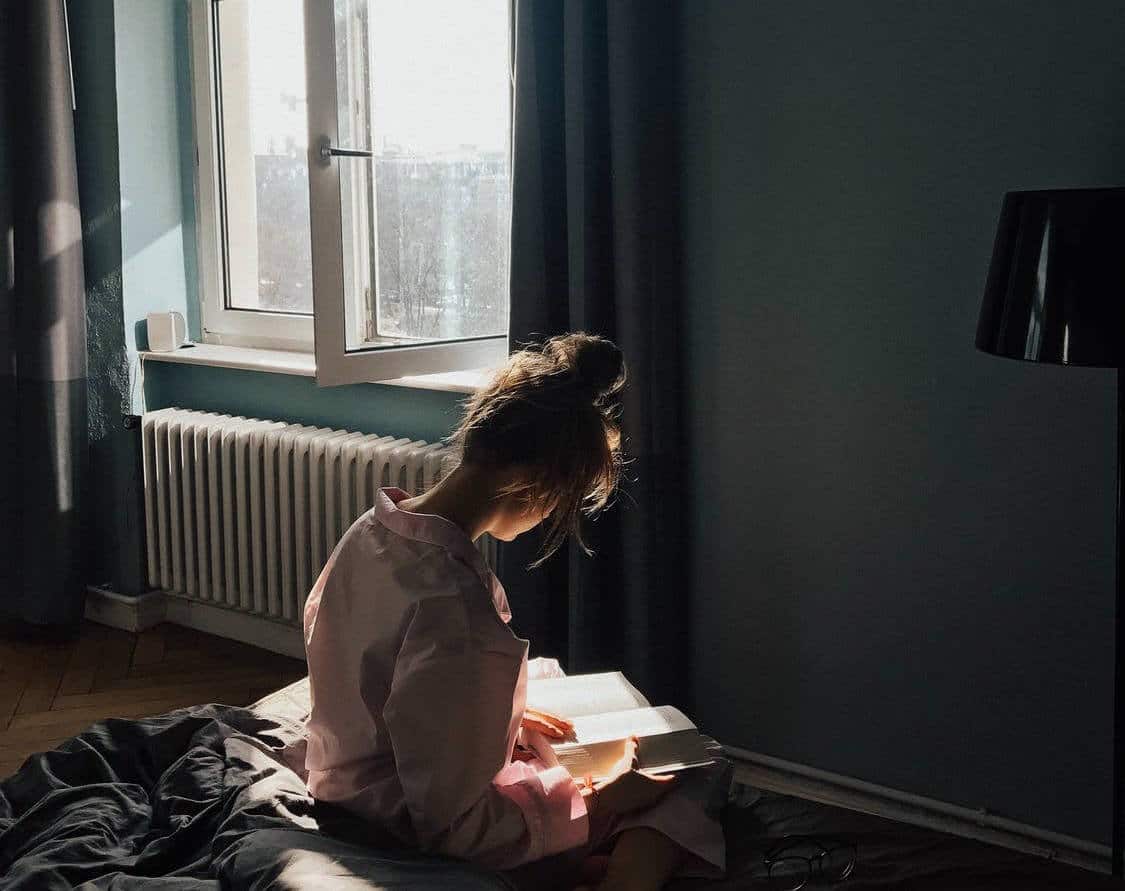 When all else fails, just throw all the pillows you can find into a pile on the floor and jump in. Nothing makes you feel comfier. It's like being a kid again.
---
Conclusion
Spending the afternoon reading a good story is a lost art. Bring it back with a book nook that beckons you to use it. 
These ideas are just a few that you can tailor to your own home and preferred reading environment. Just like a craft room or a man cave, a book nook might seem like something for those with larger homes. But, this article proves that you can find a way to fit a book nook in even the smallest of apartments!
Read more: Sticking to Basic Design Principles in Your Apartment