Follow This Guide to Baby-Proof Your Apartment After Moving In
This guest blog comes to us courtesy of Broadstone Vintage Park, which provides elegant, spacious apartments to renters in suburban Houston, Texas.
Moving into a new home is exciting, but it's also hectic. When you have a little one to take care of as you're dealing with the move, it's extra important to be cautious.
With so much to do, you can overlook the little things that might be dangerous to a baby. You've probably already thought about the major things, like furniture. But each room has its own hidden dangers to be aware of.
This guide will walk you through the main rooms of your new apartment and remind you of the often-forgotten hidden hazards. By the time you're done, you'll have a baby-proof home and you can start enjoying your new life!
---
1. The Kitchen
When it comes to baby-proofing your home, always start in the kitchen. Most of the dangers in your house are in this room, and it's best if you can keep your little ones out of it completely.
Of course, once they hit toddler mode, this is not usually possible. They want to be right next to you, especially when it's not convenient, like when you're pulling something out of the oven!
Baby-proofing this dangerous environment is a drawer-by-drawer, space-by-space action plan.
Keep any sharp objects, like knives and pizza cutters, in a locked drawer. Putting them out of reach isn't good enough. Once they learn how to climb, they're like curious little monkeys. A chair and a good stretch will get them anywhere they want to go.
The same rule applies to your cabinets. If there's anything in them you don't want little hands to access, lock them.
The most commonly considered dangers are your oven, cleaning chemicals, and knives. However, dishes are another potential problem.
If you have a dishwasher, children can open it and pull out the sharp objects inside. Breakable dishes, if dropped, have shards that are hazardous to anyone around the pieces. Store your fragile dishware out of reach or replace it with non-breakable versions.
You may also like: AC Repair: Your Step-By-Step Troubleshooting Guide for Fixing AC Issues
---
2. The Nursery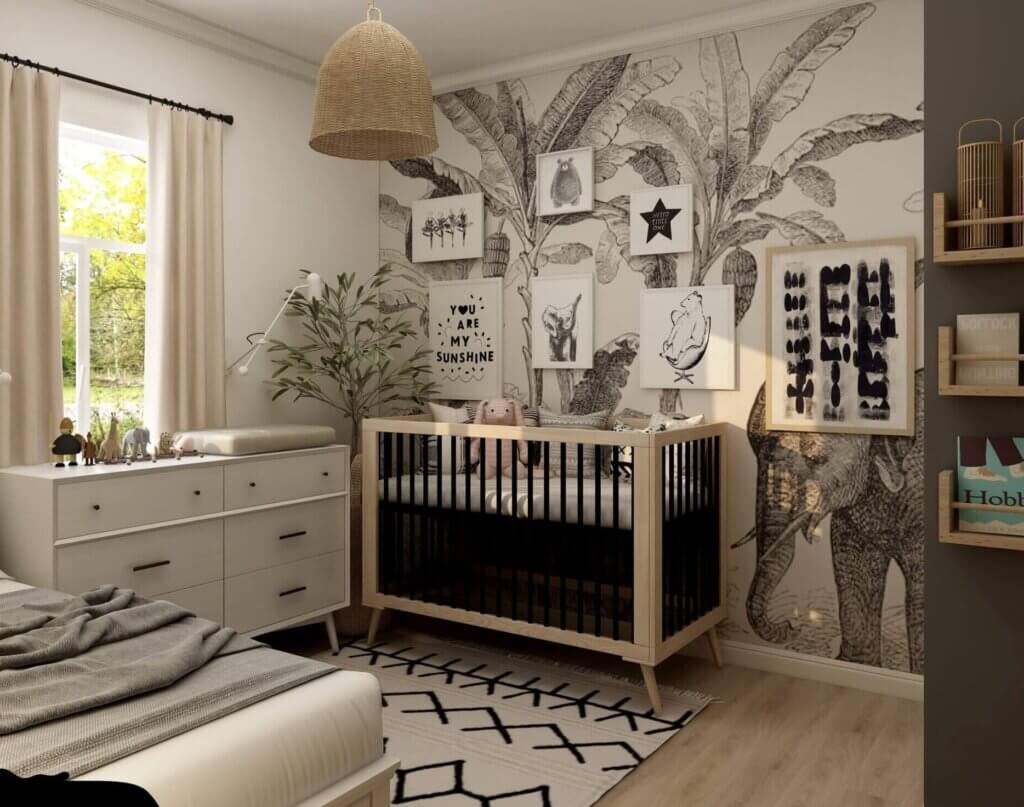 Things that look cute and cuddly, even if they're sold in baby stores, aren't always safe. Start your nursery safety overhaul by investing in a reputable baby monitor with a video feed. It may be the best investment you ever make!
In addition to being able to see your children day or night, baby-proofing actions must be implemented.
A used crib might seem like a budget-friendly option, but run it through the JPMA child safety standards first. If the material isn't sturdy enough, the rungs are spaced too far apart, or it's got hazardous chemicals in it, cheap is not a good deal.
The only thing in the crib until your child is old enough to move around and sit freely should be the mattress and sheet. Anything else is a potential suffocation hazard, including the cute little mobile hanging over the crib.
As a pro tip, once your child starts daycare or school, things like lice and germs may become an issue. Stuffed animals are havens for nits and microorganisms. If your little one has a favorite toy, make sure you wash it regularly.
The changing table is another potential hazard. Most tables have straps. Use them, no matter how young your baby is. They can roll over at any time, within seconds of your misplaced attention.
---
3. The Bathroom
Did you know that from infancy to toddlerhood, a baby can drown in an inch of water or less? Never leave any child unattended in the bathroom, and use these baby-proofing tips to make it safe while you're in there:
Lock away any medication, especially prescriptions.
Change your hot water heater's default temperature to less than 120 degrees to prevent burns.
Get a faucet cover for the tub and sink.
Install a toilet seat lock.
Keep any chemicals out of reach and locked up.
Even with these precautions, the bathroom is still full of hazards. For some reason, this unhygienic room also seems to be a magnet to toddlers and crawling infants.
You can increase the safety level by installing an outside-the-door hook slightly above your shoulder reach.
You may also like: The Modern Day Hope Chest: What to Store
---
4. The Living Room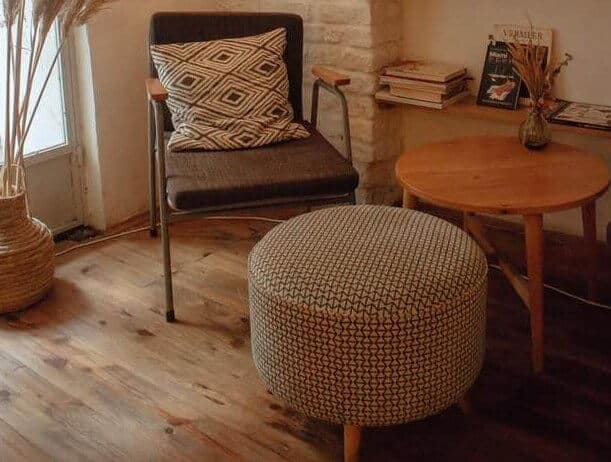 As long as your living room stays relatively decluttered, it can be an easy baby-proofing job. Make sure you hide all the plugs with outlet covers and keep any electrical wires secured and out of reach.
The living room tends to be where the furniture with the sharp edges are. If you can't replace those pieces, look for edge covers. However, round tables or soft ottomans are the best option.
If you do decide to replace your furniture, go for high-performance, stain-resistant fabrics. You'll be glad you did!
Slipcovers over your current couch and chair are another option to look into. Stains are going to happen now that you have little ones in your home.
Check your curtains and blinds next. Blinds with cords are choking hazards for babies, toddlers, and pets. Opt for cordless blinds or curtains without ties.
---
5. In General
There are some things that have to be fixed in every room. After you've done the detail work in each room, go through them one at a time again with your toolkit. Where it's necessary, baby-proof the area by taking these steps:
Install window locks and make sure the screens are intact.
Check all door locks, and consider adding a deadbolt to prevent unauthorized outdoor access.
Look for paint flakes and have the paint tested for lead if you didn't apply it yourself.
Install baby gates between any area you don't want your little one to access.
Plug outlet covers into all plugs and cover electric wires securely.
Wiggle all furniture to check for instability and anchor anything that is potentially rocky.
Ultimately, you're the parent. If you think it looks unsafe, err on the side of too many precautionary measures. It's never a bad thing!
---
Conclusion
Moving into your apartment doesn't have to be extra stressful just because you have little ones. Use this guide to baby-proof your home and get back to the fun of watching your children grow and explore!
Similar: Use These 11 Ideas to Design the Perfect Master Bedroom