11 Magazine Storage Hacks and Ideas
Magazines are a great source of joy for many looking for quick and easy entertainment. From seasonal compilations covering recipes you need to try to fun creative collections, there is plenty to love in magazines.
But with so much to love, it can leave you struggling to keep your collection looking neat.
It's not uncommon for magazine lovers to have shelves and tables overrun with magazines.
To help you avoid this problem, we've rounded up the best magazine storage hacks to keep in mind when trying to find a home for all those publications.
---
What to Do Before Organizing Your Magazines
Anyone looking to avoid clutter knows it's vital to whittle down your magazine collection before looking for ways to organize. When addressing your magazine collection, one of your first steps is to choose what you want or need.
Consider what is important to you or worthwhile to keep, compared to what you can let go. Keeping your collection small will make it easier to organize it effectively.
Mixed in with the organization tips below are recommendations for trimming down your desire to keep magazines — even when you don't need to.
Though, that's not to say you need to get rid of everything. After all, some collector's magazines may have the most value later on.

---
1. Only Save the Pages You Need
We've all been there.
You like one page or a small collection in a magazine and add it to your list of favorites before deciding to keep the copy forever. If you do this a few times, you're bound to build up quite the collection, which can get out of hand quickly!
Rather than saving entire magazines, you may find a sustainable alternative in only keeping the pages that you love.
Say your favorite magazine's recent issue published a picture you absolutely love on its center page. If the rest of the magazine is so-so, or you're just not attached, don't hold onto the entire issue! Save your favorite pieces and begin a much less bulky collection of magazine pieces.
Some people have trouble letting things go. If you're one of them, consider taking the time to understand why and what you can do about it.
If you're feeling motivated to tackle clutter in all your rooms, start here: 
Home Organization Ideas: A Room-by-Room Checklist for a Happy Home

---
2. Turn Magazines Into Table Décor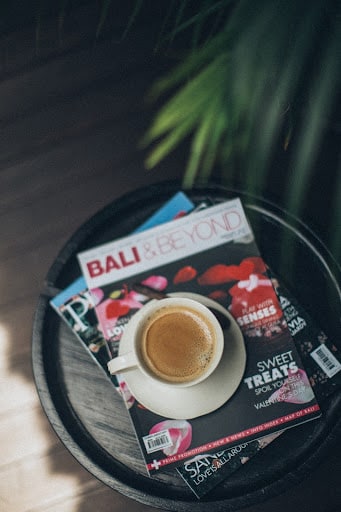 If you are working with a small collection of magazines on your must-keep list, you can easily display them by translating them to table décor.
People often do this with books, but there is no harm in adding magazines into the mix. Plus, you can completely adjust or customize according to your tastes.
To make it more aesthetic, you might consider grouping your magazines by publisher or looks to keep them cohesive. For example, line up all your Architectural Digest pieces in the living room to create an appealing look.
Alternatively, take a magazine of each color and make a rainbow effect on your nightstand for décor. The possibilities are endless!
Want more tablescaping? Check out: Affordable Centerpiece Ideas

---
3. Invest in Magazine Organizers
What better way to organize your magazines than with a tool designed to contain them from the jump?
You can find magazine organizers, sometimes called a magazine file or file organizer, just about anywhere. They're even available online, with as soon as one-day delivery, in all shapes and sizes.
You can get as colorful or muted as you would like. Choose a material that fits your vibe while also getting the job done.
Usually, these magazine holders are a vertical standing triangle folder. They are the perfect size to hold magazines or other traditionally sized papers and leave enough room for you to see the titles and binding of each. Opt for a magazine file holder style that fits your needs and find a perfect place to display them.
Placing on the top of desks is a perfect solution for a touch of sophistication, or you might also add a few to a bookcase. This way, they can function both as décor and be easily accessible when you need them most. (Plus, a little desk organizer for the home office never hurt anyone!)
Discover: The Ultimate Work From Home Kit: 33 Home Office Essentials

---
4. Magazine Rack
If you're a magazine connoisseur with a hefty collection, methods like creating table décor won't be enough. Instead, it may be time to buy a magazine rack.
These come in different shapes and sizes but are generally large and bulkier than other organization methods. Because of their size and design, you simply can't beat how effective they are at organizing.
For those unfamiliar with a magazine rack, think back to the last time you saw a magazine display in a store. They're typically wide and tall wooden structures, with multiple sections for a magazine to slide into place. They're also what you might find comic books and other media on, making them great for book storage.
Once the magazines are there, they are essentially on display, laying flush with the rack so that their covers face outward. You can make the rack as crowded or spacious as you see fit, treating it as an organization tool or making it more of a statement piece.
Related: How to Create a Book Nook [9 Ideas]

---
5. Turn the Cover Into Art
There is an option for magazine lovers who are more interested in the unique covers of a magazine than the pages and pages of content.
By removing individual catalog covers, you can create a collage to mount on a wall or use in a scrapbook. It'll be so satisfying to make a perfect art piece without purchasing new craft or office supplies!
Using these covers, you can put them on the surface directly or into cool photo frames to create a fun collage with spunk that meets your demands. If you're willing to part with the innards of the magazine, be sure to recycle the waste or save it for another crafty project like a vision board.
You may also like: Easily Add Style to Your Home with Picture Molding

---
6. Find Storage-Based Furniture
Designers are quick to adapt, and never has it been more relevant than by turning ordinary furniture into serious storage options. If you can find a table, ottoman, or other hidden storage furniture option, you'll be able to maximize space.
Need some inspiration?
Think of a solid wood side table, an "s" shaped minimalist table that provides storage nooks. You can choose to stack your magazines in one of the storage nooks while upping the décor and avoiding bulkiness.
Another option is a coffee table with built-in storage space when you lift the tabletop. When you lower the top, you'll be able to use the table as usual with all your clutter (magazines, in this case) hidden underneath the surface.
There are also art pieces that specifically incorporate wall-mounted magazines, which is another excellent option! Be sure to go the heavy-duty route if you're looking to display a lot of magazines.
Keep an eye out. There are always new products coming out that specialize in office organization or file storage, ideal for magazines.
Finding furniture that doubles as storage is the perfect solution for small spaces or when trying to keep a minimalistic theme.
You may also like: 5 Coffee Table Ideas for Small Living Rooms

---
7. The Hanger Trick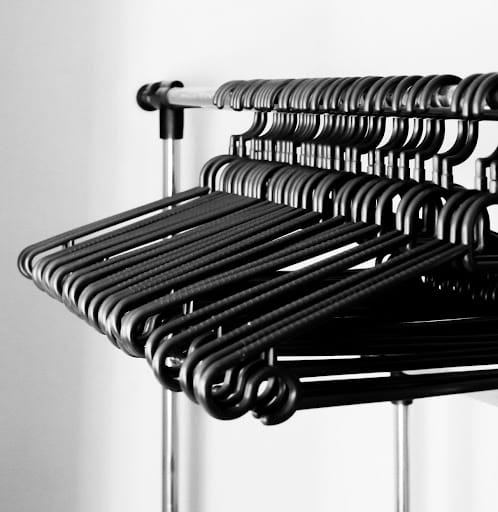 A true DIY method, the hanger trick calls for you to fold the magazine over the parallel line in a hanger. You can open to any page, though the middle may work best, and then fold it over that line, so the magazine is held up while each side of the pages hangs freely.
Any type of hanger should work so long as the line is parallel or can hold the magazine level in place. However, wire hangers will probably balance the best!
One of the best parts of this method is you can drape more magazines on top of the first one and continue to layer so they are hanging on top of one another. Or, even better, grab a few pants hangers to take full advantage of your vertical space!
This method may not be best if you have endless magazines to organize, but it's perfect for a makeshift reading collection. You can store your magazine hanger anywhere, whether on display or hidden away in the closet with the rest of your hangers.
The hanger system is adaptable and inexpensive. This can be a great option for avoiding the bulkiness that a storage basket or banker's box type option might bring.
Take a look at these other fun DIY projects:
Neon Sign | Stained Glass Paint | Wooden Bench | Chalk Paint

---
8. Avoid Overwhelming the Space
More so a hack than anything else, magazine organization comes down to keeping your space clean. Like any other design choice, clutter and a lack of white space can make a space feel much worse.
While it can be tempting to squeeze as much of your collection into one space, the resulting layout will look clunky and turn many off from the area.
While not as crucial for a hideaway storage method, any aesthetic-based organization method should be careful, not overloaded.
A bookshelf can make for a great organization option, complete with dividers, file folders, or file boxes, but it's all too easy to go overboard. Avoid that by not filling up the available space top to bottom but strategically placing items. Making sure not to overwhelm a space is especially important if you're looking to double up your storage as home decor.
Discover: 7 Tactics to Organize Your Living Room

---
9. Snap a Photo
There are two categories of magazine readers — those who crave the physical copy and those who can do without. This can act as an extra step for those who wish to keep their favorite magazine issues on hand. However, it's geared more toward those not committed to keeping that physical copy.
If you find something you like in a magazine and want to save it for later — a recipe or a floral arrangement  — consider snapping a picture on your phone.
That way, you can avoid holding onto copies for later use when there's really only one thing you want to carry with you for another time.

---
10. Buy a Pouch for Clippings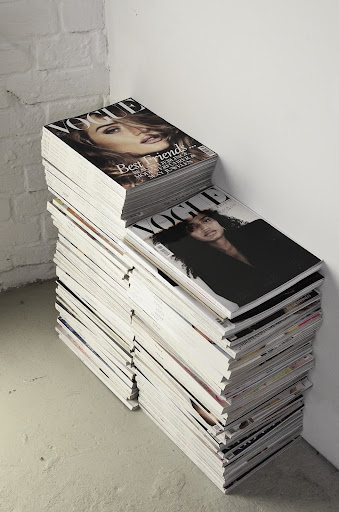 If you can stomach it, take scissors to your magazine and cut out the bits that are a must-keep. When you do this, you can drastically rid yourself of the space required to store them all. By clipping just the essential things, you only keep what matters most.
You can then purchase a fancy storage pouch big enough for clippings to store them all, rather than a magazine bin.
Not looking to spend extra money?
Consider just using a container in a drawer to deposit clippings for a later date or using a plastic bag as a catch-all for any pieces saved.
This is an excellent option for organizing portions of the magazine you don't wish to display but aren't ready to part with yet.

---
11. Use an Old (or New) Magazine Storage Box
Magazines are relatively small, and you can squeeze them into many places, including boxes. For those who need something eye-appealing, purchasing a cute storage box, like one intended for scrapbooking, can make for the perfect place to toss magazines.
If you're not picky, repurpose a shoebox, storage bins, or empty corrugated cardboard boxes to make the most of materials you already have.
Best of all, you can keep these boxes in a closet, under the bed, or any other inconspicuous spot until you're ready to read them or use them.
If you can find a stackable option, that may also help to reduce space horizontally and maximize verticle building. Either way, it's the perfect way to use what you already have or introduce an added layer of décor to your space.
---
The Takeaway
Your magazine collection doesn't need to take over your space. Instead, use your magazines to add character to your home while keeping things organized.
Use what you have to create an attractive freeform stack, try the hanger method, or buy the perfect tool to make your magazine collection shine. Whichever you choose — storage solutions are available to fit every need.
You can even combine methods, distributing your magazines throughout the home to keep areas from feeling overwhelmed. Whether it be an entryway, living room, or office, we're confident these tips can help you to find the magazine storage option perfect for your home.