25 Coat Closet Organization Hacks to Eliminate Clutter (in 2 Weeks)
Our 25 proven hacks to get your coat closet organized (in 2 weeks or less). Read our full list today.
Keeping your coat closet neat and tidy may seem simple, but the task can get tedious over time. If you are too busy to devote the time necessary to decluttering your coat closet, or if the growing mess is beginning to stress you out, you may want to consider reducing the living space of your entire home.
To avoid a facelift on the entire house, continue reading below to learn about 31 simple coat closet organization hacks you can follow to give yourself a closet makeover and eliminate your clutter in two weeks.
1. Hang Your Beloved Accessories to Maximize Closet Space
When it comes to storage solutions for organizing your bags, hats, and necklaces, hooks are your best friends. Not only is using hooks perfect for maximizing the space of your coat closet, but they are also great for creating a more relaxed look.
You can show off some of your best outfits and still have enough breathing room to browse or walk-through.
2. Keep Your Shoes Off of the Floor

Often times, it's a relief to toss your shoes onto the closet floor after a long day at work. It's important to remember that having your shoes on the floor is messy, and can reduce your closet's storage space, no matter how you arrange them.
Thankfully, shoe storage is one of the easiest ways of upgrading your entryway closet space. Invest in a shoe rack or shoe shelves for your mudroom to easily find your shoes whenever you need them, and remember to organize your shoes by activity or color so you can grab and go.
3. Put Your Sunglasses on Display
Where do you store your sunglasses? If you don't have a designated location for your sunglasses, it's time you create one. Fortunately, it's never been easier to do so.
To put your sunglasses on display, create a DIY display case out of an unused picture frame and some wire. It only takes a few minutes to make, and you'll have a perfect organized space where you can rest your sunglasses.
Also see: Using the KonMari Method, Here are 7 Ways to Organize Your Interiors
4. Create Handy DIY Organizers for Your Closet
One important coat closet organization tip is to create a place to store all of your miscellaneous items. To do so, all you need is a pair of scissors, some cardboard, and your imagination.
In a few minutes, you can form the cardboard into small cubicles and then arrange the cubicles on your closet wall. If you want to get stylish, you can use bright scrapbook paper to coat your cardboard cubicles.
This is a fun DIY project that will maximize storage space and make it easier for you to store your socks, mittens, jewelry, and even your swimsuits!
5. Use Soda Tabs to Increase Closet Space
Did you recently run out of hangers? If so, you have nothing to worry about, even if you have a lot of clothes. To increase your closet space and hang up more of your clothes, collect soda can tabs and put them to work in your closet.
By placing a soda tab on a single hanger, you can hang multiple pairs of clothes. You can also get creative and group similar clothes together to find what you need fast.
Need help with the organization? See how a service like Handy can make the process twice as easy.
6. Hang Dividers in Your Child's Closet
It's no secret that kids grow fast, and their clothes are often left in the wind. If you don't want to throw away your child's old clothes, you can take advantage of hanging space to maximize their closet space.
You can hang dividers in your child's closet that indicate the age of their clothes. For example, you can purchase closet dividers here and label them in order from newborn, 0-3 months, 3-6 months, and so on.
7. Create DIY Fabric Bins for Your Small Coat Closet
Over time, storage bins can get pricey. What's worse is when you have your heart set on a specific shape, design, or color, but settle for a plain and overpriced bin.
If this describes you, then follow this brilliant coat closet organization tip. If you have any plain storage bins, you can dress them up in any fabric of your choice to liven up your closet's design.
Whether you have a pair of jeans you're not wearing, or an old shirt that suffered a few wounds simply cut them up and drape them around the storage bin. If you want to get particularly creative, try using different types of fabric.
8. Keep Your Closet Clear
Another great coat closet organization reminder is to always keep your coat closet clear. This is because clutches and wallets can get lost in the clutter of your closet if you don't take the time to make the appropriate space.
To show off your wallets and increase your living space, try purchasing some inexpensive acrylic holders on your wall to store them. If you are already using your wall space and have shelves instead, you can alternatively purchase acrylic dividers.
9. Keep Your Clothes off of the Floor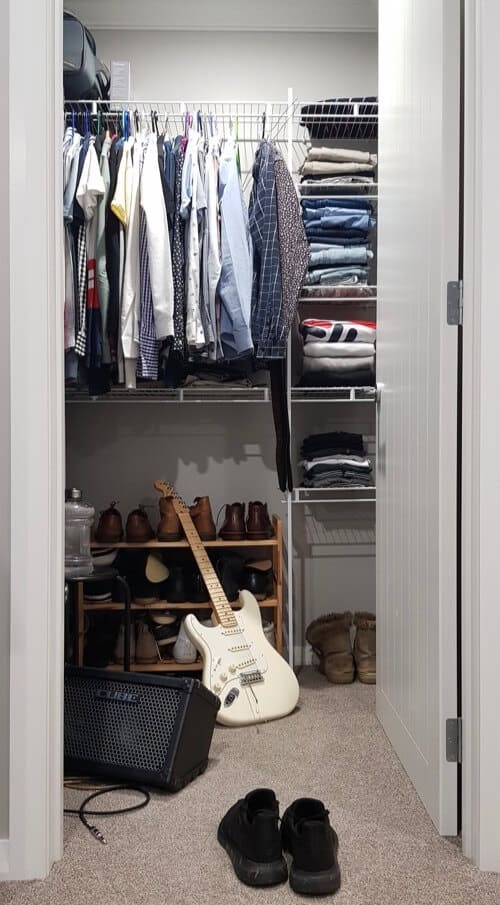 This tip may seem like a no-brainer, but you would be surprised if you knew how many people throw their laundry on their closet floor. If you have a big closet (or a walk-in), you should keep your laundry bin nearby in a compact, stand-up bin. This is usually one of the first recommendations when it comes to closet organization.
You can purchase a stand-up bin with two removable bags that you can take straight to the washer when they're full. Also, these storage bins have lids to keep your dirty clothes out of sight.
10. Hang Some Curtains
If you have limited closet space and a lot of things to store in your closet, you still shouldn't have to fight to close your closet door every morning.
Instead, remove your closet door and hang curtains instead to conceal your closet items. That way, even when your closet is overstuffed, it's still convenient to keep hidden.
11. Use Every Tiny Bit of Space in Your Closet
While it is important never to have your closet looking cramped, you should still be mindful of using every tiny bit of storage space to avoid having a messy closet.
To do so, fill any open shelving with jewelry organizers, labeled baskets, and bins to further store more items in your closet. Additionally, you can add smaller fabric bins on the floor to store belts and other accessories.
12. Give Your Kid's Closet More Purpose
Kids' clothes don't usually take up a lot of space. However, their books and toys are exceptions. Fortunately, you can maximize the storage space of your child's closet by turning it into a hybrid book and toy storage.
You can use over-the-door pantry organizers to store whatever your child treasures to keep their closet and room looking tidy at all times.
13. Keep All of Your Bags in One Location
If your home has handbags spilling out of every crevice, then purchasing a compact hanger organizer is your best option for keeping all of your bags in one central location.
As long as you don't overdo it with the hanger organizers, this is an effective small coat closet organization tip to follow. Remember, the first step of eliminating clutter is to avoid making frivolous purchases with limited living space.
14. Coordinate Your Containers by Color
Do you want to know the simplest way to transition your closet look from a junky wasteland to a jaw-dropping display? The answer lies in the colors you choose.
If you use containers in your closet, you can coordinate their colors to organize your clothes in your own distinct way.
15. Hang Your Bags on the Door
If you are guilty of leaving your bags all over the house, you are aware that they can clutter your living space and make your entire residence appear trashy.
Instead, place hooks on your closet door to provide space for your handbag collection. Plus, it makes picking the right handbag for a particular outfit so much easier.
16. Use Shower Hooks for Handbags in Your Hall Closet
Have you already devoted your closet door to your other items? If so, you can utilize shower hooks to store your handbags. Not only do shower hooks consume less space than hangers, but they will also ensure that the handles don't get crushed.
17. Add Purposeful Drawers
Even if your closet doesn't have drawers, that doesn't mean it's impossible to add some. Purchasing compact drawers to sort your clothes by their purpose is a great closet organization idea and way to take advantage of a small space
For example, you can organize your drawers by workouts, work, activities, weekends; you name it.
Related: 5 proven methods to meet your neighbors
18. Share Some Space
One colossal coat closet organization mistake you can make is not leaving enough space in your closet for accessories. As a result, these items can pile up in your closet, create clutter, and reduce usable space.
To stay on top of your coat closet organization goals, split your closet into multiple sections. This way, you can dedicate space to hang your clothes, store your containers, and organize your accessories.
19. Color Coordinate Your Hangers
Although using mismatched hangers is more of an eyesore than an organizational dilemma, you can maximize your closet space and organize your clothes by color-coding your hangers.
This doesn't mean that you have to use the same old black and white hangers found in your local supermarket. Instead, you can paint your hangers according to a specific color pattern.
20. Try Versatile Storage Shelves
If you don't have much space in your closet, it's important to make do with the space that you do have. For closets that have limited space, try using versatile storage shelving.
Using shelving is a fantastic organization idea that will allow you to store several items without taking up a lot of storage space. You can also get creative and create your own versatile storage shelves by using an ordinary one.
For example, simply your shoes on the bottom of the shelf and make room for containers that will store your accessories at the top of the shelf.
21. Use Closet Sliders
Your bedroom closet wall space is precious, and it shouldn't be used to store scarves and belts. Instead, you can use your closet wall space to hold an elegant mirror or even your jewelry.
If you need the space, make use of closet sliders. Closet sliders are an excellent form of closet organizer that allows you to store items that you may want to keep out of the way, such as jewelry and hats.
When you need to access your belongings, slide the mechanism over. When you're done, slide it back out of sight!
22. Use Space Up Top
Having a large closet doesn't mean that you have to waste any extra storage space. By using storage boxes with handles, you can store clothes that are out-of-season on the top shelf of your closet, above the closet rod.
You can stack these storage boxes to arrange your clothes according to the four seasons or a variety of different storage ideas! Remember to invest in a step ladder if you aren't tall enough to reach every storage box.
23. Add a Compact Mirror
What does a mirror have to do with coat closet organization? Nothing! However, you can impact your closet space by adding a compact mirror to your door or the middle of your closet.
That's because, with a mirror, you won't have to take your clothes out of the closet to examine if they fit. Therefore, you're much more likely to build the habit of placing your clothes back on the rack if you decide they didn't work.
Related: The 10-Step Home Organization Checklist for a Happier Home
24. Utilize Shower Rings
Shower hooks aren't the only bathroom staple that can increase your closet space. You can utilize shower rings to create unique and individual holders for your entire collection.
This is much better than knotting your scarves on a hanger, which can take several minutes to untie.
25. Store Your Laundry on the Closet Door
If you are turned off by the idea of placing your hanger under your clothing rod, you can store your laundry on the closet door. Simply place a hook on your closet door and purchase a cloth hamper.
This way, you can tell when it's time to do laundry instead of having to pull back your hanging clothes.
Conclusion
In summary, here are our favorite coat closet organization hacks:
Hang Your Beloved Accessories
Keep Your Shoes off of the Floor
Put Your Sunglasses on Display
Create Handy DIY Organizers
Use Soda Tabs to Increase Closet Space
Hang Dividers in Your Child's Closet
Create DIY Fabric Bins
Keep Your Closet Clear
Keep Your Clothes off of the Floor
Hang Some Curtains
Use Every Tiny Bit of Space
Give Your Kid's Closet More Purpose
Keep All of Your Bags in One Location
Coordinate Your Containers by Color
Hang Your Bags on the Door
Use Shower Hooks for Handbags
Add Purposeful Drawers
Share Some Space
Color Coordinate Your Hangers
Try Versatile Storage Shelves
Use Closet Sliders
Use Space up Top
Add a Compact Mirror
Utilize Shower Rings
Store Your Laundry on the Closet Door
Organizing your coat closet ultimately relies on how creative and resourceful you are. Despite the closet space you have, you can still achieve an awesome closet makeover by following the closet organization ideas from above. Creative closet storage solutions will help you to declutter your home and embellish your closet's appearance while allowing you to breathe a bit better.





(1 votes, average: 5.00 out of 5)


Loading...