11 Studio Apartment Design Ideas
Studio apartments have very little wiggle room. When there's only so much space to work with, you have to put a lot of thought into how to use it.
But just because your area is limited doesn't mean your options have to be.
This is where a little inspiration comes in handy.
Deck out your little piece of square footage with these 11 studio apartment design ideas and make your small space more liveable than ever!
---
1. Stick With One Paint Color
Paint your entire studio apartment one color to keep things nice and cohesive.
There are better ways to separate your living spaces than painting them different colors. Having a lot of colors on the walls can get pretty overwhelming in such a small area.
What color you use is up to you and depends on the vibe you want in your apartment.
Light paint colors open spaces up and make them feel bigger. Dark colors, on the other hand, give your space a cozy and much more intimate feeling. Both are completely valid options.
You may also like: 5 Easy Decorating Secrets That Are Room Changers
---
2. Put Up Curtains to Keep Things Separate
Define the different areas of your apartment with curtains.
They take up far less space than installing a sliding door or putting up a solid partition. It's probably your best bet for setting apart your bedroom from your living room if you're insanely short on the space between them.
Hang a few long curtains close to the ceiling at the foot of your bed and you've got yourself a bedroom!
You can make them stationary and simply tie them back for some airflow. Or, you can install a rod or even a strong string across your apartment so the curtain can be pushed back and forth.
While solid curtains provide the most privacy, a semi-sheer curtain still blocks your line of sight without fully blocking out light.
---
3. Divide Your Apartment With Different Flooring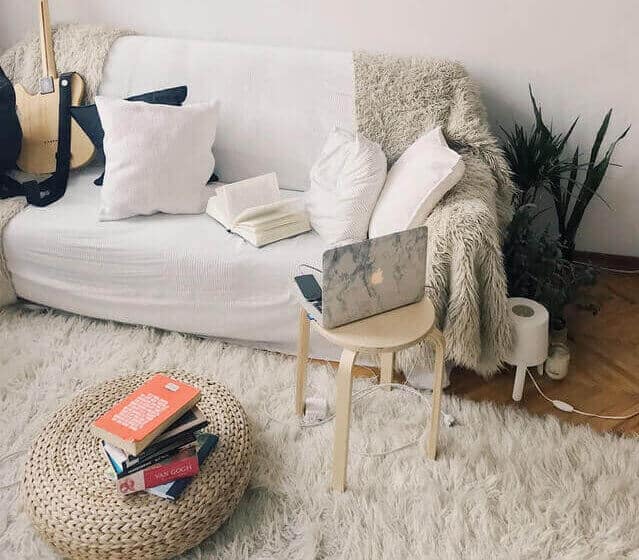 Change up the style of each "room" in your studio by changing up the flooring.
You can do this by actually installing different types of flooring in each space. But if putting down wooden floorboards in the living area and carpeting in the bedroom seems like too much work, there are easier ways.
All you really need is a big area rug to lay down in your living room.
With a rug under your sofa and entertainment center, you've successfully created a separate space apart from where your bed is sitting. It's simple, but it really works!
---
4. Use a Bookshelf to Make a Bedroom
So you're not feeling curtains, but you still want something solid between your rooms.
We've got you.
Get a tall bookshelf and place it at the foot of your bed to create a makeshift wall that doubles as extra storage. Use an open bookshelf to keep it from blocking too much light.
Now you have the distinction you want without having to fuss with a curtain every day.
---
5. Push Your Bed Away From the Door
When you first move in and you're deciding where to put everything, go ahead and tuck your bed away in the back corner of the apartment, or against the back wall at the very least.
That leaves the area right inside the door as a small entryway that leads into your living room.
Positioning your bed far away from the door gives your bedroom a sense of privacy that it wouldn't have if people were walking straight into it. You'll feel a lot more cozy sleeping there.
See also: 5 Chic Tie-Dye Home Decor Ideas You'll Love
---
6. Hide Your Bed Completely
If your space is incredibly small, consider putting your bed away until you need it.
One way to achieve this is to stick your bed up on a loft to prevent it from taking up precious floor space. A loft bed gives you a place to sleep while creating a little nook underneath for you to put something else.
You can also create your own trundle bed and roll it under a piece of furniture with a solid surface where you can place things on top.
If you find a studio apartment with a Murphy bed already built in, you're all set!
---
7. Create Your Own Daybed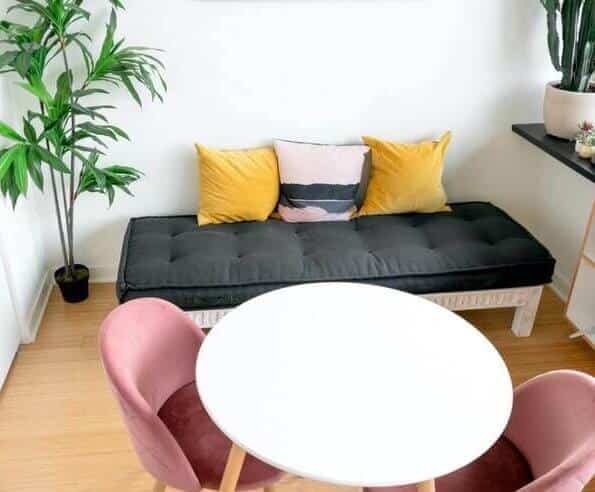 Double your bed as your sitting area by turning it into a daybed.
You don't have to buy an actual day bed to pull this off. They aren't quite as comfortable as regular beds, and there's no reason to sacrifice your comfort if you can make one from the bed you already have.
There's really nothing to it.
Simply use your twin or full-size bed as a sofa by pushing the long end against a wall. During the day, line throw pillows up along the wall to give it a more traditional sofa look.
And voila! You have yourself a daybed.
---
8. Go With Lower Furniture
Low ceilings are just another part of the deal with some studio apartments.
Find furniture that sits low to the floor to spare yourself some vertical space for decorating.
Low-profile sofas are here to save the day. They sit directly on the floor and provide you with the same amount of seating without looking huge in your squat studio apartment.
Also, short tables with skinny legs give the illusion they aren't taking up much floor space and pair perfectly with your short sofa.
---
9. Choose Multi-Use Furniture
In a small space, it's essential that everything has a purpose.
Or better yet — two!
Use a trunk as a coffee table where you can store extra things, or get a storage ottoman to go with your sofa that doubles as a coffee table.
Modular sofas with pieces that move around are really useful if your living room doubles as a dining room. And if that's the case, you'll want to pick out a convertible coffee table that can function as your dining room table.
---
10. Decorate Vertically to Add Height
Assuming you have the wall space to spare, you can make your ceilings look higher than they really are by decorating all the way up the wall.
Hang your curtains where the wall meets the ceiling rather than at the top of the windows. Use floating shelves on the walls to make use of all that space above your furniture. Hang an oversized art piece to really bring in the drama.
In a studio apartment, every inch is prime real estate.
Related: How to Create a Book Nook [9 Ideas]
---
11. Add Creative Storage Options
Ah, storage. The bane of every apartment dweller's existence.
You're going to need as much storage as you can get, so add it in wherever you find usable space.
Lift your bed off the floor and set it on top of something with drawers that you can store things in. Or, create an open-air closet to display your love of fashion and use up an entire bedroom wall.
Get creative and make storage out of anything and everything so your already small space doesn't feel cluttered.
---
In Conclusion
Studio apartments are fantastic little homes. They're comfy, cozy, and just the right size to make a lot of people happy. But getting the hang of arranging such a small area takes practice.
Lucky for you, turning your studio apartment into your dream space is just one or two design elements away.
Use these 11 studio apartment design ideas to take your place to the next level with ease and show all your friends how something small can make a big impact.