5 Chic Tie-Dye Home Decor Ideas You'll Love
Tie-dye is one of those design trends that may recede in popularity at times, but it never stays dormant for long.
It has reinvented itself as a thriving home decor style that many trendsetters love for its carefree and colorful designs. For those just moving into your new place and beginning over with a unique design layout, these items are ideal starting pieces. They'll help you quickly set the tone and color scheme for each room.
If you have mixed feelings about tie-dye, never fear! We're here to tell you that there are many smart ways to enjoy this trend in your home while still maintaining your chic aesthetic.
How?
Read on to discover five chic tie-dye home decor ideas you'll simply love. There's an idea for every room in your home or apartment!

---
1. A Coffee Table in Your Living Room
For many, the coffee table is the center of their living room. It gives you and your guests a place to gather and helps to center your sofas and chairs. Because it is both functional and a chance to add a hefty dose of style, it's the perfect piece of furniture for our tie-dye decor purposes!
This coffee table provides the eye-catching swirl pattern that tie-dye is famous for. Since it boasts pastel hues and a minimalist design, it's not overbearing and can easily blend in with your other decor.
It will look especially great in a home or apartment with neutral walls and white or carpets or hardwood floors.
And the first time you have guests over after procuring a tie-dye coffee table, they are sure to rave about your superb taste!
See also: 11 Studio Apartment Design Ideas
---
2. A Comforter for the Bedroom
If you want to add a touch of tie-dye to your bedroom, there's an easy way to keep it subtle. That's right, you don't necessarily have to hang a psychedelic Grateful Dead poster on the wall or a trippy, black light-sensitive tapestry.
This marble comforter perfectly captures the colorful spirit of all that's good about tie-dye but in a more mature, chic manner. And it's pale tones, and marble tie-dye style won't disrupt the chill haven you may have envisioned for your boudoir.
It's a more mute style, so if it doesn't quite scream "tie-dye!" enough, this one may be more up your tie-dyed alley.
---
3. A Floor Mat in the Kitchen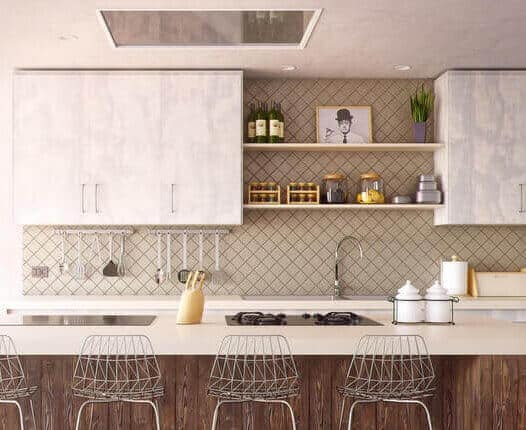 If you commonly cook, bake, or spend ages doing dishes, you may already understand the necessity of a good anti-fatigue floor mat in your kitchen. Stand on one when completing any tasks in your kitchen, and your legs and feet will thank you after the fact.
But what about an anti-fatigue kitchen floor mat that also adds a gorgeous pop of color?
This plush shibori kitchen floor mat has a chic blue and purple tie-dye print and helps keep you comfortable when standing for long periods.
Shibori is a Japanese tie-dye method that creates beautiful patterns and resists fading. It's one of the oldest indigo dye methods used on fabrics, yet it still offers a fresh and chic style you'll adore.
And when you have your eye on home decor that is beautiful and functional — how can you possibly resist?
Related: How to Make Your Dream Apartment Come to Life
---
4. Placemats for Your Dining Table
Most dining tables are pretty bland. Let's face it — they simply serve as a sturdy space to enjoy your meals and chat with loved ones.
But you can use your new appreciation for tie-dye to brighten up your table and throw down a few of these purple, pink, and yellow batik placemats. They add a stunning pop of color and turn a so-so space into a so-fab space instantly.
Batik is a cloth-dying style with origins in Indonesia. Unlike traditional tie-dye, it's more precise, using line and dot patterns to create ornate fabrics.
You can also find matching napkins and table runners in tie-dye, but as with our other decor ideas, don't overdo it. Too much tie-dye throughout your home will be overbearing. It will turn an exciting style statement into overkill pretty quickly.
---
5. A Shower Curtain in the Bathroom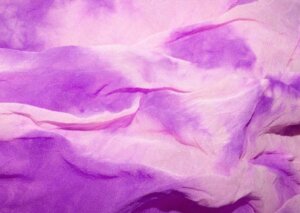 For the most part, bathrooms are not the most colorful room in any home. But you can add a big splash of color to yours with this tie-dye shower curtain.
It's a splurge, but it's also undeniably chic.
It shimmers like the Northern Lights and has unexpected cotton candy hues, for a dash of dreamy tie-dye style you'll appreciate day after day.
If your bathroom has a neutral palate or little pops of color, a tie-dye shower curtain will really breathe new life into the space. You can use the shower curtain's color scheme to coordinate with other furnishings in your bathroom. Think things like a light blue bath mat and lavender hand towels.
A statement piece like this shower curtain, as well as the other tie-dye pieces mentioned earlier, are superb starting points. From these, you can design your rooms to ensure the chic look continues throughout your home.
You may also like: 11 Clever Bathroom Signs to Consider for Your Home (Plus 13 More We Love!)
---
Conclusion
Tie-dye as a home decor style has evolved. It no longer has to signal a hippy lifestyle (although it still totally could, and there's nothing wrong with that!).
You probably don't want to use all five styles listed above in your home. It's just too much of a good thing! But when chosen correctly and placed with a deft hand, your home or apartment will absolutely become a dazzling space.
A couple of the pieces mentioned above even use tie-dye styles from across the globe, upping the elegance factor exponentially. And taken individually, each creates the perfect starting point for decorating the rest of the room in which they are the stars.
If you love the idea of adding tie-dye to your home but have a more mature aesthetic, these five chic tie-dye home decor ideas are perfect for you.