The Ultimate Work From Home Kit: 33 Home Office Essentials
With the rising trend of remote work due to the pandemic, you may have relocated your office to the comfort of your own home. Now you have complete freedom on what you want to add to your home office.
Wondering what home office essentials will enhance your working environment?
Today's guide will discuss the 33 must-have items and gadgets for your work-from-home kit. All the items in this list prioritize comfort, convenience, and productivity.
Let's dive right in.

33 Home Office Essentials
Our goal is to transform your home office from a dull space into a room you're excited to work in. These home office essentials are tried and tested and will hold up even after several years of work-from-home use!
---
1. High-Quality Adjustable Standing Desk
In recent years, standing desks have gone up in popularity. An adjustable standing desk is a desk with varying height levels. You can lower the desk if you want to sit down and raise the desk when you want to stand up.
Research shows that standing desks improve mood and energy levels, burn extra calories, and may even lower your risk of heart disease.
---
2. Premium Office Chair
Although we just recommended using a standing desk, you should also have a high-quality chair for when you're sitting down.
A premium office chair is ergonomic and reduces chronic hip, leg, and back strain if you sit for an extended period of time.
A well-made office chair promotes better posture and enhances your overall comfort — increasing productivity throughout the workday.
---
3. High-Speed Internet
Is there anything worse than slow internet while you're working?
The answer is no.
If your current internet plan isn't getting the job done, research internet service providers in your area and what type of plans they offer.
Faster internet provides a more stable connection on Zoom calls and allows you to download and transfer files faster. However, stability is just as important as speed. If you opt for a new internet provider, ensure the service isn't prone to blackouts or disconnects.
---
4. Dual-Monitor Setup
If you're using a work-provided laptop as your main screen, it's time to upgrade your display setup. Laptop screens are too small for maximum productivity and can cause eye strain. We recommend using a dual-monitor setup with two 21-inch monitors or two 24-inch monitors.
You can also opt for one 32 or 34-inch monitor if two monitors seem excessive. Either way, you'll notice a huge difference in your productivity, reading comprehension, and overall capacity to get work done once you upgrade your display setup.
Related: 7 Home Office Organization Tricks for Greater Productivity
---
5. Premium Mouse, Keyboard, and Mousepad
During a standard workday, you'll be touching your mouse and keyboard for around eight hours. This is why it's crucial to get a mouse, keyboard, and mousepad you feel comfortable using for an extended time. Logitech makes high-quality computer gear and is worth giving it a shot.
The difference between cheap computer accessories and high-quality ones is night and day. Try visiting your local electronics store and asking the store clerk to test a few different versions.
---
6. Computer Speakers
Since you're building the ultimate work-from-home kit, you don't have to worry about bothering co-workers with your music. Furthermore, wearing headphones for too long is uncomfortable on your ears.
We recommend investing in a pair of high-quality computer speakers so you can stay focused while listening to your favorite tunes. Speakers are one of the luxuries of working from home that wouldn't be possible in a corporate office building setting.
You can choose either a wired or Bluetooth speaker, both are wonderful home essentials.
---
7. Bluetooth Noise-Canceling Headphones
There will still be times you might need to wear some headphones after all because working from home comes with many unique distractions!
For example, a neighbor could be cutting their lawn, your kids playing loudly in another room, or rainfall splattering the windowpanes. Either way, there are times when a noise-canceling headset is a lifesaver because it can function as earplugs.
If you've never tried them before, noise-canceling headphones use innovative technology to block all exterior sound. So the only thing you can hear is your music playlist or your remote team members during a meeting.
---
8. Professional Podcast Microphone
The majority of us have had an experience where a co-worker uses a poor-quality microphone on a conference call. A lousy microphone causes static sounds, a muffled voice, or even a complete inability to hear what they're saying.
This is why we recommend investing in a professional podcast microphone. Not only will your co-workers love you, but you also won't ever need to repeat yourself since your voice will be crystal clear. We also recommend investing in a high-quality webcam and a webcam cover.
---
9. Superb Lighting
Corporate offices are so bright because bright lights are proven to improve concentration and productivity. Therefore, it would be best to use similar lighting in your work-from-home kit to improve your overall wellness.
Depending on how much natural light enters your office, you'll need to adjust the amount of external lighting to set up in your home office.
Consider getting a series of LED ceiling lights, area lights, and a desk lamp. A desk lamp is a great decoration and provides excellent lighting for your notepad.
---
10. Laptop Stand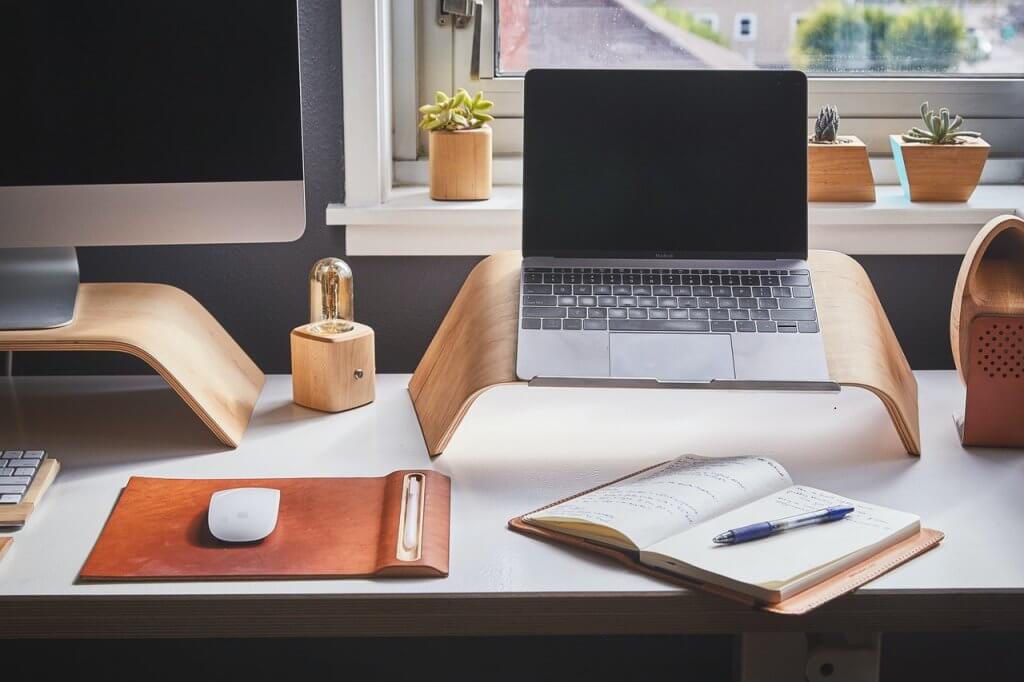 If you only use a laptop and don't want to buy an external monitor, try using a laptop stand. A laptop stand helps you view your laptop screen at a more comfortable angle. It also allows more airflow to surround the bottom of the laptop to prevent overheating.
In addition to your laptop stand, you'll also need to use an external keyboard so you're not raising your arms to type.
---
11. Cable Management Clips
As remote workers, we're responsible for organizing our home offices. A messy workplace lowers productivity and causes stress.
For this reason, we recommend using cable management clips to keep your DIY workspace tidy. Not only do loose cables cause clutter, but you also risk tripping over them and knocking your equipment all over the place.
Looking for inspiration to organize the rest of your house too? Read: The 10-Step Home Organization Checklist for a Happier Home
---
12. Wireless Phone Charger
If your phone supports wireless charging, we highly recommend using a wireless phone charger. This way, you won't have to constantly plug and unplug your phone whenever you leave the room or want to check your notifications.
---
13. Phone Stand
Phone stands are an inexpensive tool that immediately enhance your work-from-home kit. With a phone stand, you can instantly see notifications without reaching over and grabbing your phone. Phone stands also have a gap on the bottom to plug your charger in.
---
14. Headphone Stand
Rather than leaving your headphones all over the place, you should use a headphone stand instead.
You can either use a headphone stand that props up on your desktop or a headphone stand that attaches to the side of the desk. Both options are great and allow you to store your headphones safely and conveniently.
---
15. Filing Cabinet
Just because you're working from home doesn't mean there aren't important documents to keep safe. Instead of leaving them cluttered on your desk, you should use a filing cabinet to organize your papers neatly.
This will help you find essential documents in the future and keep your work area clean and tidy.
---
16. Premium Notebook
Number 16 on our list of 33 home office essentials are premium notepads.
If you're like us, there are specific reminders and thoughts you need to write down throughout the day. This is why you should keep a high-quality notebook on your desk. We recommend using a premium notebook because it's more satisfying to write in one and more durable.
---
17. High-Quality Writing Utensils
Along with that premium notebook, keep a set of high-quality writing utensils on your desk. Include several pens and at least one mechanical pencil.
It's worth investing in excellent writing utensils because it's more comfortable to write with them. You might find your handwriting is also better when using nicer writing utensils.
---
18. Desktop Organizer
A desktop organizer is a mini shelf or storage cabinet where you can keep your writing utensils, notepads, and miscellaneous office tools. You can use your desk organizer to store a stapler, scissors, sticky notes, notecards, and tape.
Love organizing? Check out: 5 Unique Approaches to Get More Organized [in Under 10 Minutes]
---
19. External Hard Drive
It's vital to have a safety measure for your data in case your computer fails or breaks down.
Although cloud-based backups like Google Drive automatically save your important documents, an external hard drive is a great investment. Regularly transfer a copy of your important files to your external hard drive to prevent losing valuable work.
---
20. Room Decor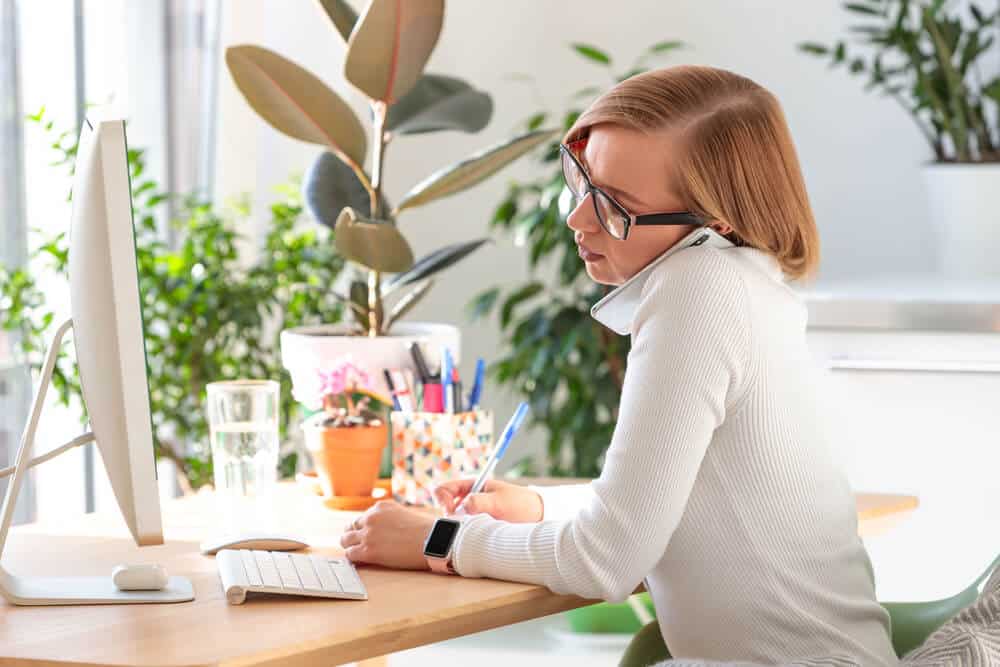 Although we don't recommend turning your home office into a tribute to your college dorm room, you have complete freedom to add whatever room decor you want. Some easy and impactful decorating tips include purchasing plants, paintings, and anything else your heart desires.
---
21. Personal Photos
Your decor can even include personal photos. Mount pictures of your significant other or family members at your desk to keep you company while working alone in your home office.
---
22. Whiteboard
Whiteboards are helpful tools for brainstorming and project planning. They allow you to unleash your creativity by letting you visualize your thoughts. A whiteboard is an excellent addition to your work-from-home survival kit.
---
23. Calendar Planner
A physical calendar planner helps you map out and visualize your schedule while knocking out your to-do list.
It also enables you to meet critical deadlines and track when you need to turn in various assignments. Although there are online calendar tools, a physical calendar planner is more visible and convenient.
Discover: 5 Proven Methods to Get Things Checked Off of Your To-Do List
---
24. Comfortable Slippers
Another great recommendation?
Always wear a pair of comfortable slippers in your home office.
Even if you have to wear a dress shirt for video calls, you have freedom over your footwear. A pair of cozy slippers can increase your comfort levels, and that's why we had to include them on our ultimate home office essentials list.
---
25. Throw Blanket
Another underrated item in a work-from-home kit is a throw blanket.
If you live in a colder region, winters can be chilly even when your heater is on. For this reason, a throw blanket can keep you warm and comfortable as you're working.
---
26. Home Coffee Maker
A home coffee maker is both convenient and saves money. Running out to grab Starbucks or Dunkin Donuts can make a dent in your wallet. Invest in a home coffee maker, and you'll be saving time and money.
Keurigs are a great option if you value convenience. You can even store drinkware in your home office so everything is in one location
---
27. Mini Refrigerator
A mini refrigerator is a great item to have in your work-from-home survival kit. Running to your kitchen every time you want a drink can be a hassle.
With a mini-fridge in your home office, you won't have to leave the room to get a cool beverage. If you use a refillable water bottle or tumbler, you can keep filtered water in your mini-fridge or purchase a water dispenser instead.
---
28. Fire-Safe Box
A fireproof safe is the perfect spot to store confidential documents, passports, expensive jewelry, and cash. In case of a home fire, they can withstand high temperatures for up to two hours.
---
29. Amazon Prime Account
Since you're working from home, you may need to order various equipment and items each week. If you don't already have one, think about invensting in an Amazon Prime account to receive free two-day shipping.
---
30. High-Quality Router and Ethernet Cable
Similar to high-speed internet, you'll also want a high-quality router and an ethernet cable. An ethernet cable provides a more stable connection than Wi-Fi and can offer faster download speeds.
---
31. Paper Shredder
You can use a paper shredder to destroy confidential documents once you no longer need them. Although the risk of these documents getting into the wrong hands is lower since you're working from home, peace of mind is always worth the investment.
---
32. Printer and Scanner
A printer and scanner are the ultimate home office essentials. These items are necessary for every home office, so it's best to get them before you need them.
---
33. Fragrance Diffuser
A nice-smelling room is highly underrated. In our experience, fragrance diffusers can help you relax while improving clarity and focus.
Keep in mind these items are also excellent gift ideas for your other remote employees. Your co-workers will undoubtedly appreciate the thought so don't be afraid to boost your team's morale!
---
Conclusion
We hope you've enjoyed this list of 33 home office essentials; each item can enhance your productivity, mood, and overall comfort.
You have complete freedom over what you want to add to your work-from-home kit, so why not make it as cozy as possible?
There's little more satisfying than sitting down to work in a clean and well-designed home office with high-quality equipment.