Remember sinking into a plastic bean bag as a child? Wouldn't it be great to have something like that, but designed for adults?
Enter the saucer chair.
The bean bags of our youth were fun, but they weren't really comfortable or ergonomically friendly.
Saucer chairs, on the other hand, solve this problem. They combine the relaxation of the bean bag chair with the comfort and support of a couch or loveseat.
---
First of All, What's a Saucer Chair?
Saucer chairs go by a lot of names. You might see them advertised as a moon, dish, disc, bowl, or bucket chair. They're all the same thing.
The typical saucer chair is a spin-off of the Papasan design. These traditional furnishings originated more than a century ago in South East Asia. The chair is usually wicker or rattan and built with a moon- or circle-shaped design.
Papasan chairs quickly became popular worldwide, but the wicker and rattan frames weren't always practical. Over time, this chair evolved into the versatile saucer chairs of today.
---
Finding the Best Saucer Chairs
Contemporary moon chairs come in a vast assortment of designs, fabrics, and frames. This extensive range means it's possible to find a chair that matches your current design style precisely — if you know what you're looking for.
These features and comparisons of the best saucer chairs will guide you as you search for the perfect new furniture addition to your home.
Looking for a little extra seating? Discover The Best Studio Couch for Your Apartment.
---
1. KingCamp Moon Saucer Leisure Heavy Duty Steel Camping Chair Padded Seat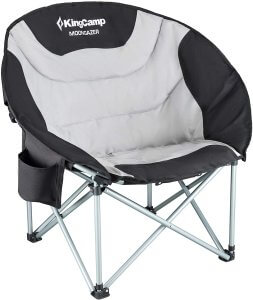 It's called a "camping chair," but you don't have to be an outdoors person to love the KingCamp Moon Saucer.
At 33.5 inches wide, it's suitable for everyone, big or small. The extra padding and ergonomic design ensure a comfortable fit wherever you are relaxing.
What We Love
A saucer chair doesn't need to provide lots of features as long as it's comfortable, but when it has both, it's a winner in our book.
The KingCamp includes comfort, durability, and a few extras, too, like:
A pocket on the back of the chair to keep your personal accessories within reach
A right-sided cupholder that fits standard and large drinks securely
The capability to support up to 300 pounds on a durable, heavy-duty steel frame
Simple, lightweight portability at ten pounds, with an easy-to-use carrying bag
The 600D Oxford fabric build and quick storage folding let you bring your favorite saucer chair with you everywhere. It's moisture-resistant and cleans up stains and debris without a fuss. And at around $70, you can't go wrong with this investment.
What We Don't Love
If you're searching for a stylish saucer chair for your home, the KingCamp might not be your solution. Its black and gray design is functional but not the stuff of decor design dreams.
---
2. ALPHA CAMP Plush Moon Saucer Chair with Carry Bag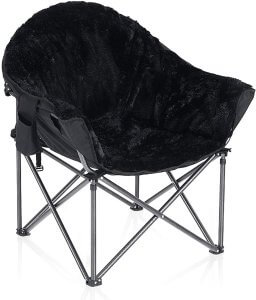 Sophisticated and elegant, the Alpha Camp Plush Moon saucer chair is a foldable seat for the fashion-conscious. It holds its own against the more efficiently styled chairs on our list but adds the extra touch of class.
What We Love
The luxurious plush upholstery covers the entire seat, back, and arms. You won't need an extra pillow to relax in comfort with the Alpha Camp chair.
It gets even better:
The manufacturer's focus on the little things, like extra bottom straps, means you get a saucer with enhanced features and more durability. The larger leg tubes in the frame and bonus straps allow a weight limit of up to 350 pounds, not easy to find in a saucer chair!
Other features that make this a smart purchase include:
Hammer tone powder to reduce corrosion and fading from the elements
Oxford fabric underneath the plush to protect the seat if you use it outside
Lightweight at 13.9 pounds
A side cupholder
Available in multiple colors: red, blue, black, brown, grey, and beige
The one-year guarantee (plus the soft fabric) helps justify the higher price tag of $120. If it breaks due to a manufacturer defect, they'll replace it.
What We Don't Love
The armrests on this chair are more for looks than functionality; it's more of a butterfly chair. It does have a cupholder, but reaching it can be awkward if you're not at the right angle.
Discover: How to Get Replacement Parts From IKEA
---
3. iw I WISH Saucer Chair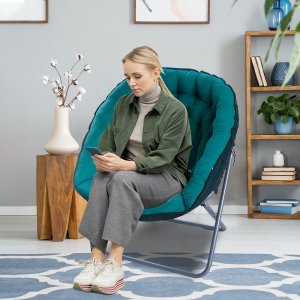 We know where the name of this saucer came from. You'll look at the pictures and features and say, "I wish" I had this chair.
The foldable lounging moon chair is a one-piece design that's the perfect size for apartments and dorm rooms.
What We Love
Tucking the I WISH out of the way is a snap, going from start to finish in seconds. The iron frame isn't cheap quality, so using it and putting it up frequently won't destroy the product.
We also like the I WISH because of these features:
With upholstery made from 100% polyester, the seat is stretchable and comfortable (as well as easy to clean)
The feet have an anti-slip design to ensure stability when you're relaxing
Green and gray colors match most interior decor styles
Don't worry if the chair gets dirty or stained. The conveniently removable pad is washable!
What We Don't Love
This saucer chair is comfy enough to snuggle up in, but at nearly 18 pounds, it's not quite as portable. There aren't cupholders or armrests, either.
At a price of $140, we feel it should include these two features. However, if you get it at the right time on Amazon, you can find a coupon to make it more budget-friendly.
---
Moving into a new place? Read: What to Do in the First 24 Hours After Moving Into Your Apartment
4. Urban Shop Oversized Mongolian Saucer Chair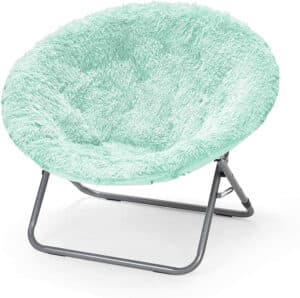 Looking for a saucer chair that slides right into your living room or bedroom's decor?
The Urban Shop Oversized Mongolian saucer chair is for you!
What We Love
Although the oversized saucer chair's metal frame measures 30" wide and deep and 37" long, it's easy to fold away. When it's time to relax in front of the TV or curl up with a book, pull it back out within seconds, and it's ready to use.
Besides the soft, Mongolian faux fur fabric, this chair has a few other impressive features:
Extra safety mechanisms make this seat sturdy
The faux fur is actually polyester, making for easy spot cleaning
It comes in multiple color choices, including our favorites: silver, blush, lavender, and aqua
The price of the chair depends on the color you pick but ranges from $60 to $90 on average.
What We Don't Love
The Mongolian's oversized metal frame has components to make the chair sturdier, but the max weight is only 225 pounds. The basic cupholder and armrest features are missing, too.
It's still a cozy chair, and if you stick with the basic colors, it's a comparable price to similar seats.
---
If you love adding bright pops of color to your decor, check out The Best Pink Sofas for Your Home
5. Zenithen Limited Hexagon Folding Chair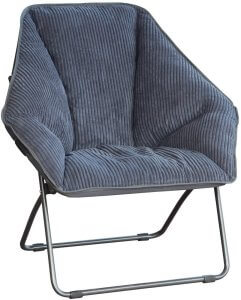 Saucer chair shoppers on the hunt for a unique piece of portable furniture will like the Zenithen Limited Hexagon folding chair.
The frame is the typical, sturdy steel makeup, but the upholstery and design are another level beyond the standard.
What We Love
The dish chair is padded in wide wale corduroy, a nostalgic throwback to the good old days but with flair.
As an add-on to your room decor, the Zenithen has some benefits:
The padding is perfect for lounging and curling up for a nap
Corduroy is easy to spot clean and lasts for decades
Multiple color choices include gray, light aqua, brown, and navy blue
Since it only weighs about ten pounds and is easy to fold, this is an excellent chair for dorm rooms, apartments, and travelers.
What We Don't Love
This could very well be the comfiest chair you've ever lounged in; however, sitting up is another story. There's not a lot of extra height for neck support, no armchairs, and no cupholder or storage features.
Still, it's corduroy and a hexagon instead of the folding saucer chair. That alone may make the ~$60 price worth every penny!
---
6. Mainstay WK656338 Saucer Chair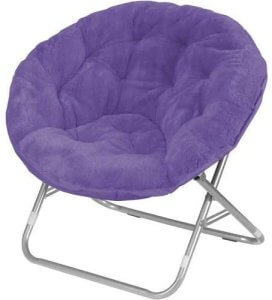 The Mainstay saucer is the affordable lounge chair for your den, game room, or to use as a kids saucer chair. This version is polyester fill, but you can also find a Mainstays faux-fur saucer chair or micro-mink for a plush cushion.
What We Love
This round chair is budget-friendly and suitable for all ages and sizes. Don't let the inexpensive cost fool you, though.
It has a lot of benefits that land it on the list of the best saucer chairs, like:
A wide seat for relaxing, although it's not x-large like the oversized moon chairs
Similar to the seating style of a barrel chair, but portable
Available in aqua wind, brown, white, red, and purple, all for $45 each
The lightweight 11-pound chair is just the right accessibility for kids to fold up by themselves. And since it's cheaper than others on the list, you might want to grab one in every color.
What We Don't Love
The alloy steel frame only supports up to 225 pounds. Kids will be able to relax, whether sitting or lounging. On the other hand, taller adults might not be as comfortable without armchair or neck support.
Overall, it's a solid choice for people who are budget shopping or for homes with children.
---
7. Strand Leisure Accent Chair in Anthracite Fabric
The cream of the crop on our list is the Strand Leisure Accent Chair.
It's a saucer seat; it's a recliner; it's a swivel lounger. You get all these features and more, but at a more expensive cost. This premium seat runs for about $280.
What We Love
Is it worth the cost?
Well, along with the most comfortable padding you've ever sat on, you get these benefits:
A wide 360-degree swivel chrome base
Comfy armrests
Suitable for relaxing in or as a computer chair
Polyester upholstery in a professional or casual anthracite shade
If you want a chair that you can work, play, and sleep in, this is an investment that you won't regret.
What We Don't Love
Unlike the other moon chairs on the list, this one isn't designed to be portable, and there are no storage or cup holder features. If space is a factor in your home, skip this one until you have plenty of room to show it off.
Related: 7 Home Office Organization Tricks for Greater Productivity
---
Conclusion
When you're shopping for modern moon chairs, you're going to find a variety of options. Some will have extra features, while others focus on style, comfort, or affordability.
The key is to decide what the main characteristic you're looking for is, and then find the saucer chair that matches your goal from this list!