Apartment hunting is a long, tedious process.
You spend your time searching, waiting, visiting, and being disappointed yet again.
But what if it could be easier?
That's what this list of 11 apartment hunting tips to help you find your new apartment is designed to do — make your life easier. It's chock full of information to help you reach the finish line so fast your head will spin.
These tips will cover:
Budget
Priorities
Timing
Searching
Getting prepared
Visiting apartment communities
Gathering information
So, without further ado, let's get right to it!
---
1. Establish a Budget and Stick to It
Getting your budget in order is the clear first step because your entire apartment search will revolve around it. Your budget sets everything else in motion.
A good rule of thumb:
Your rent shouldn't come to more than 1/3 of your monthly income.
Rent isn't the only thing that needs to go into your budget. You also need to factor in important expenses like groceries, bills, utilities, memberships, savings, and any other fun activities you have planned.
Once you have a monthly budget established, it's crucial to stick to it as closely as you can. Any straying could take money away from other categories.
I need you to hear me on this:
Do not, under any circumstances, entertain any apartments that are outside of your price range. Just don't do it. You're only hurting yourself.
2. Decide What Is Most Important to You
Having priorities is a good thing. They will help you dramatically narrow down your search. But having too many priorities may leave you without any options at all.
Choose three things that you absolutely cannot live without. What are your deal breakers?
For example: what locations you are willing to live in, if there is a washer and dryer in the apartment, if they charge pet rent, if parking is guaranteed, and the amount of useable storage space. What is non-negotiable to you?
These three things will point you in the right direction when you launch your search and inevitably make it easier for you to choose the right apartment.
Knowing what you need right off the bat limits the number of apartments you will want to look at, which is a good thing. That's less time wasted looking at undesirable places.
If you can, put your priorities in order from the most important to the least. That way, you're well aware of what you need the most.
Be Prepared to Compromise
Yeah, I know …
What's the point of non-negotiable priorities if you have to compromise on the things you don't want to compromise on?
Chances are, you will have to scale back at least one of your expectations to find somewhere to live. That doesn't mean you have to give up on all your hopes and dreams.
Maybe an apartment meets two of your three top priorities, but the storage space is a little more limited than you'd like. It might be worth it to loosen your grip on that one point.
Being picky won't help you find an apartment any easier. Don't throw away your entire list; just go in with an open mind, that's all.
Related: Pros and Cons of Having a Roommate vs. Living Alone
---
3. Hunt for an Apartment in the "Off Season"
If you have a choice on when you can move, the best time to do it is during the cooler months. Or, better yet, when it's freezing cold.
Most people prefer to move in the summer. That's when the housing market is booming, and rent prices are as high as they can be. Warm weather makes for competition.
No one wants to move when it's cold, which makes it the perfect time to move.
Rent prices in the late fall, winter, and early spring are at their lowest, giving you a better chance to score a deal. You should take full advantage.
---
4. Conduct an Online Apartment Search
There are a ton of online apartment hunting tools you can use to find your next home.
Some options include:
Zillow
Trulia
Padmapper
Hotpads
Apartments.com
Craigslist
You don't have to use every single site to search for your apartment — unless you want to. Give each one a look and use the ones that you like the most. Chances are,  they will share a lot of results.
Search parameters are your best friend at this stage.
Start by using your budget and your top priorities to find results.
If you don't get any hits, take away your least important priority. If there are too many results, start adding other things you want in an apartment to narrow it further.
Once you have a good number of results, choose three or four apartments that you feel are worth the visit.
Look up Reviews
Take some time to look up your potential apartment complexes on Google. A little internet stalking can open your eyes to those little hidden problems.
It's pretty easy to find reviews from past and present tenants on both Google and Facebook.
Pay close attention to any negative reviews. If there are problems within the complex, you're more likely to find them here than on a rental listing.
---
5. Have Your Documents Prepared
Think of visiting an apartment like going in for a job interview. You're applying to live in this space, and you want to make a good impression on the landlord.
Showing up at a walkthrough prepared is a fantastic way to show how serious you are about renting.
You will have to show proof of who you are and that you're capable of affording the rent and paying it on time. Expect to bring pay stubs and proof of identification.
Before you go to see anything, get all of the paperwork you'll need to fill out a rental application ready to go. That way, if you decide you're ready to commit, you won't be scrambling to find it all last minute.
Related: Your Full Guide to Moving Out for the First Time
---
6. Schedule a Walkthrough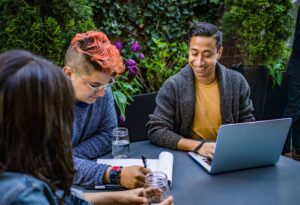 Set aside a day or a weekend to do walkthroughs of all the apartments you decided are worth the effort. Getting it all done in a short period of time will help keep things fresh in your mind.
You should show up to every walkthrough completely prepared. Bring everything along with you — your paperwork, a way to take notes, and anything else you need to check the place out.
Dress to impress!
Remember, a walkthrough is basically an interview, and you want to make the best impression you can. Don't show up looking like you just rolled out of bed.
One more tip:
If you want to get a feel for the way sound travels in an apartment complex, schedule your walkthroughs for the early morning or later in the evening. More people tend to be home at these times, so it will be louder.
---
7. Keep Track of Everything
A record of each apartment you visit will be your best friend during your search.
You can use a spreadsheet to keep track of the information you collect so you don't forget the details. Even writing everything down in a notebook will serve you better than trying to remember it all.
Some things you should keep track of:
The price of rent
How much the security deposit will be
Where the apartment is located
What kind of amenities the apartment complex offers
All relevant contact information
Extra notes that come to mind
Anything that seems important to you at the moment should be included in your notes.
Be overzealous.
Sometimes the smallest details can make a difference to your final decision.
---
8. Ask a Lot of Questions
Here's the deal:
The last thing you should be worried about when viewing apartments is being a nuisance.
These apartments are places you are considering for your next home. It's essential that you know exactly what you're getting yourself into before you lay down your hard-earned money.
You should be asking questions at every single visit during your apartment hunt. You should know the details about everything from utilities to guest policy before you consider filling out an application.
Remember to keep track of what you find out!
Talk to Your Potential Neighbors
The landlord isn't the only person you should reach out to for answers.
If anyone is going to be honest about living in an apartment complex, it's the people that live there. They are an invaluable resource in your hunt for the perfect apartment.
Some things to ask other tenants about include what the water pressure is like, how much they pay for utilities on average, the level of noise that comes through the walls, and how they like living there.
You may just find out something that makes or breaks a place for you.
---
9. Check out Everything (And I Do Mean Everything)
Thoroughly scrutinize every apartment you visit. You need to be sure it's up to your standard of living, which means you need to put on your detective cap.
Keep this in mind:
Just because something looks like it works, doesn't mean it works.
Make sure you spend enough time to take tabs on literally everything. You don't want to sign on to live somewhere just to find out nothing works the way it should.
Don't forget to check:
The doors and their locks
Every single window
The wall outlets
Your cell phone reception in every room
The water pressure
Kitchen cabinets and drawers
The closets
If a window won't open or the outlet in the master bedroom won't charge your phone, make a note. If it's a small issue, ask about maintenance.
You should be fully aware of anything and everything wrong before signing a lease.
---
10. Try Your Hand at Negotiating
Guess what:
You can and should think about negotiating your rent.
The price tag on an apartment is always a negotiable topic, especially if you come in prepared with a little research.
Before your walkthrough, look into the value of similar properties in the same area. If there are other apartments like it going for a lower rate, you have a logical argument on your hands.
Knowing how long the apartment has been on the market could also help.
Your potential landlord may be inclined to lower the price of rent a bit if you offer to stay longer. Signing a lease for 12 months guarantees they have a steady year of income, which could sweeten them up to a deal.
---
11. Don't Hesitate
Trust your instinct!
If a place feels good to you, then you shouldn't just let it sit in limbo. Someone else could come along and snatch it away before you know what's happened.
Committing to an apartment is a big deal, but you are armed with all the facts. When you find a place that meets your needs and falls in your budget — don't hesitate.
Just go for it!
---
Now, don't you feel fully prepared to start your search?
It's a tricky business finding the right place for you. Sometimes it can even feel impossible. But, I promise you, it's not!
Using these apartment hunting tips to find your next home equips you with the knowledge and tools you need to go from searching to signing in no time at all.
Happy hunting!





(1 votes, average: 5.00 out of 5)


Loading...