Which Is Right For You? Townhome vs Patio Home
Wondering what a patio home is? Curious if a townhouse is a good starter home? We detail townhomes vs patio homes: which is best for you.
Purchasing a home is one of life's defining steps.
This is true if it's your first home, a leap towards your dream home, or a place to settle down and retire.
Townhomes and patio homes are popular options for homebuyers who want a great deal on a quality home that'll still offer an element of privacy.
But the differences between these two very similar types of houses can be confusing.
In many ways, they're a lot alike. But they're also built with some key differences.
And in this post, you're going to learn the answers to these crucial questions:
What is a patio home?
What is a townhome?
Which home is best for your particular needs?
Let's get started.

---
What Defines a Patio Home?
At the baseline level, a patio home is:
A single-family home with one or one-and-a-half-stories that shares at least one wall with another adjoining home.
Patio homes don't necessarily need a 'patio' to be considered a true patio home, so the name can be confusing.
Patio homes with one-and-a-half stories generally have a bedroom or a loft on the second story. But this second story won't necessarily include any additional living spaces, and they generally won't have a basement.
Patio homes are popular because they're affordable. They're also commonly found in lovely communities with close-knit neighborhoods.
Similar: Tired of Renting? Pros of Traditional Homes, Van Living, and Tiny Homes
---
What Does a Patio Home Look Like?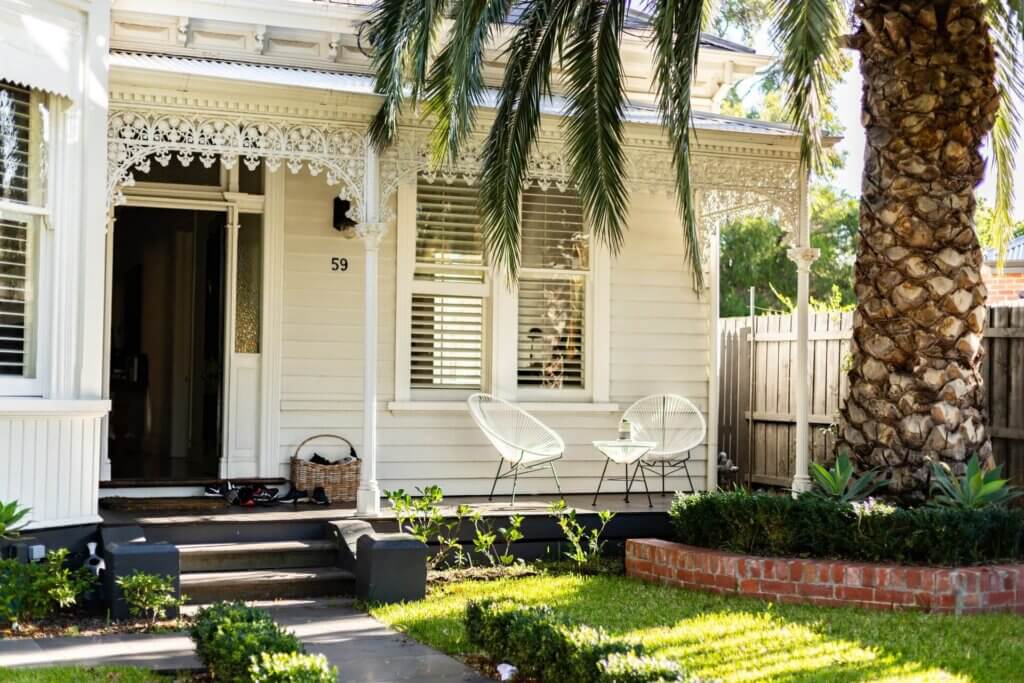 Patio homes usually have similarly designed (or even identical) homes built side-by-side. This is also why people sometimes dub them 'cluster homes.' They'll be separated by normal lot-lines, though they are close together.
Since patio homes share only one exterior wall with one other adjoining home, many people mistake them for traditional houses.
Patio homeowners generally own the lot the house sits on as well. This makes owning a patio home different from the experience of renting or owning an apartment or condo.
Many patio homes include a fenced-in backyard as well, which is why you can refer to them as garden homes. You aren't likely to find a backyard outside a condo, townhome, or apartment, so they give you a superior sense of privacy.
---
Are Patio Homes a Good Investment?
The initial draw to patio homes is the lower price of entry. In other words, they're cheaper to buy than a larger standalone home on a vaster lot.
But therein also lies one of their downsides.
Patio homes tend not to appreciate in value as much as a larger house on larger lots.
There is also homeowner association (HOA) rules to consider, as many patio homes are in modern communities where they enforce HOA rules.
Selling a patio home in the future can be a complicated affair, depending on whether or not you're buying into an HOA and what their rules are.
Some HOAs reserve the right to refuse buyers, making it potentially difficult to sell the home later on if you want out of it.
These risks aside, patio homes make suitable investments, primarily due to the lower cost of entry. They are also generally located in friendly neighborhoods where real estate values continue to increase over time.
Discover: 12 Hacks for Balcony Gardening
---
Patio Home Pros and Cons
Here are the primary pros and cons of owning a patio home:
Pros
Proximity to neighbors can mean access to a close-knit community.
Exterior maintenance and landscaping will be minimal.
They offer a larger living space than a condo or apartment.
They're affordable.
Patio home communities tend to be quiet and high-class.
These communities are generally near essential amenities (shops, markets, and post offices).
Cons
Close neighbors can infringe on privacy and seclusion.
Homeowner association rules might limit what you can and can't choose to do with your home.
You may have monthly HOA fees.
Patio home yards tend to be on the smaller side.
Sharing a wall with a neighboring home can result in unwanted noise.
---
What Defines a Townhome?
A townhome (also known as a townhouse) is technically:
A single-family, multi-story house that's attached to adjoining homes by one or two exterior walls.
Townhomes look like apartments from the outside, but they offer a more 'house-like' experience on the inside. They have front (and sometimes back) entrances, sometimes include a garage, and offer a surprisingly spacious interior.
Townhomes come with two stories, each one with its own living areas. Each level will generally also have a bathroom or at least a half-bath.
Townhomes are similar to apartments because owning a townhome doesn't usually require you to deal with outside maintenance. Property management usually handles yard care and maintenance.
Townhome owners do own their lots and driveways, though. This makes owning a townhome slightly different from, say, owning a condominium. If you're a condo owner, you only own the unit's interior, while townhome owners generally own both the interior and the exterior.
Townhomes are usually subject to a homeowner's association, which manages the neighborhood and charges association fees.
See also: Your Full Guide to Moving Out For the First Time
---
What Does a Townhome Look Like?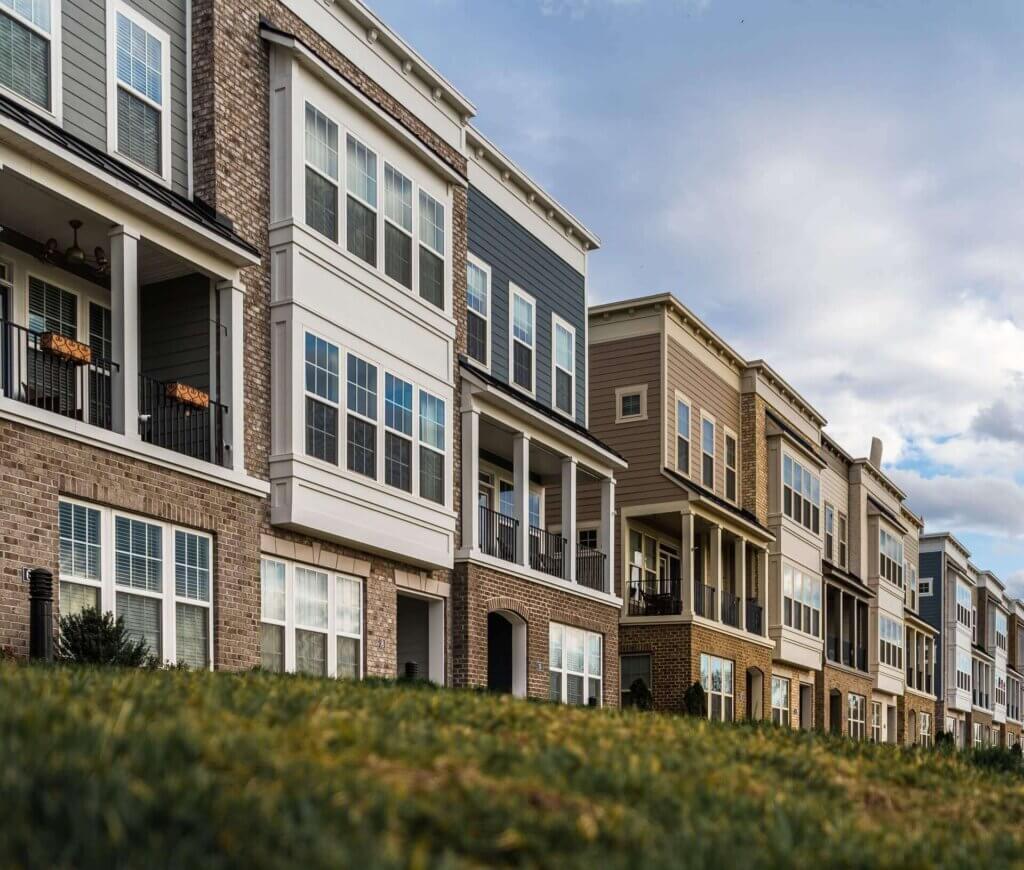 Townhomes look a lot like a cluster (or row) of apartments or condos.
They'll sit side-by-side in townhome-specific neighborhoods, be connected by adjoining exterior walls, and have a similar design style.
Townhomes may include garages, and each one may have a driveway. You're also likely to have a small yard, though these communities may also include common areas like pools, picnic tables, tennis courts, etc.
---
Are Townhomes a Good Investment?
Generally speaking, townhomes tend to be an excellent investment for several reasons:
They're affordable.
They're similar to a real, full-fledged house in the sense that you own the interior of the home and also the exterior.
Townhomes tend to exist in growing neighborhoods, are part of communities that feature many basic amenities, and tend to increase in value.
The only caveats to this are usually the rules set forth by the homeowner's association that manages the neighborhood.
Just like it can be difficult to sell a patio home due to HOA rules, townhomes can also be challenging to get rid of if the association has regulations in place that allow them to screen or refuse buyers.
It's always smart to check the HOA rules to ensure there aren't any regulations that could impede your decision to successfully sell the property should you choose to do so at a later time.
Don't forget the home office! Check out:
The Ultimate Work From Home Kit: 33 Home Office Essentials
---
Townhome Pros and Cons
The main pros and cons of owning a townhome include:
Pros
They're affordable to buy.
They come with community amenities.
Professionals do the exterior home maintenance and lawn upkeep for you.
Close neighbors facilitate a close-knit community.
They're usually within walking distance of grocery stores, shops, markets; everything you need for everyday life.
Since maintenance is minimal and there's usually security on-site, they're great for people who travel often.
Cons
Proximity to neighbors may have undesirable downsides, like a lack of privacy and unwanted noise.
Townhomes contain multiple stories, which may not be suitable for you if mobility is an issue.

The cost may

appreciate at a slower rate

than single-family homes.

HOA restrictions may limit what you can and can't do with the property.
Minimal private yard space may keep you from utilizing your yard for things like barbecues, family gatherings, etc.
---
What are the Differences Between a Patio Home and a Townhome?
There are several differences between a patio home and a townhome, and some of these differences may not be obvious at first glance.
Here are the factors to consider when choosing between a patio home and a townhome:
Size
Patio homes and townhomes often give you roughly the same amount of space when you consider their floor plans.
But that space is distributed a bit differently in the sense that patio homes tend to be single-story homes, while townhomes are multi-story structures.
Mobility
The most crucial difference here is that patio homes will only contain one story, or some may have an upstairs bedroom or loft.
A townhome, on the other hand, will contain two complete stories. This means that patio homes may be a better deal if you're looking to avoid walking up and down stairs daily.
Owning the Lot
Both patio homes and townhomes come with lot ownership, but patio homes will give you a more sizeable lot.
Patio homes will also generally require at least a bit of yard maintenance, whereas townhome communities are usually low-maintenance and kept by property management.
In other words, you won't need to mow or trim hedges if you buy a townhome.
This also makes townhomes a better choice if you frequently travel for business or pleasure.
Security
Not all townhome communities employ security guards, but some of them do. This may make townhome communities safer and more secure.
Patio home communities, on the other hand, are less likely to be patrolled by private security.
Maintenance
Regardless of whether you buy a patio home or a townhome, you'll generally be responsible for the interior maintenance.
The significant difference is that you'll also be responsible for the exterior and lot maintenance in most patio home communities. In a townhome community, this is most often taken care of by property management.
Price Point
Townhomes and patio homes are both known for their lower cost of entry. Price differences between these two styles of homes are minimal and will be affected more by location than by general house design.
In other words, the current value and appreciation potential of the home will depend more on location than on anything else. So, it's always a good idea to drive around and research the neighborhood before deciding.
It's also wise to figure out what property values in this area tend to look like over time. A savvy realtor should be able to help you determine whether or not this home may make an excellent long-term investment.
Homeowner's Association Dues
If you purchase a townhome, you'll almost certainly be entering into a homeowner's association. This will come with dues, rules, and specific aesthetic standards that board members will expect you to abide by.
These concerns may or may not enter the picture with a patio home. Many patio homes are in communities where HOAs are present, but this isn't always the case.
It's always ideal to check local HOA restrictions (if applicable) to make sure that you're not buying into a complex set of neighborhood rules.
Privacy
Patio homeowners will often have a bit more privacy than townhomes. You'll only have shared walls with one adjoining home, and your lot size will be larger and likely fenced in.
Townhomes, on the other hand, don't usually come with yards. Instead, you'll be more likely to have access to communal areas that are also open to the other residents.
You may also share more than one exterior wall with more than one adjoining home, which can lead to a noisier and less private existence.
Related: AC Repair: Your Step-by-Step Troubleshooting Guide for Fixing AC Issues
---
Conclusion
Hopefully you better understand the primary differences between townhomes and patio homes after reading this post.
Choosing between two types of homes can be the first challenge in homeownership.
The best piece of advice to follow in home buying is this:
Do your research.
It isn't the type of decision you want to rush into, whether you're a first-time buyer or an empty nester.
Purchasing a new home can be a very rewarding experience that offers you increased freedom. It's also an investment that could pay dividends in your future.
But buying the wrong home can set you back and cause a lot of problems that'll be difficult and expensive to sort out.
It's essential to be aware of your options and always do your homework before signing those all-important closing papers.