Home Maintenance Checklist
Ask a homeowner what the one downside of home ownership is, and you'll likely hear two words:
Fixing things.
 Home systems inevitably fail over time, from kitchen appliances to pipes to heating and AC systems, and when they fail, they cost money to fix. (Sometimes a lot of money). But there are some things you can start doing today to help items in your home last a little longer.
Not sure where to start or what to do?
Here's our complete home maintenance checklist for every room in the house.
Key Takeaways: Regular home maintenance can save you more time and money in the long run.
---
HVAC Systems
Everyone wants to live in comfort, which means having safe, functional air conditioning and heating systems throughout your home. Here's what to do to keep your HVAC systems in tip-top shape.
Change Air Filters 
HVAC pros recommend changing or cleaning the air filters in your AC unit at least every 45-90 days.
Air filters exist to catch harmful contaminants in the air, and you can improve the air quality in your home by changing them regularly. Clean air filters can also reduce the need for expensive AC repairs.
Cover Exterior AC Units 
Whether you have window air conditioners or an exterior AC unit, be sure to cover them in cold weather months when you don't use them. This will protect your unit from the elements, and it's a quick and easy fall maintenance task that you can perform in a matter of minutes.
Tune Up Your Heating System 
Don't mess with furnace filters or boiler systems unless you're an HVAC professional.
Schedule an appointment with an HVAC technician in late summer or early fall. They'll tune your system and check that your heater is safe to run before the cold air blows in.
Check Fireplace Flues and Chimneys 
Before the warm air dissipates and the cold settles in, have your fireplace flues checked and chimney swept. Chimneys are susceptible to soot and debris buildup, even if you don't have a wood-burning fireplace.
Have a tankless hot water heater? See: Tankless Water Heater Maintenance [+ Installation Guide]
---
Kitchens and Baths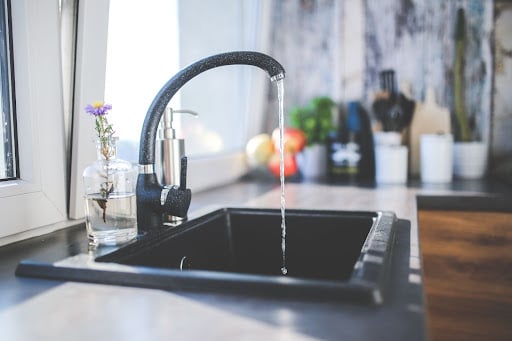 Kitchens and bathrooms are some of the most-used rooms in the home. Put these maintenance tasks on your bi-annual to-do list, and you can solve minor issues before they turn into big problems.
Clean Your Drains 
Cleaning your drains on a regular basis helps prevent clogs, fight odors, and prevent all sorts of hair and gunk from backing up beneath the surface. With simple ingredients, such as baking soda and vinegar, keeping the drains in your sinks, tubs, showers, and dishwasher clean is easy.
Don't forget to clean your garbage disposal too!
Caulk 
It's a good idea to recaulk your tubs and showers about once every five years.
Caulk cracks and peels with time, and when it does, mold and mildew can form behind it. With a tube of caulk, a caulking gun, and a bit of patience, caulking trim is easy to do!
Seal Tile Grout 
Like caulk, tile grout in showers and tubs can be a breeding ground for mold and mildew, especially if it's old. If you notice any spots on your grout or smell mildew, it's time to re-seal your tile grout.
Check Exhaust Fans, Vents, Hoses, and Coils 
Lint, dust, and dirt will inevitably find their way into places you don't want them to be. In some regions of the home, they can cause fires and lead to significant damage.
Every spring and fall, vacuum your:
Bathroom exhaust fans
Dryer hose
Dryer vent
Refrigerator coils
Inspect for Leaks 
Pipes can crack, burst, or fail at any time, so you should routinely inspect kitchens, baths, and laundry rooms for signs of leaks.
Check around the base of your cabinets for moisture, and open cabinet doors to ensure there aren't any signs of water underneath. At the first sign of a failing pipe, call a plumber!
Rid Your Home of Limescale and Other Buildup 
Calcium, limescale, and all sorts of grime and goop form on faucets and showerheads. Clean faucet heads and showerheads at least twice a year to keep your fixtures working in pristine shape.
---
Walls
Fun fact: The putty that eventually became Play-Doh was originally used as a cleaning agent for wallpaper.
In the early 20th century, most people had coal heating systems, and used putty to remove coal residue from walls at the end of the winter season. Though few people use coal heating systems today, tending to your walls remains a part of spring cleaning!
Clean Walls from Top to Bottom 
Just like shelves and tabletops, dust collects on walls. Grab a duster or a vacuum with an extender handle to remove the dust from your walls — ceiling to floor.
Repair Holes 
There's no reason to live with holes or divots in plaster or drywall. With a plastic blade and a bit of joint compound or spackle, smoothing over holes in walls is super easy to do.
Get Rid of Wallpaper Bubbles 
For those who have embraced the wallpaper trend, do a top-to-bottom inspection to see if there are any bubbles behind the paper.
You can fix wallpaper bubbles by:
Cutting a slit into the bubble
Pushing against it to release the excess air
Applying a little drop of glue
Rolling the cut paper back on so it looks smooth again
Touch Up Paint 
Whether you've already spackled and sanded a hole or just need to refresh an area of the wall that's flaking or peeling, touching up paint is easy. You'll simply need to find the matching color and grab a brush.
Pro tip: if you don't have any remaining paint on hand, there's no need to buy a gallon for a tiny touch-up. Home improvement stores sell sample-sized cans for a few bucks!
When you're done, be sure to dispose of your paint cans properly.
While we're on the subject of paint, check out this fun DIY project: How to Use Chalk Paint in Your Apartment
---
Windows and Doors
From seams to screens to their locks and handles, windows and doors should function properly at all times. Your windows and doors need to work as intended for fire safety and home security.
Seal Cracks and Gaps 
Windows and doors both let air in and out. When it's freezing out, you want to keep that cold air out. When it's hot outside, you want to keep the cold air inside. The best way to do that is to routinely check for cracks and gaps around your windows and doors.
Make your windows and doors more energy efficient by sealing cracks or gaps with caulk or weather stripping. That includes patio doors, balcony doors, skylights, garage doors, and windows in lesser-used rooms that you rarely open.
Properly caulking and sealing your windows will also prevent fogging between window panes, which can happen when seals fail, and moisture seeps in.
Check Locks and Handles 
Inspect the lock and handle of every door and window in the home. Whether you have a stuck door, a lock that doesn't clamp shut, or a window screen that doesn't operate properly, there are some easy DIY methods to remedy such issues.
Related: Home Organization Ideas: A Room-by-Room Checklist for a Happy Home
---
Furniture
Okay, so furniture maintenance may not be at the top of your to-do list. Yet, a little bit of upkeep here and there can help your furniture last much longer — saving you big bucks.
Clean Hard Surfaces and Upholstery 
Clean, polish, and vacuum your furniture regularly. If you have a wonky chair or a wobbly table, grab a screwdriver and tighten the screws.
Inspect Elements for Safety 
Have a heavy bookshelf attached with anchors to the wall?
For safety reasons (and to keep your bookshelf from crashing and breaking), make sure the anchors or wall-mounted brackets are still holding tight as they should be.
Consider Refinishing or Refurbishing an Outdated Piece 
Want to give an existing piece of furniture a brand-new look?
From painting to staining to re-upholstering, there are all sorts of quick fixes you can do to make your furniture look brand new!
Discover: How to Get Replacement Parts From IKEA
---
Safety Precautions
Your home is your castle and should be a safe place to live in. Of all the maintenance tasks on this list, these safety precautions are not to be ignored.
Take Fire Safety Precautions 
Perhaps the most important (and, luckily, the easiest) home maintenance task is to take fire safety precautions. That means ensuring that the batteries in your smoke detectors and carbon monoxide detector work.
Fire safety pros recommend replacing the batteries in smoke alarms and carbon monoxide detectors twice a year. An easy way to remember to do so is to change them when you change the clocks for daylight savings time. You should also test smoke alarms regularly to make sure they are in working order at all times.
If you don't already have a fire extinguisher, now is the time to get one. If you do have extinguishers in your home, check their date. Fire extinguishers don't necessarily expire, but if they're older than ten years, it's time to replace them.
It's also a good idea to put a fire evacuation plan in place. If you have little ones, make it a fun activity by conducting fire escape drills throughout the year.
Take Baby-Proofing Precautions
Speaking of little ones … if you have babies or toddlers, check that your baby-proofing methods are still working. Confirm that baby-proof door latches, stove knob covers, outlet covers, etc., are in place and functioning as needed.
---
Exterior Maintenance
It doesn't matter how big or small your home may be — you can't afford to ignore exterior maintenance. Here's a list of projects to do at least once every fall and again in the spring.
Power Wash 
If you have siding, power washing it twice a year is a great way to keep your home looking its best.
Depending on the climate you live in, you may want to do this more often. For example, if you live near the beach, you may want to power wash more often, as salt air and blowing sand can wreak havoc on siding.
Winterize Pipes 
Before the first freeze in fall, winterize your exterior pipes.
A thorough winterizing includes:
Draining exterior faucets
Disconnecting any hoses that could freeze
Installing outdoor faucet covers to protect faucets from the snow and ice
Clean Gutters 
Clean gutters and downspouts frequently, as leaves and grass can clog and back up exterior drains. Grab a rake to clear away the leaves, and get out the gardening shears to prune bushes and greenery.
Inspect Your Foundation 
Inspect foundations for cracks or water damage, especially after big storms.
While you're checking for storm damage, look around your property for evidence of broken shingles. If shingles have blown off your roof or you see cracked shingles on the ground, it's time to call in a roofer to inspect the roof.
More Exterior Maintenance Tasks 
Here are some other systems and items to inspect if you have them outside your home:
Sump pump
Sprinkler systems and sprinkler heads
Decking posts
You may also like: Step-by-Step Guide to Setting No Kill Traps and Relocating Moles
---
When to DIY vs. Call In a Pro
There are lots of home improvement projects you can tackle on your own and some that you should never, ever attempt to do yourself.
So how do you determine which projects you can DIY and which ones require the expertise of a pro?
It depends on what you feel comfortable doing and your skill set.
Renters should never perform their own maintenance. You should call your landlord or property manager instead. Aside from general upkeep and keeping the apartment clean, maintenance is not the tenant's responsibility.
Call your property manager ASAP if you notice something broken, leaking, or faulty. Delaying to call in an issue could result in further damage, which might result in the landlord keeping your security deposit when you leave.
As for homeowners, many of the projects on this list are totally DIYable. But there are a few you should never tackle on your own:
Electrical work
Plumbing issues
HVAC service/chimney service
Foundation issues
Electrical work, in particular, can be pretty dangerous, especially if you don't know what you're doing. Check out these electrical safety tips before attempting to address an electrical issue on your own.
---
Conclusion
Homeowners can save themselves from expensive home repairs simply by performing routine home maintenance tasks throughout the year.
Go through the tips above and mark dates on your 2023 calendar to tackle any tasks that apply to you and your home. The more diligent you are in keeping up with home maintenance tasks, the cleaner, safer, and more functional your home will be.