How to Choose Your Kitchen Remodeling Contractor
You have your vision and can't wait to transform your dark, dated kitchen into a bright, clean, sun-splashed space.
You've passed through kitchen showrooms at least a half dozen times, testing cabinetry doors. You've handled all sorts of countertop samples, comparing them to backsplash tile, paint swatches, and laminate flooring …
There's only one hurdle left before your dream kitchen comes true.
If you're intimidated by the prospect of finding a contractor for your kitchen remodeling project, keep reading. We cover it all, from where to find one — and how to know they're reputable — to all the questions you need to ask them.
Key Takeaways: Are you ready to remodel your kitchen but want to make sure you get the right contractor for the job?
Solution: Here are some useful tips to help you make sure you find the best professional.
---
 What to Look for in a Contractor
Looking for a contractor is similar to interviewing job candidates — because, quite frankly, that's precisely what you're doing.
This is why interviewing more than one is a good idea. You want to get multiple estimates on what it will cost to upgrade to a new kitchen design and a general feel for who they are.
Are they respectful? Do they listen to you? Are they someone you feel comfortable working with and allowing into your home?
Finally, you want to make sure that whomever you choose is licensed, insured, and, if your state requires it, bonded as well.

---
Where to Find Your Kitchen Contractor
Now that you know you need to get estimates for more than one licensed contractor, where do you find them?
One way is through word-of-mouth referrals. Perhaps a friend or neighbor just remodeled their kitchen and is raving about the fantastic experience they had with "their guy." There's no harm in getting their contractor's information and checking out their workmanship while you're at it.
Another great resource to find a local craftsman is the internet; no surprise there.
However, searching for a contractor online can seem daunting as you're flooded with results. It's hard to weed out who's reputable from who isn't.
Thankfully, some companies do the leg work for you. The Home Blog partners with our friends at AIQOO for this very reason. AIQOO has sourced dozens of top-notch reputable contractors all throughout the USA.
Simply visit AIQhome.com, type in your location, and voila. You instantly get a list of your area's best-vetted professional contractors. They're not limited to just kitchens either. Their pros do bathroom remodeling, roofing, and other home improvement dreams that stretch beyond your DIY capabilities.
Here are some DIY projects you can tackle easily on your next day off: Home Maintenance Checklist

---
Questions to Ask a Kitchen Remodeling Contractor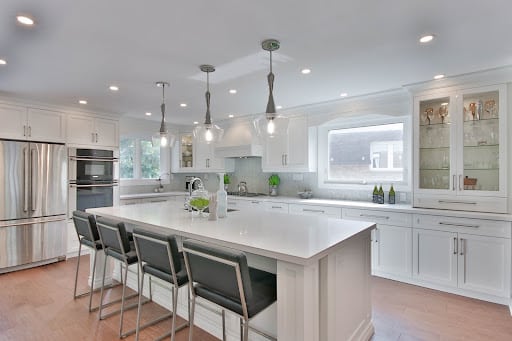 Now that you have your list of experts, you might be itching to call them right away. Which is great — go for it — after you've read this next part first.
Think back to job interviews you've had in the past. You were probably asked some scripted questions and saw your answers recorded on a yellow legal pad by a swift-moving pen.
This is what you want to channel. You want to ask each candidate the same questions, and to help jog your memory, jot down their answers.
Some of the questions may seem a little uncomfortable to ask, but it's important you ask them anyway. There's no doubt — the scenario you'll avoid by asking these questions — is way more uncomfortable.
1. Estimated Cost of Project?
Chances are, you won't forget this one. But just in case, don't forget to ask for an estimate.
2. How Many Years of Experience Do They Have?
Choosing someone who's been in business for a while is a good bet. They'll know what the job entails, execute it efficiently, and have reviews from other customers that you can check before hiring. They'll be familiar with different materials and may be able to offer tips and design ideas, too.
That's not to say you shouldn't hire someone who hasn't been in business for long. Make sure that if you hire a newbie, they're professional, have all the necessary licensing requirements, and are up for the task.
3. Are They Licensed and Insured?
States issue contractor licenses once the contractor:
Proves that they understand the codes and regulations
Demonstrates competency
Shows financial stability
Some states require contractors to be bonded, which helps ensure legal and financial accountability. A surety bond is a legally binding contract with a third party, including ethical and legal expectations, that the contractor has agreed to adhere to.
Hiring an insured contractor is extremely important. Insurance covers damage, injuries, etc.
4. What is Their Estimated Timeline?
Getting an idea of what the timeline looks like will help you plan.
If your kitchen renovation project encompasses the entire kitchen, you'll lose the functionality of the space and need a temporary setup. Having an idea of the project's length may help make it somewhat easier to endure.
Of course, this doesn't mean picking the contractor who gives you the shortest timeline. It's just good to know so you can prepare accordingly.
If something outside their control could hold the project up, inquire how they handle setbacks and how they'll inform you.
5. What's Their Payment Schedule? 
It's a good idea to iron out the payment schedule beforehand.
Some require an initial deposit (a percentage of the estimate) and ask for incremental payments throughout the duration of the job. Others will accept the initial deposit and require the rest of the payment only when your new kitchen is complete.
6. Who's Working the Job? 
Whether you hire a small family-owned business or opt for a larger remodeling company, knowing who's working is essential.
Will you have a dedicated team of people, or will there be a rotation? And if so, who will be the go-to person?
7. How Should You Contact Them?
Communication is paramount, especially when it comes to home renovation projects. Know how to contact them and what to expect regarding callback time if they're busy when you call.
8. What's Their Current Schedule? 
It's a good idea to be clear on what their workload is. Contractors — especially ones who operate a larger business — often have multiple projects going at once.
Being aware of their other projects may help you better understand the time they have to dedicate to your custom kitchen.
9. How Do They Handle Additional Charges?
The only answer you want to get from this question is …
The contractor you choose will not spend more than you agreed on!
If the new cabinets you were hoping for aren't available, make sure they speak with you first — before getting custom cabinets.
It's your money; they need to notify you if there are any changes.
10. Do They Offer Warranty for Services?
Many contractors offer a guarantee along with their services.
First, ask if this is something they do. If so, see if you can get a copy before the rendering of kitchen remodeling services, so you have a clear understanding of exactly what's covered.
11. Can You See Examples of Past Work?
Sometimes, getting a visual representation of their past kitchen remodeling projects can give you a better idea of the quality of their craftsmanship.
It's especially helpful if they can provide a kitchen makeover similar to yours within the same budget.
See if they have documentation that can help you get an idea of what to expect for your home remodeling project. Like a before and after showcasing the process of the old floorplan to the final "ta-da!"
12. How Do They Prevent and/or Resolve Disagreements?
You want someone communicative. Someone who won't suddenly present you with a surprise expense or something else you weren't notified about that you didn't agree to.
You also don't want a "yes man" who agrees to everything even if they know it won't work.
Disagreements and misunderstandings are a part of the process. You'll want to be sure they'll communicate — and expect the same from you — throughout the entire project.
13. What Can You Do To Be Helpful?
Inquiring about what you can do shows that you care. You're considerate and cooperative and want to help in whatever way you can.
Now, it's highly unlikely they'll ask you to don a hard hat and get to work refacing cabinets. Yet, whoever you hire may appreciate it if you clear out the kitchen cabinets and other spaces.
Though sometimes, just knowing that the homeowners care enough to ask is usually enough.
14. Will They Hire Subcontractors?
If they are going to hire subcontractors — or are unsure — ask that they provide you with the information of who they plan to hire beforehand. That way, you can check into them if you'd like, and have their details if needed.
15. Do They Anticipate Any Issues With the Project?
Inquire about any concerns or challenges they may foresee based on their experience and the condition and layout of your home.
When interviewing candidates, you're looking for someone licensed and qualified. Someone who displays professionalism, excellent communication skills, and is respectful of your budget.
Again, if you're wondering where to find these people, check out AIQOO. All their contractors are licensed and insured, screened, and vetted. They provide instant access to a list of the best high-quality general contractors in your area.
Discover: 11 Stunning Kitchen Renovation Ideas to Inspire You

---
Helpful Tips for You During a Kitchen Remodel
Even though you're not doing the work, you're still very much a part of this project. Here are a few things you can do to stay organized and cut the potential for stress or other unpleasant emotions during the remodeling process.
Get Everything in Writing
It's a good idea to get everything in writing. You'll want a description of each component of the job and the corresponding cost. The payment schedule and estimated timeline should also be included.
When you're invoiced, make sure that the invoice is clear and itemized.
Remember that you have a right to cancel within a specific time frame. Known as the "cooling-off" rule, check out the Federal Trade Commission for more guidelines on how it applies in your state.
Organize All Documents in a Job File
It's a good idea to keep everything related to the project in one place.
Use whichever method you prefer. If you gravitate to pen and paper and love a hard copy, keep that type of file; if you prefer electronic, great.
The point is to keep things organized and neat in a way that works for you.
Delays Are Inevitable
So many factors can contribute to delays that there's no point in listing them.
The point is they happen, and sometimes they are beyond the scope of anyone's control. Be prepared, and try not to get too worked up if hold-ups occur during your remodeling process.
Another thing you can do is pick out Plants to Decorate Your New Kitchen Cabinet Tops!

---
Things Not To Do During Your Kitchen Makeover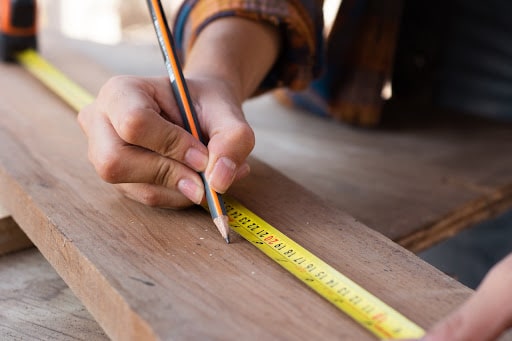 Of course, there are things you don't want to do either. Here are a few of the biggest ones.
Never Tell a Contractor You're "Not in a Hurry"
Sometimes, in an effort to sound agreeable, we may say something that bites us in the rear. Telling your contractor you're not in a hurry is one of them.
If you do, they may de-prioritize your remodeling job as they get busier, keeping it on the back burner. Meanwhile, you're stuck, microwaving your dinner in the guest bedroom for months …
Don't Let Them Choose Materials on Your Behalf
You can ask for feedback or see what their experience is with different materials. But, never let them choose stuff on your behalf, especially without consulting you first!
Don't Micromanage or Act as Though You're the Expert
Some may find this impulse harder to control than others but don't micromanage or assume the role of project manager.
Your opinion matters, that goes without saying. However, when it comes to the execution and process, it's a good idea to leave it to the people you've hired to do the work.
See also: The Top 7 Best Over the Sink Dish Racks for Your Kitchen
---
Conclusion
Alright, now you're really ready! You now know where to look and what to ask; it's time.
Head over to AIQOO to find the perfect contractor and get started on the interview process!