11 Stunning Kitchen Renovation Ideas to Inspire You
Looking for some inspiration for your upcoming kitchen renovations? Check out these 11 great ideas!
The kitchen is the hub of the home.
It generates the heartbeat of the household – and more – depending on the time of day.
On the weekend, it emits delicious scents of bacon and coffee in the morning. In the evening, it's lasagna and garlic bread.
If your kitchen feels drab and uninspired, chances are you do, too. Not to worry, though; we've got a bunch of tips and ideas (that suit a variety of budgets, really!) to help inspire and revive it.
But before we get into all of that, let's quickly go over some important things to keep in mind when doing a kitchen renovation.

Key Takeaways: Does your kitchen need a makeover, but you're not sure where to start?
Solution: No matter what your budget is, there are ways to spruce up your kitchen making it modern and fresh.
---
Pre-Renovation Considerations for Your Kitchen
As with any big project, there are a few things that need to be considered before breaking out the sledgehammer.
Being aware of these and planning accordingly can save you from dreaded renovation headaches and financial woes.
A kitchen remodel can be a huge undertaking and is definitely something you want to get right the first time.

---
Budget for Your Kitchen Renovation
Kitchen remodeling costs can range from inexpensive – for the easier DIY projects to big budget – for fancier high-end modern kitchen looks.
If you don't have oodles to spend, don't worry. View it as an opportunity to dip into your creativity.
You'd be truly amazed by what can be done on any budget.
The best kitchen isn't always the most expensive one.

---
Functionality of Your Kitchen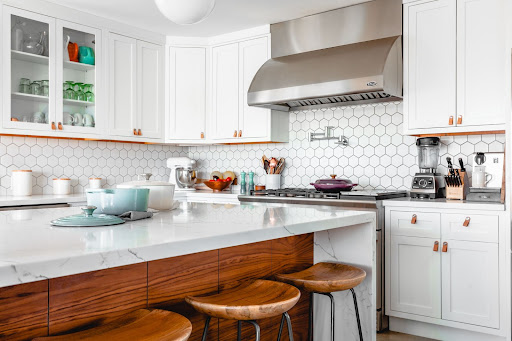 Kitchen renovations are a dance between style and function. It's a workspace, after all.
It should be laid out in an efficient manner that's conducive to creating delicious meals and facilitates effortless cleanup afterward.
And, oh yeah, look good, too.
Take a moment to contemplate the best use and layout of your space.
Consider the ways you use the kitchen. What's missing in your current setup?
If the workspace isn't big enough, is there room for a kitchen island, adding
additional counter and storage space?
How can you get the best bang for your buck in a way that's both pleasing and practical?

---
Resell Potential
How long do you plan on being in your current home?
If you don't envision yourself here forever, consider the resale value. Do your research, and make sure the home improvements you're splashing out on add to the overall value if that's important to you.

---
Kitchen Renovation: DIY or Contractor
How handy are you?
When it comes to renovations, some projects are more friendly for reno newcomers than others.
If you're unsure, always consult an expert. The last thing you want to do is bash down a load-bearing wall or cause some other irreparable damage that will end up costing you more in the long run.
If you're considering hiring a professional but are unsure where to find one, we've got something exciting to share. We've partnered with our friends at AIQOO, a company that helps pair people with reputable
professional contractors
in their area, sourcing dozens of top-notch kitchen remodeling experts all over the USA.
Share your info here, and we'll connect you with the best contractors in your community.
---
Kitchen Renovation Tips to Get You Started
A kitchen renovation is a big deal. Here are some tips and considerations to help ensure you're fully prepared:
If the entire kitchen design is undergoing a full-on makeover and will be out of commission, plan for an alternative means for cooking and storing food.
If the prospect of getting started feels overwhelming, remember this: you don't have to do everything at once. You can start with one thing, and when the budget allows, or you have the energy, you can move on to the next.
There's no need to make any hasty decisions. It's totally fine to sit with and evaluate your kitchen remodel ideas before committing to your fave.
Decluttering before beginning renovations is always helpful. Having less stuff to store and put back into your brand-new space will make it all feel extra fresh and sparkly when it's finally done.
If you're still in the planning phase, consulting interior design magazines or reading online pieces (like this article, yay!) are all good ways to find ideas and design elements you love.

---
High-Quality, Low-Budget Kitchen Renovation Ideas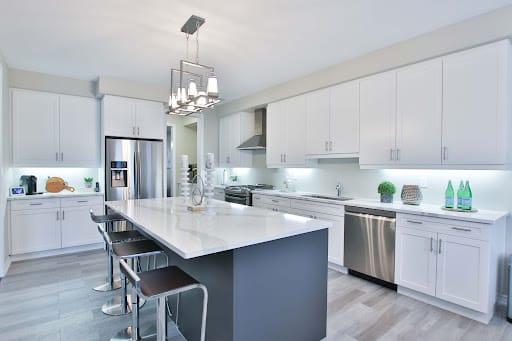 Breathing new life into your kitchen doesn't have to cost an exorbitant amount of money. We'll start with the smaller – less daunting, and more budget-friendly ideas that make a world of difference – many of which you can do yourself.
Related: Our Full Guide to Interior Design
1. Paint Walls & Kitchen Cabinets
Grubby, drab… those are less than ideal cabinet descriptors.
Why not update yours with a crisp fresh coat of paint?
Adding a new color to cabinets (and why not the kitchen walls, too, while you're at it?) is the best way to achieve a sharp new look on a minimal budget.
For an instant lift, pair with clean white kitchen walls.
If you have a sunny but small kitchen, painting it taupe or white makes it feel larger.
If it's north facing and there isn't a ton of natural light to play off light-colored walls, dark colors actually make the space feel both bigger and warmer.
2. Update Hardware in Your Kitchen
Adding new hardware to cabinets and drawers is another easy and relatively inexpensive instant uplift of the space. It's a simple way to get a custom cabinetry look for less.
Hardware can be purchased online or at your local hardware store.
Take a piece of your old hardware with you to help select the appropriate size.
3. Add Open Shelving to Your Kitchen
Open shelving lends itself well to any style; it's not just for a farmhouse look.
There's something immensely appealing about a stack of pretty dishes, cookbooks, a line of Mason jars containing dry good staples, and a burst of green from a plant or two.
Open shelving adds visual interest – just be careful not to busy it up with too much clutter.
Not sure?
Why not start small? Add a statement shelf to display your favorite things, and keep your upper cabinets.
Or… go all out. You can choose to replace your upper cabinets with floating or bracketed shelves and stain or paint the wood to match your favorite finish.
If you're looking to pare down your dishware and open up the space, this is a great way to do so.
Related: how to organize your apartment with floating shelves
4. Create a Breakfast Nook
Is there anything more inviting than a cozy sun-splashed breakfast nook?
We didn't think so.
If your kitchen already has the space, you can build in bench seats and a small table.
Or, opt for a little wooden café style table with two chairs to make a sweet little nook.
If space is an issue, why not add a breakfast bar? Just like those coffee shops that have a bar seating space that looks through a large pane glass window, with stools that get pushed under when not in use, you can do the same.
If you don't have a window to build it across, constructing a breakfast bar along a wall works perfectly, too.
The additional space that comes along with a built-in nook always comes in handy – think kids needing help with homework as you cook dinner – or even simply as a space to journal over coffee at the start of the day.
5. Update Kitchen Lighting
Updating the lighting to add or change out light fixtures is inexpensive and doesn't require that the whole kitchen goes out of commission as the transformation takes place.
New light fixtures are almost like jewelry (think pendant lights or even chandeliers), adding a little je ne sais quoi to the space.
With an abundance of types and styles to choose from, you'll have no problem finding ones you love.
If you're unfamiliar with installing fixtures that involve fiddling with electricity, it's best to hire a contractor.
6. New Kitchen Floor
Updating the floor can have a colossal impact on the space.
If you love the look of hardwood floors but don't have room in your budget for the real deal, there are all sorts of other wood (and non-wood) lookalike flooring options. Laminate and tile are some of the most popular.
Some people have no problem adding flooring themselves, but if you're hesitant, it never hurts to get an estimate from an expert.
Don't feel shy about adding a rug to the kitchen floor, especially the durable ones that are easily washed. Rugs warm up the space – and your feet – on those chilly winter mornings.
7. Add a New Backsplash
The backsplash is a feature most people notice when they see a kitchen. There are tons of different styles and materials to choose from, and many are DIY-friendly.
Subway tile and other tile backsplash options are always popular and are durable enough to handle the splatters and scrubbing of everyday use.
People have found all sorts of creative ways to totally transform their backsplash, incorporating a shiny metallic look with pressed tin, penny tile, and even galvanized metal.
Additionally, some repurposed laminate is intended for flooring to create a heavy-duty backsplash.

---
Exciting Options for Mid-Range Budget and Above
This section covers larger kitchen renovation projects. These design ideas are the closest you can get to a whole new kitchen without moving house.
These require a bigger budget, and unless you're a renovation pro or a general contractor (not sure? Our friends at AIQOO are here to help you find the experts!) to get it done.
Before undergoing a larger-scale renovation, make sure you have a clear concept of what you're looking for.
Don't forget to consider your needs as far as things like functionality, storage, and of course, aesthetics go.
8. New Kitchen Cabinets
Over recent years, Kitchen cabinets have undergone a total transformation.
New cabinets are designed with you in mind. They include things like soft-closing doors, pull-out pantry drawers, and cupboards that make use of vertical storage space. Pull open the doors, and the insides of some cabinets illuminate with light.
The designs are sleek and fresh and feature optimal storage space solutions.
If there's an Ikea near you, it's worth visiting. You can check out their showroom and examine the different styles and functionality up close.
9. New Kitchen Appliances
Modern appliances are smart. They sync with your phone and promise to help simplify your life in all sorts of ways.
Newer appliances are designed to be more energy efficient, saving you money on your electricity bill, and they look good doing it. They are also a great way to uplift the space.
Today's appliances are easier to clean; they don't have all those little knobs, nooks, and crannies for grease and grime to build up around.
When considering replacing your appliances, splurging on something that has all the bells and whistles makes sense only if you're going to use them.
A chef's kitchen is great if you love to cook, but it is in no way a necessity – or be all end all – in how your cooking will taste.
10.  New Kitchen Countertops
Kitchen countertops are used frequently. This is because the bulk of meal prep gets done there; they're the cooking space – used and wiped multiple times throughout the day. Probably more so than any other part of the kitchen. This means having countertops you like is an obvious plus.
It's easy to get sucked into trends – especially when it comes to countertops – so before you start looking, list the utilitarian features you're hoping for.
Selecting timeless countertops is a good idea, especially when it comes to resale value. Think neutrals – rather than a busily patterned dark granite – but ultimately, the choice is yours.
11.  New Kitchen Layout
Changing the floor plan of your kitchen is a massive undertaking. Whether you're doing it to increase the square footage or as a part of a whole home remodeling project, a new kitchen layout is a chance to design your dream kitchen.
There's a reason you're considering a kitchen makeover, so you probably have some ideas of what you want in the new space.
Hiring a contractor will help you see your new kitchen dream come to life. They'll be able to assess the space, see which drywall can be knocked through, where you can add more light, and get the most out of the space overall.
There's nothing better than a whole new kitchen designed by you, for you. You can enjoy being as creative as you want in a space you love.
---
We hope these tips get your creative ideas going. Kitchen renovations can be a lot of work, but – like most things that require time and effort – it's worth it. You'll be thrilled with the space when it's finished.