Our List of the Best Dorm Room TV Stands of 2023
Whether you're on a budget, have NO room, or have gaming needs, we've got you covered. Find your dorm room TV stand here.
Moving into a dorm room means increasing your independence and decreasing your possessions for most people.
But downsizing on your furniture, like your dorm room TV stand, doesn't mean you have to decrease the quality of what you own.
Dorm space is limited, though, so you'll have to compromise somewhere.
How Small is a Dorm Room, Really?
The best thing that you can do to prepare yourself for moving into a dorm is to get a feel for the size. Dorm rooms are, on average, less than 130 square feet for the entire living space.
Putting that into perspective, the average size for bedrooms in the United States is 132 square feet.
So, you're moving into a room that will be your bedroom, living room, bathroom, and complete living space for the near future. Also, you're probably sharing it with someone else — and it will be smaller than your current bedroom.
With that firm grasp on how much room you will likely have in your dorm, it's easy to see how every inch matters. Your room's layout will determine the style and setup of your furniture, but you don't have to compromise your quality of living.
Yes, you may have to double your bed as a couch for guests, but you can still have your favorite TV shows on-demand to watch during your downtime. If you take some time to do a little strategic measuring, you can find the perfect dorm-sized TV and TV stand.
First, measure the width of your TV. The recommended size of a dorm room TV is under 32", but you can go up to 49" if you plan the stand and layout carefully.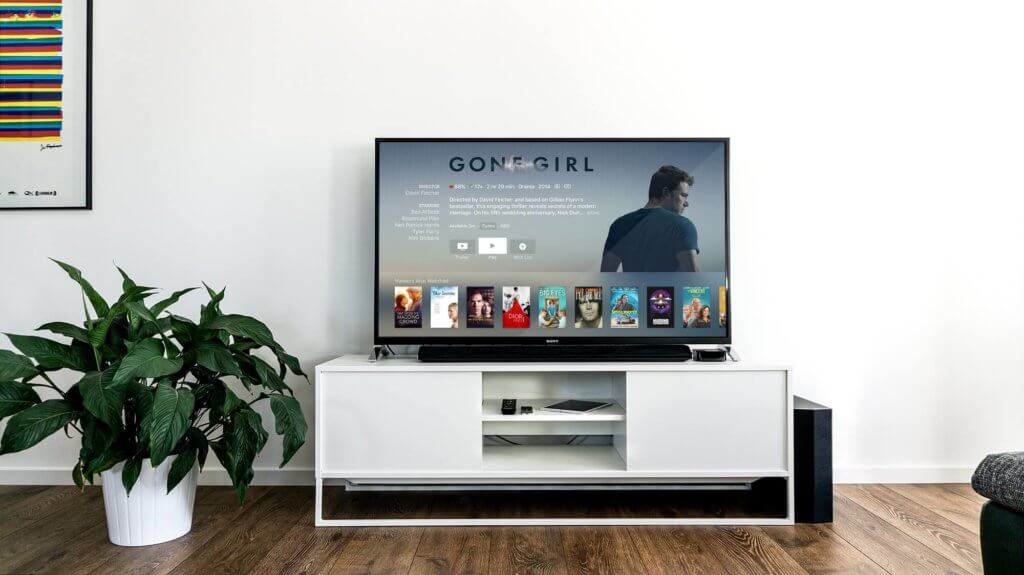 Choosing your stand is crucial when you are living in a dorm. It must fit your TV's width but also be able to double as storage, and it can't take up a lot of space.
To help you pick the best TV stand for your needs as you head off to your new dorm-life, we have compiled a dorm room TV stand comparison.
The Top Storage-Centric TV Stands for College Students
If your aim is to have furniture made of high-quality material but sized right for your room, you want the best TV stands reviews. The top overall TV stands include factors such as quality, versatility, price, size, and ease of assembly.
1. DEVAISE Versatile TV Stand and Entertainment Center Console
It's a TV stand. It's an entertainment center. It's a bookshelf. It's a cupholder. It's whatever you want it to be — the DEVAISE TV stand truly is as versatile as its name claims.
Made of two composited shelves that you can put together just about any way you want, this stand holds a TV anywhere from 45 – 65 inches, like this budget-friendly Smart Roku LED 43″ TV. But because it doubles and triples as more storage space, it's worth considering in your room.
The L-shaped units are adjustable and easily assembled. They come in white, black, and dark oak options. Fully put together, the dimensions are 43.3" wide, 11.4" deep, and 20.8" high. Although it's little, it can hold up to 75 pounds.
43" is more than would normally be recommended for a dorm room, but this versatile piece of furniture replaces your need for other storage options.
Cons
The engineered wood is prone to chipping
Customer Review
The bookshelves arrived right on time and in perfect condition. The instructions were easy to follow and I had the whole unit together in about 45 minutes. I really like the versatility of the units as there are many ways to configure them and they really look great when all put together. Highly recommended!!
2. Furinno 3-Tier TV Stand
Classic meets contemporary with the Furinno Turn-N-Tube. Perfect for dorm room living because of the extra storage it affords, this furniture has divided shelves that are just right for textbooks, games, and movies.
The stand itself is made from manufactured wood (with plastic tubes) and is offered in Columbia Walnut, Cream Faux Marble, Sonoma Oak, and French Oak Grey. The shorter middle shelf allows you strategic decor opportunities or a perfect landing pad for your gaming system.
At a conservative 16.2" high, 43.8" wide, and 11.7" in-depth, it won't demand too much of your precious square footage. Assembly is required, but no tools are necessary and it should take less than ten minutes.
Because of the storage room you are getting with your stand, you can upgrade from a basic dorm-sized TV to a 43" flat screen like this Samsung Smart TV. Bring the comforts of Alexa with you from home!
Cons
Sits low to the ground
Customer Review
I love it! I had a 50" smart tv on this when I did this review; however, I bought a 58" Hisense Smart tv and it fits. The legs are closer to the middle of the tv and that's the only way it would fit. I wouldn't recommend putting a tv bigger than a 58" due to the weight. I assembled it in about 5-10 mins and it is very easy. It's not really heavy, but sturdy. It is great for the price! No tools required. Great for small spaces like my apartment.
Related: Product Comparison of a 20 Gallon Fish Tank
The Best TV Stand for Rooms with Limited Space
130 square feet or less isn't a lot of room, but it's doable if you're by yourself. Most college students end up bunking with a roommate, though, making every inch a valuable commodity.
Large TVs and TV stands often become community property in a dorm room. If you want your own, though, you'll have to compromise by going with a smaller TV and stand.
When space is limited, but you still want to keep a TV nearby, try this TV stand for 30-inch sets or smaller.
Ogden TV Stand
With one open storage shelf and one closed, pull-down door, the Ogden TV stand is small but mighty. It has decent storage capacity, and its little frame fits just about anywhere.
Weighing in at only 20 pounds, you don't want to store more than a 24" TV on this stand. But even at 24", you can still find incredible deals on great sets like this LG Smart TV.
The Ogden TV stand is unobtrusive at 18.9" high, 25" wide, and 14.96" deep. The contemporary style lets it easily fit in with just about any furniture. It's simple to assemble and affordable, so it's no wonder that it is a favorite among college students.
Cons
Actual color may vary
Customer Review
Bought this a couple of years ago, and it is holding up well. I haven't had any problems with it, and like the looks.
P.S. Need help with installation? Learn about Handy to see how they can help with the setup process!
The Top TV Stands for College Students On a Budget
If you're budgeting your way through college without much room for amenities, you're not alone. Most college students have to budget for their basic necessities, so adding in extras for furniture is often last on their list.
When money is tight, it's tempting to go with the cheapest option. With your TV stand, though, you want to make sure that money is well spent on something that won't fall apart quickly and doubles as functional storage.
But a TV and stand are high priorities for those who want to keep up with their favorite shows and play their games. The good news is you can stick to your budget and still purchase a decent TV and TV stand, and we have two of them here to help you decide.
1. Tangkula TV Stand, 3-Tier TV Stand Storage Console
There are many cheap — and cheaply made — TV stands that you could buy on a budget.
But why waste your money on something you'll have to replace quickly, when for just a few dollars more, you could have a better option?
The Tangkula TV stand is inexpensive but still has great ratings for durability.
It's also functional, with two additional shelves to hold your gaming devices, movie players, speakers, or other possessions. Assembly is simple for this 24" long, 11.5" wide, 22.5" high stand. Since it only weighs 11.5 pounds, it's also easy to move around whenever you want a change.
But even though it is lightweight, it can hold up to 100 pounds, easily holding this 20" RCA TV priced for those on a budget.
Pros
Lightweight yet sturdy
Cons
A little on the short side
Customer Review
Perfect is the only word to use. If you're in a dorm or a studio apartment like mine, this is the perfect stand for your flat screen. Assembling was as easy as tying your shoe and delivery was early. I am thoroughly impressed.
Don't forget the home office! Check out: The Ultimate Work From Home Kit: 33 Home Office Essentials
2. Waku TV Stand by Iris
For under $35, the Waku TV stand by Iris is by far a steal.
It holds TVs up to 32", and the top shelf can support up to 44 pounds by itself. There are two other shelves in the middle and one on the side for plenty of storage of your movies and games.
Easily assembled, it becomes a 28.8" long by 11.4" deep by 14.4" wide TV stand. There are plenty of strategically placed holes to store your cords. And since it's available in common white and brown colors, you can mix and match it with other modular shelves.
Pros
Holes for hiding cords
Customer Review
This is exactly what I was looking for and better than I expected. The stand is really sturdy and was surprisingly easy to put together. Looked great when complete. Really good value for the price.
The Top Overall TV Stands for Gaming in Your College Dorm
Gaming isn't just for kids anymore. For many college students, it's a hobby, and for others, it's a great way to make a living. Just because you're moving on to your college dorm doesn't mean you have to leave your gaming days behind.
Juggling school, a social life, a job, and gaming might not be easy, but it's worth it.
As long as your roommate is cool with your passion and doesn't mind the late-night game fests, why not bring your favorite consoles with you?
Limited space is an unavoidable part of dorm life. The right TV stand will let you include all of your electronics and still have room to move. Try one of these TV stands to squeeze in gaming room to your small square footage.
1. Mount-It! TV and Media Stand
Glass and metal stands are great for heavy electronic use since it keeps the devices cooler. The Mount-It! TV and media stand, inexpensively priced at around $100, is a flat panel TV stand just right for storing lots of equipment.
Whether you're looking for room for all of your consoles or your stereo equipment, this stand can hold up to 88 pounds of your electronics and other gear. It is designed with cooling spaces for airflow to enhance the circulation of cool air and prevent overheating.
Assembled, it is 24" wide, 15.5" deep, and 27.75" tall, just the right size for a small dorm room. The stand even includes a cable management system for all of your cords.
Pros
Minimalist design for airflow
Cons
Need to take care during assembly that the rods don't thread in too tightly and bust through the laminate shelf
Customer Review
I was looking for a stereo stand to fit a large turntable and receiver. Not only that, I needed it to fit into a fairly narrow space. This was sturdy, looks nice, and was very easy to put together. I couldn't be more pleased!
2. Techni Mobili TV Stand
If gaming is your passion, you don't mind your stand taking up most of the open room in your dorm. When that's the case, you want the Techni Mobili TV stand. At 35.5" wide, 15.5" deep, and 17.5" high, it's not too oversized for a dorm room, but it's spaced right for lots of gaming equipment.
Two shelves with open compartments in the back are ready for your electronics and set up for managing cords and maximizing airflow. The maximum capacity of the top shelf is 90 pounds, and there is room for up to a 40" TV with overhang.
The Techni Mobili stand is made from heavy-duty compressed wood with a laminate surface and is only available in black. It is easy to assemble and weighs, when put together, 38 pounds.
Pros
Top surface holds up to 90 lbs.
Cons
Included directions may be difficult to follow
Customer Review
I could assemble easily. Looks simple and good. If you don't want a hanging TV on the wall and need an inexpensive TV stand, this is reccommended.
Small Room, Big Standards
College living doesn't have to equal trashed rooms and clapboard furniture. You can still live with high standards on a budget and limited space!
Whatever your priority may be — space-saving, budget-friendly, style, or designed for gaming — you can find a dorm room TV stand that is right for your needs without compromising on quality.





(2 votes, average: 5.00 out of 5)


Loading...