Step-By-Step Guide to Building a Wood Bench
Creating DIY wood furniture isn't as challenging as you may think!
Making it from scratch means it's easier to customize, too.
Looking for a decorative piece to make your entryway a little more inviting?
Desperately need a place to sit down while tying shoes in your mudroom?
A wood bench has many practical uses — and cute styling opportunities!
Whether you're new to this level of DIY or have some experience, we're here to guide you through the process.
From start to finish, we'll be with you each step of the way.

---
What You Need to Build a Wooden Bench
Don't worry if the closest thing you have to a tool is a CD from a band bearing the same name.
We've listed the ones you need here, and if you don't want to run out and buy them, consider borrowing them from a friend or family member.
Tools You'll Need:
Screwdriver
Drill bit
Saw (handsaw recommended)
Measuring tape
Pick Your Wood Type:
Pine is the easiest wood to work with — especially as a newbie. It's also cheaper than hardwood, and you can easily coat it with a few layers of finish to make it darker. It's easy to paint, too.
Other popular woods to consider are cedar (also a softer wood), maple, cherry, teak, acacia wood, and redwood. Redwood is especially resilient if you plan to use your wooden bench as an outdoor bench, as it's more water-resistant than most other woods.
Once you've picked what type of wood you're going to make your bench out of, you'll need to go to the hardware store for 2" x 4"s.
How many 2″ x 4″s of lumber do you need to go from wood to bench?
According to the size dimensions in the tutorial provided here – it equates to about seven pieces of 2″ x 4″ x 8′ wood.
Other Materials Needed:
Sandpaper
Stain or paint*
Wood filler
2 ½-inch screws
*There are so many shades, so have fun! Choose a stain or paint intended for outdoor furniture if you plan to use your bench outside.
Discover: How to Store and Dispose of Paint (+ Other Hard to Manage Items)

---
Step-By-Step Guide to Build a Wood Bench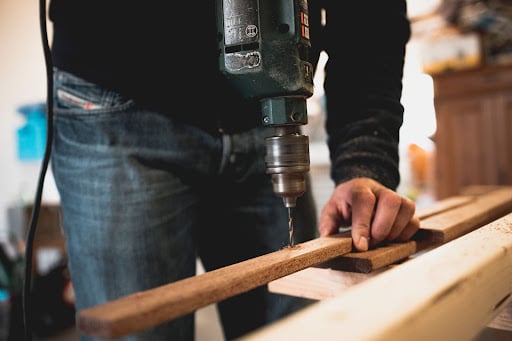 With your tools and materials gathered, it's time to start building!
1.  Measure and Cut the Wood
Your local hardware store may be willing to cut the wood to the specific dimensions you need.
If not, use your measuring tape and a saw to cut it all down to size.
Here are the lengths each of your pieces of wood need to be in order to build your bench:
Seat – six pieces of 2" x 4" lumber, each 69 inches long (you can shave a few inches off if you want a shorter length bench)
Legs – four pieces of 2" x 4" lumber, 17 inches long, and two pieces which are 10 ½ inches long
Blockings – six pieces of 2" x 4" lumber, 13 ½ inches long
If you've never done this before, measure each piece, marking the place you need to cut with a pencil or marker.
When it comes to sawing, if this is all new, you may want to opt for a handsaw. It takes a little more time and effort but is way less dangerous than wielding a powerful electric or battery-operated blade as a beginner.
If you have someone with experience that can help you saw, excellent! For this guide, we'll assume this is something you're figuring out independently, with no prior experience.
Once you've marked your wood, it's time to cut.
Sawing the Wood
You want the plank above ground, resting horizontally like a shelf across two sawhorses.
If you don't have sawhorses, the plank can rest across the seat of two chairs or two stacked cinder blocks on each side. (Note that the latter routes mean you'll kneel while sawing.)
Hold the saw with your dominant hand, and move it back and forth to saw the plank in half. Cut right where you've measured and marked the wood.
Use your other hand to hold the plank steady.
Once you have cut all your pieces, you are basically at the stage everyone is at when they get something from Ikea!
Well, you'll want to sand down any rough spots first. Plus, you still need to operate the screwdriver, but other than that, if you've ever assembled something from a flat-pack, you know what comes next.
2. Assembly
We hope you're on the edge of your seat because that's where we're starting.
Building the Legs and Seat 
You will secure the legs to the edge of your bench seat.
So, take a 69-inch (or however long you decide the seat will be) piece and two 17-inch pieces, one for each end.
Make sure the top parts of each leg lie flat at the top of the seat.
It is important to note that the wood you're using for the seat will be on its side; your seat will be slatted with gaps in between.
When assembled, the seat's wood will not lie flat. It will be standing up, like a credit card on its side.
Essentially, you're laying the 69-inch seat piece flat on the ground and then screwing the top of the 17-inch piece, also laying flat at each end. Make sure the tops and corners align.
Before screwing, drill a small pilot hole. You'll use a drill bit to make the pilot hole. You want to ensure the bit is slightly smaller in width than your screws — no need to drill deeply. The purpose of the pilot hole is to help the screw thread into the wood better and prevent the wood from splitting.
Check this article out for a more in-depth look at the basics of drilling.
Once your pilot hole is there, you can secure the pieces together using a screw. Make sure the bit you attach to your drill matches the head of your screw.
Now you have the beginnings of the seat, with the 17-inch wood legs on the same side of each end.
You're building it out; you've got the edge done. Let's add the rest.
You will attach another seat piece, 69-inch or (whatever size you chose) to the other side of the 17-inch leg.
On the other side of that, you are going to screw in the 13 ½-inch pieces. You want them to shadow their 17-inch counterparts, though they're obviously going to be shorter.
Ok, you're almost there!
Now, all you are going to do is take another seat piece and attach that to the 13 ½-inch piece. You'll repeat that until you've used all the 13 ½-inch pieces of wood, and you'll finish it off with a 17-inch leg and the last edge of your bench.
3. Finishing Touches
Now, you're going to screw in the 10 ½-inch piece to the bottom of the 13 ½-inch pieces, which are dangling in the air. You will also reinforce this piece by attaching it to the legs, using a screw through the outside of each leg.
The last step is adding a 16 ½-inch piece to each side of the bench.
If you're a visual person, check out these plans from myoutdoorplans.com, which illustrate the whole process.
4. Stain or Paint Your Bench
Before staining or painting, go over any rough spots with sandpaper and smooth over the screws with wood glue.
Once the wood glue dries, you can stain or paint your bench seat. If you choose to stain, you may need a few coats to get it dark brown. The same thing applies if you're painting it white or off-white.
You may also like: How to Get Replacement Parts From IKEA

---
Styling: Where to Put Your Handmade Wood Bench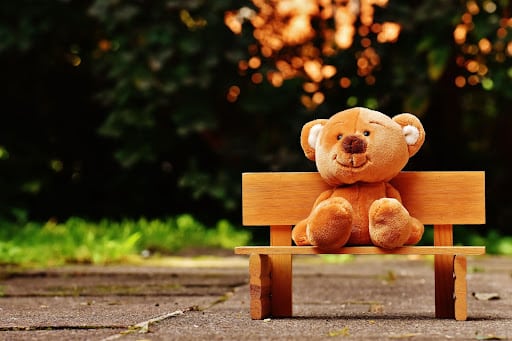 Your solid wood bench will fit right in no matter what your home décor aesthetic is. From modern farmhouse to mid-century modern, it can seamlessly complement your existing style.
Entryway Bench 
A wood entryway bench makes the space immediately feel put together and less messy. The accessibility to a piece of furniture when and where you need it most makes things much easier.
Entryway storage space is usually limited, and your bench can double as a shoe bench. Set your rubber boots underneath, or purchase a little metal shoe rack you can line shoes up on and store that underneath.
Another solution is to get baskets that fit snugly below your bench. Use them to house gloves, hats, shoes, a dog leash, all those little things that clutter up the space when they don't have a designated home.
A storage bench serves multiple purposes and looks great doing it.
Living Room
In the living room, your bench can be a coffee table. Use little trays to display small succulents and hold remotes and coasters.
Or use it to provide extra seating when needed. Push it against the wall as an "accent bench," styled with plants and a stack of coffee table books when not in use.
If you want to elevate the look, or have it match your existing furniture, get cushions made using similar upholstery as your couch or chairs.
Consider purchasing (or making) a rattan headboard – the kind used for beds – but instead of a bed, push your bench up against it. Add a leather bench cushion or some nice throw pillows, and it'll instantly look like a piece you splurged on.
Dining Room
A dining room bench gets a lot of use. If you're up for it, make two wood benches, and use both instead of chairs to seat people at the dining table.
If you have a big wood table, you can choose a stain to match (or opt for something totally different). There's no wrong way; enjoy being creative.
Dining benches work exceptionally well if you have kids. Children take up less space. Instead of plopping them on chairs built for adults, they can easily fit side by side on your handcrafted wood dining bench.
Bedroom
Similar to the entryway, using your creation as a bedroom bench gives you a convenient place to sit and store things underneath. A wood storage bench adds charm and versatility to the end of your bed and fits in well with most décor.
Outdoor Furniture
If your bench is part of your outdoor furniture setup, don't make just one.
Think about building other pieces using the same basic plan – just on a different scale. The possibilities are exciting! You can create an ottoman, a coffee table, a side table …
You can also mix and match with other outdoor furniture pieces. For instance, make the side tables out of wood if you already have a metal bench.
See also: Apartment Accessories For Balcony, Patio, and Porch

---
Upcycling Ideas for an Easier DIY Wood Bench
If making a wood bench from scratch seems a little daunting and full-on, you can upcycle one instead.
Making a reclaimed wood bench can be as easy as slapping on a coat of paint and then sanding it to get that rustic, farmhouse cottage feel.
Alternatively, you may like that live edge look. Find a sturdy piece of wood with a live edge and beautifully patterned grain just begging for some polyurethane and legs.
Unsure of what to use for the legs?
The legs could simply be two cinder blocks stacked on top of each other, one on each side.
Additionally, you could buy an inexpensive bench with a wood frame and paint or dress it up as you see fit.
Want more DIY? Check out our other projects:
DIY Log Ideas | DIY Neon Sign | DIY Stained Glass Paint | DIY Shower Shelves
---
Conclusion
You did it!
Take a moment to sit on your bench — after the paint is dry. Allow yourself to feel proud, especially if you've never completed a DIY project this ambitious before.
As you sit there, perhaps you'll start scanning the room, thinking about what other furniture you could potentially craft.
We can't wait to see what you'll accomplish next.