9 Ideas for Shower Shelves [4 Ways to DIY + 5 Product Recommendations]
If your shower is in desperate need of storage space, check out these ideas for shower shelves. You can DIY some or choose from a list of recommended products!
There's a big crash, but you don't dare open your eyes to see what fell because there's soap in them. You blindly fumble about, aware that there's a razor in your midst, but can't find what dropped.
Finally, you peek your right eye open. The regret is immediate — the sting of shampoo you were in the process of lathering when this all started is too much.
As warm water cascades over your eyes, you try not to trip on what you think is a loose shampoo bottle somewhere underfoot.
It's time, you think — time to install shower shelves.
This article has a ton of unique DIY inspiration for you. These ideas are easy to replicate and don't require a full-on remodel or crash course in being a contractor. In fact, no drilling or expensive tools are necessary!
We've also included pre-built shelf options you can get online for an even quicker solution.

---
Before You Build Shower Shelves
These considerations will help determine the amount of storage you need and the size to make your new shower shelves.
Do You Have Space for Shower Shelves?
Is your shower a small walk-in bathroom shower without a tub, one that only contains a narrow, shallow built-in soap holder?
Or is it a bath and shower combo with a large Kohler soaking tub?
Do you share the space with roommates or other household members?
Are you minimalist when it comes to products — sticking to the tried and true — or do you enjoy rotating through a variety?
Adhesion
Securing your shelf to the wall is easy. Especially if it's a tile shower, fiberglass, or another hard material you don't want to poke holes!
Here are a few of our faves:
1. Suction Cups
When you hear "suction cups," do you think of those rubbery circles that always end up yellowing, or getting covered in that peachy-colored scum?
Well, think again. These silver suction cups with hooks not only look fab, each holds up to 13 pounds.
They're removable, too, a bonus for renters.
2. Glue & Adhesives
You can use glue or other adhesives for smaller shelves. In fact, some of the ones you can get online come with a waterproof adhesive that you simply stick to the shower wall.
3. Hang Shelves from Above
Most shower ceilings are drywall, the same material as walls. This means you can suspend your shower shelf from above by attaching it to an eye hook you've secured to the ceiling.
If you choose this method, make sure not to overload your shelf with products; you want to be sure what you create can support the weight.
Now, let's move on to the shelves themselves.

---
Wood Shower Shelves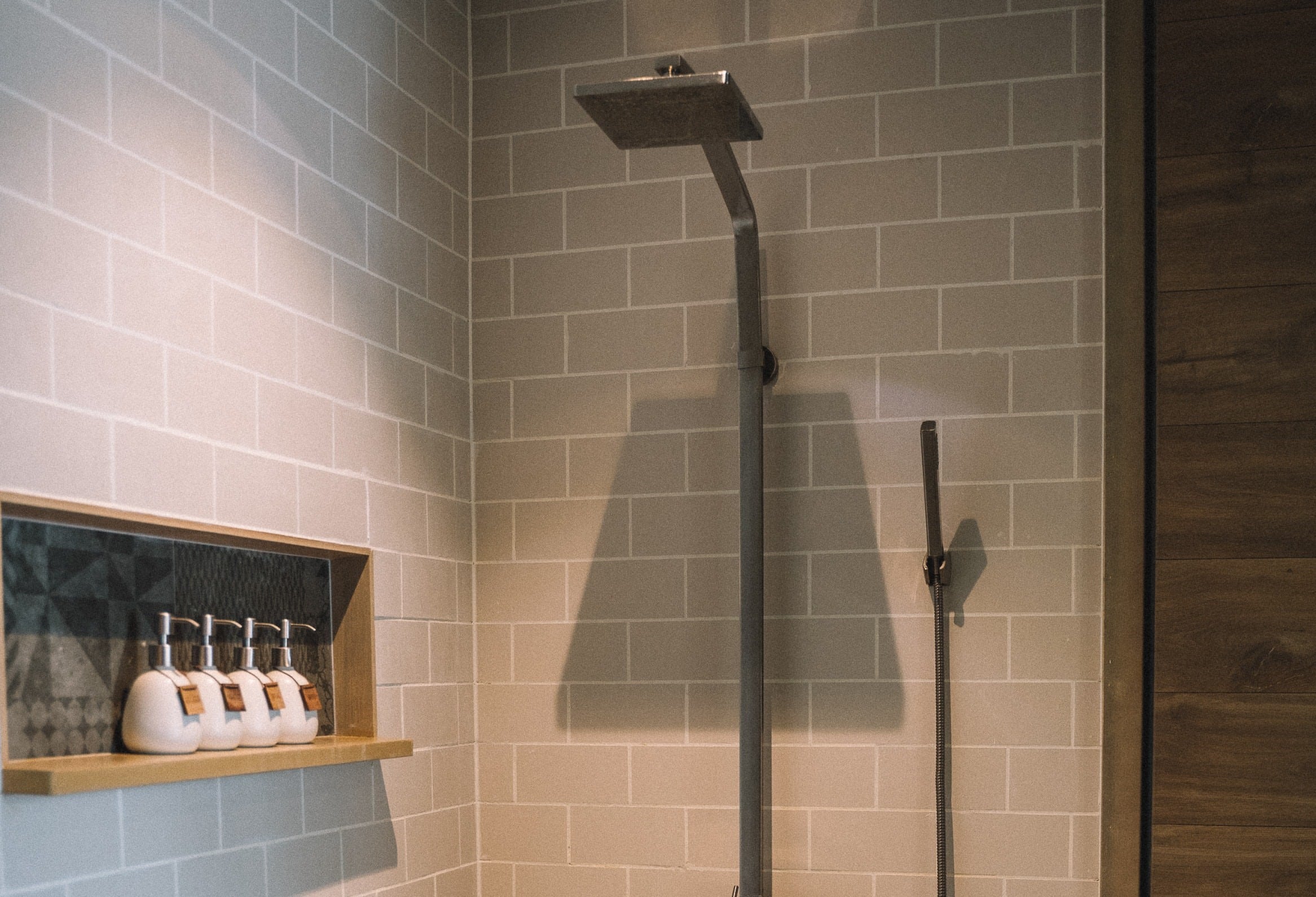 As long as it's sealed with polyurethane or varnish, wood is a lovely way to display body wash, conditioner, and other bathroom accessories. You can buy it at a local hardware store and is easy to work with no matter where you rank on the DIY home improvement scale.
Cedar is a popular choice, but any wood should be fine. Wood is simple, cheap, and aesthetically pleasing. Just don't choose unfinished wood as it might mold, rot, or split.
DIY Wood Shelves
We already mentioned suspended shelves, so let's start there.
For this, you'll need:
Wood boards (the size and width you want your shelves)
Sandpaper
Sealant
Paintbrush or rag to apply sealant
Eye-hooks (two large and eight smaller per shelf — bottom shelf only requires four)
Rope, wire, or other means of suspending shelves (must be durable enough to support shelf and product weight)
Step-by-Step Instructions:
Decide how many shelves you'd like. Then select the size, wood type, and finish.
Sand and finish wood.
Take eye hooks, and screw them into each corner of the wood. If you choose more than one shelf, ensure that the top and lower-tiered shelves have eye hooks on both sides — no need to put them on the bottom of the last shelf.
Screw larger eye hooks into the ceiling.
Connect your shelves to one another using wire, rope, or a thin rust-proof chain. Make sure that the length of whatever you choose is the same for each shelf you attach, so you aren't left with a crooked one. Securely tying each through the small eye hooks. The length between wood shelves can vary; it's totally up to you.
Secure the top to the ceiling, and voilà!
Razors and smaller item gathered into a little storage basket and displayed on the shelf next to your products (and maybe even a plant or two!) creates a luxurious spa-like feel.
Make sure to hang the shelves at an appropriate height and where they're unlikely to be bumped — away from the shower doors.
Discover: 11 Clever Bathroom Signs to Consider For Your Home (Plus 13 More We Love!)
---
Plastic Shower Shelves
Plastic and silicone shower shelves are an excellent option. They're lightweight, affordable, and super easy to clean.
There are multiple shower caddy and shower storage products made from plastic, just begging for you to add your creative touch.
You can also repurpose other plastic, items perhaps not even part of the "shower niche," into fun storage. Choose durable plastic to reduce the risk of cracking.
DIY Plastic Shelves
These small rectangular plastic storage containers with baskets make excellent caddy-like shelves for your products. Before starting, gauge how many you think you'll need to hold what you use.
If you like an eclectic mix of color and shape, cool! If you prefer matching-monochromatic, awesome!
Tip: Create the look of stainless steel by spray painting your baskets with spray paint designed for
multiple surfaces
. Satin nickel or even a matte black look sharp, too.
Once you have your baskets, sort your products into each accordingly. Then simply adhere them to the most convenient spot on your shower wall using suction cups with hooks.
Want more organization? Check out: Using the KonMari Method, Here are 7 Ways to Organize Your Interiors
---
Glass Shower Shelves
Glass is frequently incorporated into showers. Transparent shower walls or doors are a popular design choice; glass shelves can make a small space feel less cramped.
They're also visually appealing and easy to clean (though they require frequent cleaning!).
DIYing glass shelves is a big undertaking that we don't actually recommend.  If you like the idea of floating glass shelves, we've got some excellent easy-to-install ones under our store-bought shelves section.
DIY Glass Bottles for Shower Products
If you want to DIY something involving glass, here's a great way to incorporate it without compromising safety.
Take your products, and decant them into eight or 16-ounce Mason Jars.
Screw on lids with dispensers, and add labels, so you know what's what.
You can display these any way you'd like. However, since there's glass involved, test the durability of the surface you place them on first and make sure it's not slanted.
If you have a tub, here's one of the easiest ways to house your eye-catching glass jars that's both elegant and effortless.
Get a wood board about 12 inches wide and as long as your tub. Lay it across the tub so it becomes a single shelf. Then, display your glass jars of products on top of the board.
An artisan soap resting in a soap dish ties it nicely together.
As a bonus, when you're taking a bath, you have the perfect place to put your candles and Cabernet.
See also: 6 Bathroom Design Tactics
---
Metal Shower Shelves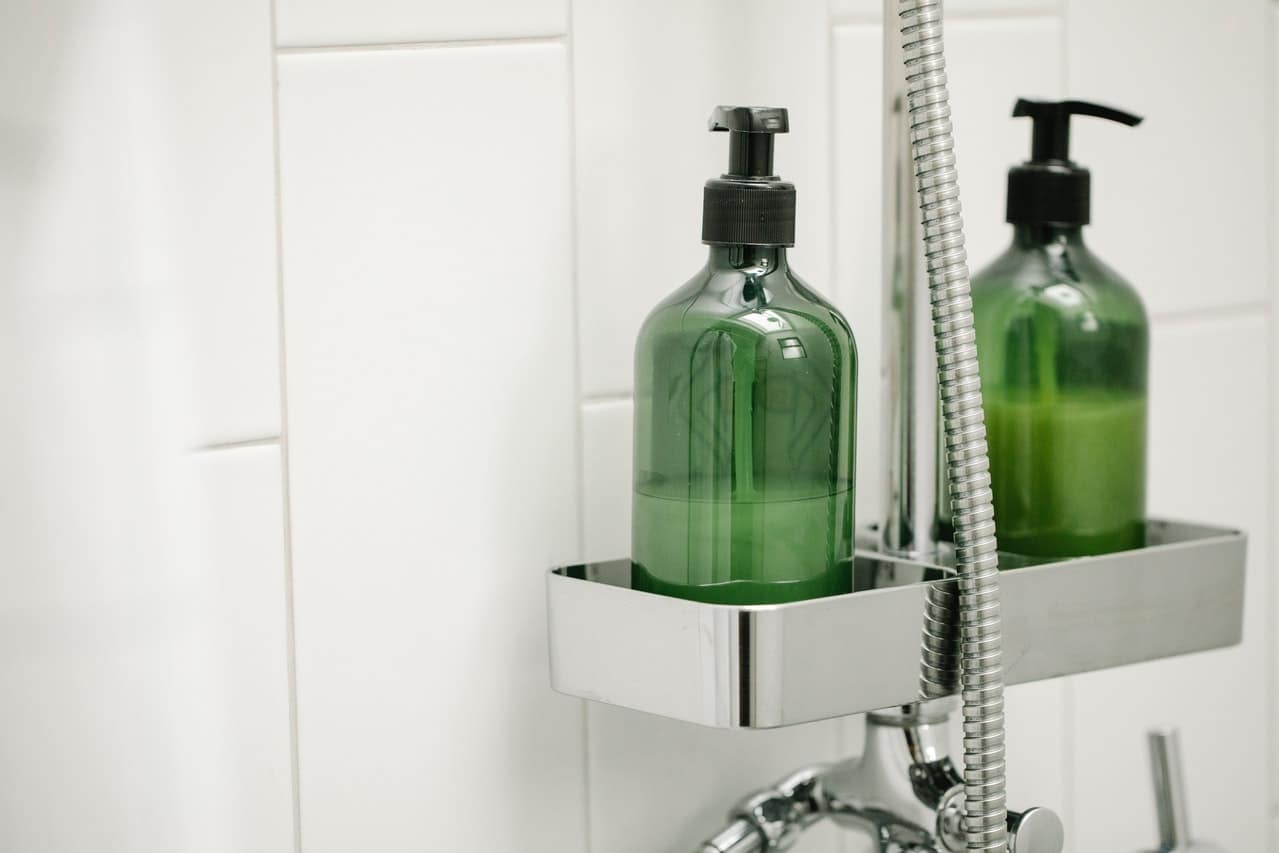 Metal (as long as it's rust-proof) is an excellent way of keeping your shower space neat and tidy.
Metal is both pleasing to the eye and adds a touch of sophistication, plus it's sanitary! DIY-ing a metal shelf from scratch will be a little more challenging as it's heavier than other materials — but you can do it!
DIY Metal Shelves
An easy way to DIY a metal shower organizer is to first buy stainless steel waterproof adhesive hooks. Then use the hooks to hang a metal (or wire) organizer you've turned into a shower basket.
Narrow rectangular shapes work best — your products will look so inviting nested inside them.
Since the baskets have sides, it's less likely things will fall out. Always a bonus.
---
Store-Bought Shower Shelf Options
If you're not up for a DIY, no problem! You can get shower shelves and racks inexpensively online and in colors to match all different types of home décor.
Here are some recommended products that come with little to no installation.
We've included options that suit many different spaces, so we've got you covered no matter what you're working with.
1. Tension Pole
Tension poles or pole caddies work exceptionally well in small spaces.
The tension created by a spring in the middle holds them in place — one end on the ceiling and the other on the shower floor or corner of the tub.
Put your less frequently used items toward the bottom, or group "like" items accordingly.
2. Freestanding Shelf
If you have the space for it, a freestanding shelf makes a perfect storage shelf that sits on your shower floor and keeps your products organized. These usually don't require any installation. They come in different sizes, so you can select the one that best suits your needs.
You can easily remove them whenever you want to give your shower a good scrubbing.
3. Shower Rack
An easy way to quickly get your shower in order, even in a small space, is to get a little shower rack designed to hang over the shower head.
A bonus to this solution: everything is always within reach.
4. Bathroom Corner Shelf
A corner shower caddy is an excellent option if you want the elegance of something wall-mounted.
They don't require drilling and come with a strong adhesive so you can stick them where you want. You can get as many as you need, depending on how much you wish to display.
5. Glass Shower Shelves
These clear glass shelves don't require any tools (i.e., no drilling!). They look like they do, though; they look expensive.
Your products will look luscious — and you'll get excited to use them whenever you see them lined up on your floating glass shelf.
Or get a glass corner shelf if you prefer!
Related: How to Use Floating Shelves to Decorate and Organize Your Apartment
---
Tips for a Shared Bathroom
It can be hard to figure out where your toiletries go when sharing a bathroom with others.
One way of mitigating this is to have each person get their own shower caddy.
It can be something you set on the floor, or if there's room, bring in a little plastic stool, or use a board across the bathtub to set it on.
When you're ready to shower, bring your caddy with you.
Afterward, store it on a shelf in your bathroom, under the sink if there's room, or in your bedroom.
That way, you don't have to worry about building something elaborate in order to accommodate everyone's products.
You may also like: Pros and Cons of Roommates (vs. Living Alone)
---
Conclusion
We hope you found these ideas helpful. Feel free to incorporate more than one, or mix and match as needed.
In some homes, the reality of built-in bathroom storage and the number of items that need storing aren't always aligned. With these tips, you can add to what's already there and have some fun by incorporating ideas that mesh with your unique decorating style.
Whether you DIY your way to more space, buy a brand-new storage rack, or perhaps both, your showers will be much more relaxing.
Having an organized and aesthetically pleasing place for your shampoos and conditioners is an easy way to add a touch of luxury to your life.