The 11 Best Hutches on the Market – What Makes Them Great
You might not have known what the word "hutch" meant for a long time, but you've seen one in action. This furniture trends with homeowners around the world because it's attractive and functional.
We all know that the kitchen is the catch-all in the house. It's the one room everyone in the family has in common, and it's used for so much more than just cooking.
It makes sense, then, that you're going to need some extra room in what's usually a crowded space.
A kitchen hutch is a perfect solution. It offers storage and display room, allowing you to showcase your favorite pieces and hide others.
These are more popular in kitchens and dining rooms where the furniture usually consists of a dining table and chairs, but storage is needed. When there's enough space for at least a small hutch, it transforms your room entirely.
China Cabinet or Hutch? What's the Difference?
The hutch is often mistaken for a China cabinet. They're similar, but not quite the same thing. China cabinets are one large display and storage piece, making them cumbersome and bulky.
Hutches, on the other hand, have a separate top and bottom half. The top is typically used for display, and the base comprises cabinets or drawers. Both can go in your kitchen or living room.
There are dozens of different types of hutches. Choose the one that's best for you according to your home and how you'll use it. They all store and display your things, but you can use them for so much beyond that.
When you're looking for furniture that compliments your lifestyle and looks attractive, too, check out these eleven top hutches!
---
1. Giantex Buffet Hutch Cabinet
The Giantex Buffet and Hutch is the must-have addition to your living space if you decide to invest in a superb piece of furniture. It's well-designed, made of engineered wood, real wood, glass, and iron.
Because it's sturdy and durable, it's a good investment. When you know you're going to keep the hutch for years and use it well, check out this piece.
Hutches are a stylish place to showcase your collectibles or fancy dishes. The Giantex has two transparent doors made of tempered glass for easy accessibility. Behind the doors are adjustable shelves, so you can choose how to maximize the display space best.
The sideboard area is spacious enough to hold a standard-size microwave, Keurig, and other kitchen appliances. Don't worry about unsightly wires. The plugs go through the hole in the back of the hutch.
This buffet is perfect for wine lovers with its nine bottle compartments. Utility drawers and a 380-pound load-bearing capacity round out its perks.
It's not only an attractive piece of furniture; it's a solid investment as a functional space-saver and organizer.
You may also like: Everything You NEED to Know about the Arctic Air Ultra
---
2. OS Home and Office Kitchen Buffet
If you want plenty of storage, but you only have a little room for a hutch, the OS Home and Office Kitchen Buffet may be your answer.
At 29 inches wide and 15.75 inches deep, this hutch fits in tight spaces. It's 70.25 inches tall, so there is still plenty of room for storage in rooms with a standard ceiling.
Another premium feature of the OS buffet is that it comes in a sleek black color. Black is popular with many of today's appliances, but it's not easy to find an attractive hutch to match.
The lightweight yet durable piece is easy to maneuver, an essential feature in a hutch for those who move a lot.
There is an open area that fits most standard-size appliances. The glass doors at the top of the hutch display your favorite dishes and collectibles. Spacious drawers and a closed cabinet along the bottom finalize the features.
For a lesser-priced, attractive, and slim hutch, the OS Buffet is the way to go.
Similar: The Newest Trend in Dinnerware: A Blue Rose Pottery Review
---
3. Loon Peak Dizon Kitchen Pantry
Their display shelves define hutches. But sometimes, you need more storage than showcase opportunities. A hutch that doubles as a pantry is the way to go if that's the case.
The Loon Peak Dizon Kitchen Pantry is the solution to your space-making needs. It's available in white, dark wood grain, and black for all home styles.
While it doesn't have the display features other hutches have, it makes up for that with its functionality and style. Made of engineered wood and reinforced with a strong backboard, this pantry will withstand busy family demands. It also has wall mounts for added security.
There's a large central drawer for your silverware and other accessories. The four spacious cabinets have adjustable internal shelves. The recessed doors close magnetically and open with antique brushed nickel hardware for an elegant look.
If you're in the market for a hutch that gives you storage and durability without a hefty price tag, the Loon Peak Kitchen Pantry is your go-to.
Also, be sure to check out Everything You Need to Know About Cast Iron Griddles for your kitchen needs!
---
4. Red Barrel Studio Spera Pantry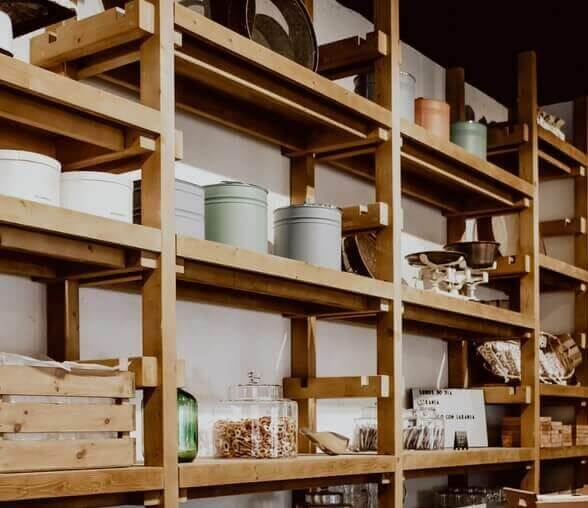 For a clean, streamlined hutch that keeps your display pieces behind glass, the Red Barrel Studio Spera Pantry is the optimal choice.
You get easy access counter space and closed cabinets in white or black, but everything is visible through the windowpane doors. Keeping everything organized is a cinch with this piece, and it boasts a happy, open style.
The spacious tabletop fits most standard appliances. Two cabinets are roomy enough for your glassware, dishes, and collectibles. Because it's sleek and functional, this hutch is versatile enough to go in any room.
Pads on the bottom of the hutch make it stable and protect your floors. The weight capacity is 176 pounds, and each adjustable shelf can hold up to 22 pounds.
It's a bigger hutch at 31.5 inches wide and 72 inches high, but the spacious interior means it more than makes up for the room it takes up!
---
5. Furniture of America Figg
One of the most popular interior design themes is rustic/country, yet, it's not always easy to find quality pieces that match. The Furniture of American Figg hutch slides right into this style with its gray color and barn door cabinets.
At a lightweight 82 pounds, the Figg hutch is easily moved around. Its durable, manufactured-wood design keeps it sturdy.
The farmhouse details are evident in the X-panel door and decorations on the sides. Rustic is the goal of the entire hutch, and you'll see it in the faux marble countertop and open shelves, too.
Hide your clutter inside the two-door bottom cabinet with interior shelves, and show off your favorites on the open top shelves. Standard-size appliances fit on the faux marble tabletop area.
The 64-inch height makes this hutch a good choice for lower ceilings. It's 31-inches wide and 15.25-inches deep, so you still have plenty of storage room. However, keep in mind that the load-bearing capacity is only 50 pounds.
---
6. Hodedah Kitchen Cabinet
Hutches can be pricey, but the Hodedah Kitchen Cabinet combines cost-effectiveness with functionality. It's a flashback to the retro style, with high legs and low, open shelving.
The attractive chocolate-gray piece has transparent cabinet doors at the top and a low-reaching shelf. Standard-size appliances fit in the open space.
Store your kitchen utensils, cloth, and other items in the large drawer. There is lots of space in the cabinet below for your pots and pans.
The Hodedah Kitchen Cabinet is 78 inches high, making it one of the list's tallest hutches. It's easy to put together, but at 100 pounds, it's not for those who want to move it around a lot.
See also: The Top 7 Best Over the Sink Dish Racks for Your Kitchen
---
7. A-America Port Townsend Buffet-Hutch
Solid wood material and excellent craftsmanship define the mid-century themed A-American Port Townsend Buffet-Hutch.
If you want lots of display shelves, surface area, and storage, this is your answer. At 160 pounds of high-quality New Zealand Pine, the hutch is going to last you a long time. It's undoubtedly a good investment for the price.
Brushed nickel hardware and a two-tone Seamist Pine Finish accessorize this hutch. It's a decorative piece of furniture that will get compliments from all your guests, and it's functional, too.
The two full-extension drawers are wholly finished and roomy. Two spacious cabinets below the drawers have adjustable shelving options. Three open shelves and the countertop give you all the room you need to display your favorite dishes and collectibles.
Besides using only high-quality material, the buffet goes through a kiln-dried hardwood process. This ensures the moisture content is uniform, which prevents any wood warping, splitting, or cracking. If your area experiences climate change or a lot of humidity, you know that this is a critical feature in your wood furniture.
For a substantial investment on a buffet that's going to last, this china hutch is a smart option.
---
8. Convenience Concepts Designs2Go Office / Kitchen Storage Desk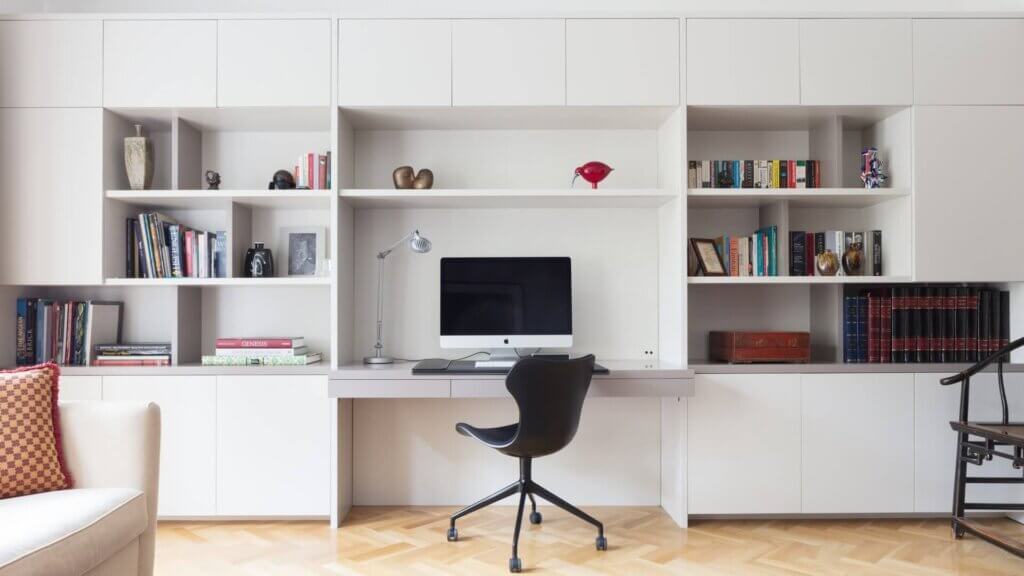 It might sound impossible to find a small hutch that is also inexpensive and cute, but this does all three.
The Convenience Concepts Designs 2 Go Office/Kitchen Storage Desk in Sea Foam is perfect for rooms with limited square footage. It's lightweight, easily maneuverable, sturdy, and just the right height for a desk chair.
Two open shelves give you room for small kitchen appliances. The large drawer offers plenty of room to hide your clutter or organize kitchen utensils and towels.
The top of the hutch is perfect for office supplies and books, or it can hold collectibles and dishes.
When space is at a premium and price is a factor, this small storage desk/hutch will solve your dilemma!
---
9. Chelsea Jamel Cafe Kitchen Pantry
Looking for something elegant that will last you for years? Look no further than Chelsea brands.
Chelsea furniture has made its name as one of the top in the business for classy, well-made pieces. The Jamel Cafe Kitchen Pantry keeps the name going with its upscale, artisan-designed hutch.
The pantry is hand-crafted by Amish artisans of eastern white pine with a cherry top finish. Only the best materials are used in the design process, like mortise-and-tenon joints.
Choose from a variety of stains to match your decor in this seven-door masterpiece. Plenty of storage is behind these closed doors. And the open shelves give you room for all your kitchen appliances and favorite pieces. You can even fit a small fridge!
With so much room in one place, the Chelsea Jamel Cafe piece is everything you need, including a bookcase, too.
This hutch will last with its top-of-the-line materials, so you know your investment is a smart one.
---
10. Tribesigns Bakers Rack with Hutch
The Tribesigns Bakers Rack with Hutch is wide open storage in a rustic style. It's attractive while also focusing on practical functionality.
Multiple shelves give you plenty of room to house your appliances as well as your display items.
If you need a lot of counter space for cooking or other activities, this hutch is ideal. The workstation shelf gives you all the open areas you could need. Four additional shelves offer plenty of storage space.
The metal frame keeps the furniture durable, and the E1 grade MDF board makes it waterproof and smooth. It matches just about any decor and is a stylish addition to your kitchen and dining room.
---
11. Gracie Oaks Darin Lodge Pantry
The Gracie Oaks Darin Lodge Pantry is one of the rare furniture styles that looks good in any setting. Classic and rustic combine in this impressive kitchen hutch.
Made of solid poplar wood and accented with hardwood veneer with engineered lumber, it's a piece of furniture built to last. The X-frame design has inset wainscot paneling for a rustic casual finish.
Tempered glass doors display your collectibles and dishware on adjustable shelves. More adjustable shelving is within the closed lower doors of the storage cabinet.
Finished with antique nickel hardware, the entire piece combines classic and rustic styles to enhance any decor theme. But at over 156 pounds, the Darin Lodge Pantry is best for homes that don't see a lot of furniture movement.
Related: Using the KonMari Method, Here are 7 Ways to Organize Your Interiors
---
Conclusion
When people look for furniture to fill their homes, the hutch is an oft-overlooked necessity. Once you realize the benefits of this space-saving storage piece, though, you'll never want to be without one again.
In this list of the 11 best hutches available, you'll find the hutch that fits your needs. If it's not here, you'll figure out what features you want to have in your perfectly designed one later!