Everything You Need to Know About Cast Iron Griddles
Chances are, someone in your family swears by their cast iron griddle as the best kitchen accessory ever made. And most likely, your ancestor's ancestor's ancestor was a cast iron griddle aficionado.
There's a good reason why these pans are so popular. They use a unique cooking process that tends to turn out the most flavorful dishes you've ever tasted (or cooked).
Using and maintaining a cast iron griddle can be intimidating, though. If you don't know what you're doing, it's easy to accidentally take the magic away from your pot.
Never fear!
This article has you covered with everything from "why cast iron griddles are the best cooking tool ever" to how to maintain them.
We'll also give you our top picks of the best griddles out there — in case you don't have your own already or want to upgrade.
Ready to start your adventure into the world of cast iron cooking?
Here's everything you need to know to get started and learn the magic you need to keep the griddle in shape for your descendants, too!

---
The (Non) Magical Origins of Cast Iron Griddles
As much your family's cast iron pot might look like it's been around forever, archeological digs show otherwise. The first cast iron artifacts didn't appear until the early 5th century BC, when they were found in the Jiangsu province of China.
Alas, they weren't used as skillets and griddles quite yet. During that period, cast iron was a material honed for tools and basic weaponry.
Over time, the effectiveness of cast iron turned it into a material so crucial that word made it all the way across two continents.
It took a while, but cast iron was a valuable commodity in Western Europe by the 14th century AD (nearly 2,000 years later). Since it was easy to shape into artillery, the war-torn continent used it for weaponry.
Cast Iron Moves Off the Battlefield and Into the Home
Around the 1700s, Europe stopped focusing as much on destruction and turned its attention to construction. Instead of weaponry, cast iron was a tool for bridges, buildings, and …
Cooking!
In 1707, cast iron finally revolutionized the kitchen accessory industry.
We Owe it All to an Englishman
In England, Abraham Darby realized he could turn cast iron into cookware. The material was easily accessible, and the pots and kettles were thin and easy to use.
Remember, they were using bulky cooking pots made out of pottery. So, where we see cast iron pots as heavy, to them, they were lightweight and incredible.
Characterized by three feet on the base and a lid with a handle, cast iron cookware took the place of cumbersome Dutch ovens and oversized pottery.
From there, the evolution of cast iron griddles caught on like wildfire.
Moving into a new place? Check out: The 53 Kitchen Essentials for Your Brand New Apartment
---
How the Cast Iron Griddle Works
A general griddle is any type of flat surface you can use to cook on.
Most of the time, the griddle goes over the stovetop. But there are stand-alone griddles you can use on the countertop or for an outdoor BBQ if you have an extension cord.
Standard griddles come in multiple materials, including your typical stainless steel, ceramic, and non-stick aluminum. And then there is the coveted line of cast iron products.
Why Cast Iron Griddles Aren't Your Ordinary Cooking Accessory
Cast iron griddles stand out from the competition because they offer double the cooking surface area of a regular skillet or pan.
They come in four-sided or round shapes with shallow edges. This design makes them ideal for quickly flipping foods that have to cook on both sides.
Depending on the kind you want, you can nab an inexpensive griddle for under $20. Although, you will see the high-end reversible cast iron griddles selling for close to $500. (Scoff now, but when you get used to cooking with yours, you'll think about adding one of the fancier versions to your Christmas list.)
When you use a high-quality cast iron griddle, you'll notice that your food cooks evenly, with no cold spots or uneven coloring.
And you can use the griddle with extremely high heat. This makes it the perfect way to sear your meat or sauté some veggies.
Food Tastes Better, Too
No, it's not your imagination. That meal you ate cooked in a cast-iron pot did taste better than usual.
This happens for two main reasons. First, the extra heat and even temperatures help the flavors of the food naturally infuse more intensely.
Secondly, cast iron appliances become "seasoned," which is why you'll hear people arguing about how to wash their griddles and pans.
Seasoning means that the oil used to cook your food eventually becomes baked onto the griddle. This process, polymerization, is what gives the griddle that bumpy, porous look.
It's supposed to happen, and you want to keep it (but still keep your griddle clean enough to cook on, too). This seasoning gives your food extra flavor and prevents the griddle from rusting.
The process will happen over time as the cast iron heats and cools, but you can pre-season your griddle, too.
Similar: How to Build a Victory Patio Garden
---
What to Look for in Your Griddle
Investing in a well-made cast iron griddle is always money well spent. You'll never have to replace it, and it could become part of your family's inheritance.
If you can find an antique cast iron griddle, it's one of the rare occasions where old, used items are better than brand new ones. However, modern-day varieties won't disappoint, either.
Why Antique is Better
Antique griddles tend to be lighter and less bumpy, making them easier to work with. But be cautious about just how old your used cast iron is.
Older griddles can warp or bow in the middle. If it isn't completely flat and stable on an even surface, or if there is any cracking, pitting, or severe rust, don't buy it.
If it's in good shape, run — don't walk — to the checkout aisle. You just hit the cookware jackpot.
What to Look for in a Modern Cast Iron Griddle
Today's cast iron cooking appliances combine the material's benefits with comfort and style.
Any cast iron griddle will be heavy-duty and do the job, but these features will improve the results:
Cookware size matters, so if you'll be cooking for a lot of people, get a griddle that covers multiple burners (otherwise, a big griddle isn't necessary)
Look for easy-grip handles to make moving the heavy griddle less difficult
Rougher surfaces are better for food that needs to retain heat after cooking
Pre-seasoned griddles are a must-have if you want to start using yours for non-stick foods right away
Electric griddles are in a category of their own. These function as stand-alone appliances. They work well for people who cook big meals and need more of a cooktop surface or anyone who likes to spend time outdoors.
You might not fall into either of those categories, but an electric griddle has a lot of other advantages.
While a cast iron skillet on a stove burner conducts heat evenly, an electric griddle works even better. And you can use it anywhere you go, even in your living room.
After cooking the best meal of your life, now all that's left is to set the table! Discover: 7 Table Decorations to Create the Perfect Dining Arrangement
---
Our Top Cast Iron Griddle Choices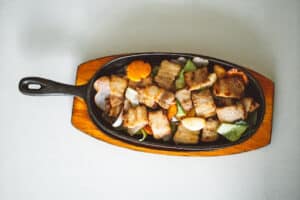 Before you head to the department store or Amazon to find your next cast iron griddle, check out our choices and the customer reviews that go with them.
Each one has its own little nuances that make it impressive. You can't go wrong with any of them, but you might find a favorite in this list of best cast iron griddles.
Lodge Pre-Seasoned Cast Iron Reversible Grill/Griddle
Lodge is one of the top names in cast iron kitchenware manufacturing. High-quality and affordable, any cast iron accessory you get will be an excellent addition to your home.
The pre-seasoned griddle is our favorite because it works for just about any meal type. The cast iron square fits over two burners on your stovetop and includes dual handles for better heat distribution.
The griddle comes pre-seasoned with 100% natural vegetable oil, so there's no need to wait for that tasty flavor or non-stick surface. Use it for your next grilled or baked dish for a healthy and delicious meal.
Crucible Cast Iron Griddle
The 20" x 10" Crucible cast iron griddle fits over two burners and comes pre-seasoned with 100% vegetable oil.
It's a little more expensive than the Lodge, but it also functions as a reversible grill. One side is flat for your griddle needs, and the other side has ribbing for perfect inside barbecue-style cooking.
As a bonus, the purchase comes with a cast iron e-book sent via email. Dozens of the top recipes to cook with your new griddle are at your fingertips instantly!
HeroFiber Cast Iron Griddle
Looking for a griddle with all the trimmings?
This HeroFiber cookware comes with a high-quality griddle, reversible grill, and two pan scrapers to clean up the mess. You'll also get a grill press to help create more evenly shaped food.
Sear your fajita toppings, grill some steaks, and do so much more with one appliance. It fits over two burners or slides easily over a campfire.
Everything is healthier on a cast iron griddle!
Backcountry Cast Iron Skillet Large Reversible Grill/Griddle
This cast iron grill pan is restaurant quality to give you deliciously flavored meals every time.
The Backcountry skillet is also a griddle. The two-in-one reversible appliance comes pre-seasoned and ready to use on the ribbed and smooth side. Cook your steak as easily as a grilled cheese!
It fits over two burners on the stove, and the cast iron pan works well over the campfire, too.
Cuisinart CCP-1000, Pre-Seasoned Cast Iron Griddle Pan
For a smaller cooking surface and deeper dish, the Cuisinart griddle pan is your go-to. The cooking surface is ten inches to fit in tighter spaces, and the deep sides increase heat retention.
The pre-seasoned pan is already non-stick and waiting for you to start using it. Because it doubles as a pan and a griddle, it works better when you're cooking thicker items or using more oil (or water) as your base.
What About Enameled Cast Iron?
While you're shopping, you're going to run into some enameled cast iron griddles. These aren't a bad option, but some key differences make plain cast iron better.
Enameled versions have more versatility, like Dutch oven and braisers, and lots of pretty colors! However, the enameling that makes them look "pretty" also cracks and chips. They don't last as long as the plain cast iron appliances, and they aren't safe for camping.
One more thing:
Using cast iron gives you a little extra boost of iron in your diet. It's a mineral our bodies need to function properly. You don't get that iron infusion when you cook with enameled cast iron.
Related: Our Breakdown of the 15 Best Cuisinart Products on the Market
---
How to Maintain Your Griddle
Isn't it amazing that with a cast iron product, the more you use it, the better it gets?
That's why antique appliances are so in-demand.
Still, we don't all have a cast iron griddle from our great-greats to fight over in the family. So, you have to find your own and maintain it for future generations to use, too.
It's not difficult to do, and it can be even easier than cleaning up after regular griddle cooking. Here's what you need to know.
Seasoning the Griddle
When it comes to cast iron griddles, "seasoning" is also called curing. It's the necessary part of making the surface non-stick and adding flavor.
If your piece isn't pre-seasoned, or the one you have needs some re-seasoning, all you need is some vegetable oil. (Shortening works, too.)
First, heat your oven to 300 degrees Fahrenheit. Then, spread the vegetable oil over the inside and outside of the griddle, including the pan and any other cast iron areas.
Finally, bake the cookware for one hour. Remove it from the oven and wipe off any leftover oil. That's it!
Cleaning Cast Iron
The only tricky part about cast iron appliances is finding the fine line between keeping the seasoning and cleaning the surface.
It takes a little extra TLC, but the end result is worth it!
First, use hot water to wash off the griddle as soon as you finish cooking. Hot water should be all you need to clean it. You can use soap, although it's not the "thing to do" for die-hard users.
Whichever way you clean, never scrub too hard. The goal is to get rid of the food, not the seasoning bumps. Don't submerge your griddle in water; just rinse and dry it quickly. Remember, it's iron, so it can rust.
Towel dry the griddle, then place it on a burner on low heat to remove excess moisture. You can even add a little oil and heat it for an extra couple of minutes to refresh the seasoning.
Stick a paper towel on the griddle's surface to catch cupboard moisture, and that's it!
See also: Best Soap Dispensers for 2022
---
Conclusion
You know the history, the best griddles to buy, and what to look for in cast iron products. You even know how to season and clean your new appliance.
So now that you're a member of the cast iron cookware groupies, which one are you going to buy next?
Subscribe to The Home Blog for further recommendations, decor ideas, organizational tips, moving advice, and more!