Moving into a new home? Congratulations!
Most people tend to focus on furniture and decor; wrangling together essential kitchen tools isn't high on their list of priorities.
You see the problem with this, right?
What if you don't realize you're missing a crucial kitchen item until halfway through cooking a new recipe? It's time to open a can of stewed tomatoes and … uh-oh!
You don't own a can opener.
We've compiled a comprehensive "58 kitchen essentials" list to save you from this scenario. It has everything you need to include in your first apartment.
Use this as a convenient one-stop kitchen equipment-related shopping list. Then, when you're inspired to make something fresh and delicious, you'll have exactly what you need to bring it to life.
Key Takeaways:   It's all too easy to overlook important kitchenware when you're moving into a brand new place.
Solution: Our checklist of essentials makes it a cinch to ensure you have everything you need before you need it!
---
Kitchen Essentials for Food Prep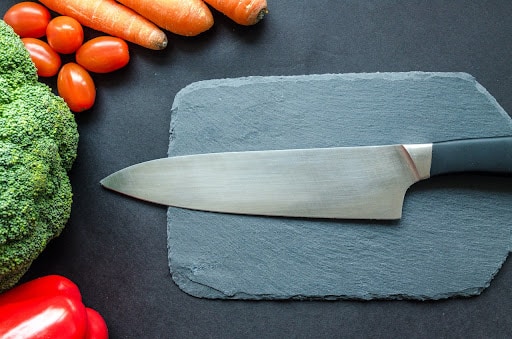 What came first, the chef or the kitchen essentials?
Hard to say for sure! But we do know it's easier to become a chef — or at least cook a meal that has your guests asking for seconds and undoing top buttons — when you have the right tools.
If you've never been much of a home cook, don't worry. We cover all the necessary kitchen gadgets for your new kitchen.
You'll need the following:
1. Measuring Utensils
Yes, even those of you who swear by "eyeballing."
Like salt, measuring cups and measuring spoons are kitchen staples for a reason — it's impossible to follow a recipe without them.
Sticking a measurement conversion chart on the fridge is a helpful way to double or half recipes without constantly looking things up on your phone (with potentially dirty hands!).
If you really want to elevate your kitchen game, consider investing in a kitchen scale, too (they're always handy but not a necessity).
2. Cutting Board
Cutting things directly on the countertop surface is an obvious no-no. You'll ruin both countertops and knives. Plus, cutting boards make it easy to lift and deposit your freshly diced onions into a sizzling pan of olive oil.
Wooden cutting boards are more aesthetically pleasing and keep knives sharper longer, but plastic ones work well too.
3. Vegetable Peeler
Unless you're an expert whittler — an artist with a paring knife — investing in a vegetable peeler is worth it. It makes peeling potatoes, carrots, and kiwis a cinch.
4. Grater/Zester
Excellent for dusting your pasta with parmesan or zesting a lime for a scratch-made dressing. Our favorite graters are the box-style ones that stand up on their own.
5. Chef's Knife
There's nothing worse — or more dangerous — than trying to slice through a watermelon, chicken, or other large item with a dull knife.
Dull blades require more pressure, which means any slip has the potential to inflict a lot of damage.
Your knife set should include a few high-quality knives, including a serrated knife. Sharpen knives regularly.
6. Mixing Bowls
Stainless steel is an excellent and durable option, though Pyrex mixing bowls are great too. Plus, they're pretty enough to use to serve salad or slices of warm garlic butter parmesan crostini.
7. Lemon Squeezer
Get the biggest bang (or tang!) for your buck with a lemon squeezer. There are different ones to choose from, such as handheld, stainless steel, or heavyweight glass, and they work on other citrus fruits, too!
8. Garlic Press 
Garlic is delicious, but slicing and dicing it can be a frustrating sticky chore. A garlic press eliminates trying to pick out that pesky garlic skin that always manages to sneak into the pile of freshly diced garlic.
9. Mandoline
Thinly sliced carrots, cucumbers, onions, and radishes are a more delicious and pleasing addition to salad than thick, crudely chopped veggies.
A Mandoline slicer is how that's achieved. Just be extra careful; the blade is sharp!
10. Salad Spinner
A salad spinner takes you from freshly rinsed romaine to a crisp, delicious Caesar in minutes.
Also, be sure to check out Everything You Need to Know About Cast Iron Griddles for your new kitchen!
---
Cooking Essentials for the Kitchen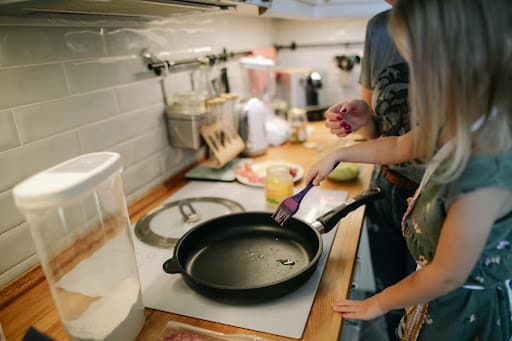 Follow this list of kitchen essentials, and you'll have everything you need to whip up whatever recipe tickles your fancy.
11. Cookware
Pots and frying pans are a must. Rather than purchase each individually, Amazon lets you get matching sets, saving you time and money. This set of ultra-nonstick ceramic-coated pots and pans covers all your bases.
Happily sauté mushrooms and garlic, knowing clean-up will be a breeze in your new nonstick pan!
12. Stock Pot
A stock pot is perfect for soups and stews or cooking up a big batch of tomato sauce from scratch.
Alternatively, you can opt for the shorter cousin of the stock pot, a Dutch oven. This six-quart Dutch oven is heavy-duty cast iron and available in a rainbow of colors.
13. Bakeware
From bread to pizza, baking is so easy a child can do it. In fact, kids do it all the time.
This bakeware set includes a:
Baking sheet
Casserole dish
Muffin tin
Sheet pan
Baking dish
It's your ticket to cookies, egg bites, lasagna, and more.
14. Rolling Pin
If you'd rather not use a wine bottle, a wooden rolling pin will help you ace that crispy, delicious pizza crust.
15.  Cooking Utensils
Rather than purchase tongs, whisk, silicone spatula, slotted spoon, and ladle — all individually — why not buy a set?
This set of silicone cooking utensils comes with a matching holder to conveniently store them all within easy reach.
Silicone is excellent for most kitchen tasks, but consider rounding out your kitchen utensils with a reliable wooden spoon as well.
Besides, you can pick up these basics for less than $2.00 apiece.
16. Oven Mitts 
A good set of oven mitts is a must.
This durable set of heat-resistant silicone oven mitts also comes with pot holders. Set hot pans on top of them to prevent damaging the countertops — saving your security deposit!
17. Strainer/Colander
A strainer is a must-have for draining pasta and rice.
18. Meat Thermometer
Achieving a perfectly roasted chicken is a delicate balance. You don't want it to dry out, and you definitely don't want to accidentally get you or your guests sick by undercooking the meat. A meat thermometer lets you know the temperature so you can cook it to perfection.
19. Aluminum Foil
From cooking to preserving food and keeping it fresh, aluminum foil is a versatile necessity for every kitchen.
20. Parchment Paper
Parchment paper keeps things from sticking, saving you from a whole lot of scrubbing.
21. Splatter Screen
For those who live for the sound of sizzling bacon on a Sunday morning, a splatter screen keeps grease where it belongs — in the frying pan.
---
Essentials for Enjoying Your Food
Dishware comes in all sorts of colors and designs; best of all, it's what you use to enjoy your culinary creations.
Let's dig in.
22. Dishware
There are a ton of plates and bowls to choose from. Basic kitchen dishware traditionally involves two different sizes of plates and one size for bowls.
It's a good idea to have at least four to six of each, depending on the size of your family, your friend group … and how frequently you drop things.
23. Cutlery
This silverware set covers all your bases. It's durable yet affordable.
24. Glasses
A good rule of thumb is to get the same number of glasses as you do dishware, plus an extra or two in case one breaks.
If you're into mixing fancy drinks or love to pair the perfect bottle of wine with dinner, you may want to branch out and get glasses that match the occasion.
25. Coffee Mugs
If you require coffee daily, like 74% of the rest of the USA, you'll need coffee mugs and maybe even a thermos.
These extra tall mugs are perfect for a piping hot cup of coffee, tea, or hot chocolate.
26. Serving Platter
Moment of truth:
When have you not been delighted and impressed when someone presented you with a platter of artfully arranged cubes of cheese, crackers, grapes, and salami? Never, right?
Serving platters are also handy for carrying meals out onto the patio and, on special occasions, even the bedroom.
27. Serving Utensils 
This set of serving utensils covers salad to pie.
28. Bottle Opener and Corkscrew
You can buy each individually or get a bottle opener and corkscrew in one.
See also: Plants to Decorate Kitchen Cabinet Tops
---
Kitchen Storage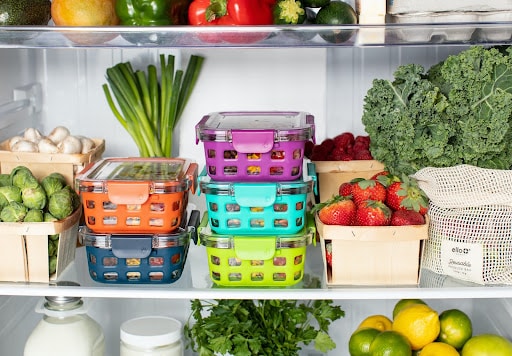 Of course, what good is having all these things if you can't find them?
Organizing your kitchen so you know exactly where things are, and storing them in a way that makes sense, is key.
29. Food Storage Containers
Storing your leftovers in clear plastic containers lets you see what you have, and bonus — you can also use the containers for meal prep to bring to work. This set of dishwasher-safe Rubbermaid containers has you (and, more importantly, your food!) covered.
30. Reusable Storage Bags
Save money and the environment with these reusable, washable zip-top bags. They're perfect for packing baby carrots or potato chips to snack on at work.
31. Chip Clips
Maintain freshness and eliminate spills with chip clips.
32. Plastic Wrap
Delicious as it may be, it's hard to eat a whole watermelon in one sitting. Plastic wrap is handy in moments like these, keeping things neat and fresh.
33. Ice Cube Trays
If your freezer doesn't come with them, don't forget to snag a couple of ice cube trays.
Did you know you can also use them to preserve fresh herbs and homemade pesto?
34. Silverware Organizer
This handy silverware organizer will keep your silverware where it belongs and is easy to wash.
35. Paper Towel Holder
Some apartments have paper towel holders built in. If yours doesn't, give your towels a designated home.
---
Kitchen Appliances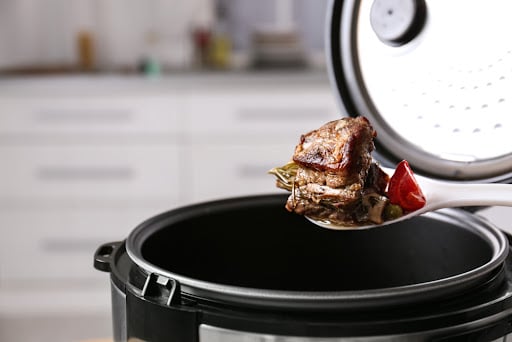 Here's where you get to show off.
Kitchen appliances are an excellent way to elevate your meals without requiring much skill or effort.
36. Can Opener
You can opt for the hand crank kind or an electric can opener. No matter which you choose, you need one.
37. Coffee Maker
Chances are, if you've been drinking coffee for a while, you've already mastered the craft.
If you haven't, rest assured. There are a ton of coffee makers on the market, and finding the perfect one to add a little extra pep to your day should be easy.
38. Kettle
An electric kettle beats heating water in a pan on your stovetop and saves you from accidentally scalding yourself in the process.
39. Toaster
A toaster is perfect for warming bagels, pop tarts, and of course, regular sliced bread. A toaster oven does that, plus more! Use it instead of a microwave to heat meals (it gets cheese crisped to perfection), roast veggies, and more.
If you're pressed for space, skip the toaster and get the toaster oven instead, as it essentially does it all.
40. Air Fryer
This gadget has taken kitchens all over the world by storm. Unlike some appliances that end up just gathering dust (we're looking at you, juicers!), air fryers are getting a ton of … air time, shall we say?
We think it's because they're easy to use, and the result is delicious.
41. Blender 
Perfect for smoothies or soups, you can also use your blender for Saturday night margaritas. If you're into blending things on a larger scale, consider an immersion blender, though we don't recommend it for margaritas.
42. Food Processor
With multiple blades more powerful than a blender, food processors also shred and slice.
This Cuisinart food processor is both powerful and affordable.
43. Instant Pot
Another new arrival in modern-day kitchens, the Instant Pot (or "insta" pot), has all but demoted old-fashioned pressure cookers.
Instant Pot meals are simple; just put the ingredients in the pot, set the timer, wait for a half-hour or so, and enjoy.
44. Stand Mixer
Love (or want) to bake?
This KitchenAid stand mixer is a must-have.
 Discover: The 15 Best Cuisinart Kitchen Products
---
Cleaning Essentials for the Kitchen
Cleaning is less of a chore when you have the right supplies, but it's also not as exciting as the other categories, so we'll be brief:
45. Trash Can
This trash can may hold your refuse, but it sure doesn't look trashy.
46. Recycling Bin
A designated recycling bin makes it easier to do the right thing.
47. Trash Bags
Don't forget to stock up on durable trash bags!
48. Paper Towels
Paper towels: the unsung hero of every kitchen.
49. Clorox Bleach Wipes
Bleach wipes are perfect for spot cleaning and disinfecting.
50. Sponges
Get sponges for both dishes and cleaning. Just be sure you know which is which, and switch out regularly.
51. Dish Soap
Dish soap (and dishwasher detergent, if you have one) are essential.
52. Dish Towels
Use these multipurpose dish towels for more than just drying dishes and hands.
53. Dish Drying Rack
If you don't have a dishwasher, a quality dish rack will help your dishes dry faster and keep your freshly washed dishes from tumbling to the floor.
54. Cleaning Solution
Multipurpose cleaners are the way to go.
55. Cleaning Rags
These microfiber cleaning rags are excellent for cleaning out the fridge and attending to other wet messes.
56. Broom
A broom is the best way to get into any nooks and crannies to clean your kitchen floor.
57. Dustpan
You can use this dustpan without having to stoop over. Your back will thank you!
58. Swiffer
The Swiffer Wet Jet is a fun alternative to busting out an old-school mop and bucket of suds.
This just in:  Best Hand Soap Dispensers for 2023
---
Conclusion
Whether this is your very first kitchen or you just want to move with all new stuff, you'll be set with the kitchen items above.
Cooking, cleaning, and even eating are all a breeze when you have the things you need within your reach. No spur-of-the-moment substitutions required.
This list of kitchen essentials will meet all your needs as you prepare for your first dinner party or cook a tasty meal all for yourself. (Just don't forget to stock up on spices, condiments, and food!)
P.S. Considering a kitchen remodel? Let us connect you to a reputable contractor in your area.





(2 votes, average: 5.00 out of 5)


Loading...