Moving into your first apartment is an exciting milestone. Depending on where you're coming from, you will be experiencing true freedom and independence for the first time.
Or, if you're downsizing from a bigger home, you'll have less cleaning stress and more free time to relax and live your best life.
Whether you're a college grad out on your own, a current student, downsizing, or moving out for the first time ever, you may be overwhelmed with the process.
Trying to decide what's a necessity in your new apartment and what's a waste of premium space isn't always simple!
You'll want a smoke detector, your toiletries, and electronics — those are a given. But let's focus on the absolute must-haves you might have forgotten.
Use this first apartment checklist to ensure you bring the 15 most essential items to your new place.
---
1. Bedding Essentials for Your First Apartment
After the stress of changing your address, packing, and then the physical move — you're going to be tired.
Your mattress, comforter, and bed linens are the first things you need to unpack. You may be too worn out after the move to do anything else.
Mattress
The mattress is the most-used piece of furniture in the house for the majority of us. Still, not everyone puts the time, effort, and money into ensuring it's the right type for their body.
If you don't already have one, choose wisely. Not all mattresses are created equal.
The wrong firmness can cause sleeping disorders if your body isn't comfortable while you're resting. It can also create or worsen physical conditions like back, hip, shoulder, neck, and knee pain. And if you have dust and dander allergies, regular mattresses that collect these allergens may increase your symptoms.
Consider hypoallergenic bedding and mattress protectors, too, readily available on Amazon.
Related: The Best Affordable Mattresses
Bed
If you don't have one, consider getting a real bed frame. You'll sleep better with the mattress off the floor.
A mattress that sits only on a box spring is still not getting enough air, which leads to a higher chance of mold and mites.
If you're worried that you can't afford a bed frame, check for inexpensive options on Craigslist or Ikea.
---
2. Shower Curtain
Setting up your bathroom is a priority since you'll spend time here daily. But the top priority is not flooding your bathroom because you forgot a shower curtain.
Before you start shopping, do a basic review of your bathroom.
Make sure you have the necessities that should already come in your apartment, like:
Take measurements of your bathing space so you know what size rod and shower curtain you need.
While you're shopping, remember to pick these up, too:
Want a fun DIY project? Try building your own shower shelves!
---
3. Cleaning Supplies for Your First Apartment
Unless your apartment is brand new and no one has occupied it before, you'll want to clean as you unpack. Don't assume the previous tenants or landlord had your hygiene as their primary concern.
For a thorough cleaning item inventory, consider your counters, floors, and appliances. These will determine the types of supplies you should keep on hand.
At a minimum, you should always have a:
In addition, keep a chemical cupboard — out of reach of children and pets — that contains your cleaning agents:
If you have hardwood floors or wood furniture, only use cleaning products formulated for those materials.
Some flat-top stoves require special cleaning products, too. You can find all these products at a reasonable price at your local stores or online.
Pro tip:

Consider signing up for a cleaning service like

Handy

to help with cleaning for the first few months as you're getting settled.
See also: Your 5-Step Apartment Cleaning Checklist to Stay More Organized
---
4. Trash Cans and Bags for Your First Apartment
While unpacking and cleaning, you'll likely find yourself constantly reaching for a trash can to toss your dirty paper towels. A grocery bag will do the trick to start, but ultimately you'll want the real thing.
The biggest garbage can will go in the main trash-disposing area — the kitchen. If you don't create a lot of waste, a small 10-gallon receptacle might be sufficient, and you can put it inside a cabinet to save space. Otherwise, a 12–16 gallon should work. We don't recommend anything larger for an average-sized apartment.
Place small trash cans in the bathroom, bedroom(s), laundry room, and office.
Trash can liners and bags are next on your list. If you want to reduce your carbon footprint, Amazon carries 100% biodegradable and compostable trash bags.
Did you know you can't just chuck paint cans into the trash bin? Learn more: How to Store and Dispose of Paint (+ Other Hard to Manage Items)
---
5. Kitchenware Set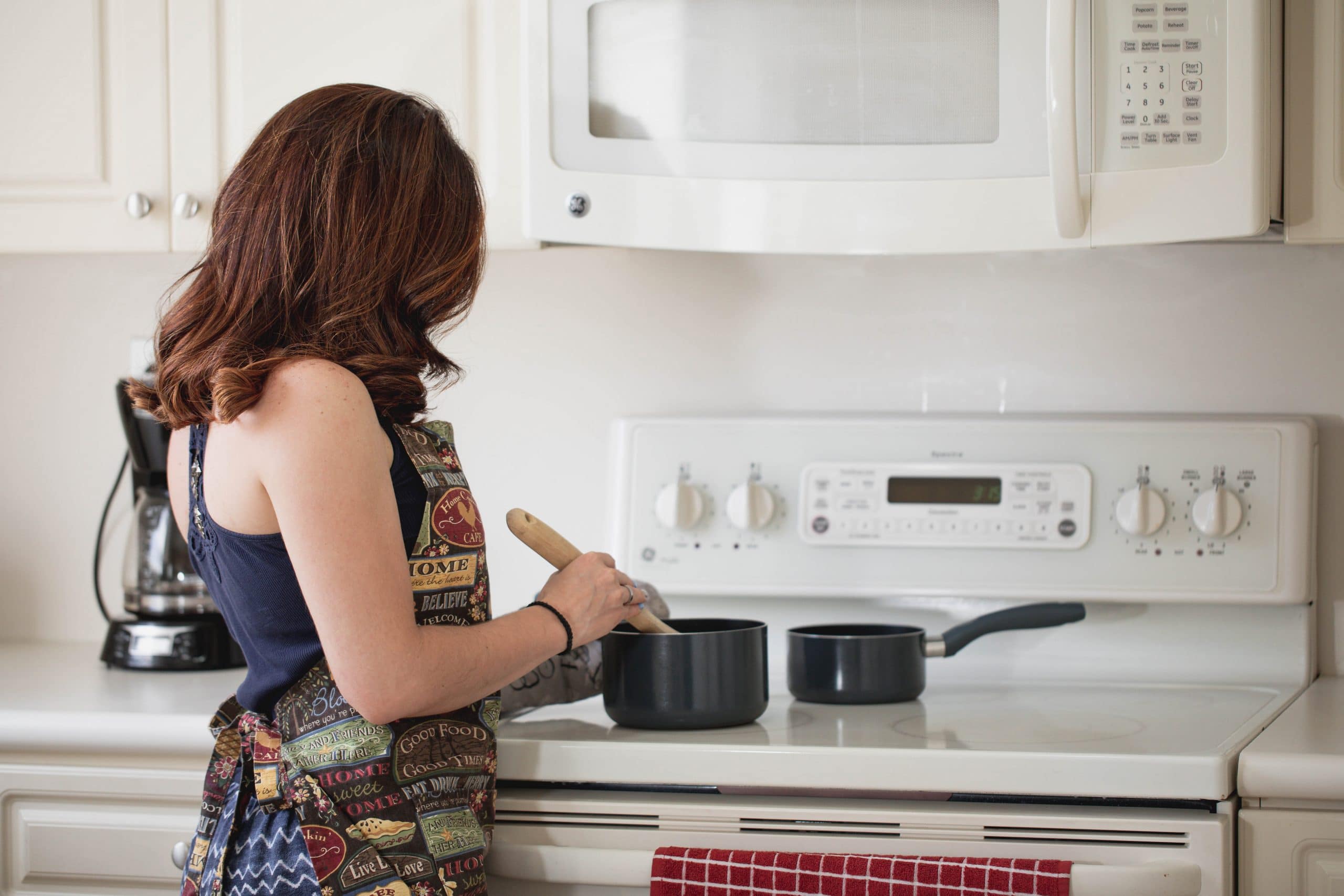 You'll need to stock your kitchen. You have to eat, after all.
You can start with forks, spoons, and knives to go with your delivery and take-out meals, but eventually, you'll want to cook for yourself. (Especially once you see how much three meals a day adds up to over time!)
For cooking utensils, grab a wooden spoon and a spatula.
And for those who live on fish sticks, macaroni and cheese, and Ramen noodles — don't forget the wax paper, plastic wrap, and aluminum foil.
To save space and keep your apartment kitchen tidy, pick up an over-the-sink dish drying rack.
Discover: 5 Things Nobody Should Have Under Their Kitchen Sink & 5 Items to Never Put Down Your Apartment Sink Drain
---
6. Small Appliances for Your First Apartment
Are you a confident chef with plenty of time on your hands to cook a full meal without shortcuts?
If not, a microwave and toaster are both essential in the kitchen. And don't forget a coffee maker (or a kettle, if that's your thing).
Counter space is often limited in many apartments, so you might need to look for compact appliances.
An average microwave measures anywhere from 1.4 to 1.7 cubic feet. Farberware has one of the smallest microwaves currently available, measuring at 0.5 cubic feet and available on Amazon.
Toasters and toaster ovens also come in handy, no matter your cooking efficiency level. You can purchase a basic toaster almost anywhere for under twenty bucks.
If you want more than just toast and warmed-up Pop-Tarts, you might prefer a toaster oven like this Cuisinart Classic. It's medium-sized to save space and you can use it to cook everything from bread to pizza.
Related: Our Breakdown of the 15 Best Cuisinart Products on the Market
---
7. First-Aid Kit
No matter how careful you are, you'll need a bandage at some point.
You probably won't want to run to the store when you're injured. And although it might be an excellent opportunity to meet your neighbors, time could be of the essence if it's a deep cut or break.
The American Red Cross has a 115-piece Family First-Aid Kit that you can buy if you want an all-in-one that you don't have to think about. It's good for many common injuries, from cuts to burns, and it's portable.
If you want to make your own kit, though, make sure you include these items:
Some of these items will expire, so keep them up-to-date, whether you purchase a pre-stocked kit or create your own.
You may also like: What to Do in the First 24 Hours After Moving Into Your Apartment
---
8. Toolkit
Handy work is an essential part of living on your own. As you purchase furniture, open boxes, and hang pictures, you will need more and more tools.
Minor maintenance is frequently required even after you get settled.
You can purchase a cheap toolbox, but you can't always verify the quality of the tools inside it. Ensure you have good tools (Craftsman and a few others have lifetime warranties, making them worth the extra upfront cost).
Essential Tools for Your First Apartment Toolkit
Include these essentials in your kit, all available at your local hardware store or on Amazon:
Phillips Head and Slotted Screwdriver: These come in different sizes, but the basic, most common sizes should suffice for most of your needs, like this set of Craftsman tools found on Amazon.
Crescent (Adjustable) Wrench" You can't go wrong with a wrench when your problem involves leaky faucets that need adjusting.
Measuring Tape: Trying to arrange furniture in tight areas or figure out what size microwave to buy?
Level: Instead of eyeballing the straight line for your nails and screws, use the level to ensure accurate placement.
Have a sewing kit? Add a handheld sewing machine to it!
---
9. Lightbulbs
Do yourself a favor and don't buy the cheapest pack. Buy long-lasting light bulbs, and you may not have to replace them for years.
If you have the time and inclination, match your light bulbs to your lighting purpose. For example, use the direct light of an LED bulb to brighten a project space but a more diffuse bulb for ambiance in a cozy nook. There's a light bulb for every lighting situation.
---
10. Power Supplies for Your First Apartment
Planning the placement of your electronics and furniture will be tricky without a surge protector or an extension cord. You could end up in that awkward position of struggling underneath your desk, trying to reach an outlet centimeters too far.
If you are plugging in your electronics, use a surge protector even when the outlet is nearby. Otherwise, if you need a little extra length to connect your lamp or charger, a basic extension cord to make those hard-to-reach plugs usable is fine.
For emergencies, you should always have candles and matches on hand. Keep a flashlight with batteries ready, and regularly verify that those batteries aren't corroded.
An emergency portable charger for your phone, powered up and ready to go, is also recommended. In case of flooding, you should store these items in a waterproof storage container.
---
11. Clothing Storage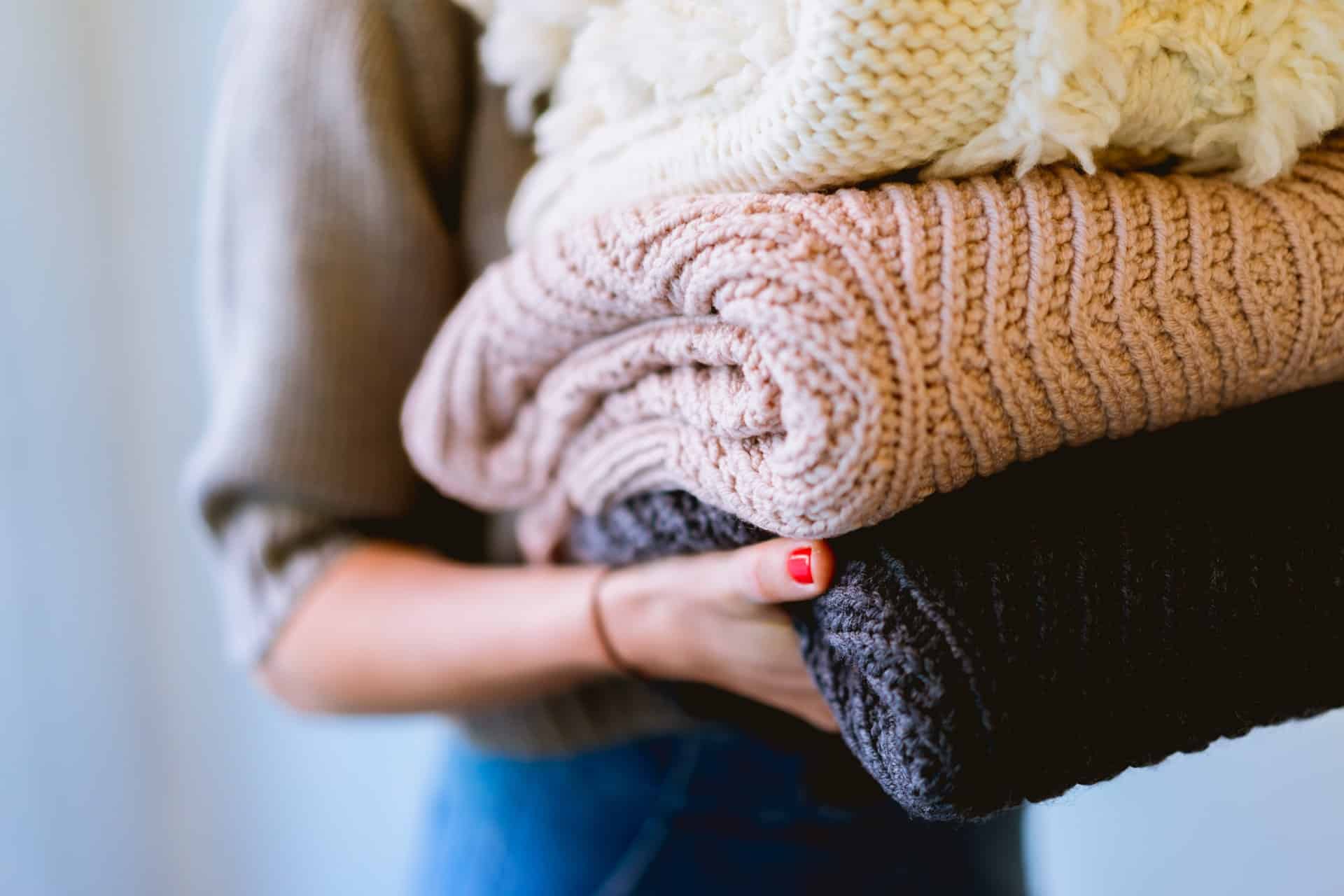 Living out of your luggage is okay for a few days as you start to get situated in your new apartment, but you should quickly unpack and store your clothing.
Don't forget to bring hangers!
Large dressers probably won't work in the average apartment, but that doesn't mean you are out of options.
When space is at a premium, get creative with your storage ideas:
Add shelves anywhere you can access them for help with your toiletries, makeup, shoes, and knickknacks
Use corner racks to hang your shirts and pants if closet space is slim to non-existent
Consider purchasing furniture with hidden storage, such as a bed with a storage headboard or side drawers
And don't forget all of that usable area on the backs of your doors!
---
12. Hamper
Between laundry runs, keeping dirty clothes separate from your clean ones is crucial. Yet, large hampers aren't always feasible in a small apartment.
Instead of using the typical plastic laundry basket, consider smaller baskets that you can store under counters or furniture.
Thin hampers, like this Chrislley design through Amazon, placed between your washer and dryer make use of wasted space. Collapsible hampers only take up space when you are using them, and then they can be shoved out of the way.
If you're fortunate enough to have an in-unit washer/dryer, check out: 5 Cool Storage Tips to Transform Your Laundry Room
---
13. Other Storage
It's tempting to shove unpacked boxes to the back of the closet or under your bed until you feel like dealing with them. Out of sight is out of mind, right?
Wait!
Did you know that cardboard boxes are like sugar to cockroaches and other pests?
Moving your possessions out of boxes and into other storage containers will reduce your chances of pest infestation.
So what kind of storage containers should you have?
Rigid storage containers limit where you can place them and how much you can store in them.
Instead, consider:
Flexible plastic storage that can be stored vertically or horizontally
Thin but wide options with wheels to store under your bed
Multi-tiered drawers to make use of wasted space under your counters
Hidden drawers in your ottoman and other furniture are also perfect places to hide items within your reach.
Related: Hacks to Eliminate Clutter & Organize Your Closet
---
14. Curtains
Window treatments are an often-overlooked opportunity to showcase your personality.
Many apartments come with basic blinds, available in plastic and wood.
For an upgrade, you could go with solar shade treatments to reduce your apartment's energy consumption. Or, choose blackout curtains or blinds to keep your home nice and dark when you want to sleep in.
After choosing a window treatment, you'll need to use your handy toolkit's screwdriver and level to hang them accurately.
Be careful when hanging your window treatments — don't try to stand on your furniture or counters. Get a step stool designed for safety and stability.
---
15. Comfy Living Room Furniture
After the hard work of moving in and unpacking, you can relax in the comfort of your living room and bask in the glory of your new home. To do this, you'll need a chair that makes you feel at ease.
Since most apartments have limited space, put forethought into your furniture placement. Items that include hidden storage are always highly recommended. Since every inch does count, multifunctional furniture is a must.
A coffee table with a storage drawer, an ottoman with hidden space, or a small couch with plenty of pockets are all good ways to make use of space.
Check Target's design tips and furniture options for more ideas on maximizing your minimal living areas.
Related: Best Furniture for a Small Apartment (Top 5 Pieces)
---
Conclusion
Your checklist is complete, your first apartment essentials purchased, and now you can focus on decorating the new pad! While they aren't essentials, an area rug and some throw pillows go a long way in transforming your apartment into a home.
Once the stress of the actual move has faded, it's time to enjoy the newfound independence that apartment living creates for you.
Maybe now it's time to work on that adventure bucket list!





(2 votes, average: 5.00 out of 5)


Loading...