The Best Handheld Sewing Machines
Are handheld sewing machines are any good? Absolutely — when you use the best! We share which ones are great for your projects and why.
For some people, sewing is a fun pastime that keeps them busy or a quick fix for a torn hem. For others, it's a way of life that provides an income.
But everyone who sews knows that the right tools make the job easier.
If you have to choose between manually threading your needle (and the pinpricks that almost always result) and a machine that does it for you, the winner is clear.
Enter the handheld sewing machine.
These lightweight, versatile sewing tools are all the rage. And for several reasons. Trust us; you need this handy gadget in your toolbox now.
We detail nine of the nine best handheld sewing machines to help you choose.

---
First of All, Why Use a Handheld Sewing Machine?
Before we get to the list, let's consider who actually needs a handheld sewing machine in the first place.
For the casual sewer, lugging out a bulky machine to do a job is a hassle. If only you could combine the power of a full-sized sewing machine with the lightweight convenience of a handheld device …
Luckily, that's precisely what a handheld sewing machine does.
Even people who sew daily can appreciate their convenience.
These new sewing marvels are about the size of a staple gun. Easily transportable, you can take it anywhere and use it for almost any simple job.
There's no need to worry about an on-the-job rip in your pants or shirt. You can do mending, hemming, altering, and other minor fixes in minutes with a handheld sewing machine.
And these are nine of the best ones out there.
---
1. Singer Stitch Sew Quick
If you haven't picked up a needle and thread in a while but you're ready to start up again, this machine is for you. The Singer Stich Sew Quick comes with clear and easy-to-follow directions to help you get familiar with your new tool.
The 9″ x 7.5″ x 2″ machine is cordless with a single thread feed. It's best for lightweight fabrics and small repairs. As a portable sewing machine, it's great to have on hand for emergency mends.
Along with the Singer 01663 Stitch Sew Quick, you'll get a few choices of threads, bobbins, needles, and thread spindle. You have to supply the four AA batteries or an adapter, neither of which comes with the machine.
At under $20, it's a steal, especially if sewing isn't your forte. However, don't expect to use it for heavy-duty projects or long periods at once.
See also: How to Upcycle or Reimagine a Geometric Shelf
---
2. Sunbeam Portable Cordless
Sunbeam's Portable Cordless Handheld Sewing Machine is a highly-rated option for beginners, and it will also please experts on the go.
The mini hand sewing machine may not have the fancy features of a full-size sewing machine, yet it holds its own in other ways. It's cordless, operating on four AA batteries or an adapter for extra power.
While some mini sewing machines can only handle lightweight jobs, the Sunbeam lets you kick up your DIY projects. It can handle pant hemming, fabric repair, drapery fixes, and arts and crafts. Denim, polyester, nylon, silk, and cotton seamlessly slide through the 9 x 7.2 x 2-inch machine.
Included are two needles and three extra bobbins. It's a simple, efficient machine that can be yours for less than $10. But you'll have to add in the cost of the adapter, which they sell separately.
---

3. Singer Mini
Ready to start crafting, teaching your kids the art of sewing, or need a handy machine for quick repairs? The Singer Mini is the electric sewing machine for you.
It's not entirely handheld, but it is portable and lightweight, so you get both mobile and desktop features. It's easy to learn the basics of sewing machine use, letting you transition into more complicated features later.
The machine is less than five pounds and can be stored anywhere. There are 12 stitch options, opening you up to multiple sewing projects, including altering and making clothes, crafting, and quilting.
Along with the sewing machine, you will also receive the following:
Four bobbins
A foot pedal
A needle threader
The power cord
It's a pricier portable machine at around $43. However, it comes with extra features other handhelds don't offer. At 7 x 12 x 7 inches, its petite size compares to the other products on the list, with the extra power and capability of a full-size sewing machine.
---
4. Michley LSS-202
The Michley LSS-202 portable handheld sewing machine has glowing reviews from its Amazon users. Use it on your lap, in your hand, or on the go for a straight stitch or other quick fixes.
Because it's easy to use, it works well for beginners. However, advanced users can adjust the features to allow for small projects with heavy-duty needs.
On the list of sewing machine reviews, the Michley tops the list for use with various types of fabric. The dual-speed motor runs a 2-thread lockstitch and auto bobbin winder. To make it easier for you, a top drop-in bobbin system and foot pedal power the machine.
As a bonus, the package comes with:
A 42-piece sewing kit
Sewing needles
Four bobbins
Electric scissors
A threading bag for portable storage
It runs on either four AA batteries (not included) or a power cord.
If your goal is stitch control, effortless performance, and multi-fabric capability, the Michley is the way to go. It's budget-friendly at around $30 and has a compact size of 7.7 x 4.5 x 8.3 inches.
However, be aware that the machine creates a loud noise when you're using it despite its small size!
---
5. KPCB Mini Handheld Sewing Machine
If you're an intermediate or advanced sewer, you will appreciate the skill and efficiency of the KPCB Mini Handheld sewing machine. With it, you can finish straight-line stitching and small projects in a cinch.
A small extension table gives you a little extra room to work, and the built-in lamp and thread cutter improves the efficiency of each job.
The machine is suitable for DIY jobs like repairing soft fabrics or designing high-quality cloth accessories. You can change the needles to accommodate for thicker or harder fabric as necessary.
Your 6.9 x 3.5 x 8.6-inch portable mending machine runs on AA batteries or a power cord.
The package includes:
An instruction manual
A cuff slot
A foot pedal
Dual speed control to double thread
A winding pole
A spool
If eco-friendly products are your goal, this handheld mending machine tops the list compared to other devices. It comprises high-end environmental materials and enhanced safety standards.
Similar: Your Step-by-Step Guide of How to Caulk Trim
---
6. CENGOY Handheld Sewing Machine
Who needs a regular sewing machine when you have the CENGOY Handheld sewing machine? Compact and straightforward to use, this portable mini sewing machine is a small package that makes a big impact.
When you have to fix a stitch fast, but it's in an awkward position, the CENGOY is your tool. It's faster than many other handhelds, runs quieter, and you can use it on a variety of fabrics.
Run it with four AA batteries or a DC 6V power adapter (sold separately). The rotary wheel adjustment and automatic winding features make it a strong choice for sewers of all levels.
Whether you need a quick straight stitch or a quilting machine, the CENGOY can do the job. And at around $20, it's affordable for most budgets. However, be cautious when using this machine with heavy or very thick fabrics, as it isn't up to heavy-duty tasks.
---
7. FIFADE Mini Sewing Machine
If you're teaching your little ones to sew, consider the FIFADE mini sewing machine. Known as the "Handy Stitch," it's simple enough for beginners but has some more advanced capabilities, too.
Lightweight and easy to manipulate, the 9 x 2 x 6-inch machine works well in a clothing repair emergency, whether you're at home or on the road. All you need are four AA batteries or the 6V power supply and some thread, and you're ready for action.
Any fabric with a thickness of ≤1.8 mm can slide through the machine flawlessly, with a straight stitch, double thread, or zig-zag.
Other models aren't as user-friendly as this manual sewing machine. With four thread set points, you have a lot of options without confusion.
When you purchase the Handy Stitch, you will also receive:
The instruction manual
A long rod for the needle bar
Two sewing needles
Nine spools
Additional sewing kit essentials
However, keep in mind, you don't get the adapter. And, as a monofilament sewing machine, the power cord isn't stable unless you tie it.
But for around $17, the "As Seen on TV" mini product is an excellent addition to your sewing kit.
---
8. Janome Sew Mini
Professional sewers on the hunt for a mini machine that works like a full-size product will love the Janome Sew Mini. It's only sold by authorized Janome dealers, but it's worth the search!
Coming in multiple colors, it's a well-designed, high-quality mini version of the full-sized Janome favorite. New sewers will enjoy learning the craft on the small model, while people with experience will appreciate the extra features other portable machines don't have.
Choose from the Beachcomber, Honeycomb, or Merlot shades.
Each one includes features like:
Four stitch patterns (zig-zag, crescent, straight, and multiple zig-zag)
A push-pull bobbin winder
Extra-high presser foot lift
A top-loading bobbin
As you grow comfortable with the device, you can use the four-piece feed dog and stitch selection dial. Select from 3-stitch width and 5-stitch length adjustments. The manual tension control means you get to decide how tight your stitches are and where they go.
The Janome weighs five pounds and is better for surface sewing than handheld jobs. It'll be hard to use in an awkward position, like sewing an inseam on pants that are on a person.
However, if you want a mini sewing machine you can depend on, and one that will last, it's an excellent choice.
---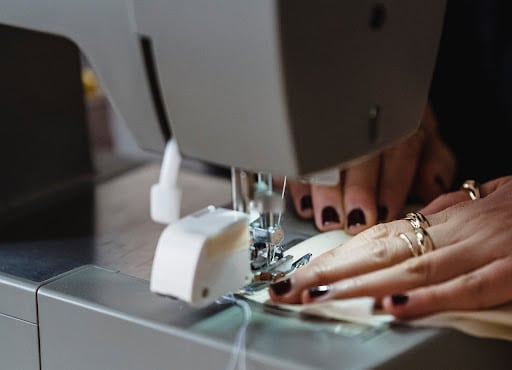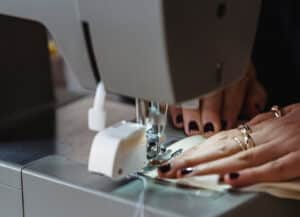 9. DAPRIL Sewing Machine
The DAPRIL sewing machine is a product with rave reviews on Amazon. Its instructional and operational videos are easy to follow, and the device itself is ideal for everyone from beginners to sewing enthusiasts.
Upgraded environmental material means you're using an eco-friendly appliance. Kids can handle the machine at a low speed, while advanced users enjoy the power of high-speed.
Use the DAPRIL to fix holes in fabrics like pants, jeans, curtains, and wall hangings. At a small size of 10.04 x 9.17 x 6.57 inches and only 2.66 pounds, you can maneuver it to work in almost any position.
In the category of mini sewing machines, this up-and-comer holds its own against more traditional names like Singer and Janome. It's on the more expensive side of budget-friendly, at around $30, but it does include many features.
The extended table adds more room to work, and the built-in sewing light comes in handy. The kit also comes with a leg pedal and six bobbins. Overall, we consider it worth having on hand as an alternative to a full-size sewing machine.
Related: The Best Studio Couch for Your Apartment
---
Conclusion
When you love to sew, you know the headache that comes with using a full-size machine for small or awkward projects. And if sewing isn't your favorite task, threading a needle to patch a hole can be stressful.
With handheld sewing machines, you can solve all of these problems. The sewing devices on this list are compact and lightweight, making them easy to carry with you on your travels.
Budget-friendly, handy, and efficient, your fabric needs are taken care of with any of the nine mini sewing machines here.