7 Machines Like the Discontinued Entrepreneur Pro X
Key Takeaways: The Brother Entrepreneur Pro X is no longer in production
Solutions: We've found the best multi-needle machines, and we'll give you the details on each. (link where it makes sense)
Weighing less than 22 pounds, the Brother Entrepreneur Pro X could pull much more than its weight. It was a 10-needle embroidery machine powerhouse, diligently setting out on the most detailed projects.
That is until it was discontinued.
The good news is: Many other comparable embroidery machine models are on the market.
Whether you're looking to take your quilting up a notch or need a small business embroidery machine, we've located seven multi-needle embroidery machines similar to the Entrepreneur Pro X.
---
1. Best for Small Businesses: Melco Amaya Bravo
This multi-needle machine by Melco is a workhorse, stitching your design into baseball caps, canvas bags, and other types of material. It lets you tackle larger designs, and the automatic thread cutter includes a self-sharpening blade.
Its sheer speed, innovative thread tension system, and automatic color comparison function are a few things users love.
Melco Amaya Bravo Key Features
16 needles for color flexibility and efficient embroidery production
1000 stitches per minute
Patented Acti-Feed™ thread control with auto-tension
6" x 3.2" cap frame
Large 12.6" x 10.25" sewing field.
User-friendly BRAVO OS
Easily stitches on leather, denim, vinyl, and more
Laser alignment and positioning
The Melco website offers tutorial videos, giving you the confidence to put the machine through its paces and get inspired with new ideas.
Potential Downsides
Thread breaking and other mechanical issues have been some users' experiences with the Bravo. The website has a section for technical support to help navigate issues.
For this machine, it will help infinitely if you're proficient with a computer.
How Much Does the Melco Bravo Cost?
The price for the Melco Bravo is on the upper end of the scale — currently on the market for $13,000 – $19,000.
---
2. Most Budget-Friendly: Janome MB-4S
This single head four needle professional style embroidering machine is a solid choice. It's got everything from flexible stitch traveling to adjustable hoop positioning. The 45.2-pound machine falls somewhere between being excellent for home use and good enough for commercial endeavors.
The threading system is simple: follow along color-coded printed paths with the thread.
Janome MB-4S Key Features:
4 needle machine
10 monogramming font styles
Easy to use editing, including drag & drop, zoom functions, etc.
5.7" remote computer screen
50 built-in designs
Extra-large bobbins
Needle area illuminated with 4 white LEDs
Embroidery speed up to 800spm
Maximum embroidery area 9.4''x 7.9''
The Janome warranty covers the machine's mechanical parts for 25 years and the electronic and computer components for five years.
Potential Downsides
A downside is many accessories don't come standard, so you have to buy them separately.
How Much Does the Janome Cost?
You can own yours for around $8,000.
---
3. Best Overall Quality: Juki Tajima Sai 8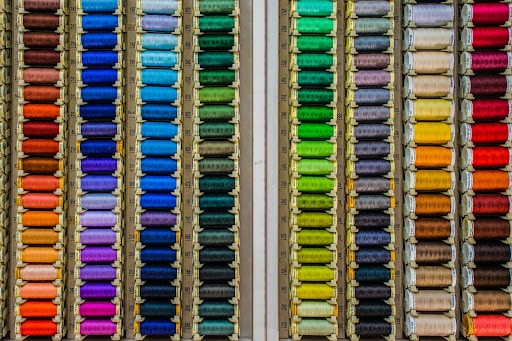 With the Juki Tajima Sai 8 machine, you don't need to be a professional to achieve professional-looking results. The touch panel is easy to operate, allowing you to set up your embroidery designs and other projects with ease.
Juki has done an excellent job condensing a high-durability machine into a smaller, easy-to-use body. Juki has long been the number one sewing machine manufacturer worldwide. Consumers love the intuitive design, durability, and ease with which it sews through multiple layers of fabric.
Juki Tajima Sai 8 Key Features:
8-needle embroidery
800 stitches per minute
6 fonts to create onboard lettering
Auto thread trimming
Laser positioning system for accurate placement
Detects thread breakage
Easy to operate touch panel with 3.5'' to 6'' full-color user-friendly touch panel
Compact design with handles that make the machine easier to lift
Bright workspace illuminating a 12 x 8'' sewing field
Software included – Tajima writer plus a digitizer software for Windows with built-in design templates
Potential Downsides
A downside to this model is the weight; it is pretty hefty at 82 pounds. Additionally, some found it hard to access the digitizing software, mentioning it took several emails in order to obtain.
How Much Does the Juki Tajima Sai 8 Cost?
You can buy yours for around $10,000.
---
4. Best for Home Use: Janome MB-7
This Janome embroidery machine is faster and has more needles than the model featured earlier in this article. Another difference is the MB-7 has an open bobbin case.
It has seven needles, and the needle speed is 800spm. Projects on this machine are smooth, fast, and look professionally executed.
Janome MB-7 Key Features:
7-needle embroidery machine
5.7″ Remote Computer Screen (RCS)
Jumbo bobbin
6 white LED lamps
50 built-in designs
10 fonts for monogramming; 2 and 3 letters monogramming function
Maximum embroidery size: 9.4″ x 7.9″ / 238mm x 200mm
Design transfer via USB
Embroidery speed up to 800 SPM
Embroidery format capability: .jef+, .jef, .dst
Programmable jump thread trimming
Flexible stitch traveling
Auto return post thread break
Extra-large bobbins mean more embroidery time before having to wind a new bobbin. The 10-monogramming feature lets you find the perfect lettering fonts for your project.
Potential Downsides
New users of this machine found it relatively easy to figure out. However, figuring out a machine like this with no prior sewing experience could leave you overwhelmed.
Some found the machine to have tension issues and struggled with needle threading — no auto threading.
How Much Does the Janome MB-7 Cost?
The price of the Janome MB-7 is around $6,800.
If you're a fan of DIY projects, here's a Step-By-Step Guide to Building a Wood Bench
---
5. Best Long-Term Investment: Pfaff Creative Stylist MN 110
Embroidering large projects or fulfilling large orders is easily managed with the Pfaff Creative Stylist MN110.
It has four hoops of different sizes, and you can choose which frame designs best suit your project. The thread changes colors automatically as needed for design. It embroiders caps easily with its innovative 22-degree wide-angle setup.
The 7-inch high-definition LCD is intuitive to use, with touch-screen capabilities. It's rotatable and adjustable, which makes it easy to position for optimum visibility.
Pfaff Creative Stylist MN110 Key Features:
10 needles on a single head
Automatic color change
7" color touch screen
Embroiders up to 12" by 8"
Smart cap embroidery
Software included
Automatic thread break detection
Automatic thread trim
Reads VP3 designs
Color selection
Complimentary designs
USB port
LED lighting
Small sewing arm
Bobbin winder
The software lets you create your own fonts and includes 200 embroidery designs. It also comes with 18 ornamental frames and ways to embellish corners.
The website is easy to navigate, complete with tutorials and inspiration.
How Much Does the Pfaff Creative Stylist Cost?
A downside to this machine is the price. A new one will set you back about $15,000.
---
6. Best Major Upgrade: Bernina E-16
The Bernina E-16 features automatic tension settings. Its modular system lets you add single-heads and gives you the freedom to configure the machine to suit whatever project you're working on.
Additionally, you can set up individual heads for embroidering different projects consecutively.
With its small cylindrical arm, it's much easier to work on pieces with small detail, such as dolls or baby clothes, than on other machines.
Bernina E-16 Key Features:
16 thread colors
1,400 stitches per minute
Large embroidery field (400 x 350mm)
Fancy stitches, including a 3-D effect
The industry's largest cap embroidery field
Smallest cylindrical arm in the industry
Adjustable presser foot height
Laser alignment
You can accomplish a lot in a short amount of time with 16 needles and 1,400 stitches per minute. The thread paths are easy to follow, making it surprisingly easy to thread all 16 needles.
It comes with an on-board quick reference guide which is handy too, as well as compatible software.
It embroiders a wide range of materials, including leather and suede, denim, and various other upholstery fabrics.
If your embroidery business is taking off and you're looking to invest in a machine that can keep up with your order demands, this may be the machine for you.
How Much Does the Bernina E-16 Cost?
Because of its price, this is something you really need to commit to. Owning one will set you back around $16,000.
 Discover: 5 Creative Ways to Store Linens to Keep them Fresh and Organized
---
7. Best for Technology Lovers: Brother Entrepreneur Pro x pr1055x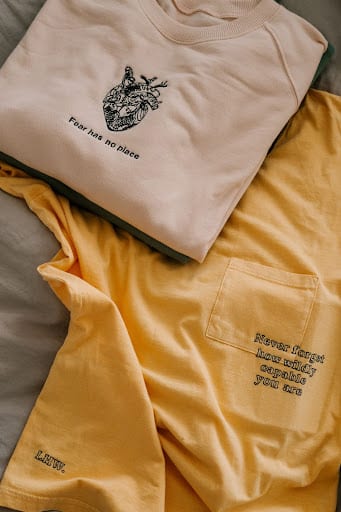 Hailed as the most innovative 10-needle home and small business embroidery machine, this Brother model can stitch 1,000spm. It has auto threading and color sort capabilities.
It's a step up from the (discontinued) Brother Entrepreneur Pro x pr1050x.
Brother Pro x pr1055x Key Features:
10-needle auto threading
Huge embroidery area of 14'' by 8''
Auto split sashing
Wireless LAN computer connectivity
Built-in embroidery designs and fonts
High-speed background scanning
Virtual design preview
Embroidery design connection by Innoveye Plus Technology (formerly Innoveye 2 technology)
Grid function
My design center enhancements
Enhanced embroidery editing
Large 10.1" built-in high-definition LCD
Expandable library of built-in tutorial videos
Zoom and adjustable features
You can add hats to your repertoire with accessories like the Flat Brim Cap Frame.
If your business is booming, wirelessly connect up to 10 machines using the pe-design 11 software.
Scanimation
It's easy to get a preview of what your project will look like with the aid of Brothers' industry-first scanimation. Scan your fabric, and get a virtual preview of what the completed design will look like. When paired with Innoveye Plus Technology, the Snowman Embroidery Positioning Marker lets you reposition your design.
Want to change the pattern size?
With automatic density adjustment, the machine will do the calculating for you.
You can choose stipple patterns and 26 new decorative fill patterns.
You can edit from the LCD screen; even doodle and draw on it to add to your designs. Or use the scanimation setting frame to upload drawings or printed clip art directly to My Design Center. It has all sorts of embroidery data and design ideas.
Creating an applique is easy with the instant pattern outline.
You can even download an app on your smartphone, which allows you to monitor the progression of your project from your phone and receive alerts.
Potential Downsides
For technically inclined people, all the extra bells and whistles may be worth it. Others may find it a bit overwhelming and never fully take advantage of them.
How Much Does the Brother Pro xPr1055x Cost?
The base price for this model is $18,000.
---
What to Consider When Choosing a Multi-Needle Embroidery Machine
If you have a seamstress friend, ask them what they use. They may even show you some of the basics on their machine of choice.
Or, hit up some local craft shows. People love to talk at length about things they are passionate about, and you can learn valuable tips before you go out and purchase one of your own. Their advice may go beyond the machine as they share the benefits of pre-wound bobbins and how to make your own spool caps. (And if they have advice on thread changes, be sure to listen!)
Budget
When choosing the right machine for you, you'll first want to consider your budget. If you have a smaller budget, you can think about getting a second-hand refurbished model.
Skill Level
Additionally, if you're a newbie to sewing, going out and splurging on the newest top-of-the-line machine may not be the best idea.
Starting with a smaller, less expensive version will make it easier to learn the basics. If you fall in love with all things embroidery and progress beyond the machine's capabilities, you can always upgrade in the future.
If you are just looking for a machine for some basic embroidery projects, there's no need to get something that has more features than you need.
Think about what you'd like to make. Be realistic — how much time will you have for this pursuit?
You may also like: The Best Handheld Sewing Machines
Conclusion
If you are already proficient or have a sewing-related business, you probably have a clear idea of your needs and what you're looking for. Technology continues to evolve, leaving almost no industry behind. Taking advantage of that is exciting, but there's nothing wrong with keeping it simple too.
Hopefully, one of these options caught your eye, and you feel that lovely mix of inspiration and opportunity.