How To Prevent Kitchen Countertop Seams During a Remodel
Upgrading to stone countertops is the best way to transform a kitchen from grungy to gleaming.
Stone boasts sweeping, clean lines and unique naturally occurring patterns and colors. Of all the countertop materials on the market, these alluring pieces instantly revamp any space. Plus, they're super durable, and most are easy to maintain; they hold up well no matter how skilled of a chef you are.
If you're sold and ready to go all in, you need to be aware of something many don't think of until it's too late: the dreaded countertop seam.
An abrupt disruption in the movement and color of the natural stone pattern is jarring. It detracts from the overall feel and can draw attention away from the intricate veining and beauty of the slab.
Keep reading to learn how to maximize your countertops' appeal by nixing the potential of an unsightly seam. We'll touch on the most popular stone options, their average cost, and factors contributing to a seam. In cases where seams are inevitable — we delve into artful ways of concealing them.

Key Takeaways: You do not have to put up with unsightly countertop seams when you remodel your kitchen.
Solution: A little bit of planning and countertop seams will be your little secret.
---
Stone Countertops: Which One's Right for You?
When it comes to stone countertops, not all are created equal. Here are some of the pros and cons of the most popular options.
If you want to get up close and personal with each before you decide, we highly recommend visiting a showroom or ordering samples online.
Granite
Short of a blow from Thor's hammer, granite countertops are highly durable. Their ability to handle the demands of a bustling kitchen — like a piping hot cast iron Dutch oven — is why they're the most popular countertop go-to.
Another reason more than half of all homeowners gravitate toward granite is the diversity of colors and patterns in this stone. Plus, granite countertop seams are relatively easy to hide (depending on the slab).
One caveat: granite is porous, so it needs sealing to prevent staining.
Granite slabs range in price from $40 to $100 per square foot, and the average cost for granite countertops is $3,000.
Quartz
Quartz countertops provide a stunning, almost 3-D look. Like granite, they're highly durable.
Quartz kitchen countertops are becoming the coveted option for high-end kitchen remodels, and it's not hard to see why. During the manufacturing of quartz countertops, any impurities get culled out. Additionally, pigment can be added to alter the hue of the slab, color-matching it to the rest of the kitchen design.
From cool greys and blues to beige, white, and subtle peachy tones, quartz has similar patterns common in granite.
Quartz is durable and resistant to water, stains, and scratches. Because of its non-porous nature, quartz countertops don't require sealing.
It's important to plan the location of the quartz countertop seam appropriately. Placing the seam on top of the countertop support is best; otherwise, it may result in a weak spot.
Quartz averages out to about $60 per square foot.
Marble 
When you think of marble, do you hear the "cha-ching" of a cash register quickly tallying up the price?
It's hard not to. Marble is synonymous with luxury. After all, it's the material Michelangelo used to sculpt David.
However, it's actually more affordable than one might think, averaging about $60 per square foot.
Marble is the softest of the stone countertops. This means it's prone to staining and needs regular sealing — every three to six months, depending on the frequency of use. It's worth considering the type of chef you are: if you get lost in the process with a lot happening at once, marble may not be the right option.
However, marble makes up for being somewhat high maintenance with its classic, timeless look. Its neutral hues and gentle veining and patterns are a statement unto themselves.
Limestone 
Averaging about 3 billion years old, incorporating limestone into your home is like incorporating a museum piece. Primarily made from oceanic shells and the skeletal remains of marine life, limestone comes in off-white and sandy tones. It's a gorgeous neutral base for various finishes, such as copper or stainless steel.
Though durable and able to withstand the impact of a heavy pot, limestone is prone to scratching.
Limestone is also porous and especially sensitive to acidic fluids; you must have it sealed to prevent stains.
Limestone countertops cost between $70 and $200 per square foot.
Soapstone 
If you love deep charcoal greys, you'll love soapstone.
While not as popular as other countertop options, soapstone is easy to work with. It's less likely to crack and is non-porous, so it does not require sealing. It's heat resistant, though not as durable as other countertops; it's is a softer stone, prone to chips and scratches.
Because of its makeup, it's easier to achieve a tight seam which — depending on the veining or pattern of the slab — makes it harder to detect.
Soapstone varies in cost from $55-$100 per square foot.
Slate
A new darling in modern kitchen design, slate, is the most durable of the natural stones used for countertops. It's non-porous, so it does not require sealing.
The dark grey and greens that slate comes in — often mottled with terracotta or other natural tones — result in an elegant statement. Slate creates an ideal backdrop for copper and other colors to pop.
Slate is also affordable, costing roughly $50-$65 per square foot. A potential downside is slate slabs are smaller, which means more seams.
Discover: 11 Stunning Kitchen Renovation Ideas to Inspire You

---
How Do Kitchen Countertop Seams Happen?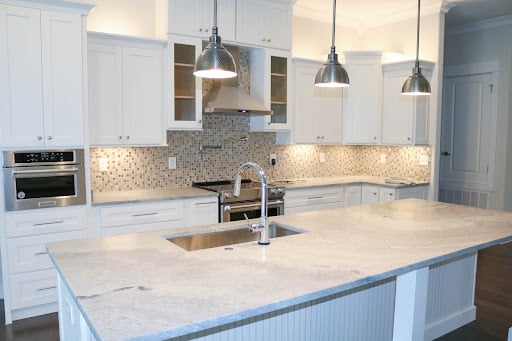 Seams occur for various reasons, from slab size and kitchen layout to a contractor unfamiliar with your chosen stone.
Here we'll go over some of the main reasons seams occur and things to know beforehand so you can avoid them.
Mismatched Color and Pattern
Nothing screams seam like an abrupt change in color or pattern.
You want your new countertop to be free of visible seams. The best way to do that is to know the answer to these questions before picking out your stone slab:
What will fit through your front (or back) door and any hallways to get to the kitchen?
How is your kitchen shaped? Are the counters long? U or L shaped?
Where are your sink and oven in the layout?
How many square feet do you need, including the kitchen island?
Will you be using the same stone for a backsplash?
The larger the slab, the less you have to worry about hiding seams because there will be fewer of them.
Poor Craftsmanship
Hiring someone unfamiliar with the task at hand will more than likely leave you with visible seams, but that could be the least of your concerns.
Stone installation can be tricky. It's heavy, prone to cracking, and dents and scratches can't simply be tossed since you're working with a single piece. You want to hire someone who can complete the job at industry standards or above.
Related: How to Choose Your Kitchen Remodeling Contractor

---
Best Ways to Hide a Countertop Seam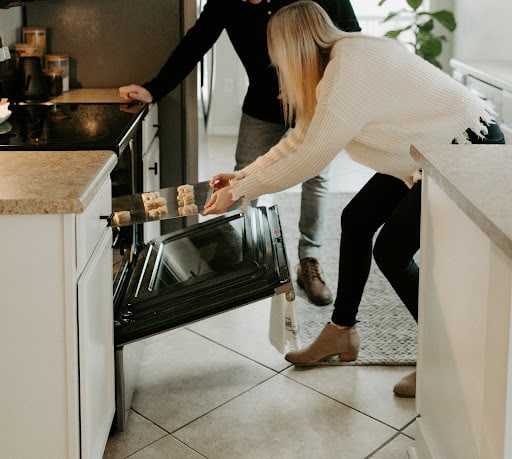 Here are some of the common techniques used for seamless execution. While standard in any remodeling job, the first tip is vital for stone countertop installation.
Hire a Pro
A skilled contractor is worth their weight in gold.
Finding someone experienced in working with countertop fabrication makes all the difference. Your expert will be able to help you through the selection process and make suggestions for inconspicuous seam placement.
The tricky part is finding a pro, someone experienced, reputable, and, above all, trustworthy.
That's why we're excited to partner with our friends at AIQOO. They provide a list of highly skilled and vetted contractors throughout the U.S. Simply
type in your zip
, and get immediate results based on your location. We know how difficult and time-consuming finding the right contractor can be, and we're thrilled to have found a way to make that process easier.
Hiring an expert will minimize the risk of cracks, slopes, lippage*, large seams, and other unsightly mishaps that occur when someone less skilled tries to complete the job.
*Lippage is when one part of the counter is higher or lower than the adjacent slab.
 Epoxy
When mixed with tints that match the color of the countertop, epoxy can adhere two pieces of stone countertop together. The epoxy resin binds the pieces and can also smooth over dents and chips, should they occur.
An expert contractor should be able to match the epoxy color so that the seam isn't obvious and ensure the gap is no wider than 1/16th of an inch.
Match Similar Segments
Matching similar segments is another way to camouflage a seam. Because granite tends to have a somewhat chaotic pattern, it can be easier to match.
Stone with swirly undulating patterns and variation in tone makes it tougher — though not impossible — to disguise a seam.
Your contractor should be able to help you through this process. Go over the parts you want to feature so the fabricators can cut the piece and keep the seam location indistinguishable from the rest of the pattern.
Templating
Before countertop installation, your fabricator will have a better idea of how to cut the pieces by creating a literal template. They can do this digitally as well as the "old fashioned" way. The template will show the best ways to install and piece it back together, minimizing any noticeable seams.
Take Advantage of Your Kitchen Layout
Let your kitchen layout be your guide. Cooktops are a great place to hide seams. They act as a natural divider; if there's a seam, you can hide it at the back of the cooktop, where the countertop is just a thin strip.
Another place to hide seams is around sinks since the space they occupy is cut out of the surface of the countertop.
If one large slab is being cut to fit, find an interruption in the pattern. Perhaps a solid color if you're going for color-matched epoxy. Or, if two pieces will be connected, find similar patterns or veining and use those to join.
You may also like: The Top 7 Best Over the Sink Dish Racks for Your Kitchen

---
Seam-Free Kitchen Countertop Options
If you crave the look of stone but don't want any seams — regardless of how well they're hidden — here are some solutions that offer both.
However, short of building a home around your countertops, bear in mind you'll need to get the material past your entryway and into the kitchen.
Neolith
With a look many mistake for marble, neolith is manufactured in slabs up to 144 inches long and can be as thin as three to five millimeters.
It's lightweight (yet still heat resistant and durable!) compared to other stone countertop surfaces, which makes transporting and installation much easier.
It's man-made, manufactured from natural components such as silica, feldspar, and clay. For those who love a backsplash that carries on with an uninterrupted pattern to the countertop, neolith is one of the best ways to achieve this look.
Neolith ranges from $60 to $105 per square foot.
ColorQuartz
ColorQuartz blends crushed quartz with polyester resins and pigments to achieve a surface four times as resistant as most stone. Besides being ultra-durable, it's also low maintenance. No sealing or other fussy upkeep is necessary.
Color choices range from fresh white to rich midnight black, but it comes in other colors too. Its veining and natural patterns make it virtually indistinguishable from a quartz slab or other type of stone.
The seams can be blended during installation, so they're virtually invisible.
ColorQuartz is comparable in price to granite, averaging around $50 to $90 per square foot.
For smaller kitchen decor touches, check out: Plants to Decorate Kitchen Cabinet Tops
---
Conclusion
Congratulations, now you know the "secrets." You know the best ways to disguise a seam and how to find a licensed professional who's up for the task.
Now?
It's time for the fun part — finding the perfect slab!
Share your basic info here and we'll connect you to contractors in your area!