How to Upcycle or Reimagine a Geometric Shelf
Does scrolling through the #shelfie feed on Instagram have you cringing at your geometric shelf design?
Curating the perfect shelf display is hard enough. But if you're dealing with outdated or damaged geometric shelving, you have an even more immense task ahead of you.
But you don't have to go it alone! This guide will help you redesign your old shelves into something truly Insta-worthy.
Want to get #shelfie ready? Then keep reading our top tips for updating your geometric shelves.
---
Repurpose Your Geometric Shelf Into Something New
If you're tired of the same-old-same-old with your geometric shelf, it's time to give it a new life. How about transforming your shelves into something new entirely?
Here are five household items you can make that turn your blah wood shelf into functional and stunning wall decor.
Open Kitchen Cabinets
Floating kitchen shelves are all the rage these days. They're functional and aesthetically pleasing. Plus, they give your kitchen that extra minimalist touch. The best part is you can create your open kitchen cabinets with your old geometric shelves.
Hang long, rectangular shelving in place of your cabinets. You can use the inside as a place to display dishes, glassware, and even greenery. You can also use the top of the rectangle to store larger appliances.
Our biggest tip is to ensure that each floating wall shelf is sturdy enough to hold your dishware. If not, you may want to reinforce your new cabinets with scrap wood or, better yet, a metal frame.
Extra Bathroom Storage
Never have enough space for all your toiletries? Hang geometric wall shelves behind the toilet, beside the sink, and inside your linen closet for added storage. Low on space? Add a corner shelf or two with hooks that serve as towel hangers.
Treat your new bathroom storage space as a display shelf and line up your beautiful perfume bottles and high-end products.
A Light Fixture
Whether you want to spotlight your favorite collectibles or create a unique light fixture, adding illumination to your geometric shelf will increase its beauty and its utility.
There are numerous ways to add a light to shelves. But we recommend using either a strip light or a hanging light bulb on a cord.
Strip lights are as easy to install as peeling off the adhesive and adding the light to your shelf. Strip lights offer brilliant under-shelf lighting to keep you from having to stumble around in the dark.
For a unique hanging light fixture, all you have to do is drill a hole into the top of your shelf. Next, feed through the hanging bulb's cord and plug in your new light — it's that easy!
A New Piece of Furniture
So, you love your geometric floating shelves, but you don't need the extra wall storage. What should you do? Repurpose your old shelving into unique-looking furniture.
You can drill legs into the bottom of your square shelves and use them as bedside stands, plant stands, and side tables. Or create larger furniture pieces like coffee tables and bookshelves. Just screw multiple geometric shelves together, add legs, and enjoy your new up-cycled living room furniture piece that all your friends will be raving about.
Create a boho headboard for your bed by installing solid wood or black metal shelves of similar shapes and sizes on the wall behind your bed. Style and function in one!
See also: 1920's Aesthetic Decor Fundamentals
---
Use Geometric Shelving As a Design Element
Shelves that have a geometric design aren't just practical. They're also a beautiful design element that fits in perfectly with any modern home decor. If you're tired of the way your geometric shelves look on your walls, it's time for a redesign.
Keep reading to learn four ways to transform your shelves into an innovative design feature you'll love.
Stack Them
Make a statement wall out of "stacked" geometric shelves. By "stacked," we mean that unless your shelving units are seriously heavy-duty, you won't actually stack them. Instead, hang each shelf on the wall as if they're stacked.
You can take up an entire wall with your stacked shelving feature. Or concentrate your stacked shelving design feature to a specific part of the room.
Decorate your stacked shelves with books, artwork, and hand-picked trinkets. Or let your stacked geometric shelf design speak for itself and leave the feature empty.
Hang Them in Unique Shapes
Want a custom wall sculpture without having to pay a fortune? Hang shelves in unique shapes and designs to upcycle your old geometric shelves into a bespoke wall sculpture.
You can create movement and dimension with shelving units in a way you can't with 2D art. You can design cubby hexagon shelves that serve as bookcases or that are simply wall art.
Create DIY Honeycomb Shelves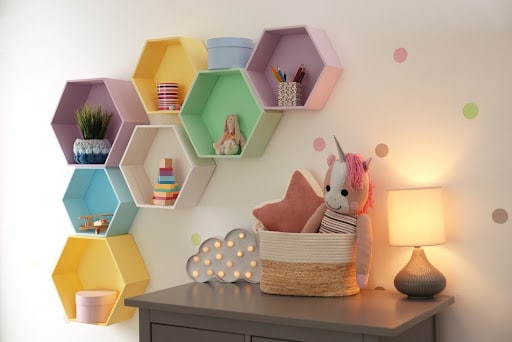 If you have multiple hexagonal-shaped shelves, this tip is for you.
Honeycomb wall shelves are trending room decor, but they can be extremely pricey. Lucky for you, you can DIY a honeycomb wall feature by screwing together your hexagonal shelves.
This tip even works if you have hexagonal shelves of varying sizes. Play around with the flat sides of your shelf set to find shapes that work best for your style and space.
Create DIY Rainbow Wall Shelves
Liven up any room with vibrant rainbow shelving. This DIY decor idea is also perfect for kids' rooms and teacher's classrooms.
To start:
Count how many individual shelves you have.
Use either paint, fabric, or wallpaper and cover each shelf with its own rainbow color.
Arrange your shelves by the colors of the rainbow.
Rainbow shelves look eclectic when matched with accessories of the same or contrasting hues. Or add a touch of elegance with crisp, white books and objects.
Improve the Functionality of Your Geometric Shelves
If you feel like you never use your old geometric shelves, it might be time to remember what you bought those old shelves for in the first place.
Shelves are an excellent way to save space while improving storage, making them especially great for smaller rooms. Fall in love with your space-saving decorative wall shelves all over again. Check out these tips for making your shelves even more functional than they are already.
Hang Your Standing Geometric Shelf
Is your standing geometric shelf taking up too much space? Hang your stationary shelf on the wall to up storage without taking up too much floor space.
You may think your standing shelf is too heavy to hang on the wall. But as long as you secure it on a stud using sturdy flathead screws, your new hanging shelf will be in it for the long haul.
Combine Small Geometric Shelves Into One Large Unit
The great thing about geometric shelves is that you can fit different ones together for an entirely new look. The flat tops and sides ensure different ways to combine your shelving into a larger unit.
If you have wooden shelves of multiple sizes, play with dimensions. Make a set of triangle wall shelves of varying sizes. Put a smaller hexagon inside a larger one to create a new and exciting way to display your favorite decor in your entryway or home office.
Use Your Geometric Shelf's Flat Top
If you're only using the inside of your flat-top geometric shelves, you're missing out on all that extra space on top!
Flat tops of geometric shelving are great places to display taller items that don't fit inside. Vases, succulents, and even paintings are all fair game when you look at the flat top of your shelf as another potential styling opportunity.
Plus, this tip doesn't only apply to geometric shelves with flat tops. You may just need to flip your triangular shelf over or rotate your hexagonal shelf to create a tabletop that wasn't there before.
Add Hooks 
Utilizing a geometric shelf's flat top isn't the only way to make more room for your decor. Add hooks to the bottom to improve its storage capabilities. You will need a metal wall shelf or sturdy wood wall shelves to enhance its weight capacity.
Choose heavy-duty metal hooks for hanging hefty objects like candles and coats. Try something as simple as a Command strip hook for lightweight items, including keys, dried flowers, and unframed art prints.
What about using your shelf flat on the table as a centerpiece? Here are more tablescape ideas!
---
Give Your Geometric Shelf a Makeover
The easiest way to revamp your tired old shelves is to give them a makeover. You can paint them, of course. But keep reading for three additional ways to transform the look of your old geometric shelf that you may not have considered before.
Add Silver or Gold Leaf
Leaf is a type of foil sheet made of pure metal. Architects of years past used silver and gold leafing to embellish books, churches, and even edible goods. Nowadays, you can use leaf paper to upcycle old furniture.
Depending on the type of material you start with, the technique for leafing your geometric shelf will vary. In general, though, adding silver or gold leaf paper to your shelves will require priming before adding the glue-like adhesive and sheets of leaf. You'll also have to add a sealant at the end.
Leafing your shelves isn't for the faint of heart. But it's a fun way to glam up your old geometric shelving.
Add Wallpaper, Fabric, Cork Board, or Mirrors
Most geometric shelves are open to the wall they're hung on. But if you're tired of seeing your white walls as a backdrop for your favorite knick-knacks, add splashes of color and texture with wallpaper, corkboard, or fabric.
Small rooms can also benefit from adhering a mirror to the back of your geometric shelf. This will reflect light around your room, making your space appear more spacious.
Make Geometric Shelves Look Traditional 
Geometric shelving has a decidedly modern look. So, what do you do if you're transitioning to a cottage-core interior design style?
Give your shelves a more traditional look with crown molding. You can find crown molding strips at your local home improvement store for a reasonable price. Then, all you need is a bit of wood glue applied along the edges of your shelves for a whole new look.
Another idea is to add doors or shutters to the front of your shelves. This is a great way to conceal clutter without reducing storage space or buying a new piece of furniture.
Perform a Shelf Edit
If none of these shelf redesign tips do it for you, maybe it's not your geometric shelf that's the problem. You might need to do a shelf edit. Shelf edits help to reduce clutter so that you're only showcasing items you truly love.
Here are our top two design tips for doing just that.
Combine Books With Objects
Books and shelves go together like vanilla and chocolate. But that doesn't mean your geometric shelf should be full of books alone. Pull a Marie Kondo and reorganize your favorite novels and how-to books with decorative items like plants, terrariums, homemade pottery, art, photos, and more.
In design, a great tip is to always decorate in odd numbers. Play around with how you display your books and objects, focusing on groupings of 3 or 5. Pay attention to color and texture as you try to find the arrangement that works best for your shelf space.
Provide Plenty of White Space
A cluttered shelf is definitely a design choice. So, don't shy away from this style if that's what you like.
But if you're trying to curate the perfect #shelfie, white space is your best friend. Don't clutter your shelf with too many items. Give each item room to breathe. That way, the eye has an easier time digesting the mix of books and objects you've curated.
Discover: 12 Hacks for Balcony Gardening
---
Are You Ready For Your #Shelfie?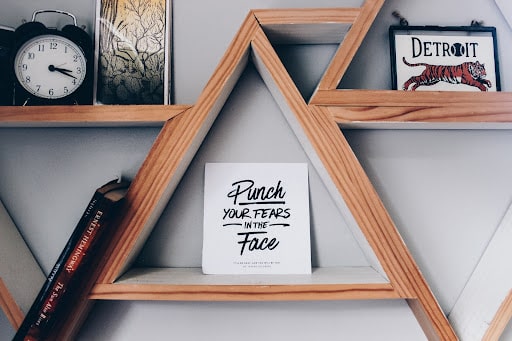 Is your geometric shelving looking tired? Get your #shelfie game strong with one of these tips for upcycling and repurposing your geometric shelves.
Whether you want to turn it into something new, improve its functionality, or give it a total facelift, we hope these tips will help you fall in love with your geometric shelf all over again!