7 DIY Holiday Christmas Decorations
This guest post comes to us from Traverse Commons, which offers its residents unique modern apartments near the Indiana University of Pennsylvania in Indiana, Pennsylvania.
Christmas can be an expensive holiday. Between gifts, food, little things like wrapping paper and Scotch tape, it adds up.
The average family spends $78 on a Christmas tree alone!
So, it makes sense to try to save a few bucks where you can. And luckily, you can save a lot on holiday decorations.
Sure, you could head to Target and pick up some window decals or a light-up reminder for your front lawn. And you could log onto Amazon and find all kinds of decorations there. But it could put a dent in your bank account, and no one wants to start the new year that way.
Instead, try a few of these DIY holiday Christmas decorations. Most of them require just a few common materials, a little bit of DIY know-how, and a few hours of your time.
They're adorable, too!

---
Branch-in-a-Jar Christmas Tree
Branches make great winter decorations, regardless of whether you celebrate Christmas or not. A few pine branches along the mantle or in a ceramic vase as a dining room centerpiece brings that warm, rustic vibe we enjoy during wintertime.
You can make a fun little decoration by grabbing a branch from outside, placing it in a Mason jar, and hanging a few ornaments or lights from it. If it has pine needles on it, there's no reason to add any paint, but if it's a bare branch, a coat of white paint can add a little touch of holiday magic.
Check out this tutorial from The Lovely Drawer to see what we're talking about.
Oh, and if you're worried about the jar tipping over, fill it a third of the way up with Epsom salt. It has a glisten-y quality that looks like freshly fallen snow!
See also: 7 DIY Log Ideas to Create a Rustic Look in Your Apartment
---
Pegboard Christmas Tree
Another tree-themed idea is this Christmas tree made from pegboard, which many people have a few sheets of in their garage or basement.
(If not, check Craigslist — shops get rid of pegboard and pegboard hooks all the time.)
Then, all you have to do is draw a Christmas tree shape onto the board and cut it out with a jigsaw (or handsaw if you're afraid of power tools). Paint it green, put some hooks into the pegboard holes, and hang your favorite ornaments from the hooks.
This is a fun project to make with kids, and it's a great substitute for an actual tree if you live in a small apartment.
Check out this article from Sugar and Cloth for tips on making your own DIY pegboard tree.
---
Scented Christmas Candles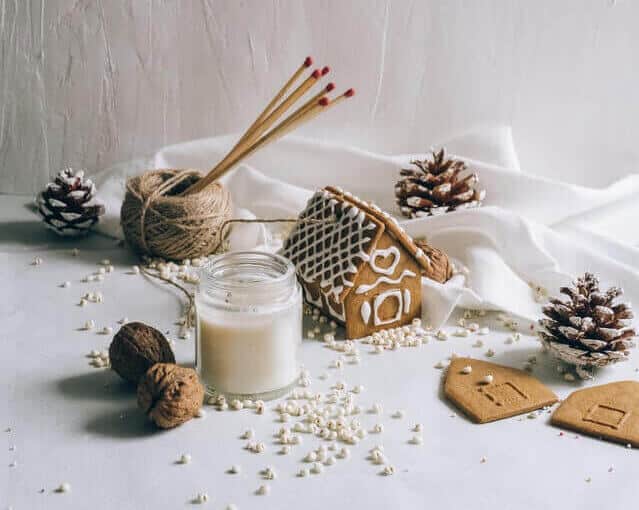 Scents are just as decorative as the physical decorations you'd hang on your wall or place on your end tables. They can bring a unique vibe to your space that makes your home feel warmer and more welcoming.
And there are so many aromas associated with the holiday season. From cinnamon and peppermint to pine and roasted chestnuts, certain smells just scream Christmas.
So why not infuse your home with a few holiday scents?
You can make your own candles with a bit of wax and some essential oils. You can even display them in decorated planters or jars to make them more festive.
Check out this tutorial from Love and Specs to learn how to make your own holiday scented candles.
---
Chalkboard Faux Mantle
There's something about a fireplace that's just very Christmas-y. Maybe it's because Santa Claus climbs down the chimney, or because that's where stockings are traditionally hung.
Or, it could be the simple fact that it's nice to cozy up by a warm fire during the cold months of December.
Either way, not everyone has a fireplace and mantle in their home. That's okay though — you can make your own!
All you have to do is take a sheet of canvas or a thick bedsheet, coat it with chalkboard paint, and draw your fireplace on with chalk.
It's actually a very basic shape that you can copy from photos (like the one in this tutorial), so don't worry if your drawing skills are subpar. And because it's on a chalkboard, you can erase any mistakes!
Mount your "fireplace" to the wall with thumbtacks, wire, or a curtain rod. You'll have the perfect place to hang your stockings (although Santa won't be able to use this one, so make sure to tell him to use the front door).
Related: 7 Ways to Sprinkle Some Christmas Magic Inside Your Bedroom
---
Snow Globe Cookie Jar
One of the best parts about the holidays is all the treats! (Well, until you have to work off those extra pounds in the gym.)
And what better way to display your treats than in a snow globe cookie jar?
You can find a full tutorial on the Woman's Day website. The basic idea is to put some powdered cookies into a simple glass food storage jar, then to decorate it with little plastic trees or figurines.
Sure, you'll have to bake some extra cookies to put aside for eating, because you won't want to ruin your hard work. But, these make fantastic gifts for your friends and family!
You may also like: 7 Table Decorations to Create the Perfect Dining Arrangement
---
Holiday Card Hanger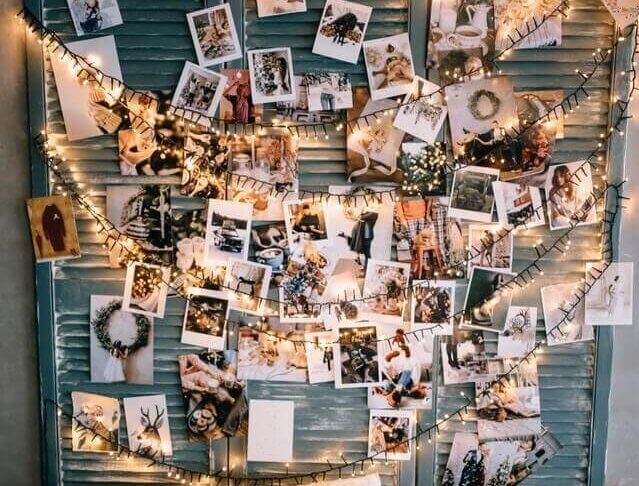 If you get a lot of cards during the holiday season, you'll need a place to display them.
Instead of just pinning them to the wall or hanging them with magnets on the fridge, why not do something a bit more festive?
One easy thing you can do is string a piece of green, gold, or red twine across the wall and hang your cards with clothespins. You can even use all three colors for extra holiday cheer!
Either way, it's a very easy project that you can make with items you probably already have around your home.
Learn more in this article from Shutterfly!
---
DIY Fleece Blanket
We don't typically think of blankets as decorations unless they have some kind of holiday-related imagery on them.
But, fleece blankets make great decorations, whether printed with snowflakes and reindeer or not. Even a plain, red plaid blanket can add to your holiday vibe.
Fleece blankets are relatively easy to make, too. If you have a sewing machine, some fabric, and a few hours to kill, you can whip up a decent blanket in an afternoon. So put on your favorite Christmas movie and get to work!
Oh, and the best part about using plaid blankets as decorations is that you can keep them around well into the new year!
---
Conclusion
Decorating for the holidays is fun, but making your decorations is even more fun. There's something about DIY decor that feels warmer and more quaint.
And that's the feeling we're all chasing during Christmastime, isn't it?
Related Reading: How to Use Feng Shui to Achieve Harmony in Your Home