The Best Affordable Mattresses to Help You Sleep Better
It's often a little too easy to overlook the importance of buying the right mattress for your body. Because a quality mattress is an investment, it's easy to focus on the price instead of the value it gives you.
Your mattress is the piece of furniture you'll use the most often. If it's high quality, it can last you years before you have to replace it. But cheap mattresses can also be well-made if you know what you're looking for.
There are many factors involved in choosing your new bed. Your budget is one of them, but your health is even more important. The wrong foundation can create sleep issues that negatively impact your body.
The best affordable mattress can be yours for a price tag around $800, and we have the top products here for you to compare.
Whether you shop in an actual mattress store, buy directly from a manufacturer, or purchase it on Amazon — you'll know exactly what you want!
---
Health Benefits of the Right Mattress
According to the Sleep Foundation experts, you should replace your mattress every six to eight years, even if you don't think it's necessary. There are some scientific reasons behind this figure that prove their suggestion.
Most modern mattress options are some type of foam material. Even the more durable foam and latex mattress versions will sag over time and adjust to your body shape. Your innerspring mattress should be firm, not indented.
The majority of mattresses will also collect allergens over time. Dust mites, bacteria, pet dander, and other particles accumulate inside the linings and open pockets of your bed. This buildup can cause health problems.
Using Your Mattress to Invest in Your Health
When you upgrade your too soft or too firm mattress to one that's right for your needs, your body will thank you.
Some health benefits are clear, while others will show themselves over time, like:
Better sleep
Improved immune system
Less back pain
Less snoring
Reduced allergies and better breathing
Improved mental awareness with a better quality of sleep
Decreased stress levels
Adjusting your perspective to think about how much money you'll save on health problems later makes it an easy decision!
The problem now becomes finding the perfect mattress for your body, price range, and sleeping position. What works for side sleepers may not work for back sleepers or stomach sleepers!
Related reading: 5 Bedroom Organization Secrets for Maximum Organization
---
1. Puffy Mattress
Puffy is a popular mattress company that has released its signature bed, the Puffy Mattress. With over 7000 5-star reviews, it combines high quality and affordable pricing for a winning product.
The Puffy design is for all sleeping styles, as proven by multiple awards won for Best Mattress in various categories. The company proudly displays its results of Best Overall Mattress, Best Mattress for Pressure Relief, etc.
When you order the Puffy, it is quickly shipped to your door via FedEx in a tightly compacted box. You can use it on any bed frame, including box springs, futons, flat frames, and adjustable slats.
Puffy Pros and Cons
The many awards the Puffy has earned make it a tempting purchase, but before you decide, here's a breakdown of the pros and cons.
Pros:
The 101-night sleep trial lets you get your money back if you're not completely satisfied.
There's a lifetime warranty for as long as you own the mattress.
The entire mattress is certified as made in the USA.
Puffy donates beds to children in need, so you're supporting a charitable company.
Cons:
The Puffy has a lot of deep contours, so stomach sleepers may have to adjust their pillow to prevent too much pressure on the neck.
At around $850 for a queen-size bed option, the Puffy is an accessible and affordable mattress. They also offer payment plans to fit most budgets!
---
2. PlushBeds Ocean Mist Gel Memory Foam Mattress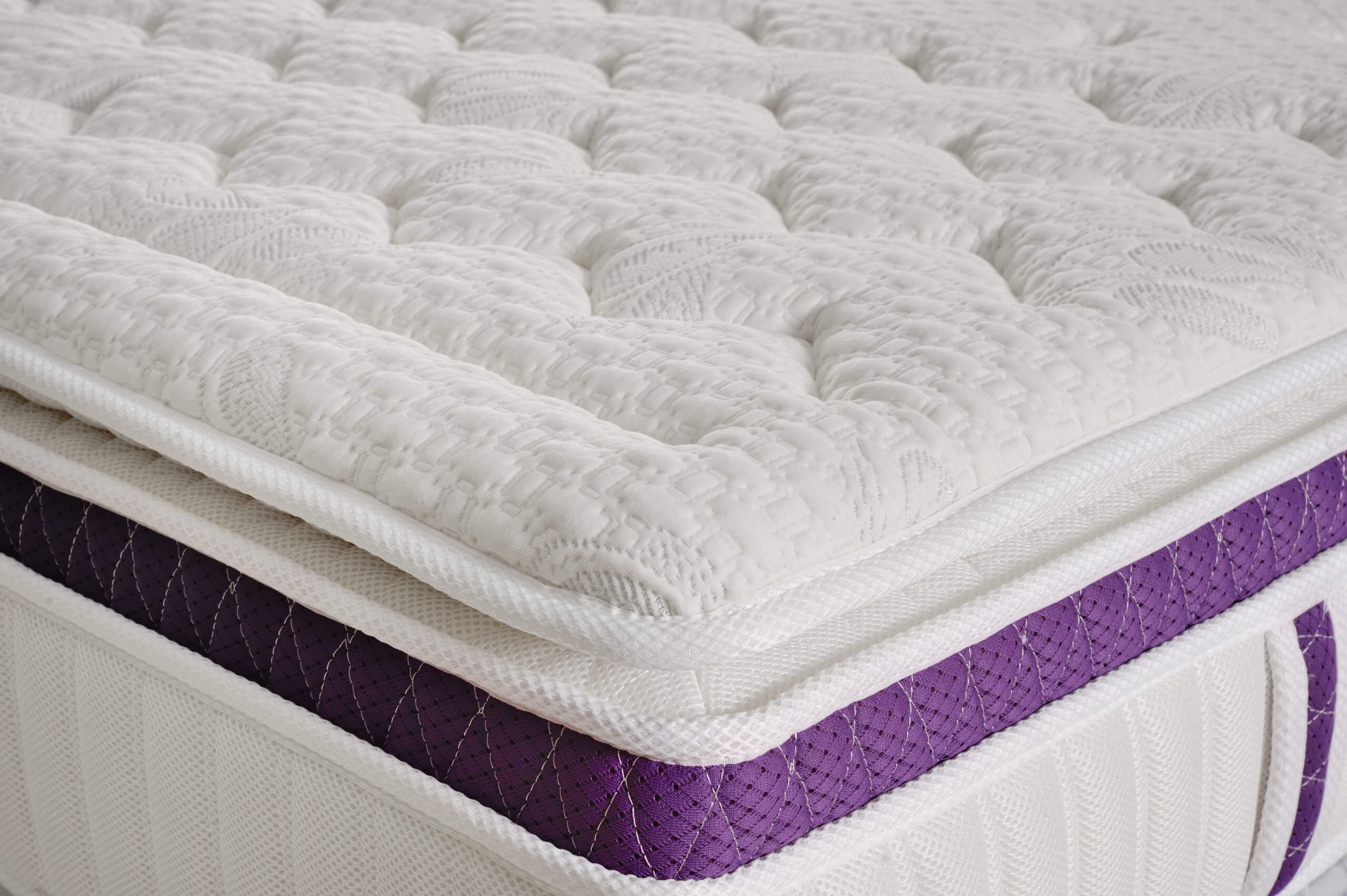 Memory foam mattress designs have become the go-to in mattress trends today. Just because a mattress is this material, though, doesn't make it suitable for your back.
Manufacturers are continually trying to improve their memory foam technology. They aim to make their products better than their competitors. PlushBeds' Ocean Mist Gel Memory Foam Mattress sets that bar high!
Plush Beds' patented cool gel technology has landed the company and its beds in popular magazines like Fortune and Vogue. You may have even seen the bed on shows like Good Morning America and This Old House.
So what is it about this technology that makes the Ocean Mist mattress so unique?
The GEL memory foam allows for extra airflow. This layer takes away the heat and moisture from your body three times faster than other memory foam products on the market. Your temperature is automatically moderated while you sleep!
The plush layer means that your body gets increased pressure absorption. It's a benefit that alleviates discomfort at pressure points. Users of this affordable mattress often report more significant relief in joint and spinal pain.
Pros & Cons of the Plush Ocean Mist Mattress
It's not easy to narrow down your mattress purchase, but the Plush Ocean Mattress's pros and cons can help you decide.
Pros:
This mattress qualifies for the "allergen-friendly" label of GreenGuard Gold Certified.
All memory foam gel and mattress materials originate in the USA.
While it's not a lifetime warranty, there is a 25-year manufacturer's warranty — that's pretty hefty!
Cons:
You get a 100-night sleep trial, which is shorter than many other company trial periods. (It's still free returns and free shipping, though, so it's not too shabby of a deal!)
The Plush Ocean Mist can be too soft for some sleepers.
Sleeping on an ocean of mist sounds blissful, and that's what this mattress offers! At under $800 for a queen size, this is the best affordable mattress for budget shoppers.
---
3. Tender Sleep Basic
The Tender Sleep Basic bed-in-a-box design is for those who love the feeling of laying in bed and absorbing into the softness. It's firm enough to provide support, while comfortable enough to mold to your body.
Tender Sleep's gel memory foam focuses on medium-firm stability to enhance pressure-relieving sleep. The material absorbs movement, so you can sleep through the tossing and turning of anyone else in your bed!
You may notice that lots of mattresses today have zippered covers to protect them from damage. But the Tender Sleep Basic's liner has a dual purpose. Its wicking treatment absorbs moisture, controlling the temperature. Leaving behind that coveted cool feeling that lets you sleep comfortably.
Pros & Cons of the Tender Sleep Basic Mattress
Experts recommend high-density foam and medium-firm support for all sleeping types. Excellent ratings and reliable testimonials from users come with this budget mattress. Here are some other thoughts to keep in mind before you buy it.
Pros:
 The bed-in-a-box style comes with free delivery and easy setup.
You can use this mattress on any frame or purchase the perfect match foundation from Tender Sleep.
The under $600 price tag for a queen makes this one of the most affordable mattresses on the list.
Cons:
 The mattress only has a 10-year warranty.
There is a bonus 101-night sleep trial to let you decide, which is good but shorter than those of other manufacturers.
The Tender Sleep Basic Mattress is a great choice for anyone looking for serious spinal support. With the six-month payoff option, it's convenient for most wallets, too!
You may also be interested in: Best Furniture for a Small Apartment (Top 5 Pieces)
---
4. Propel Sleep Mattress
Brooklyn Bedding offers something that makes them stand out from the crowd. They use Upcycle, a trademarked European technology that uses Far Infrared Rays (FIR) to promote rest.
The technology lies in the performance fabric that makes up the mattress cover. It takes a proprietary blend of minerals and mixes them together. These turn into energy (FIR) that is then sent back into your body, using your own heat to provide you with better rest.
As if that wasn't enough, they use TitanCool trademarked technology in the top layer of bedding. This layers with CopperFlex to optimize your body's temperature as you sleep and keep it cool.
Three layers of comfort and cooling in this mattress include:
A top layer of foam mixed with CopperFlex and TitanCool for contouring and pressure point relief as you sleep
A middle layer of Energex foam for extra softness and comfort
A bottom layer of gel memory foam for more contouring and movement reduction
With all this technology, this may look like a great option, but check out the pros and cons before making a final decision.
Propel Mattress Pros & Cons
Brooklyn Bedding's hybrid mattress is revolutionary, for sure. The innovative technology sets them apart, but consider these points, too.
Pros:
The risk-free sleep trial is 120 nights, longer than many other manufacturers offer.
All parts and materials are custom-made in the USA.
Designed with the newest technology to help you sleep better and reduce aches and pains.
Cons:
The warranty is only for ten years.
It's one of the priciest mattresses on the list. To get it under $800, you'll have to purchase a twin.
The company also offers everything you need for your bedding. Pillows, sheets, and boxsprings are on hand for an all-in-one shopping trip.
---
5. CoolBreeze 12-Inch Memory Foam Mattress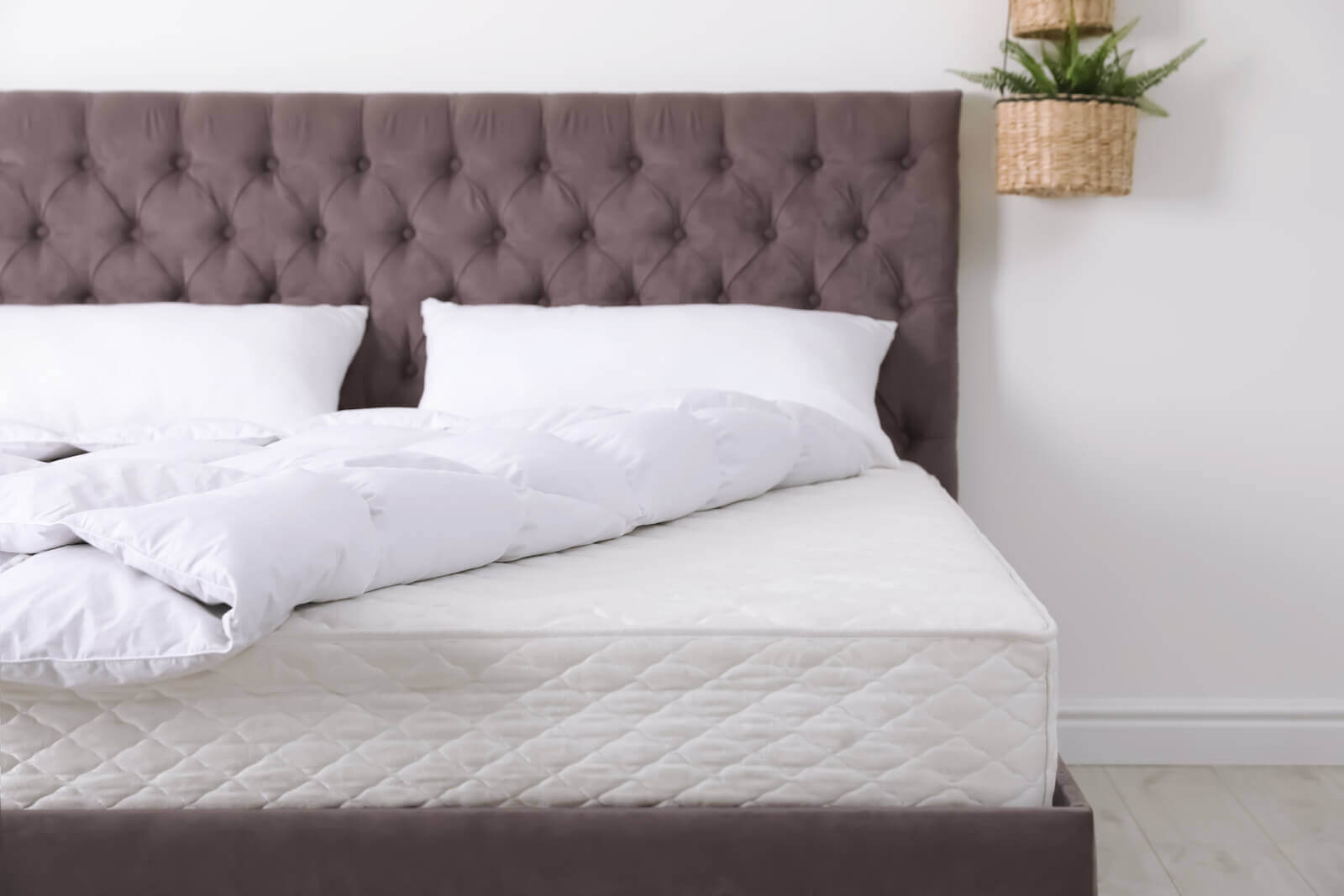 Three-inches of high-density cooling gel for temperature control separate the CoolBreeze 12-Inch Gel Poly Foam Mattress from the competition. They infuse three pounds of this high-quality gel into the memory foam layers to give you the most contour and softness.
The first comfort layer of the poly foam mattress is a fire barrier to slow the speed of flames in the event of an emergency. Beyond that, you have a medium-firm resistance with two layers of two-inch airflow. The design finishes off with five inches of durable construction support foam for the base layer.
Altogether, it adds up to a thick, cushiony — but supportive — hybrid mattress.
CoolBreeze Pros & Cons
Priced at just around $400 for a queen-size bed, this new bed is one of the least expensive on the list. This makes it a favorite for anyone on a tight budget, but check out the pros and cons before buying.
Pros:
The 30-year limited warranty is longer than most manufacturers offer.
The CoolBreeze is Certi-Pur certified. It's a flexible polyurethane foam, tested, and approved as made without harmful chemicals.
Shipping is fast and free.
Cons:
There is no sleep-trial.
Comes with a limited warranty, so make sure you read the fine print before you buy it.
This hybrid mattress is a good value for the price!
---
6. Tuft & Needle Mattress
The Tuft & Needle (T&N) Original Mattress is entirely unique in that it comes from materials that only T&N provides.
The proprietary T&N Adaptive foam design has an open-cell structure. The cells keep the material flexible as you move while still offering excellent edge support. This allows for optimal pressure relief to prevent aches and pains in your joints and spine, regardless of your sleeping position.
Another feature that causes the Tuft & Needle to stand out from the crowd is the use of graphite in the mattress.
Why graphite?
The designers knew it has heat-absorbing properties. They use the graphite strategically to conduct your body heat to the lowest layer of the bed and away from you.
Cooling gel beads complete the temperature-control features. As soon as you lay down, you can relax as these beads support your body and regulate your body heat.
Pros & Cons of the Tuft & Needle Original Mattress
The revolutionary features of the T&N are attractive. Other pros and cons can help you decide if this quality mattress is for you.
Pros:
Multiple certifications make this mattress a safe choice. It has the Certi-PUR designation as being free from harmful chemicals.  Other labels also show off compliance with strict health standards.
The T&N made the "Parent Approved" list in Today's product testing program.
T&N offers private on-site financing for those interested.
Cons:
Limited 10-year warranty.
The 100-night trial period is less than many other manufacturers offer.
If you are looking for a breathable mattress made from innovative materials, the Tuft & Needle Original is the choice for you. And at under $600 for a queen, it's an affordable option for sure!
---
7. YogaSleep YogaBed Mattress
Made from manufacturers of the trademarked YogaComfort System, the YogaSleep YogaBed Mattress type was designed for the health of your body.
The core elements of the YogaComfort System work in tandem to distribute your weight evenly for a restful night of sleep. This is a crucial part of helping you get quality sleep while reducing pressure on your joints and spine. It also reduces the motion transfer from other sleepers in the bed.
An included zip-cover, lets you keep your mattress clean by easily removing the top layer for washing.
YogaSleep YogaBed Mattress Pros & Cons
The YogaBed gets high mattress reviews from those who want help sleeping better and reducing discomfort. But as one of the pricier options on the list, you should know the pros and cons before choosing this mattress.
Pros:
The YogaSleep YogaBed uses a patented system designed to promote healthy sleep.
YogaSleep offers on-site financing to help you pay for your new mattress.
The shop carries everything you need for a relaxing sleep environment. If you want anything from diffusers to mattress toppers to bed accessories, you can get them here.
Cons:
The 101-night trial period is shorter than other manufacturers and may not be long enough for some people to get used to this bed's features.
The warranty is a ten-year limited version.
This isn't one we'd classify as a budget mattress. To keep it within the $800 price point, you'll have to get a full-sized instead of a queen-size mattress.
---
Conclusion
The right mattress is an investment that you should approach knowledgeably. It's worth every penny when your health is on the line.
Still, you don't have to break your bank to find the best new bed.
These top products are all high-quality and come expertly recommended, and they can be yours for a price tag of $800 or less.