5 Mudroom Organization Secrets for a More Organized 2023
If you are lucky enough to have a mudroom in your home, you must learn to use it efficiently.
Otherwise, it can easily end up as the dirtiest, most disorganized room in your house.
Often called an entryway, this small area serves a significant purpose:
It's the first thing people see when they enter your living space. It helps to set the "vibe" for their entire experience of your home.
It's also the place where people leave their shoes when they enter, so it helps to keep the rest of your house clean.
But too often, people allow their mudrooms to get out of control. And if your mudroom is disorderly, it won't be able to do its job.
Want to learn some mudroom organization secrets that will help you stay more organized this year? If so, keep reading!
---
1. Keep It a Clutter-Free Zone
When you get home after a long day and you're carrying loads of supplies from your car to your house, where's the easiest place to unburden yourself?
Your entryway, of course!
Leaving your stuff by the door might be the easiest thing to do at that moment, but let's be realistic: it's going to pile up and you'll eventually have to deal with it.
Since it's the place where you most commonly offload your items, why not be proactive about organizing it? Create an entryway that contains storage space for all of those things. This way, you can drop off your keys, junk mail, and other items before you cross the threshold into your living space.
If you have a decent-sized entryway, use a hall tree to hang your jacket and hat, store your shoes, and keep baskets for small items.
The mudroom is also a great place to keep a mail organizer. These come in all shapes, sizes, and styles. They allow you to sort your mail quickly and go back to the important items when you're settled and ready.
---
2. Have a Space for Everyone
Everyone you live with is going to come through the mudroom. And if your first instinct is to dump your stuff by the door, they'll probably do the same.
The best way to keep your entryway organized is to assign everyone their own space. This way, they won't crowd your area or leave things behind for you to pick up.
Depending on the size of your family and your mudroom, you may be able to give everyone space with a standalone storage bench.
If you don't have room for that, large baskets on shelves work well. Just make sure that everyone cleans out their basket regularly. Otherwise, they'll start to spill out and cause a whole new mess!
---
3. Use Your Vertical Space
Don't let the size of your floors limit you. Even after you run out of floor space, you still have plenty of vertical space left. Make sure to take advantage of it!
It's typical for people to store jackets in their mudroom. Bulky coats are awkward to store, though, and they can make your entryway unsightly.
By hanging hooks on your walls, you can keep those jackets organized.
If you can't install hooks in your mudroom, a standalone coat rack is a good alternative. They're usually very slim, so it isn't hard to squeeze one into a corner.
A nice coat rack makes a great piece of decor, too. They're a stylish and classy answer to the problem of jacket storage.
Umbrella stands are similar to coat racks and are a necessity for entryways in wet climates.
Whether you go with hooks, racks, or another storage solution, remember to use that vertical space!
Related: 25 Coat Closet Organization Hacks to Eliminate Clutter (in 2 Weeks)
---
4. Stop Tripping Over Shoes
Coats can get messy, but footwear can be downright dangerous. I mean, who hasn't tripped over an unexpected shoe lying directly in their path?
As you strive to organize your entryway, you should start asking people to leave their shoes at the door. But without a designated storage method, "shoes off" can quickly turn into "shoes left in a pile by the door."
To stop tripping over boots and sneakers (or worse, stilettos), keep a shoe organizer in your mudroom. It doesn't have to be huge, but it should be able to hold at least a pair or two for everyone in the home.
Helpful tip:

Keep a small table near your storage rack so you can set your stuff down while you take off your shoes.
Shoe organizers, and the "shoes off at the door" rule, help to reduce dirt and debris that would otherwise be tracked through the house. They also eliminate the stress of having to search for that missing shoe when you're already late for work!
---
5. Add a Communication Area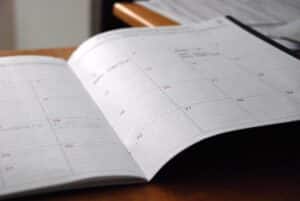 Since everyone comes through the mudroom, it's the perfect place to add a family calendar. This doesn't have to be fancy; a dry erase calendar will do just fine. But if you want one that matches your decor, you can order a personalized one.
It's helpful to have a place where you can communicate with your family members or roommates, especially if you're on different schedules.
Just be sure that, along with a calendar to note important events, there's a "memo" section to add reminders or grocery lists.
---
Conclusion
Your mudroom is the first thing that greets you when you walk through the door, so it should be neat and tidy. These five tips can help you get yours in order.
The good part is that once you organize it, you'll probably want to keep it that way.
If you're lucky, you might even catch the organization bug and want to declutter the rest of your home, too. As your new style of living moves from the mudroom to your entire life, you'll be sure to have a more organized year!





(1 votes, average: 5.00 out of 5)


Loading...