Is Medieval Interior Design Your New Aesthetic?
Interior designs trends come and go. Some remain classic, such as minimalist, mid-century modern, contemporary, and art nouveau.
Another to consider for your design aesthetic is medieval home decorating.
---
What Is Medieval?
The medieval period took place in Europe for an estimated 1,000 years. It occurred after Rome fell and before the Renaissance period picked up in Italy. It's also known as the Middle Ages.
Although Rome fell, its legacy lived on well into the 20th century. Roman decorative style included murals and motifs, whereas the Middle Ages delivered woodwork, gothic interiors, and ornamentation furniture design.
Three characteristics define this period:
Chivalry
Feudalism
Religion
In addition, there were three periods of the middle ages:
Throughout, the total period featured dominance by the Catholic church.
See also: Our Full Guide to Interior Design
---
How Do the Medieval Period and Interior Design Coincide?
If you ever wanted to travel back in time, interior home design is your time machine. Pick your favorite era and place its elements throughout your home. Style your living room, bedroom, and kitchen with decorative elements of the period. Then, mix in current furnishings and furniture that mimic the era.
A set of characteristics define every era. In 2021, technology will impact a home's decor. Professionals integrate tech equipment into their client's homes. They also work to hide the wires attached to televisions, cameras, and smart thermostats.
It keeps the aesthetic pleasing while integrating features some individuals desire.
See also: 1920's Aesthetic Decor Fundamentals
---
A Brief Overview of Medieval Life
During the medieval period, the inhabitants made due with the materials available to them. From 476 AD to the end of the 1400s, everything was handmade.
The farmers, serfs, and peasants used saws, hatches, and axes to chop wood. Gouges, hammers, and chisels helped artisans carve furniture and furnishings from the wood.
Most people worked in trade jobs, such as stone masonry, carpentry, and millers. There was no mass creation of furniture, daily essentials, and other goods. The population lived on what they created, planted, and nurtured by hand using simple tools.
Some trade started to occur in this era. Goods landed in Europe from China and the Middle East.
The home design that existed during this period was a product of its time. For example, art deco resulted from post-World War II. Egypt saw golden design elements and elegant furnishings.
---
Color and the Medieval Period
As you consider medieval home decorating for your new aesthetic, take a look at the colors.
It was rare to see yellow and white in the early portion of the era, let alone a pastel pink. However, green, red, blue, black, and brown were common. Therefore, if you style your home with this aesthetic, keep in mind your color options.
---
See Medieval Home Decorating in Person – Renaissance Faires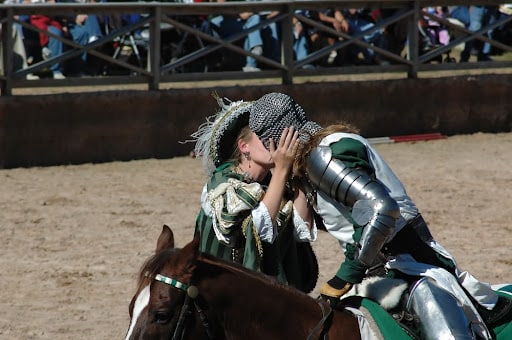 Attending a Renaissance Faire in your area is one way to gauge whether or not the medieval decorative style is your new aesthetic. These events take place across the United States. Although the name contains the word Renaissance, they celebrate the Middle Ages.
The Ren Faires celebrate all things during the era. They encourage guests to dress in the period's attire and speak in its lingo. For event participants, the clothing and language are standard protocol.
Entertainment is part of the festivities. Each slot opens the door to a different perspective from the era.
Visiting a Renaissance Festival doubles as a shopping opportunity. You can purchase clothing, jewelry and enjoy the food. In addition, you may find small furnishings and furniture for sale too.
The organizers place strict requirements on their actors and merchants. Items you purchase over the weekend will have a seal of approval as authentic.
---
7 Elements of Interior Design
Understanding the elements of interior decoration helps you figure out your aesthetic. The seven elements of interior design include:
Space
Lines
Shape
Pattern
Light
Color
Texture
The goal of interior design is to maximize space. A designer listens to their client's concerns. Then they incorporate them into the styling. Decorating fills in gaps, hides flaws, and highlights investments made into the property.
A home is a blank canvas, especially during a redesign. If you plan the styling well, every room creates the ideal mood. It's comfortable and provides a place guests want to visit.
A well-executed Middle Ages decorating scheme highlights the period furnishings you acquired. Start by searching for them online. If you visit a Renaissance Faire, you can make a fun day out of the trip and browse the items for sale.
Flea markets and yard sales are other sources where you can find antique, medieval, and gothic furnishings.
You may also like: 5 Unique Aesthetic Cores to Inspire Your Decor
---
Elements of Medieval Home Decorating
The internet is full of vibrant images from the medieval era. You'll notice the bold and rich colors that adorned the inside of the churches and homes. Clutter did not exist.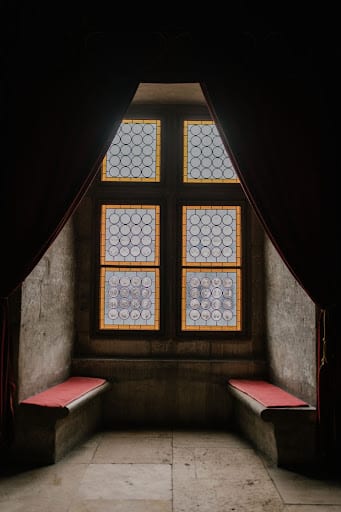 People Moved
Some areas of Europe experienced war. Therefore, it wasn't possible to accumulate several possessions. The population maintained modest belongings in case they needed to move.
If they moved, they carried their things on their back. Their transportation options remained sparse. Since the Catholic Church maintained power during this period, they controlled the arts. The serfs didn't accumulate possessions.
Typical Spaces
The large homes consisted of timber and stone walls, narrow windows, and open-beam roofs. Fireplaces moved from the center of the room to the wall.
Floors remained bare and made from wood. In many cases, the house stood on top of the Earth, which served as the floor.
Furniture and Possessions
Chinese textiles began making their way to Europe, even though the style was more military than for the eye. The imports adorned the castles.
Chests helped the population organize and store their possessions. Furniture included stools, tables, and benches. Instead of art, tapestries decorated walls.
---
Medieval Decor Changes
The later period of the era saw housing and interior decoration improvements, such as separate rooms and privacy. Some homes included a second floor for the sleeping area.
Trade improved the furnishings Europeans acquired. Textiles became more delicate, and wardrobes replaced the single wooden chest. It became possible to store clothes in closets.
By the 1400s, homes designated areas for the kitchen, bedroom, and sitting area. They stored their cooking ware by hanging them in the kitchen. Mats and linen cloth became more common as the middle-class began to develop.
Research shows that the Gothic style arrived in France in the 1100s when stained glass for windows became common.
When you consider if the medieval decor is your new aesthetic, you have 1,000 years and several sub-eras. In addition, you get to decide if you're going to focus on the style from France, England, or Ireland.
It's possible to combine elements or to take the ones that are common throughout the entire period.
Let's look at the seven elements of interior design and a potential medieval home decorating plan.
1. Space
In interior decoration, two types of space exist, positive and negative. Your furniture and furnishings occupy the positive space. Negative space counts as the gap between your furniture and furnishings.
You'll need more negative than positive space for medieval decor, primarily if you focus on the early or mid-part of the era.
Remember, before the European population settled into their homes, their possessions were sparse. The potential of war forced them only to keep the possessions they could carry on their back. Clutter didn't exist.
Space poses an interesting question in the 21st century.
A home consists of several rooms. Rooms and privacy didn't exist for a large part of those times. Therefore, you need to figure out how literal you're going to style your home.
It's a fun opportunity for those who live in a New York City loft – it's possible to go all-in on the design. You can similarly partition your living space.
2. Lines
In ballet, the lines a ballerina creates with her arms, legs, and body are essential. She completes the movement all the way to her toes.
Lines in interior design are important too.
If you live in a starter home, lines help you create the illusion of a larger indoor space or a taller ceiling.
For indoor decorating purposes, lines create shapes and organize the furnishings. They guide the eyes of your guests toward a medieval-inspired furniture piece you want to highlight.
Medieval lines form diamond shapes. They also focus on creating pointed arches. Keep in mind that light made its way into homes through thin slits. There is a sharpness to them.
3. Shape
The culmination of all your lines is the shape or form style. Rectangles and squares are the simplest shapes. Thus, they're the most common in medieval interior designing.
If you can create arches, it's another shape to incorporate into the style.
In addition, a dining room table benefits from a wooden top and a wrought iron steel frame. Add a stainless steel coffee table to the living area and an upholstery armchair. Every piece of furniture should add to the design aesthetic.
4. Pattern
Patterns in those times focused on geometric shapes. They received additional prints from goods imported from China and the Middle East.
If you use rugs to decorate, you can find several styles that mimic this era at designer furnishings stores. Rugs are versatile furnishings for this decor scheme. You can hang them on the wall as art.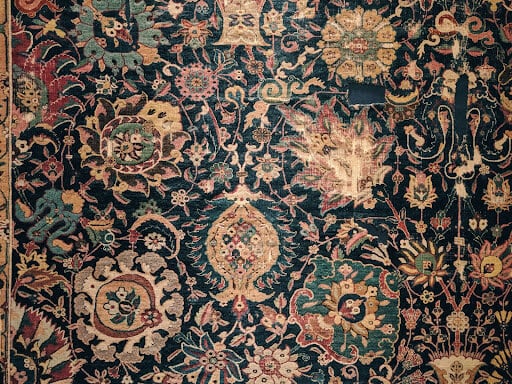 Since medieval floors were wood or Earth, a hardwood floor is best. Then, place a rug with patterns from those times on the floor to protect the wood.
5. Light
During the Middle Ages, there was no access to electricity.
Light came from fireplaces, candles, torches, and lanterns for the evening as opposed to ornamentation chandeliers. During the daytime, the population relied on sunlight. Although the windows were often narrow slits, they supplied enough light for indoor chores.
For a medieval decorative style, a fireplace is a must. Your light fixtures can consist of wall sconces that resemble torches and lanterns. Candles are a great decorating touch too.
If you don't have a fireplace or prefer to stay away from several open flames in your space, workarounds exist. Fake lanterns, LED candles, and makeshift fireplaces exist.
6. Color
The color palette for the Middle Ages evolved. As trade opened between Europe and Asia, Asian fabrics found their way into European homes. To remain faithful to the era, consider using red, green, and brown colors for your interior design color scheme.
Achieving brown tones is simple. Medieval artisans produced most furniture from wood, including benches, sofas, chairs, and tables. Other furniture materials include steel for stools.
Hardwood floors also provide the brown colors for this interior design style. You'll skip the carpeting, but add tapestries or rugs.
To achieve the rich reds from the era, search for luxury Persian rugs or tapestries, and curtains. The antique style renders the red tones for this time. If you're searching for a durable rug, pick up the kind made from wool.
When the rug will serve as a piece of art, opt for those with silk woven in. The more silk woven into the rug, the more delicate it becomes. Therefore, hang it on a wall as a decorative piece.
7. Texture
Texture for interior design is also available in two types, actual and visual. Actual texture is what you feel when you sit down on the sofa, chair, or stool. Visual texture creates an illusion of it.
Middle Ages homes consisted of timber frames and walls. The upper class lived in houses constructed from stone.
For texture, examine your walls first. Most homes have drywall over the frame.
If yours has timber walls, you're off to a good start. It's rare for homes to have stone walls in 2021. Those interested in creating a medieval aesthetic through texture can employ wallpaper.
You'll find several options online, from timber to stone. In addition, some wallpaper aims to create a gothic style with wall torches and a backlight. Those who live in apartments can find removable wallpaper that won't lose you your deposit.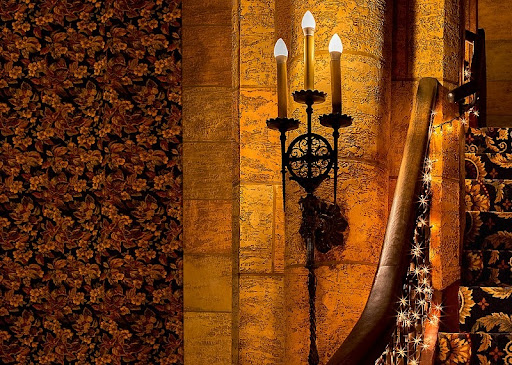 Medieval interior design is among the trends that continue to make a comeback. Television such as Game of Thrones probably influenced several fans into falling in love with the Middle Ages aesthetic.
On Tumblr, you'll find posts about Knightcore and #medievalcore posts on Instagram.
To start building your space's Medieval aesthetic, start with a Table Runner from Wayfair. Available in three different sizes, it's an affordable piece that decorates a dining table. The wrinkle-resistant furnishing instantly adds luxury on a budget.
For lighting, consider a black iron medieval-style triple lantern candle stand from Amazon. A set of LED timer flameless candles works for lighting too.
Check out all the bedroom essentials your new apartment needs!
---
Conclusion
Medieval interior design might be your new aesthetic. If you enjoy decorating with handmade furnishings, it's a start. Employ a color palette of red, green, and brown. Minimize the clutter, but bring in wood-based sofas, chairs, and tables.
In addition, complete medieval home decorating by framing your windows. Opt for lush curtains. Use the fireplace for light in the evening. If you're still unsure, attend a Ren Faire in your area to see the period in action.