5 Ways to Fix a Room Where Nothing Quite Goes Together
Are one or more of your apartment's rooms looking mismatched? If you've accrued a lot of decor over the years, it's easy to keep adding to a room.
You might have a bad habit of collecting too many art prints from a favorite artist. Or you may keep buying new decor pieces at thrift shops.
While it's fun infusing your personality into your apartment, you can easily get carried away.
If you have a bad habit of adding more decor, chances are your rooms look messy. Not only that, but nothing in your apartment entirely goes together.
Although it's frustrating to have an interior that looks random and disorganized, don't give up hope.
With some revamping and switching decorations around, everything will be good as new! Follow these five ways to fix a room where nothing quite goes together.

---
1. Start With a Neutral Sofa
Having a piece of furniture, such as a sofa, in a neutral shade of color, is an excellent idea. Why is that?
Well, if you plan to get a new sofa or already have a neutral one, that's a good starting point for fixing things.
A neutral sofa in a basic color gives you the freedom to incorporate color in other ways. It's like a blank canvas that you can add color to in fun decorative ways.
For example, if you have a teal sofa, it's harder to find pillows and other decorations that blend.
A neutral sofa is a staple piece that makes it easy to add decorations in any color.
Feel free to incorporate new colors as long as the unique elements won't clash with the current ones!
You may also like: 5 Ways to Style an Awkward Corner in Your Apartment
---
2. Anchor the Room With Colorful Pillows
Pillows are an easy way to anchor random colors in a room and make them blend.
Buy pillows that have colors from other decorations in the room. Say you have blue and green tones in the place.
If that's the case, pull all the colors together with blue and green pillows.
You can have patterned pillows in the room, but make sure there aren't too many patterns in there already.
If there are items with patterns, such as a modern rug or footstool, add pillows in a solid color.
In summary, make sure your pillows match and complement the surrounding colors. That way, they'll be sure to blend in well!
---
3. Be Creative With a Bookshelf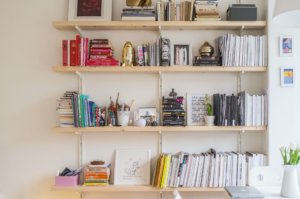 A bookshelf is a smart way to be inventive with the random decor in your apartment.
Have a lot of knick-knacks? Add them to the bookshelf and use books to space them out. Stack books in a pile or use bookends to keep books in specific colors together.
For example, to display items, such as collective plates, put them between a stack of books. Another idea is to place a tall figurine next to a smaller one to break things up.
If you end up adding a fair amount of decor, you'll be creating more of an eclectic look.
Would you rather have a more minimalist bookshelf? To maintain a minimalist appearance, you'll have to do away with some of your decorations.
Keep the ones you love the most, and throw away or donate the rest.
Organizational senses tingling? Then check out: How to Organize and Keep Track of Odds and Ends
---
4. Reposition Artwork
Is your artwork unevenly or awkwardly displayed on the wall?
If you have too many smaller framed prints, consider swapping them out for a few larger canvas prints.
Before figuring out a new placement, trace your artwork on paper or cardboard. Next, use washi or another form of easy-to-remove tape to adhere the cutouts to the wall.
This trick will come in handy because you'll be able to visualize how the layout will look. You don't have to commit to hanging anything right away until you decide how you'd like to arrange the art!
Plus, it'll be a lot easier to make sure that's where you want the artwork to be as opposed to changing your mind again.
See also: 25 Coat Closet Organization Hacks to Eliminate Clutter (in 2 Weeks)
---
5. Select a Theme
If you have enough decorative items to create a theme, transform the room into a fun and original space.
A nautical theme or well-known city theme, such as Rome, are two examples. If you've been to London and have a lot of art prints and decorations of the city, it might make sense to go this route.
You might have a lot of modern artwork that's dispersed throughout your apartment. Consider bringing it all into a single room to make things blend in better.
Although this might take away from another room's decor, you can use these same tricks to revamp that space too.
And remember, nothing is set in stone. If you don't like how a theme turns out, you can always switch things around again later.
All in all, having a cohesive theme will result in a consistent style and fix a mismatched space.
---
In Conclusion
Look at your messy room as an opportunity to start fresh. You can't always go out and splurge on new decorations. But chances are you can make do with what you have already.
If there are too many decorations already, you should start by purging. The idea is to get rid of things you no longer need. Once you've accomplished that, you can try one or more of the five tips mentioned above.
Besides the tips mentioned in this article, there are plenty of other ways to improve your space!
Switching up the furniture and switching out your lighting are two other methods.
After you get into the swing of things in one room, you may be eager to revamp other interiors in your apartment. You don't have to stop until you achieve perfection!
Pretty soon, your friends will be asking your advice on what they should do with their random rooms!





(No Ratings Yet)


Loading...