14 Window Plant Hangers for the Home [+ How to DIY One!]
Let's banish those days of purchasing a plant and letting it sit in the corner. There are more (not to mention — better) ways to integrate plants into your home.
One method is to use a plant hanger. Window plant hangers are a great way to maximize space and create a dreamy, green-filled home.
Window plant hangers, especially in macrame, were all the rage in the late 60s and throughout the 70s. Now, the trend of indoor hanging planters is back with a vengeance, with more options than ever!
Plant hangers suspend in the air, either through mounting or simply hanging onto something, like a curtain rod. They allow your plant to dangle rather than sit somewhere, helping your plant get the sunlight it needs to thrive.
These hangers can come in a variety of colors and materials, meaning they're adaptable to your personal style. If you've been looking for the perfect all-in-one approach to helping your plants feel their best, these hangers might just be the answer.
Lucky for you, we're breaking down everything you need to know about them right here!
---
Why Window Plant Hangers Are Perfect for Your Home
Still in doubt about whether window planters are right for your home? Don't be!
They're a perfect versatile option to add both style and health benefits to your space.
Here are just a few reasons why a window plant hanger is a must:
Decor
One of the most obvious ways plants and their potting/hanging choice matter is because of decor. The right indoor plant can make a space feel whole and well-rounded.
It can also add that touch of liveliness you need to avoid a room feeling dull or flat. That also goes for the hanging method.
For example, a pop of color with a yellow pot can make a relatively subdued room, like a living room, feel warm and inviting.
Because color plays a major role in our well-being, this is an easy but effective way to incorporate happiness into your home.
The same goes for outdoors! Add an herb garden in the kitchen, a beautiful flower pot holder outdoors, a bird feeder, and plenty of outdoor plants to round out your decor.
Purified Air
Plants are more than just their good looks — they do good. Many houseplants can help to purify the air in your home.
This process happens when plants use the air in a room for photosynthesis.
Certain indoor plants will soak up the carbon dioxide in the air while releasing good-for-you oxygen instead.
Keeping your plants happy and healthy, like keeping them close to the window and out of reach from animals, can help them do their job better.
Mental Health 
Your well-being includes mental as well. It's possible that just being around plants can help improve your mental and emotional health.
There is no particular routine that needs to happen to reap those benefits. Simply being in the presence of plants can make a significant difference.
It helps that you are experiencing cleaner air and, thus, clearer cognitive performance due to purifying plants.
Also helping is the aesthetically pleasing hanging window plant, perfectly designed to fit your needs.
With all that said, it's clear that:
Plants + the perfect hanging method = tremendous benefits.
Greenery will help to improve your all-around well-being, regardless of what form.
Related: Why You Should Try Apartment Gardening

---
What to Know Before Hanging Your Plants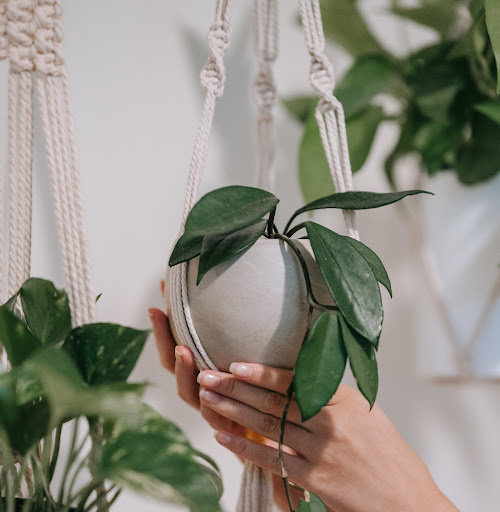 Now that you understand the immense benefits of incorporating plants into your home, you'll want to keep a few things in mind.
Choosing the Right Plant
There are a few approaches to choosing the right hanging plant for your home.
This can be an aesthetic decision — as in choosing a plant with growing vines that dangle when hanging — but not all plants love suspension.
Whether your decision comes from a desire to keep toxic plants away from animals or it's simply a decor choice —  keep the plant's health at the forefront.
Make sure you choose plants that are destined to thrive while hanging.
Choosing the Right Location 
Plants are very temperamental, though to different degrees.
As much as you might like this plant here or that plant there, you should base your decision-making on where your plant will like it best.
You ultimately want to create an environment that will make your plant happy. This might mean choosing a window in a sunnier spot in your home over another.
To help you narrow down which plants might work for your hanging planter, start researching here.
If your home doesn't have adequate sun access, consider swapping your traditional plant for succulents or air plants.
Discover: 12 Hacks for Balcony Gardening 

---
Where to Find Plant Hangers
Because window plant hangers have risen so sharply in popularity, they are more widely available than ever before.
Whether you're hoping to support a small, local business or you saw something on Amazon that you just have to have, there are options to fit your needs.
Etsy 
If you want something small-scale and unique, Etsy is a great option.
If you aren't already familiar with Etsy, it's a marketplace where artists can sell their one-of-a-kind homemade goods.
Some highlights include this multi-tiered shelf unit, allowing space for a half dozen or so plants to receive all the sunshine they need.
Consider one of these galvanized iron hanging pots if you're looking for more of a statement piece rather than a traditional approach.
They're a great addition to your window space and especially perfect for sprawling plants.
Amazon 
This shipping giant may not offer the unique small-scale pieces you'll find elsewhere, but they have way more choices to look through.
If you have something specific in mind, the chances are high that you'll be able to find the perfect thing on Amazon. Plus, it's likely to actually be in stock!
Further, with relatively easy access across the board and quick shipping, you won't need to wait long to enjoy your goods from Amazon.
An option you may want to consider is this industrialized multi-plant hanger, which is ideal for smaller plants.
You also can't go wrong with the macrame plant holder, a softer option for hanging plants in small spaces where a large fixture doesn't work well.
Local 
Want something that nobody else likely has?
Head to your local thrift or craft shop with specialty home decor, including window plant hangers.
You may be able to find something that ultimately ties together your home, making it shine.
With smaller-scale stores, especially without an online presence, you never know until you go in and look around for yourself.
Even if you don't find a hanger you love, you may be able to find the materials needed to create your own special piece. More on that below!
DIY 
Sometimes, the perfect item doesn't exist; instead, you'll need to craft one that works for your needs.
This doesn't need to be an intense process but rather one that is fun and affordable.
There are many DIY plant hanger options out there — great for your window. One option is a t-shirt hanger in which you use an old t-shirt to create a macrame-like hanger for the plant.
The t-shirt hanger is likely the easiest as it only requires one thing — an old t-shirt! You can't beat that.
If the t-shirt DIY method is not right for you, consider making a DIY macrame hanger with this kit from Amazon or try this woven planter.
Is a victory garden your next DIY project? Learn: How to Build a Victory Patio Garden

---
14 of the Best Plant Hangers for Your Home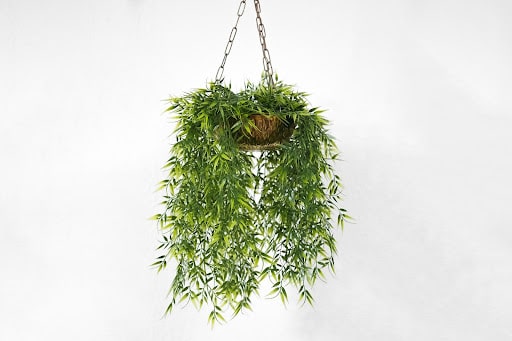 Choosing the right window plant hanger comes down to your personal preferences and the flexibility of your window space.
Matching your vibes to your style should take priority.
For example, if you're someone who prefers minimalistic designs or needs a pop of color, you'll want to make your decision based on that.
Or, if you can't mount anything in your apartment and need to hang something from your curtain rod, you might be limited to lighter, smaller options.
Before making any stylistic choice, consider the costs and installment process from start to finish. The last thing you want is to buy a window hanger you're in love with, only for it to not work practically in your space.
We've rounded up a few of the best products from the most popular types of hangers to get you started.
The Best Macrame Plant Hangers 
Macrame plant hangers are all the rage and the perfect addition to your window for chill, boho vibes.
The Best Metal Hanging Planters
For heavier-duty options, look to hangers made of metal like these:
The Best Woven Plant Hangers 
These woven plant hangers are perfect for that cottagecore aesthetic!
The Best Leather Planters
Invite an air of sophistication into any room with these leather hangers:
See also: 5 Creative Ways to Decorate When You're Feeling Stuck With What You Have

---
How Do You Hang a Plant in a Window?
There are different ways to hang a plant in a window.
That means that it may look different depending on the window, the type of hanger, the plant, and more.
So, keep in mind when approaching the question of "how to hang a plant hanger" that every scenario is different.
There are many other options for plants, like hanging shelves or even wall decor-centered options that lean toward boho chic or modern classic.
Drilling Method
Not afraid to drill into your wall to mount your plants?
Then you have a lot of freedom to do as you please when hanging your planters!
Plant hanger hooks are a versatile option that you can find just about anywhere. They work by having a hook on one end and a screw at the other end.
You'll be able to hand-twist the hook into the wall so that you can hang your plant.
For best results, you'll want to mark where you install your plant hook with a pencil to ensure you are screwing it into the right place.
With a plant hook, you have more freedom over where your plant goes.
For example, you can place the plant hooks above the window or beside it to create the perfect window plant hanger look.
Remember that this method, along with ceiling hooks, will leave a permanent hole. Keep that in mind if you're in a temporary space.
But metal hooks like plant hanger brackets or something similar will offer the best, sturdiest options. (Tip: Buying a self-watering globe will make your life easier if you have high ceilings!)
Drill-Free Method
Many either can't or don't want to drill in order to hang their plants.
Luckily, there are alternatives to help hang your plants without leaving lasting damage on the wall. In other words — make it renter-friendly.
The easiest non-invasive method for hanging a planter is from the curtain rod above the window.
Now, you'll need to be careful with this method to avoid putting too much weight on the curtain rod.
Remember that drapes are heavy, which can already max out your rod's weight limit. Adding a planter on top of that may put your rod overboard and risk it pulling from the wall, creating a hazard.
If, however, you do have the space (and weight load) to add a planter, doing so by placing an S Hook is a great choice.
That way, you have the freedom to put the hook, or multiple, anywhere on the rod and hang your plants wherever you want.
Plus, you can spread weight evenly by adding S Hooks to properly space plants. There are plenty of types out there, so you can align with a minimalist vibe or go for something more intricate.
You can always go for a stainless steel plant stand if wall-hanging pots just won't work in your current space.
You may also like: How to Go From Minimalist to Maximalist Without Chaos
---
Conclusion
Window plant hangers make for the perfect addition to your space. Regardless of the aesthetic you're going for or your budget, there are options that fit your needs.
Whether it's a non-permanent S-hook approach with a DIY t-shirt hanger or a mounted industrial hanger, you'll reap the benefits of a plant hanger regardless.
We hope these tips and tricks for adding a plant hanger to your window help improve your mental and physical space!