Beginner's Guide to the Different Types of Apartment Gardens
There's nothing quite like waking up and enjoying a cup of coffee in the morning sun.
When you're living in a major city, this might sound more like a dream than a reality. Yet, many apartment complexes are making it easier than ever to have green spaces that elevate their buildings. Even if you don't have easy access to a roof or a small yard, there are still some ways you can exercise your green thumb in your apartment.
If you're looking to spruce up your daily routine and grow some fresh herbs and veggies, here is how to upgrade your home with an apartment garden.

Key Takeaways: Just because you live in an apartment, doesn't mean you can't have one of many types of gardens.
Solution: A little bit of planning and carefully choosing plants can help you create the apartment garden of your dreams.
---
Beginner's Guide to the Different Types of Apartment Gardens
Living in an apartment building is all about flexibility. Your garden will also have to work with your space, so here are some of the most common types of apartment gardens you'll come across.
Rooftop Gardens
When you think of a garden in a major city, the first thing that probably comes to mind is a rooftop garden. Rooftop gardens come in every shape and size.
Luxury high-rise buildings may have rooftop gardens for all building tenants to enjoy some greenery. In contrast, as a passion project, you may add a garden to the rooftop of your townhouse.
Whatever the roof size, there is plenty of space and sunlight to accommodate gardens on top of buildings in major cities.
Residents may also maintain a rooftop garden. You might sign up to take a turn tending to the garden and come out with a bundle of fresh veggies in return. A roof is perfect for growing gorgeous flowers or adding fresh fruits and vegetables to your weekly meal plans.
Balcony Gardens
What better way to beautify your balcony than adding a garden?
Balcony gardens may be one of the most common types of gardens in cities. They are your way to create a little piece of paradise right outside your window. Balconies of all sizes can accommodate different plants.
Not only are balcony gardens beautiful, but they allow you to have fresh herbs right at your fingertips. Ensure your balcony gets plenty of sunlight, or pick plants that do well in low light, so your garden flourishes.
Indoor/Windowsill Gardens 
Don't have an accessible outdoor space to flex your green thumb?
Don't worry! You can create an incredible garden in the comfort of your home. Many city goers enjoy having a plethora of plants in their apartments (but indoor plants don't all have to be typical houseplants). You can install window boxes in your sunniest spots for herbs and flowers.
As agricultural technology advances, more solutions for growing plants indoors become available. From hydroponic stations to indoor grow lights, there are many ways to garden, even in a street-level apartment.
The best part is: you can grow year-round!
Garden Style Apartments 
Ever go to a friend's apartment and marvel at the fact that they have a backyard?
They're most likely renting a garden-style apartment.
Garden-style apartments are commonly found on a residential rental unit's ground floor or basement level. Often, the renter of that unit has full access to the yard and greenspace behind them.
If you have a ground-level basement apartment, you will have to maintain the space yourself. Think of a garden-style apartment as the best of both worlds — a rented apartment with a backyard.
Garden-style apartments allow you to make the most of your space. You can create a backyard oasis, entertainment space, or quiet getaway from the bustle of everyday life.
Now that you know all the amazing gardens you can find in cities, it's time to figure out how to build your own.
Discover: 12 Hacks for Balcony Gardening

---
Best Plants for Apartment Gardens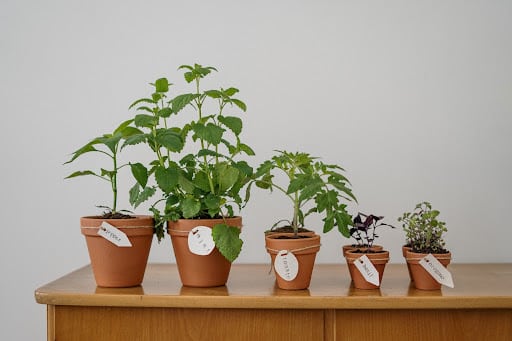 Each style of apartment garden is well suited for different types of plants. Here are some ideas to help you pick the right plants for your space.
Plants for Outdoor Gardens
If you're lucky enough to have ample green space accessible from your apartment, you have a lot of plants to play around with. Large outdoor spaces are perfect for decorative flowers and vegetable gardens.
Popular outdoor garden veggies include tomatoes and lettuce. Both grow easily in planters or large pots. Other easy veggies for first-time gardeners are zucchini and squash. You can also try your hand at fruits like strawberries.
If you live in a warm climate, you can look into the popular local fruits. For example, Californians can grow lemon trees outside their windows.
If you have a lot of outdoor space, don't be afraid to grow larger fruits and veggies or create berry patches. They'll have enough room to sprawl, and before you know it, you'll be enjoying fresh fruit in the morning.
Plants for Rooftop Gardens
Rooftop gardens are the perfect places to create nicely manicured flower gardens. Try planting tall grasses if you want to create something more decorative to go with the view. Make sure you're choosing local flora that will thrive in your climate. Decorative outdoor plants that thrive in Atlanta may not do as well in New York City come fall.
Rooftop gardens get the most sunlight out of apartment gardens. This allows you to include plants that need full sun. You can consider planting shrubs and short trees on your rooftop. You won't have to worry about your plants hitting the ceiling on a rooftop garden.
Plants for Windowsill Gardens
Some of the most common plants to grow on windowsills are herbs. You can pick whichever herbs you find you cook with the most often.
Some popular herb choices include:
Basil
Parsley
Cilantro
Chives
You can even experiment with low-touch veggies like lettuce on your windowsill. They don't need too much sunlight and can help you add more greens to your diet.
Plants for Indoor Gardens
Indoor gardens are a great opportunity to try out a bunch of different plants. You can control the climate and add some nice touches of green to your indoor space.
Plants that thrive in indoor climates are succulents and cacti (and houseplants, of course!). Succulents and cacti don't need too much attention or even water. As long as you watch for signs of dryness and take care of the roots, they'll live a long and happy life inside your apartment.
Common house plants come in a wide variety of shapes and colors. Beginner houseplants include pothos, snake plants, and philodendrons.
After your trip to the plant shop, you'll need to take the time to learn how to care for your plants. Read on for tips on how to take care of your garden.
Related: Plants to Decorate Kitchen Cabinets Tops

---
How to Care for Your Apartment Garden
Each type of apartment garden will need different types of care. Luckily all apartment gardens are meant to be low-lift and great for beginner gardeners.
Here are some tips to help you care for your new apartment garden.
Pick the Right Planters
Since most of your plants won't live in the ground, you'll need some planters. Planters make it easy for your plants to grow in different conditions.
For outdoor gardens, you can buy large planter boxes for shrubs, trees, and any larger fruits and veggies. You may even try container gardening instead of planting anything in boxes or the ground.
There are a couple of different planters for indoor or small gardens. Window box planters are a must for gardening on your windowsill or balcony.
Indoor planters come in all shapes and sizes. Take your time finding planters that complement your apartment aesthetic and vibe.
If you don't have enough space on the floor, choose hanging planters. You can buy hanging baskets or planters to attach to your ceiling. Hanging these in front of a window will also help your plants get the light they need.
Lighting for Indoor Plants
Once all your plants are secure in their planters, move them to where they'll get the correct amount of light. Natural light is the best for most plants. But, for indoor gardens, you can pick up grow lights from retailers like Amazon or your local plant shops. These will help simulate sunlight for plants that are too far away from windows.
Some plants do better in less light. Always research the plants you purchase to determine how much light they need.
You can also manipulate your indoor space to provide more sunlight to your plants. Play around with adding mirrors to your apartment that can reflect sunlight. You can position them to hit the plants that need more direct light throughout the day.
Outdoor Garden Care 
Outdoor gardens will often be larger than indoor apartment gardens. While they may take a bit more work to maintain, there are some care tips you can use to keep it simple.
Setting up timed sprinklers ensures your plants always get the water they need. Even if you decide to go away for a vacation, your plants will get a nice drink of water at the same time every day.
If your outdoor garden is susceptible to bugs, consider using organic pesticides. You can find sprays to help protect your fruits and veggies from unwanted guests.
Apartment gardens will require different levels of care, but overall it's an easy hobby to add to your everyday life.
You may also like: How to Build a Victory Patio Garden

---
Benefits of Having an Apartment Garden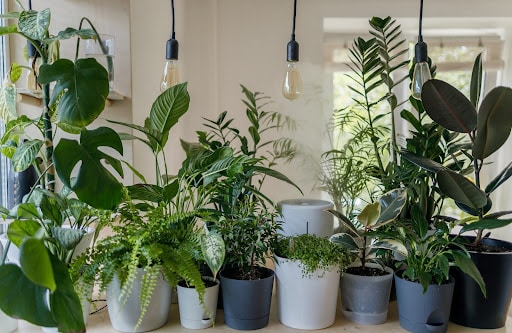 Starting an apartment garden may feel like a big undertaking. Yet, taking care of plants has many benefits, especially if you live in a city with limited green spaces.
Fresh Produce 
One of the most significant benefits of having a garden is having access to fresh produce. Finding fresh produce in major cities can be difficult, and farmer's markets may only occur seasonally/once a week. Instead of hunting for fresh herbs and veggies, you can enjoy food you grew yourself.
There's no better feeling than serving a fresh salad with vegetables from your garden. Having fresh produce may also inspire healthier eating habits when preparing daily meals.
Build Community 
If you have access to a shared garden space, helping with a community garden is an incredible way to get to know your neighbors. You can take the time to work alongside tenants in your building to create a garden that you all can enjoy. Not to mention working with others cuts down on the cost of supplies and labor in your garden.
When you start growing an abundance of herbs, you can drop them off at neighbors' houses or gift them to friends or coworkers. Having a garden brings the people in your life together.
If you have a garden apartment or even a balcony garden, you can invite friends to enjoy your outdoor space with you. Building a backyard oasis gets even better when you host summer parties in the evenings.
Day-to-Day Improvements 
Getting your daily dose of fresh air and sunlight can be challenging when living in an apartment. Having plants inside your home improves air quality. Indoor plants also reduce stress levels and boost your creativity.
Working with plants can also have a therapeutic effect on people. The action of taking care of something and watching it grow can have a positive effect on your outlook and reduce anxiety.
Learn more: Why You Should Try Apartment Gardening

---
Elevating Your Apartment Garden
Once you feel comfortable, look for hacks to make your gardening easier or more aesthetically pleasing.
If you're unsure where to start, check out these apartment garden ideas from The Home Blog. It's a great source of inspiration to take your DIY garden to a whole new level. In the meantime, here are some improvements you can make to your garden apartment.
Built-In Planters
Installing built-in planters in your outdoor apartment gardens is an easy way to elevate your outdoor space. You should pick sturdy materials that will last through different types of weather. You can also customize built-in planters to fit the aesthetic of your garden and outdoor space.
Hydroponic Systems
If indoor gardening has become your new favorite hobby, look into hydroponic gardening systems. Hydroponic gardens use water systems instead of soil to grow different plants and foods. Many hydroponic solutions for indoor apartment gardens make it easy and mess-free to grow plants indoors. You can even find vertical garden systems that run on hydroponics.
Plant With the Seasons
Gardening doesn't have to only happen in the spring and summer. There are plenty of vegetables that you can plant with the seasons.
A fun gardening idea to try is to check out what local produce grows the best in your area. Then experiment with different foods, like planting root veggies in the spring to add to your fall and winter meals.
Aim for Sustainability
Apartment gardens can easily be sustainable. It's one of the best ways to ensure you use your resources wisely and positively impact your environment.
Try to incorporate these sustainable practices:
Choose grow lights that don't use too much electricity
Recycle water in larger gardens
Don't forget to compost; your plants will love it!
Sustainable gardening and Cottagecore go hand-in-hand! Read more: Elements of Cottage Style + 5 Cottagecore Ideas
---
Conclusion
Starting an apartment garden is a wonderful hobby. Even if you've never touched a plant, starting with beginner herbs is easy. Soon enough, you'll be throwing garden parties and serving your homegrown fruits and veggies at the dinner table.
No matter how much space you have, there's an apartment garden solution that will work for you!