7 Creative Front Door Decor Ideas
Are you done with coming home to a boring front door without any decorations? Then it's time to spruce things up!
It doesn't matter if it's the holiday season or not. You can add cheery and beautiful decor to your entryway any time of year.
Believe it or not, there are plenty more decorations than adding a wreath. Don't get me wrong. Wreaths are beautiful.
But other creative decorations are within your grasp as well! If you need some design inspiration, here are seven creative front door decor ideas!

---
1. Hang an Antique
Do you love antiques? If you do, then you'll love this idea!
To add some vintage flair, hang an antique on your door.
It could be an antique camera or an old key. Use some ribbon to secure the antique. If you want, select some ribbon in a matching color. It'll look incredible on your door!
If the antique is heavy, make sure the nail and ribbon are strong enough to hold it. Otherwise, you may have a broken antique on your hands. And that would not be very pleasant!
---
2. Bouquet of Flowers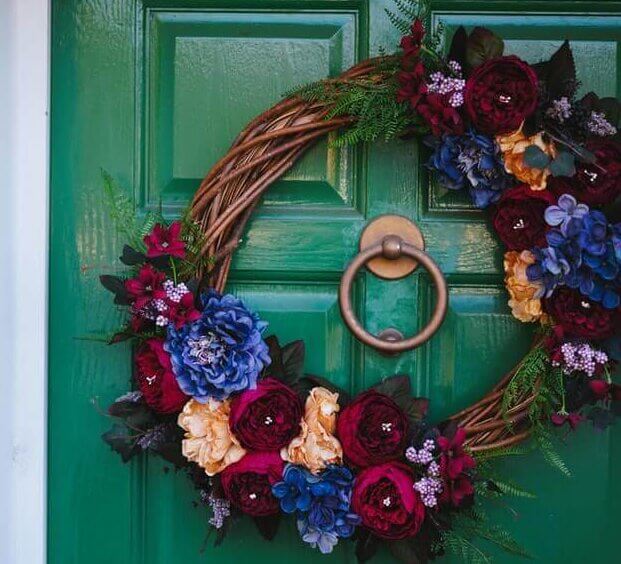 Want to brighten up your door and make your entryway smell wonderful? Then add a bouquet to your doorway.
Flowers in front of your door always look lovely. But if you want to take your floral decorating up a notch, put a lavender bouquet in a metal bucket. Then, hang them on your door.
You can also use fresh flowers in your bucket, but keep in mind that you'll need to swap them out regularly. Getting fresh flowers does make it fun to switch up what type of flowers you hang on your door.
Not only is this a unique way to decorate, but it'll cheer up whoever sets foot in your apartment!
Related: Why You Should Try Apartment Gardening
---
3. Figures With Glitter and Lights
If you love magical elements, then buy a few pieces to put in front of your door.
Figurines with glitter or lights are enchanting and imaginative. Adding glitter pumpkins during the fall is a good example. And, of course, no one can go without having a Santa with holiday lights!
You can place magical decor outside your door throughout the year. There isn't a rule that says you can only do it during the holidays!
An angel with lights is the perfect way to add light and love to your doorway all year long! And a starry night decorative lantern will light the way for all who enter.
See also: 7 Ways to Sprinkle Some Christmas Magic Inside Your Bedroom
---
4. Vertical Rustic Sign With Words
Give your guests a unique greeting by propping up a rustic sign against the wall next to your door.
There are wood rustic signs with the word "welcome" or "give thanks" that'll make a statement. And, they come in different sizes as well. For the wintertime, a vertical wood sign that has a phrase like "let it snow" would be fun, too.
Select a word or phrase that means something to you. If you can't decide, add a few, such as a larger sign with a longer message and a shorter sign by its side.
This creative way to decorate your door will bring the perfect amount of personality.
---
5. Pile on the Pumpkins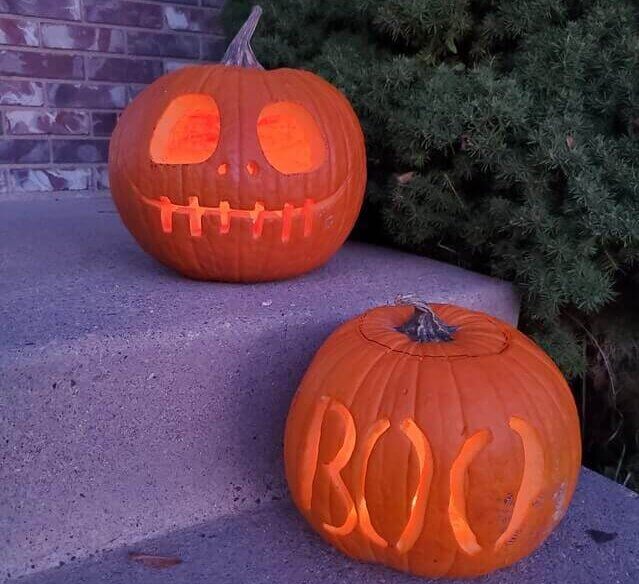 During the fall gives you an excuse to decorate with pumpkins in front of your door.
Don't be afraid to pile on gourds, pumpkins, and even chrysanthemum flowers. Combined, they'll all create a colorful arrangement!
Keep in mind that pumpkins only last 8-12 weeks, so if you want to have them around longer, you may need to replace them.
But during Halloween and Thanksgiving, pumpkins will undoubtedly usher in the holiday spirit.
---
6. Door Hanger With Metal Art Hanging
Take a break from decorating with wreaths and instead hang a door hanger with a metal art hanging.
There are all sorts of metal art hangings. Select one that speaks to you, and it'll create the ideal accent for your front door.
A metal sign with a monogram or name on it would work well. Show off your last name with pride. Or, if privacy is a concern, a rustic nautical compass is another example of a metal sign that'll make a statement.
If you're concerned about a metal sign rusting over time, there are types of metal that don't rust! Stainless steel, aluminum metal, and copper are three examples.
But if that isn't an option, try to keep your metal sign protected, and it should last a while.
---
7. Chalkboard Art
Why not have a small chalkboard on your front door? You can write things down or make a design. As long as it's sheltered from the rain, your note should stay intact.
A few other creative ideas are writing a motivational quote in chalk. Or, you could leave your significant other a sweet note.
Add color to your chalkboard by getting chalk in different colors. That way, if you want to create a rainbow of colors, you can.
Having a chalkboard on your front door will be so much fun! And there's no age limit to it. Kids and adults alike will rave over the opportunity to express themselves!
You may also like: 11 Clever Bathroom Signs to Consider for Your Home (Plus 13 More We Love!)
---
Conclusion
Are you ready to have fun decorating your front door? Now that you have many ideas, you might be dying to get out there and shop!
You're going to have a blast finding decorations that'll compliment your style. And, if you end up not liking something as much as you thought you would, you can always switch it up.
Now get out there and start being creative. With a little bit of ingenuity, your front door decor will look amazing.