Furnished Versus Unfurnished Apartments: The Pros and Cons
Slipping into a furnished apartment sounds easy-breezy. You can just unpack your bags and get on with your life.
On the other hand, unfurnished apartments are a blank canvas. You get to design the environment you want to live in.
As you can see, there are valid arguments for both options.
Let's take a moment to dig a little deeper and weigh the pros and cons of renting a furnished versus an unfurnished apartment.
Moving is a big deal. Make an informed choice.
---
Furnished vs. Unfurnished Apartments: The Basics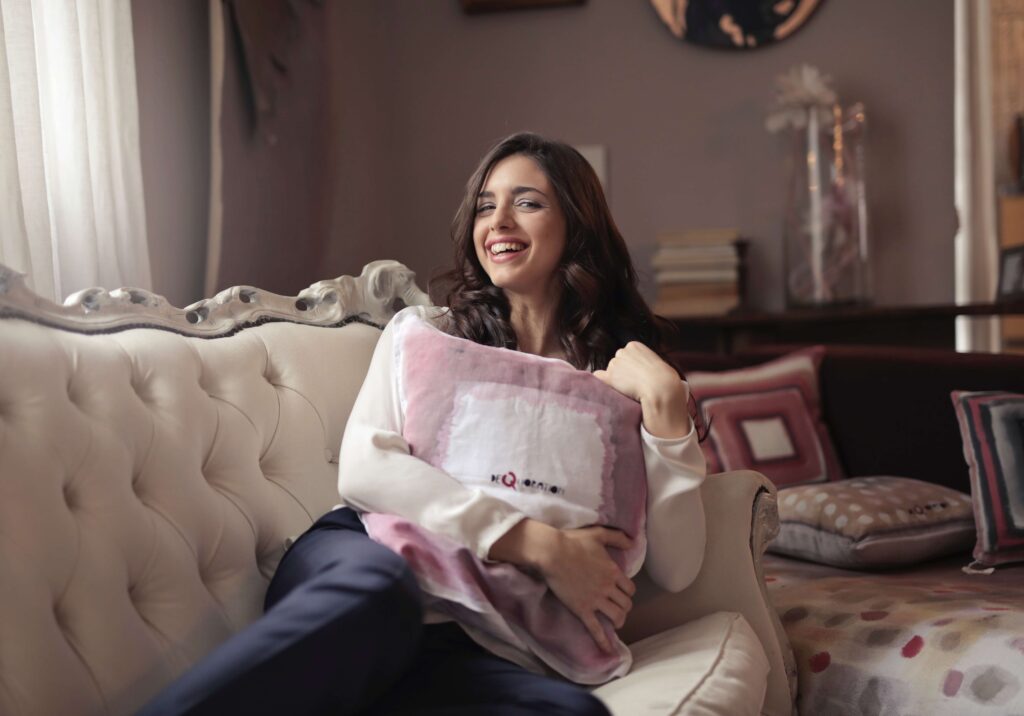 First things first. Before we start talking about the pros and cons, we need to get a good idea of what we're really comparing.
What's included in furnished and unfurnished apartments?

Furnished Apartments
Furnished apartments come in a range of anything from bare-bones basic to fully decorated and stocked.
A basic furnished apartment will include:
Couch
Chairs
Kitchen or dining room table and chairs
Bed
Nightstand
Dresser
Lighting
Mid-level furnished apartments usually include all of the above, plus:
Small appliances
Trash cans and wastebaskets
Shower curtain
Bathroom accessories
Fully furnished apartments come with all of the above, plus:
Dishes
Silverware
Cookware
Television
Linens
Towels
Clocks
Upscale furnished apartments often include upgraded versions of most of the above, plus:
Artwork
Accessories
CD player or stereo system
Other decorative elements
Unfurnished Apartments
An unfurnished apartment isn't just a shell.
There are some basic things you can expect to find in most unfurnished apartments:
Large kitchen appliances (stove, oven, refrigerator)
Built-in microwave
Shower door or a shower curtain rod
Window treatments or blinds
Light fixtures ready with working bulbs
Some unfurnished apartments will include a washer and dryer. If not, many have washer dryer hookups or a laundry onsite.
Most unfurnished apartments built since the 1980s have a bar or island that separates the kitchen from the living room. Just add a couple of barstools and you have a breakfast area!
---
Pros and Cons
You're probably already forming some idea of the pros and cons of each of these options.
But wait.
There are more considerations to think about.
Both options will affect your move — and your home life — in different ways. It's not time to make a decision just yet.
The Pros of Renting a Furnished Apartment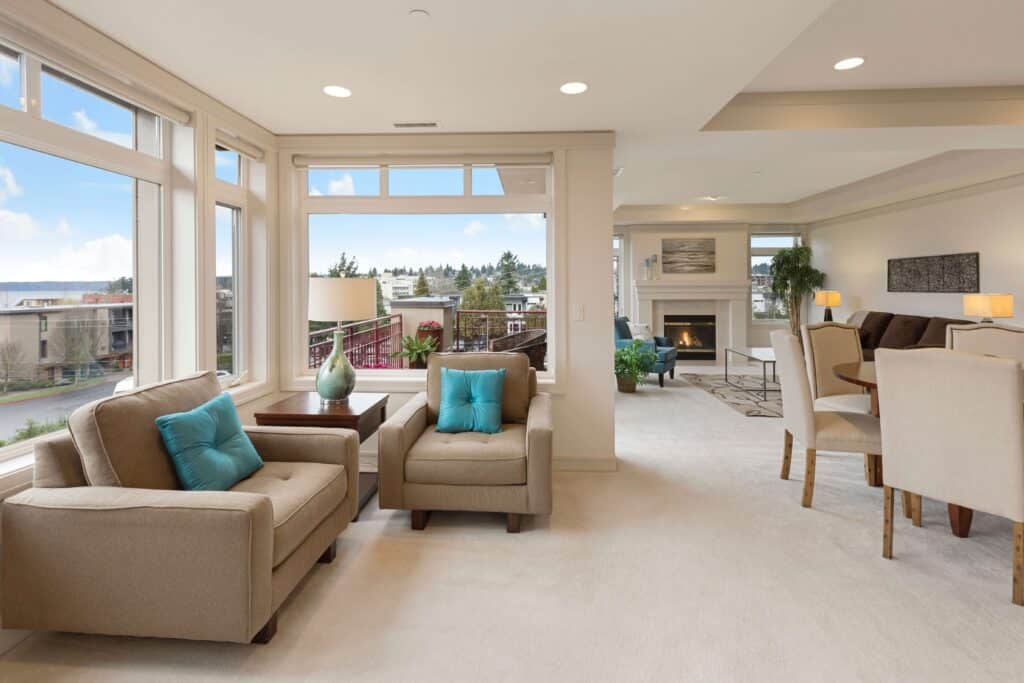 Renting a furnished apartment definitely saves you some hassle.
Here are some other perks:
No cash outlay for furniture or electronics
You don't have to hire movers
No back-breaking work to move furniture yourself
It's move-in ready
It's also move-out ready
Professionally designed interior
The Pros of Renting an Unfurnished Apartment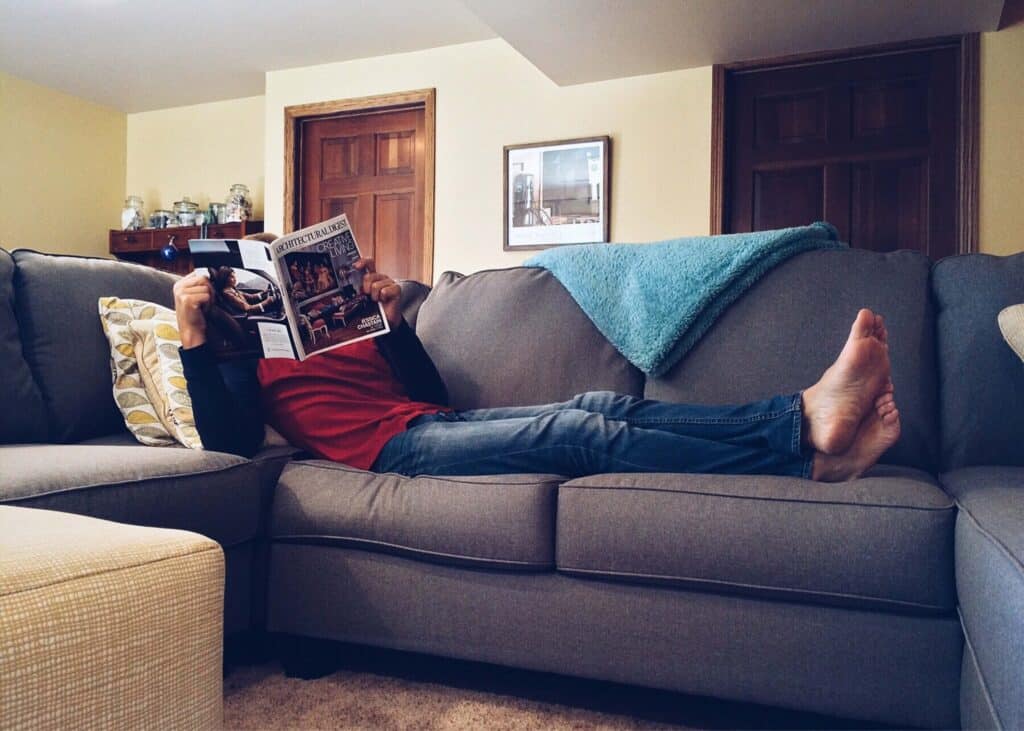 You may think the furnished apartment is winning the pro-con battle, but unfurnished apartments have some big pros, too.
You can design it to make it feel like home
No worries about spills on the furniture
No worries about breaking or scratching the electronics or dishes
You know where your own stuff has been — and hasn't
Rent is lower for a comparable apartment
Purchasing your own furniture costs less over time
The decor reflects your own personality and interests
Less chance of losing deposits
Less stress if you have a dog or cat
Furnishing your apartment yourself gives you the opportunity to gather things for your future. You might live in an apartment now, but you can begin building memories and roots collecting furniture and other things you'll keep for a lifetime.
You could start with a base of affordable large pieces like a couch and bed. Then you would have time to fill in the rest with a growing collection of smaller high quality or statement pieces.
The Cons of Renting a Furnished Apartment
There's a lot to be said for a move-in ready apartment, but you need to look at the flip side too.
Here's what you can expect.
Limited space for things you already own
You may be stuck with decor you don't like
Your apartment will look just like the rest of the complex
None of it is uniquely yours (and it's used, if that bothers you)
You can lose your deposit if you break or damage anything
Furnished apartments are less likely to be pet-friendly
The Cons of Renting an Unfurnished Apartment
Aside from the lack of seemingly free furniture, an unfurnished apartment has a few cons, too:
Paying for movers or doing the back-breaking work yourself
Shelling out money for furniture you don't already have
Purchasing electronics like television and game systems
Accessorizing and stocking the place on your own dime
Additionally, an unfurnished apartment can be more expensive in the short term if you're starting from scratch with all-new furniture, cookware, and linens.
---
How to Choose Between a Furnished and Unfurnished Apartment
Grab your favorite note-taking device or a pad and pencil. You're going to run through some short checklists.
Your answers will help you determine which apartment is best for you.
Finances
Will you be staying in this apartment for more than 18 months? You may be able to finance furniture of your own over that length of time. Plus, there's always delayed gratification, antique stores, and Craigslist.
How expensive are your tastes? Is an upscale complex better able to cater to your decor desires than your wallet is?
How much do you already own?
The Future 
Your future plans may influence this decision.
Furnished apartments often offer short-term leases — as low as 30 days. If you don't plan on sticking around, a furnished apartment might make sense.
If you plan on staying a few years, the extra 15–20% in rent will add up to far more than you would have spent purchasing your own furniture.
Are you planning a career change, life change, or extensive travel?
Are you ready to settle down and start building a collection of treasured pieces?
Moving
The costs and efforts of moving also play a factor.
Are there any logistical issues with physically moving in furniture? Are you capable of moving furniture?
Can you afford to hire movers? Could friends or family help?
Could you shop online and have furniture shipped? Do your local furniture stores deliver?
Comfort
There are two ways to look at comfort: what is familiar and what is easy.
How comfortable are you with pre-owned things?
How comfortable would you be relaxing with food or drink on a piece of furniture you don't own but are responsible for?
Would you feel more comfortable knowing you could pick up and leave without effort?
Are you more comfortable with minimalist decor or a cozy jumble of your own things?
Time
Are you strapped for time or are you in a new city with no social life and little to do?
Do you have time to shop for and furnish an apartment?
Do you have time to plan and decorate?
Alternatives
If you need furniture, but not the extra monthly rent, there are alternatives.
Would it make more sense to only rent furniture or electronics you don't already own rather than renting a fully furnished apartment?
Could you purchase super inexpensive furniture secondhand?
Do any friends or family have unwanted furniture or appliances?
Are there recycling or borrowing groups like Freecycle in your new neighborhood?
---
You've had a look at the details for each option. Hopefully, making a smarter choice is now easier.
If you are seriously considering moving into a furnished apartment, book a tour. Then play devil's advocate and tour an unfurnished complex with a comparable floor plan, appliances, and fixtures.
Take a deep breath and envision a design plan for the unfurnished apartment.  Imagine how you would decorate it before making a decision.
The ultimate questions to ask yourself are these:
What do I want to feel about the things I am surrounded by?
Do I want to spend more money up-front or over time?
How important is convenience?
Don't only go through this list once. You might have more insights on the second or third scan.
You're deciding where to live for the next few months or even years. Choose a place you'll want to come home to!